Tips for goals + random resolutions
I'm usually right there in the middle of the New Years hoopla of big changes. While I don't like the pressure of an ambiguous date -if you want to make a change, why not just do it then, in the moment?- I can definitely agree with the fresh, crispy feeling of a new year, chance to turn over a new leaf and making changes that are easily measured against time for progress.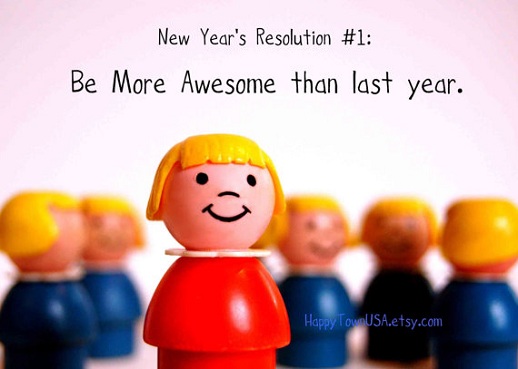 You'll hear me say "goal"
"aspiration"
"intention"
but rarely "resolution."
Why?
I kind of hate the quick-fix association with the word resolution, which I know isn't its fault 😉
So often, especially while working at a gym, I would hear some pretty ludicrous and unattainable "resolutions." The man who wanted a six-pack in a month, who really needed a consistent cardio routine for his health, the woman who was endeavoring to consume all meals in liquid form, and the flood of resolution-ers that would storm the gym in masses, punishing themselves on cardio and strength equipment, only to fizzle out a couple of weeks later.
I think that "goals," "intentions" and "aspirations" sound a lot more friendly than "resolution," but whatever you like to call it, here are a few of my favorite tips for success:
-Make it realistic. If you're thinking about fitness goals, be sure to make them part of a lifestyle. There's no reason to work out twice in one day unless you're doing it for enjoyment and fueling yourself appropriately. Pick a clear goal that you can truly see yourself accomplishing.
-Make it random (to others). My iPhone typing goal is a little random, but to me, it's something that definitely matters. I get quite a few emails each day, and part of the reason I have such a hard time keeping up with them is because I'm a butterfingers at typing on my phone. Pair that with the fact that AutoCorrect isn't my friend (it took maybe a year for it to learn "Zumba" is not "Zimbabwe") and sometimes I'll want to respond to a longer email while out and about, and it takes twice as long so I'll just save it until I'm home and can type from my computer. If I can get more proficient at typing on my phone, I'll have an easier time responding promptly and while I'm not at home.
-Don't tell everyone. I read this tip somewhere and think it's so true: if you tell someone about a huge goal, it gives you a percentage of the satisfaction you'd receive from actually accomplishing it. I have a couple of big ideas for 2013 and am not telling anyone (well, except Tom but the poor man pretty much hears every thought that comes into my brain haha). You can shout your small and random goals from the rooftops, but for your really big, scary goals: write them down, add them to your inspiration board and silently take actions to achieve them. I also feel like this method takes some of the pressure out of huge aspirations- no one will ask me how my iPhone typing goal is going, but people would definitely want to know about a bikini competition or progress (which I have no plans for in 2013, just an example).
-Specificity is great for goals (like "I will take 3 yoga classes each week), but don't be afraid to be general. I like to think about habits and behaviors I'd like to keep and give away in the new year. This year I'm keeping my desire to be the best mom, wife, daughter and friend I can be, setting an example for Oliv (with fun, love and teaching), and trying to put my best effort into everything I do, even if that means doing less and doing it well. I'm giving away judgment, caring so much about what others think, and my fear of teaching new-to-me classes. I always get a little anxious when one pops up on my schedule, but instead of fearing it, I'm going to embrace the opportunity to learn so many different formats.
So tell me, friends: what are your random goals for 2013?? Here are some of the amazing ones I read via Twitter and Facebook: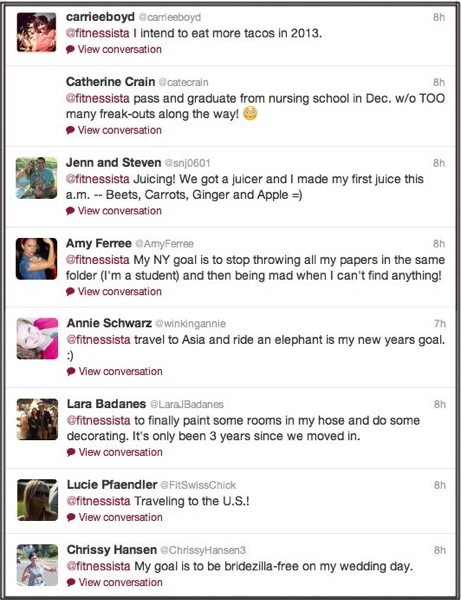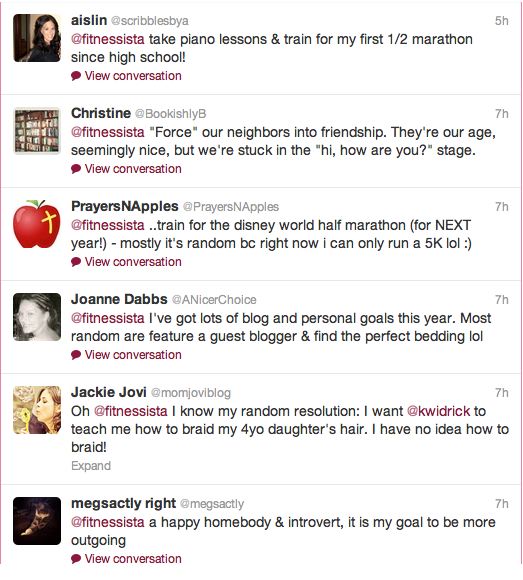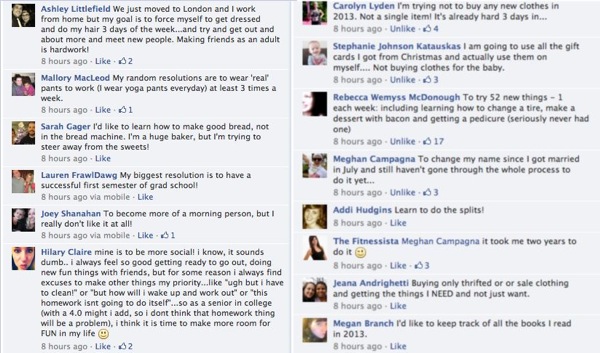 Last reminder to send in your Pinterest boards! I'm LOVING all of the beautiful ones I've seen so far 🙂
xoxo
Gina