Hey guys! How's your morning going?? I'm about to start mine with a yoga podcast, but thought I'd say hello first 😀
For dinner last night, I made a giant batch of my sweet potato black bean chili. It simmered in the slow cooker all afternoon, and while I was at work, I knew it had turned out well because I got the following text message from the pilot:
(910): You are a cooking goddess.
He flatters me 😉 Anyway, I couldn't wait to get home and have a heaping bowl full: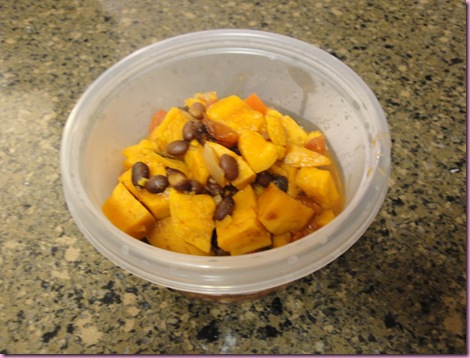 Topped with some of the Babycake's vegan gluten-free corn bread and cilantro: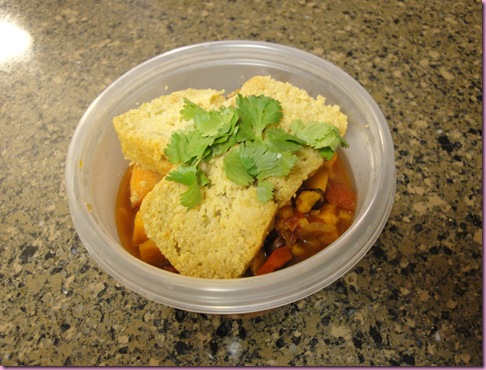 Utterly foodgasmic 🙂
I packed it up in a to-go container and went to keep the pilot company as he got a hair cut. I looked a little rough after a full day of working at the gym, but just wanted to go along for the ride and hang out with him.
The pilot studied while I drank tea and watched Devil Wears Prada, and then we called it a night.
This morning, I couldn't wait to dig into this superfood bfast cookie: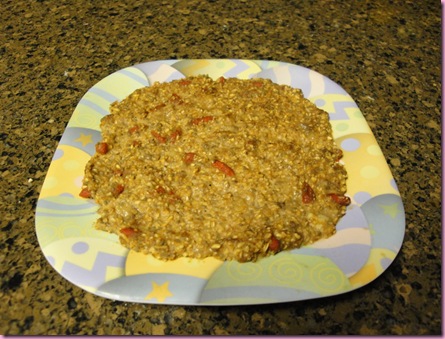 Notice how it looks a little different than the usual???
That's because that beauty was 100% raw. I've been wanting to make a totally raw bfast cookie for quite some time, and last night was the night 😀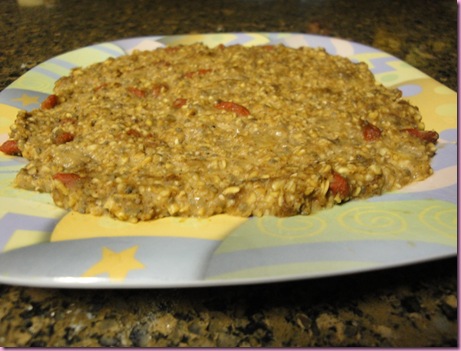 -1/3 C oat groats, ground into flour in the food processor  (traditional rolled oats are not raw as they're lightly baked while they're processed; you can find oat groats in the bulk section of most health food stores)
-1/2 scoop Sun Warrior vanilla protein
-1/2 banana
-fresh homemade almond milk (store-bought will do in a jiffy but isn't technically raw)
-1/2 T maca
-goji berries
-1 T chia seeds
T'was amazin'.
So while I was at work yesterday, I couldn't stop thinking about the treacherous 12-miler and wondering if I need to change my pre-race bfast. As you guys know, I don't call myself a "real runner". I run every now and again and treasure the mental benefits from running. I'm competitive and enjoy races, so I'll do a few every so often. It's just not my bread and butter and I'd much rather Zumba, spin or yoga until the sun goes down.
That being said, I can't seem to figure out what I should do about my pre-race bfast. The bfast cookie has always been a champ for me, but it was almost too heavy before the 12-miler. Who knows how I'd feel after 13.1?!
So I'm asking all you "real runners" out there, what's your favorite pre-long run (or challenging workout) bfast??? I might need to try something a little lighter but with enough power to get me going and last throughout the run (no dairy, please).
I'm off to "om" my little heart out then getting a hair cut! This mane needs some help 😉 Will I do something crazy??? We shall see….
Peeeeeace,
G