What I learned about pre and postnatal fitness
(from my own experience + the IDEA session I attended)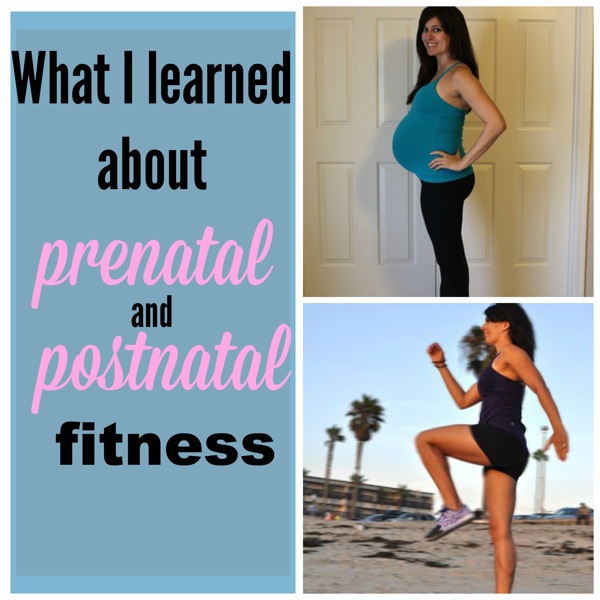 This is something I'm asked about fairly often, but it can be a variable topic since every pregnancy is so different. I figured that I could share my own experience (as you never know when someone will share an awesome tip or trick) along with the research-based information I learned at the IDEA conference. It was the very last session I attended, and was the perfect way for to end my conference experience. Pre- and postnatal fitness have become a huge topic of interest for me; I sat on the floor for this session in a sweaty heap of happiness, ready to soak up all of the information.
Some background information on the presenter:
Her name is Farel Hruska, ACE and AFAA-certified. She's also a mom of three girls is on staff and contributes to Fit4mom.com. She is the National Fitness Director for Stroller Strides (an awesome fitness program for mamas and their babies, utilizing the stroller during classes) and a joy to listen to. I thoroughly enjoyed her presentation and was frantically taking notes the entire time.
Some of the info from the slides during the presentation (my thoughts/notes are indicated in bold):
-Effects on the cardiovascular system during pregnancy include a decreased blood pressure, sweating, fatigue. 30-50% increase in stroke volume, a 8-20 beat increase in resting heart rate. Some pregnancy women may experience a 20-25% lower work capacity. According to ACOG (American College of Obstetrics and Gynecologists), heart rate is no longer a reliable indicator of exercise. Rate of perceived exertion is a preferred method, and try to keep your exertion between a 5-8 on a 10-point scale. The "do not go over 140 beats per minute" rule is now outdated. Also, since your heart rate is naturally elevated during pregnancy, it's not a reliable indicator of intensity. Go by how you feel (avoid pushing yourself to your max) and be sure to properly hydrate.
-Your intensity should not exceed your pre-pregnancy levels. Avoid exercising to the point of exhaustion and follow the 2-hour rule. This means that if you usually run for two hours every weekend and are a distance runner, you can continue to do so (with doctor's approval and if there are no contraindications).
-Emphasize posterior pull exercises. This is true not only for pregnant women, but for everyone! If you work at a computer (cough, guilty, cough) or find yourself in a hunched over position, it's important to lengthen and stretch the chest muscles, while working to strengthen your back to pull your shoulders into alignment.
-An interesting slide on the benefits of exercise for baby:
"The babies whose mothers had exercised more were better able to process repeated sounds, showing a maturity of brain function that their counterparts did not. Exercise increases mitochondrial activity in the brain. The study shows this effect can 'cross the placenta' and benefit the fetal brain as well." (University of Montreal 2013)
That gave me the chills! I was curious to find out what "more" meant in the above statement (someone in the audience asked, too) and after checking out the study, I found out that it compared 60 pregnant women who were provided with an exercise regimen and those without. The active group exercised an average of 117 minutes per week, while the inactive group averaged about 12 minutes.
-The presenter also showed us how to check for diastasis recti in our clients, which I found extremely helpful.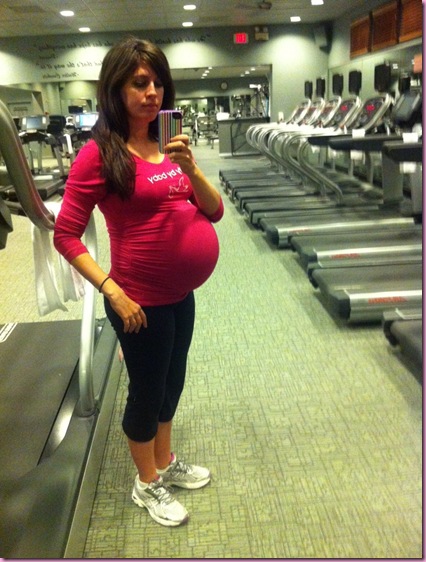 (after a 40-week pregnant treadmill walk)
The things that helped me in my personal prenatal and postnatal fitness journey:
-Trusting my body. I'm a huge believer in listening to our body's cues, and found that they were even more apparent when Livi was growing my belly 🙂 Before, my body would say "Let's GO!!! AND HIIT IT AND LIFT ALL THE HEAVY THINGS!" While I was pregnant, I found it saying, "Ehh, I don't want to run. HIIT feels weird. I don't want to go crazy with the weights." So, I listened and did what felt good. For the most part, it was moderate strength training, occasional yoga (with modifications later in my pregnancy), walking (almost every day) and teaching dance cardio (like Zumba!). I did the things I enjoyed and was craving, and was thankful for the ability to maintain my active lifestyle until I delivered.
After delivery, I was excited to get back into my routine, but needed to take time to rest and heal. I listened to what my body was saying, and chose precious sleep when I could, and was able to ease back into my active lifestyle. I found that having those exercise endorphins not only helped me to regain my strength and endurance, but also gave me some much-needed "me time" and chance to zone out during the day.
-Modifications:
A huge modification during pregnancy is the inability to remain in a supine position (on your back) for extended amounts of time after the first trimester. (There is mixed research and opinions about this, but ACOG guidelines suggest avoiding the supine position after the first trimester.) A stability ball is a fantastic option (for chest presses, flyes and bicep curls), and many exercises can also be performed in a side-lieing position. Avoid any prone positions on your stomach after the first trimester as well. Performing the exercises on hands and knees instead is an effective modification.
Yoga modifications:
I avoiding positions on my stomach, and did a cat-cow instead of a vinyasa in my flow classes. It's also important to avoid crossing the midline of the body (like a twisted triangle) and to emphasize OPENING, instead of crossing and closing across the midline. So instead of twisting, I would open in the opposite direction. (for example, instead of twisting triangle, I would just do a regular triangle. Instead of revolved crescent lunge, I would bring my hands to prayer and open my body towards the center.)
Some poses were done on my side (savasana, happy baby) and I was mindful to avoid over-stretching, as the relaxin makes the body more flexible. I didn't want to pull anything, so I focused on creating strength in the poses instead of necessarily getting deeper into every pose.
Some preg-friendly exercises:
Bodyweight exercises (squats, lunges, walking lunges, tricep dips). For planks and pushups, when it becomes uncomfortable with the size of the belly, you can perform them with your hands on a bench or against the wall.
Resistance band work (bicep curls, overhead tricep extensions, shoulder raises, overhead presses, resistance squats, bent-over rows and wide rows are all fantastic options)
Core and pelvic floor strengtheners (hip bridges, cat cow, squats, plie squat with a stability ball. Squeeze the ball each time you rise from your squat)
Walking! Walking is almost always a good option, considering that there are no contraindications. It was one of the few exercises that felt great while I was pregnant, and while I was regaining my strength and stamina afterwards.
Low-impact exercises such as swimming, yoga, Pilates and barre can also be great options.
A good rule of thumb: focus on MAINTAINING instead of ADDING. Don't add anything crazy or new into your routine -unless you were sedentary pre-pregnancy and would like to start an easy walking routine- and emphasize maintaining your current fitness level, taking it easy and resting as your body tells you.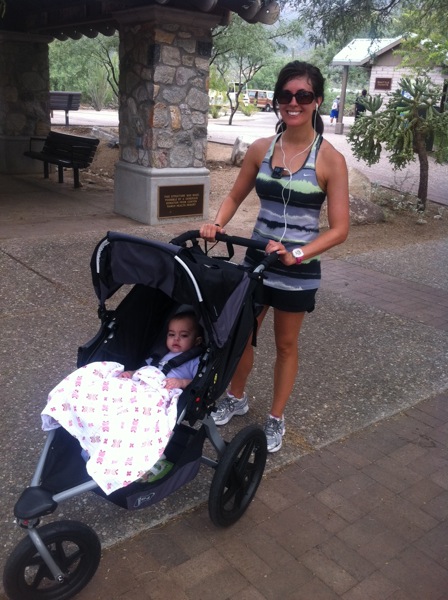 All of my posts about exercising while pregnant and post-delivery:
How my workouts changed in the 1st trimester
How my workouts changed in the 2nd trimester
How my workouts changed in the 3rd trimester
How my workouts changed with an infant