Winter Shape Up 2010- Week 2
Heyyyyy 😀 Happy Monday!
Hope you had a fabulous weekend and are refreshed and ready to tackle this week!
I have to say that I am LOVING all of your amazing feedback on the Winter Shape Up! I'm so happy you like it so far and hope you're able to start seeing some awesome results within the next couple of weeks.

Here is Week 2 of the Shape Up:
Remember:
-Always honor your body and your injuries. If it hurts, DON'T DO IT!
-Make sure that you can execute each move with proper form (click the links for the "how-to" of each exercise)
-These workouts are done circuit style. Complete 10-12 reps of one exercise (unless otherwise specified) and move directly to the next until you've completed all of the moves. Rest for about 30-60 seconds and then start again. Aim to complete the circuit a total of three times.
-Be sure to include healthy eating and cardio (aim for at least 2 miles, almost every day) with this workout event and allow at least one day of total active rest each week.
-Circuit train 2-3 times a week on nonconsecutive days (in addition to cardio).
-Have fun! 😀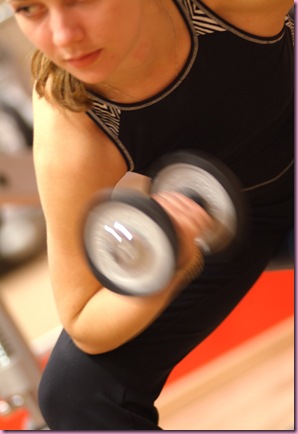 (Source)
This week's workouts:
Beginner:

Warm up with 5 minutes of walking or light jogging

Circuit:

Overhead press (10-12)

Stationary lunges (10 on each side) (make sure your legs are apart far enough so that your front knee doesn't extend past your toe. Think "sink down" instead of lunging forward—aim to go straight down)

Wall push-ups (15)

Plank (20 seconds)

Dumbbell jump rope (1 minute) (pretend to jump rope with light weights in your hands, or use a real jump rope and no weights)

Bicep curls (10-12)

Tricep dips (10-12) (Yes, we're doing these again. You're welcome 😉 Dip with bent knees –easier- or straight legs –more challenging)

Medicine ball reverse crunch (10-12)

Reverse plank (20 seconds)

Jumping Jacks (45 seconds)

Repeat circuit 2 more times for a total of 3 times. Stretch.

 

Int/Advanced:

Warm up with 5 minutes of cardio

Circuit:

Split squat overhead press (10 reps on right leg; switch legs, 10 on left leg)

Saxon side bend (10 on each side)

Dumbbell boxing (1 minute)

Chatarunga hold (30 seconds)

Dumbbell Double crunch (use light weights- 10-15)

Half Burpees (do regular burpees if these don't feel good on your wrists- 1 minute)

V-glutes (First move under "August 3 2008"- instead of laying on a bench, lay on a stability ball with your palms on the floor. The stability ball should be right under your lower stomach and hip bones—just lay where you can balance and still raise your legs together – 10-12)

Stability ball push up (10-12)

Stability ball leg raise (10-12)

High knees (1 minute)

Repeat circuit 2 more times for a total of 3 times. Stretch.
Happy training!!
Much love,
Gina
I haven't forgotten about the WMOW!!! I'm taking my Flip to Zumba tonight 🙂 See you for lunch!