Winter Shape Up 2011 Week 2
Hi friends! Happy Monday! Hope your morning is going well <3
Thank you so much for all of your amazing feedback regarding the Winter Shape Up. As I kinda hinted at, I've been keeping track of those who left comments when they finished the workout…
This week's WSU Warrior is:

Ann! Send me an email (fitnessista at gmail dot com)- I'm on my way to the Phoenix lululemon and will get a little sumthin' sumthin' in the mail to you this week 🙂
Everyone else, keep rocking out those workouts!! Here's Week 2 of the Shape Up:
(Just joining in the fun? Check out the intro post with all the deets *here*. As always, check with a doc before making any nutrition or fitness changes)
Smart carbs:
-100% whole wheat bread/pita/pasta (Hodgson's Mill and Ezekiel products are great)
    -sweet potatoes and other starchy veggies like peas, corn, squash
    -whole grains: brown rice, quinoa, millet, barley, wheat berries, oats
    – beans and legumes
    -fruit (raw, canned in its own juice, dried with NO added sugar)
    -all veggies
Lean proteins:
    -organic deli meat (look at for lower sodium choices)
    -fat free or nonfat milk or dairy products (almond or hemp milk is great, too)
    -boneless, skinless chicken breast or thighs
    -extra lean ground beef/ground turkey
    -fish: salmon, tilapia, halibut, mahi mahi, tuna, shrimp, crab
    -beans and legumes
    -eggs and eggs whites  
    -nut butter (max 2 tbs per day with NO added sugar- ingredients should be nuts and (optional) salt. That's it)
    -dark green leafy veggies (romaine, collards, spinach, kale)
    -protein powder (whey, soy, brown rice, hemp)
    -nuts and seeds (unsalted)
Healthy fats:
    –Extra virgin olive oil, coconut oil, canola oil
    -eggs (use the yolk)
    -Fish: salmon, tuna, halibut, mahi mahi
    -lowfat dairy
    -Nuts and seeds: aim for raw, unsalted
    -avocados (1/4 avocado is one serving)
Drinks:
-Coffee (with Stevia and fatfree/nonfat milk or vegan milk), unsweetened tea, WATER (8 glasses per day), red wine (5 oz per day) instead of a second snack
Condiments:
–Annie's ketchup
-mustard
-balsamic vinegar/rice wine vinegar/red wine vinegar
-Salad dressing (make sure to measure and choose ones without weird ingredients– better yet, make your own with lemon juice, olive oil, garlic, salt and pepper or balsamic vinegar with olive oil, garlic, salt and pepper)
-salsa and hot sauce
-hummus
*Remember, what we look like is 80% nutrition, 10% genetics and 10% exercise.
*To cook, always pan sear, bake, roast or grill with a little bit of extra virgin olive oil, organic butter, nonstick spray, coconut oil or canola oil
This week's meals:
Breakfast

Puffed brown rice cereal layered with fresh berries and plain yogurt of choice

Green juice and chia protein pudding

Crepes with fresh berries, 1 egg

Omelet with 1 egg, 2 egg whites, sliced of cheese, arugula and 1-2 slice(s) of toast

B-fast sandwich with smoked salmon, goat cream cheese and spinach
Lunch

Grilled cheese on brown rice toast, tomato soup, salad

Sweet potato with goat cheese and chives, steamed asparagus

Chicken (or shrimp) salad with raw Caesar dressing

Brown rice tortilla wrap with organic deli turkey (or sliced veggies), goat cream cheese, mustard, an apple and a small salad

Mung bean pasta (1.5 servings) with marinara and a steamed artichoke with organic butter
Dinner

Brown rice sushi and seaweed salad

Crustless quiche and steamed broccoli

Mexican pizza (brown rice tortilla topped with fat free refried beans, shredded cheese, lettuce, tomatoes, olives and salsa)

Chicken, shrimp or veggie fajitas

Lemon and herb tilapia, roasted asparagus, baked sweet potato
Snacks

Amazeballz!!!! (one is the perfect snack size)

Black bean dipped and sliced red bell pepper

2 egg whites on toast

Bowl of berries, sliced veggies and hummus

Banana (or 1 brown rice cake) with 1 T almond butter

Smoothie with 1 C almond milk, 1 scoop Sun Warrior, handful of frozen fruit

Larabar
_____________________________________________________________________________________________________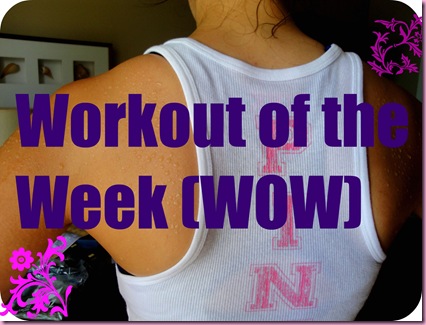 WOW (Workout of the Week!):
This week's workout is a track workout with no rest in between sets. Cold outside? No worries- you can do this on an indoor track, or on the treadmill… Hop off to the side to do your strength moves, then get right back on.
Complete this workout 3x this week, on non-consecutive days. On the days you don't circuit train, take a class you love, do some steady state cardio (30-45 minutes) or active recovery. Make sure to give your body at least one day of active rest each week (walking the dog, easy yoga, nothing too strenuous).
*The entire workout should take 30 minutes-ish.
*All you need is yourself, a pair of dumbbells (or water bottles… or soup cans), and a way to run – an elliptical or stationary bike is a perfect substitute for the cardio portion. No excuses, play like a champion

_______________________________________________________________________________
You know I'm cheering for you! Each time you complete the workout, please leave a comment on this post and we've been using the hashtag #wintershapeup on Twitter 🙂
How are you feeling after last week? If you're not WSU-ing, what Spring fitness goals are you working towards?
Have a great day and I'll see ya this afternoon from Phoenix 🙂
xoxo
Gina