Workouts that don't leave you wired
Hi friends! How's the day going? HOLY GIVEAWAY ENTRIES. Thank you so much to those of you who entered so far! I love reading about what makes you happy. Brings a huge smile to my face! 🙂 Happy to hear you're excited about the prize, too. I'm stoked to put the goodie package together… and wrap up this purse. It's so good.
I woke up bright and early (before the sun!) for this morning's radio interview. The great thing about radio: you can look like a hot mess zombie and NO ONE KNOWS. I was in the man cave/gym, in my pajamas, with fuzzy socks, glasses, and sleepy hair. I woke up extra early so at least my voice would be awake, thanks to some Ron Burgundy-style "how now brown cow" action. heh heh.
Detox land is still going strong, even though I've had coffee or tea pretty much every day. I need to live.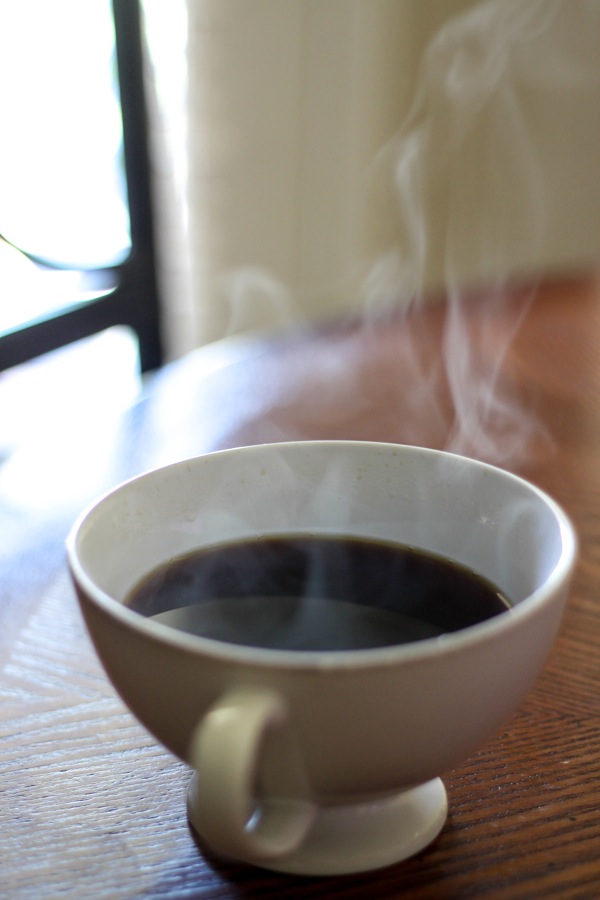 We've gotten chicken-ed out a bit, so I'm trying to switch up our salads and side dishes so we don't get sick of them. So far, we've been enjoying lots of fresh produce and salad variations, like this berry-nut salad, and this unique apple slaw thing I created. It reminds me of this glorious topping for lobster tacos.
We were walking into Trader Joe's and they had these buckets of enormous organic Opal apples.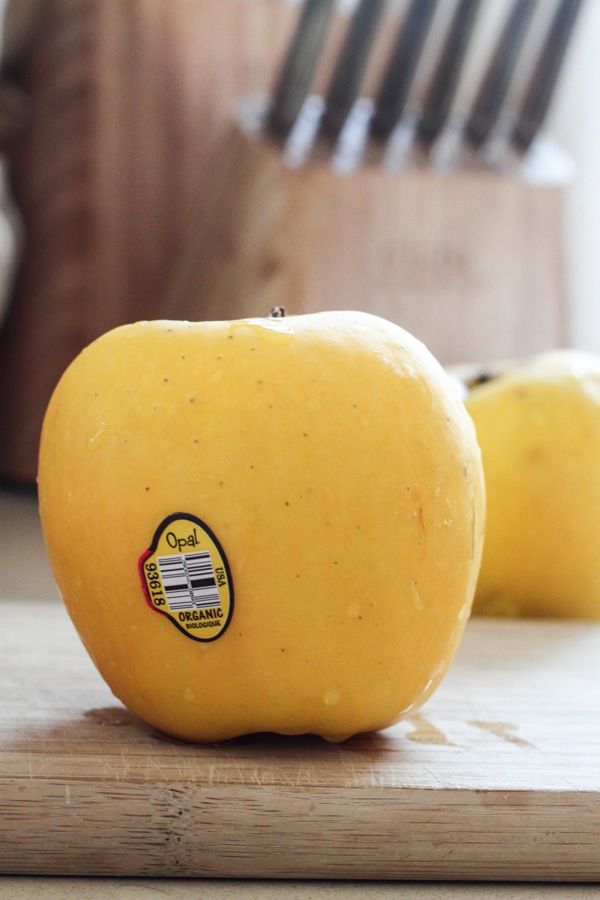 The sign said, "Cut up and enjoy as a slaw!"
Yes, Joe the Trader, I will do that. (<— and the marketing director said, "Dance, puppet! Dance!")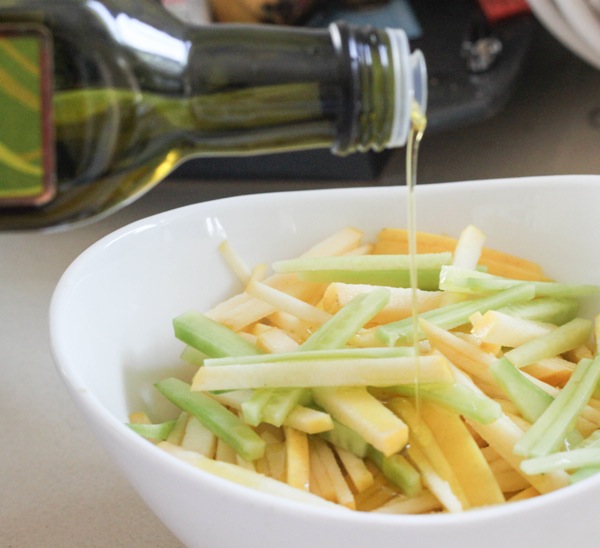 I julienned the apple, and added some peeled, sliced cucumber, since the taste is fairly mild. With a drizzle of olive oil, apple cider vinegar, lemon juice, garlic powder, salt and pepper, it is an AWESOME sweet and savory slaw. I'll definitely be making this again; it would make a great taco topping (if you're a pork fan, that would probably fantastic on shredded pork tacos).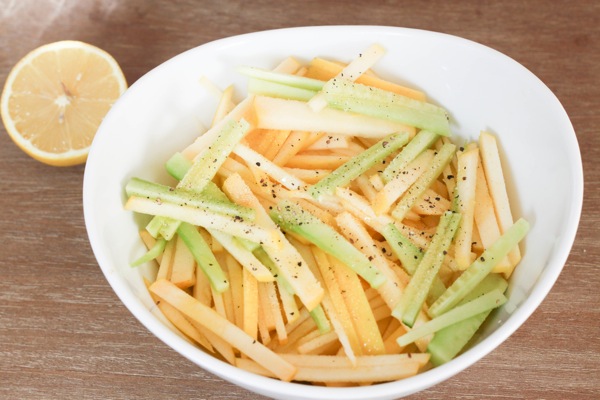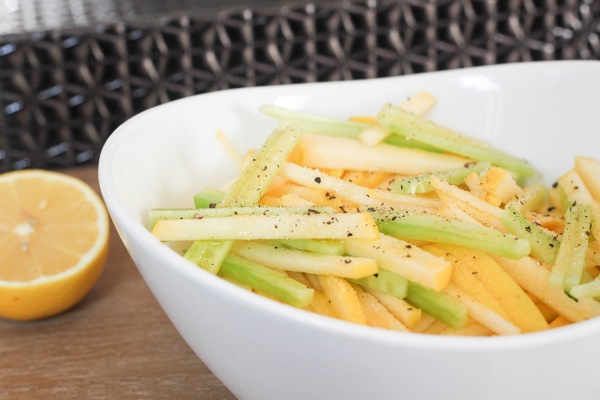 Workouts that don't leave you wired:
I got a question on the blog yesterday about workouts to do before bed. It's amazing to get in a workout at any point of the day, but sometimes if the workout is too intense, or too late, it can be even harder to wind down before going to sleep.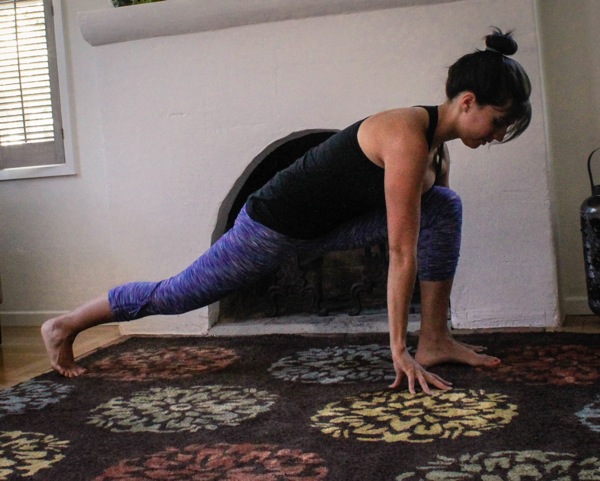 (Stretching is a great way to recover, meditate and relax before bed)
Here are some of the things I've noticed:
–The sweatier you are, the harder it may be to crash out. The body has to work to bring itself back to resting state after a workout, which includes tasks like increasing oxygen intake, decreasing heart rate, lowering tissue temperature, hormone balancing, and replenishing fuel. If you have a super intense or sweaty workout, you may feel that your heart rate is elevated for a while after you complete your workout. This can make it harder to sleep -and I also think it's good to walk around and be on your feet while you're recovering, instead of going from 100 to 0- and moderate (instead of strenuous) exercise before bed may be your best bet.
-Some ideas for moderate activities before bed: yoga (the type depends on your level and personal preferences), Pilates, barre (check out any of my barre videos if you need ideas), moderate cardio (quick walk, elliptical, Stairmaster), strength training (I'd avoid intervals or metabolic circuits and stick with 3 sets of each exercise with rest in between), or take a cardio class you enjoy.
-Know your personal cut-off time. I found that exercise before bed doesn't affect me too much, because sometimes I teach a late class, it's the only chance I get, and oh yeah, I could fall asleep pretty much any time, anywhere. haha.
If you get in a late workout, do you have a hard time winding down? Any fave ways to decompress before bed? Any crazy salad combos lately? 🙂
Hope you have a great night!
xoxo
Gina