Hello to another Monday,
goodbye to another glorious baby meal.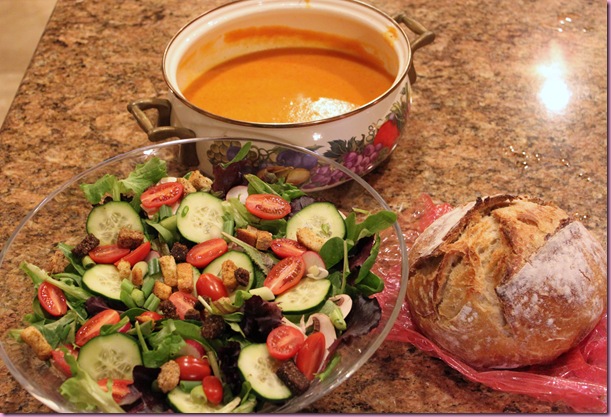 Our friends Bob and Emily came over last night to hang out and brought dinner. Bella wouldn't leave Bob alone (she LOVES him) and Emily, the baby whisperer, held Livi while we all chatted. Dinner was incredible, too.
Roasted winter vegetable soup with carrots, sweet potato, parsnips and butternut squash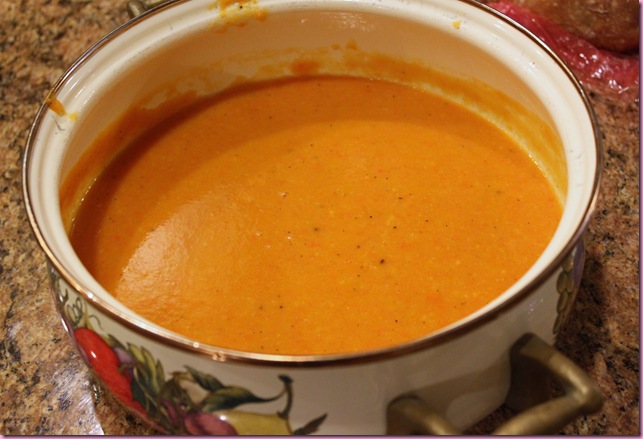 (I need to ask them for the recipe- it was so good, very thick, and a thousand times better than a similar version I picked up at Whole Foods a few weeks ago)
Salad with greens, scallions, mushroom, radish and cucumbers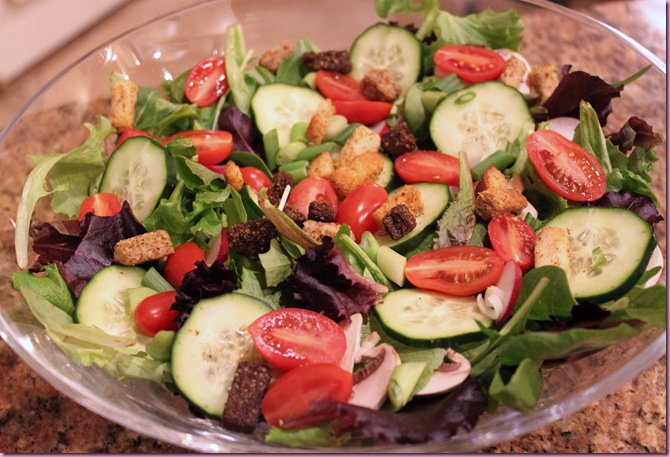 and homemade bread, which was the Pilot's favorite.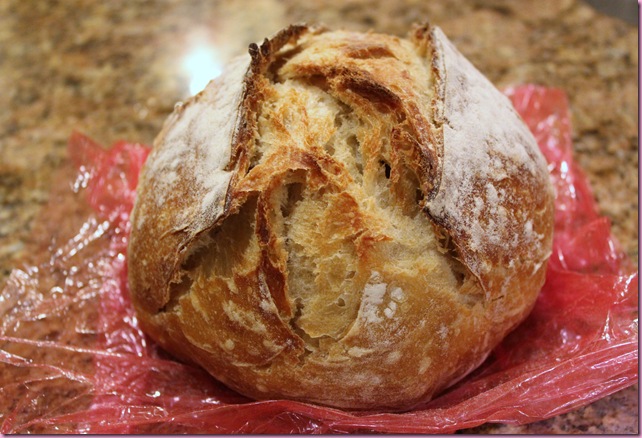 I'll definitely miss the baby meals when they're over- we've been so blessed to have the support and help from our squadron friends. One day I'll get back in the swing of cooking on top of everything else, and while I miss my favorite classes and teaching, I don't feel ready to work out again at all. I still have two more weeks until my checkup appointment, and will probably just walk in the meantime around the neighborhood if we feel like getting out of the house. I'm just glad to not be on bed rest anymore.
I'm living vicariously through all of you who have been rocking out the Winter Shape Up- I'm so glad that you guys are enjoying it so far!
For the details on Winter Shape Up, check out last week's intro post.
Here's this week's workout:
This week's workout is a combination of traditional strength training moves, a hill drill, and some HIIT intervals as the cherry on top.
Please keep in mind that all of the WSU workouts were designed for the average gym-going Jane, who is already familiar with proper form. If you have questions, don't hesitate to ask a trainer at your gym to help you out! Remember, it's much better to modify or change an exercise than risk injury.
The entire workout should take about an hour, and should be performed on non-consecutive days. I'd recommend doing steady state cardio, flexibility training or active rest on the in-between days.
[print_this]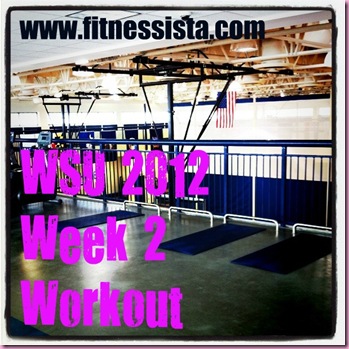 (as always, check with a doc before making any fitness or nutrition changes)
| | | |
| --- | --- | --- |
| 1. Warm-up | Cardio of choice | 5-7 minutes |
| 2. Squat, hold and pulse | 12 squats, hold the squat for 30 seconds, pulse for 30 seconds (repeat all 3 times) | Challenging weight (dumbbells or barbells) |
| 3. Deadlifts | 3 sets of 12-15 | Challenging weight (dumbbells or barbells) |
| 4. Bent-over row | 3 sets of 12-15 | Challenging weight (dumbbells or barbells) |
| 5. Plank down and up | 1 minute | Bodyweight |
| 6. Mountain climbers | 1 minute | Bodyweight |
| 7. Hill drill | Cardio equipment of choice | 5 minutes- gradually add incline until you can't take it anymore. Focus on resistance, not speed |
| 8. Bench fly | 3 sets of 12-15 | Challenging weight (8-15 lb dumbbells) |
| 9. Bench pullover crunch | 3 sets of 12-15 | Light weight dumbbells (3-5 lbs each) |
| 10. Bench split squat with bicep curl and overhead press | 3 sets of 10-12 on each side | Challenging weight (dumbbells; 8-15 lbs each) |
| 11. HIIT intervals | 15 minutes total | Alternate 30 seconds HARD (which can be speed, resistance or a combo of the two) and 1 minute 30 seconds recover (easy) for 15 minutes |
| Cool down and stretch |   |   |
[/print_this]
For this week's meals, I thought it would be fun to share ideas and hopefully get some new tricks for clean breakfasts, snacks, lunches/dinners.
So tell me friends, what are your favorite healthy choices for Shape Up-style meals?
Here are some of my ideas for this week: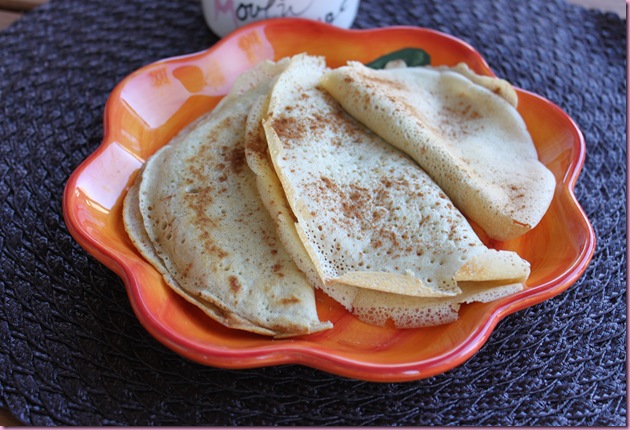 Breakfast: Crepes with protein fluff
Snack: 1 egg, mustard and lettuce/veg on whole-grain toast
Lunch/dinner: Sweet potato and black bean chili, chicken breast of vegan protein of choice
As always, please let me know what you think of the workout and leave your comments here so we can cheer each other on 🙂
Happy training!
xoxo
Gina