My P-D-B (Post Delivery Body)
As soon as we announced our pregnancy, quite a few people asked me how I planned to get "back in shape" after she was born.
My plan?
Nothing at all.
One of my goals while I was pregnant was to stay active and eat well to support our growing baby and my increasing energy needs. I figured that by doing so, it would make things a little easier for my body to return to its pre-pregnancy size. After birth, I figured we'd have our hands full trying to figure out her cues and needs… and I was right. Fitness and macronutrient ratios are the last things on my mind right now.
I love working out for the endorphins, health benefits and mental sanity, and I know I'll enjoy it when I do have the opportunity to get back into things. Working out and teaching fitness made me feel good while I was pregnant, and even though I felt awkward and uncomfortable some of the time, while I was shaking it in Zumba or walking on the base track, it was a lovely distraction.
Treadmill walking at 40 weeks: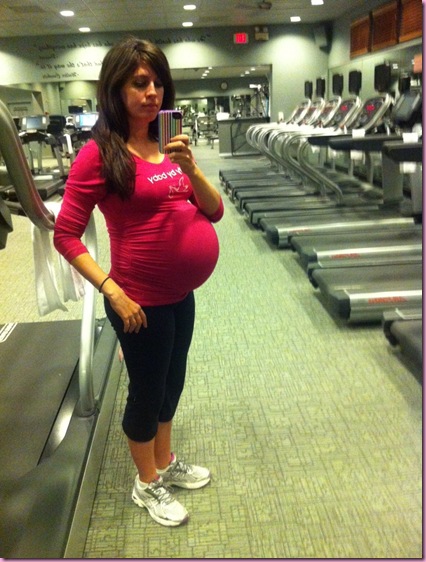 Another reason why I stayed committed to my lifestyle and eating preferences was so that I could be as physically prepared as I could be for the intense athletic event of labor. I wouldn't have kept up my physical stamina, I know if things would have gone the way they did. The time I spent in the gym squatting, yoga breaths, ability to focus, and my amazing birth team is what helped me get through it.
The belly, 2 days after delivery: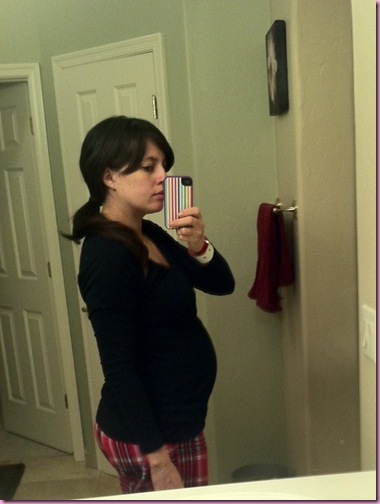 (after a very long and crazy night!)
It's true that delivery (the baby, fluid, blood, placenta) and breastfeeding facilitate quick postpartum weight loss. 4 days after giving birth, I had to go to the midwives' because I thought I had a plugged duct and they weighed me. Within 4 days, I had lost 23 of the 34 lbs I gained while pregnant.
Two weeks later, I have a different body: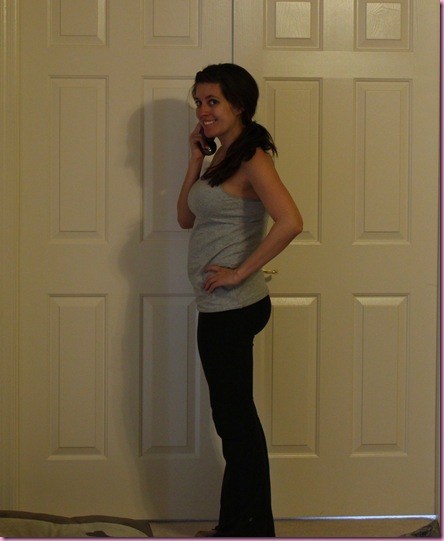 (Goobery on-the-phone pic – lots of multitasking going on over here now)
and I'm proud of everything it's been through.
My stomach feels smushy –it stretched a lot!- I do have stretch marks, which waited to appear until after she was born, and while I'm the same size-ish (jeans fit again), I've lost a lot of muscle. I'm excited to get my abs back and tone up again, but for now, I'm really thankful for how pregnancy and delivery treated my body.
I did tear a little during delivery, since we had to get the baby out so quickly. I have 3 stitches, which were really uncomfortable at first but don't bother me too much anymore. As I'm still recovering, workouts are going to have to wait a while longer, and I've kept up my late-pregnancy style of eating. I've found that I'm hungrier during the day, so I'll snack a lot in addition to meals to keep up my energy and nutrients for breastfeeding. Every night, around 3am, I'll have a Vega bar to get me through the next couple of feedings until breakfast. My doctor told me to emphasize healthy fats this week, to make sure my milk is satisfying the little one, who currently wants to eat every hour or two.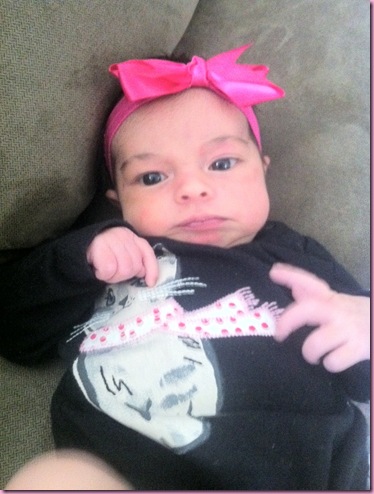 I've heard a lot of horror stories about what pregnancy can do to your body and I just wanted to assure you that it's really not that bad. The bleeding is no fun –neither was bed rest- I'm still a little sore and emotional, but I am so very thankful and blessed that I had the opportunity to experience pregnancy and giving birth. The human body never ceases to amaze me, and that feeling has been magnified after everything I've experienced.
More:
-How my workouts changed in the first, second and third trimesters
–Changing eats and third trimester eats