You can take the girl out of Valdizzy….
Heyyyyy 😀 How are ya? Hope you're having a lovely day <3 Thank you SO mucho for those of you who took the time to vote this morning. I had fun voting for my favorite bloggies 🙂
Work today was fabulous. More on that in a second 😉
After this morning's yoga class, I got lost on the freeway (you can take the girl out of Valdosta….), came back and took the fastest shower in the history of mankind and ate a speedy yet legendary bowl of b-fast cookie cereal.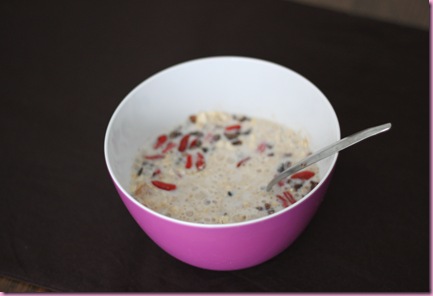 -1/2 C ish of oats

-1 T homemade almond butter

-1/2 scoop vanilla Sun Warrior

-cinnamon, goji berries and cacao nibs

-1 C ish of almond milk
Perfect 🙂
So as ya'll know, I'm not disclosing my Orlando place of employment for safety reasons. My job has never been a focus of the blog anyway, so I figured it didn't really matter. I will say that it's part of the fitness/health industry and is a company that I really, really believe in. So I'm very excited! 😀
For my first day, all I did was HR paperwork and learned about policies (I start training tomorrow)… and then went to do some shopping at the lululemon outlet 😉
Here are the goods for those of you'd like to see them:
The purple sports bra is called the ta-ta tamer, and I'm excited to see how it works out. I have yet to find a sports bra that is as awesome as the Shock Absorber sports bra from VS that I bought like 4 years ago and was discontinued. I'll let ya know how this one compares after some HIIT intervals and plyo work 🙂
*Note- if you like lulu clothes, see if there's an outlet near you- the prices are SO much more reasonable
Next, I stopped at Whole Foods for coconut and then came home for lonchi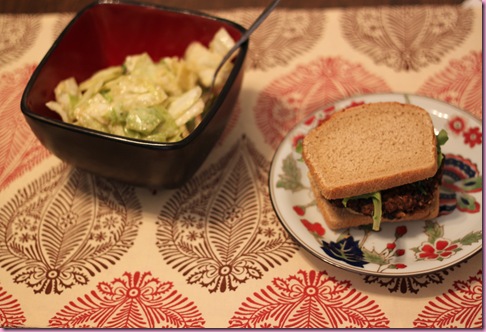 A leftover black bean burger on kamut bread with hummus, greens and mustard: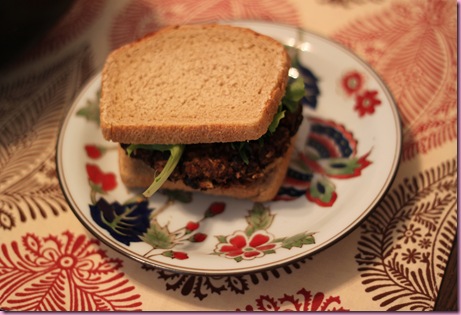 + miso slaw from Whole Foods (my all-time favorite hot bar item!)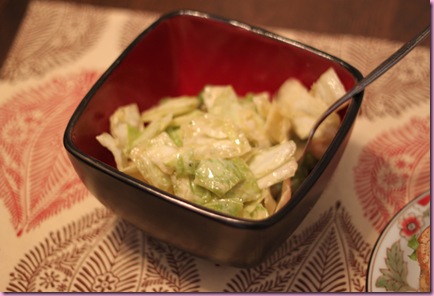 Ahhhmazin'.
Well I'm off to make macaroons for the winner of Tina's bake sale, then do the weights thang 🙂
Hope you have a great night <3
xoxo,
Gina
Upcoming:
-Zumba video?? The Pilot is actually working on getting it uploaded to YouTube since my computer ate the files :/ (It says they can't be retrieved)
-Reader's Request
Something to think: About stepping out of the comfort zone. Today's yoga naptime pep talk (aka savasana) was about stepping out of our comfort zone to achieve amazing things. When we're in our comfort zone, there's no room for us to grow and blossom. As the teacher said "we can either take the easy road for a hard life later on, or take the hard road by putting everything we have into what we do, for an easy life later on."