You know you're desperate when…
You use a coffee stirrer from your hotel room as a makeshift spoon for which to eat almond butter out of the jar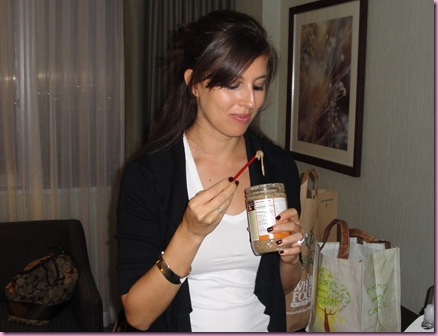 That's how I roll 😀
Today has been amazing. I started the day with a nanner and dropped Ashley off at the esthetics show: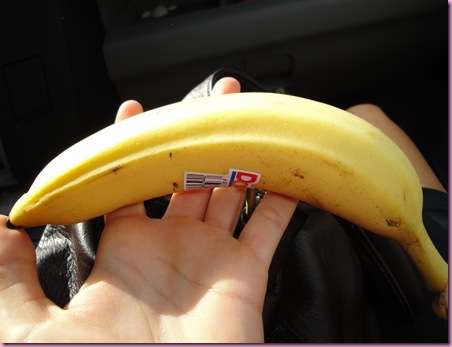 After that, I had about 45 minutes to kill so I went to Barnes and Noble –aka "Beefcake and Noble" because my friends in college and I used to go there to search for smart and hot guys- jumped on the free WiFi and relished in the fact that I could go wherever I wanted to go. Cause you know in Valdosta, my choices are a little limited 😉
Next, I went to a 90-minute yoga class at the Red Pearl Yoga studio.
Check out the wall art!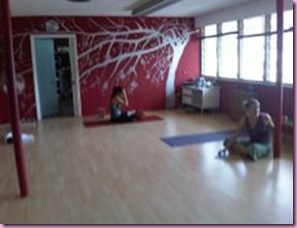 The view was breathtaking: lake + boats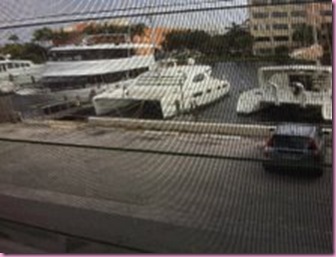 While the view and atmosphere were glorious, I hate to say the class was a little goobery.
Gripes:
–It was COLD. Not heaters whatsoever. Ahem, I can do cold yoga in the hotel room… for much less than $12
-Teach was a little scatterbrained. She was like "ok…. Triangle. Ok……Half moon. Vinyasa" Blah.
Pros:
-I got to take class from a real person, instead of a voice coming out of my computer speakers
-I still got a killer workout. We held poses for SO long, my body was definitely challenged, just in a much different way than I was expecting
After yoga, I decided to hit up glorious Heaven on Earth for some lonchi
Vegetarian Chili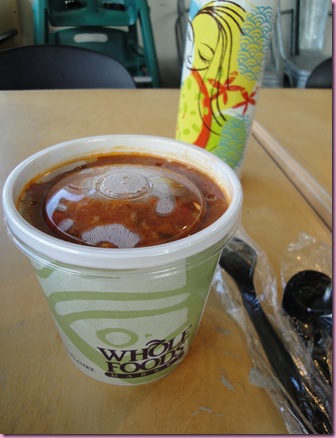 So delicious and SPICY! I loved every bite 😀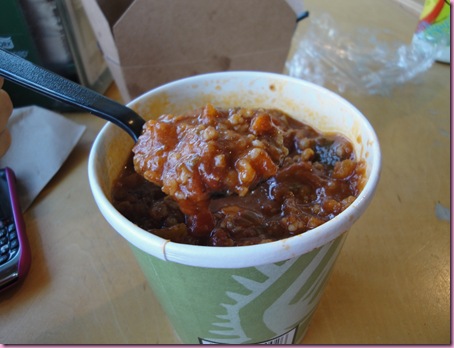 (They used cracked wheat to give it a great texture. Brilliant)
And a salad with romaine, olives, bulgar salad, roasted veggies and Goddess Dressing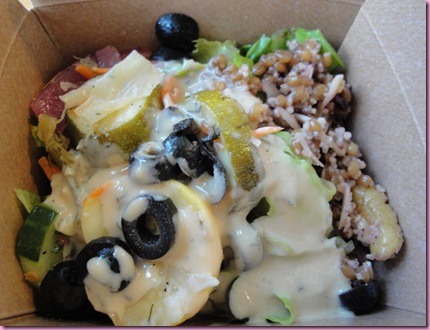 It's been wayyyyy too long since I've had Goddess dressing. I picked up a huge jar to have at the casa 😀
Shopping elixir: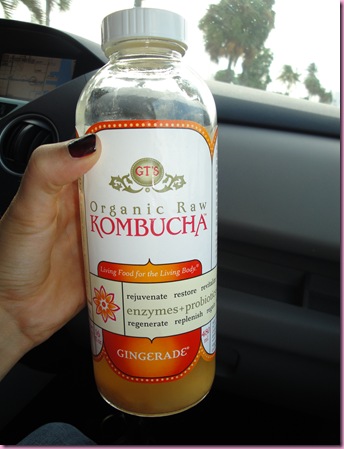 I picked up Ashley at the Convention Center and then we did some damage at The Galleria, which a few of you lovely Ft. Lauderdale locals had recommended. You girls know me too well- I was in heaven 😀 I got some very cute clothes (including a new coat!) and snowman mug 2009. Pics to come 😀
After our shopping blitz, we came back to the hotel for 45 minutes of cardio. I did 20 minutes on the elliptical and 25 minutes hill walking on the treaddy. Not too shabby 😀
We just got back from an amazing dinner and are eating Starbucks dark chocolate and watching TV in our respective beds. Life es bueno.
Something even more bueno?? I get to see a certain someone tomorrow. I'm so nervous/excited!!!
Have a great night and I'll see you after Bikram before we get on the road back to Valdizzy.
Much love,
G$