Your Fitness Stories (Rochelle, Pip and Danielle)
Hi! How has your day been? Mine ended up being a very fun, very intense teaching day. Buff Booty, DJ Dance and Zumba; a trifecta of sweaty happiness. Needless to say, I'm pretty stoked to kick back at the Wildcats game (let's be real, I'll probably be jumping up and down screaming the whole time) and eat cheesy nachos tonight 😉
Every day this week, my inbox has been treated with your beautiful fitness stories- I've absolutely loved reading them. Thank you so much for sharing them with me and offering to share them with fellow Fitnessista friends. I think it's been a great way to motivate each other, and know that we all share bits and pieces of very different stories. 
Here are three that I recently received- hope you enjoy them as much as I did! <3
In the comments today, please feel free to brag a little. I'd love to hear a fitness or health accomplish that you're proud of- let's cheer each other on 🙂
xoxo
Gina
Tonight's fitness stories:
Rochelle:
I have always been an active person, however from age 21-23 I spent a bit more time partying and less time working out. At 24 I was living in a new city and dating a new man, I was head over heals and incredibly happy. I would run occasionally but not seriously. He encouraged my running and told me he would run a 1/2 marathon with me. We conquered that goal and ended up running another 1/2 marathon a couple of months later. Shortly after that he crushed me, broke my heart in a way I never knew would be possible. It was something I did not see coming, but I knew i would have to find a way to cope. I knew a run would soothe my soul, distract me, and if nothing else exhaust me so I could sleep at night. Through friends and long runs (alone and with amazing friends that I met running) I was able to go back to being happy. With in a couple of months I decided I would run a marathon, a distance I had originally discussed with my ex. I signed up for a training group, convinced a run friend to join me, and off we went. It was one of the best decisions I ever made in my life. During that training I ran my first 1/2 marathon solo and did way better than I ever had with my ex, which gave me the best feeling of accomplishment ever! On the last day of training I ran a slow 10 miles with a few other girls that I barely knew, we talked about life the whole time and what got us to that point in running. It was amazing. I ran my first marathon in a complete down pour on December 2, 2012, it was amazing! Since then I have been running about 4 days a week. One of my best friends just signed up for her first half and told me that I am her inspiration and her mentor.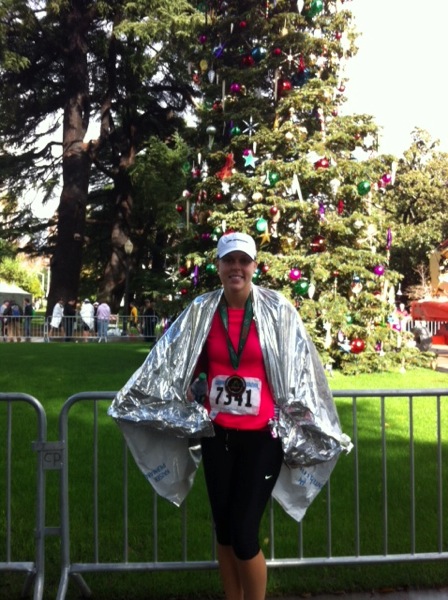 1 week ago that same ex called me and professed his love, I told him I could never go back to that. I give so much credit to running for giving me the courage to not only make that decision, but to be genuinely happy with it.
Ultimately running can be a time to reflect on yourself or a time to connect with anyone from a stranger to a date to a best friend. I feel blessed that I found such an activity. It is thrilling to hear anyone speak about their fitness passion in the same way, which is why I can relate to your love of Zumba.
Pip:
I'm a loud, extroverted, chatty person and that's how I tapped into exercise. As a teen I tended to play hockey and do the odd 'fun run' but never really embraced exercise. Later at university I continued hockey, dappled in swimming and took to the track but only in odd spurts and during fitness binges.
Personally, the only exercise that ever sticks, inspires, motivates and drives me is a group of similar

 fitness 

fanatics who have a passion for going hard. In my working years I've become completely and utterly addicted to group classes. The personal training or boot camps driving you to challenge your body to the max. It all started with boot camps when I was in hungry agency recruitment roles and had stress, as well as money, to burn. I'd soak up the rigorous beep tests, stairwell training and park laps and it fueled my competitive streak for the rest of the day. I'd always dappled in running, cycling and swimming but these group boot camps tapped into my core social and competitive drivers. I used to live and breathe these high intensity training sessions, loving the effect on my body, knowing I couldn't maintain it but dipped my toe in every few months to get back on track.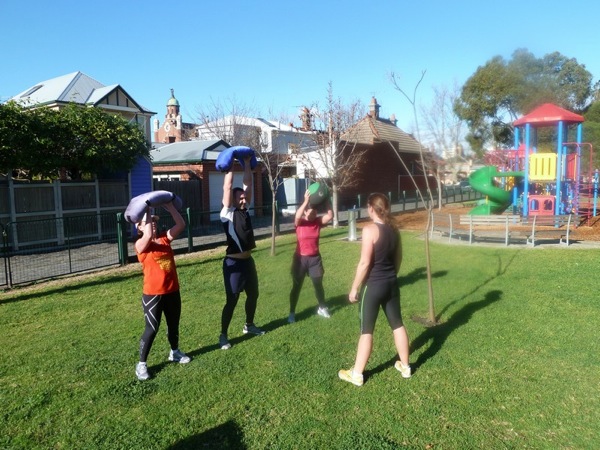 Now that I'm a mum I've managed to find a group of like-minded women with fitness as their passion, though maybe a little less competitive. They run a mean lap around our local park, they do beach sand runs like champion race horses and they provide a support group when you're having issues, motherhood gripes or just need a shoulder to lean on. Exercise for me is so much more than moving your body. It's a mental, physical and primal need for me and without it my life falls apart. I believe it keeps me on the straight and narrow, pushes me away from that dip in the road that is post natal depression and fuels my thirst for life.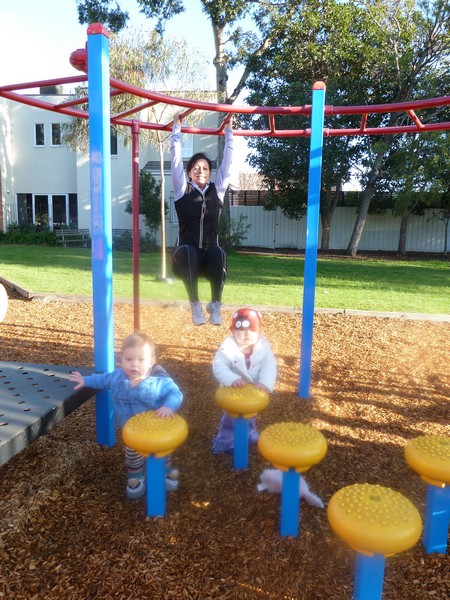 In our group classes we focus on high intensity interval training so it includes sprint sessions, some weight training, core stability and of course stretching. Most of all though it moves our body fast and challenges us much more than we would ever challenge ourselves in our own personal time in the gym or at the park. I don't know where I would be if I hadn't discovered these boot camps during work, these mummy fitness classes during my time as a stay-at-home mum. I think I'd be in a bit of a bit of a mess truth be told. 
Danielle:
I first stumbled upon my local Zumba/dance studio in November 2011, after two of my cousins told me about and raved about how much they knew I would love it, being a lifelong dancer and all.  I went to a trial class, and immediately fell in love. They were so right; it was made for me. 
I had been working out in gyms since I got home after college 5 years ago. My body had changed so much since I returned home; I put back on weight that my body probably needed, considering I was leading a less than healthy lifestyle senior year. Being the captain of my college dance team, I felt the pressure of needing to look skinny and fit in the tight uniforms. I would run 7 days a week and barely eat anything each day. Aside from running, we had several hour practices or games to perform at anywhere from 2-4 days a week. So, once I got home, jeans that fit 2 weeks before when I was still at school, didn't fit anymore. I was also somewhat depressed since I wasn't in college anymore, living home again, and not dancing, which is my passion in life. My parents were also going through a rough divorce. It wasn't a great time at all.
I joined a local gym, and even spent money I didn't have (I enrolled in Graduate School) on a trainer for a year. While I learned some awesome weight lifting techniques, I bulked up so much that the scale only went up instead of down. My pants still didn't fit! I wasn't looking as streamlined and "girly" as I wanted to, so I stopped training. This is when my cousins clued me in to the best thing that ever happened to me.
I think the greatest part of Zumba is the level of energy the instructor and owner, Kayt, brings to each and every class. No matter how bad her day might have been, you would never know it. She is not only encouraging, but crazy and incredibly kind. She cares about every person who walks through her door. That's what keeps me (and so many others) going back multiple times per week. 
Obviously, the
fitness 
aspect is just incredible. I didn't necessarily have 10 or 15 pounds to lose, but I wanted to get back in shape and lose a few inches here and there. To my complete shock, now, after over a year straight of Zumba, I have lost about 12 pounds and dropped 2 pant sizes! My body is slim in ways I never thought it would be. I'm not bulky, but I'm toned. I can see muscles I didn't know I had.   I have learned so many healthy ways of eating and nourishing my body.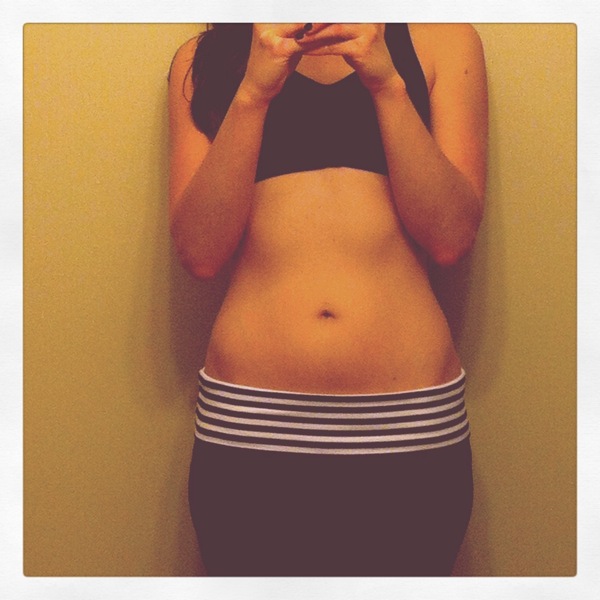 At 26, I am without a doubt in the best shape I've ever been in, and I owe it all to Zumba. My mood is instantly better when I go to class, and when I leave. It's a life-change that I will continue on with until I have to dance with a cane!