Whenever I physically injure myself, I tend to laugh first and then cry. We got to the basketball game last night (almost late, per usual), and the Pilot still had to change into his white shirt in the car since it was a whiteout game.
I said, "Hurry, let's go!" and as I quickly jumped out of the car, I slammed my elbow onto the side.
What came out of my mouth was a guttural, primal scream and I immediately flung myself to the floor of the parking lot… totally cracking up.
The Pilot came around to check on me, and as I was laughing, tears were streaming down my face. (I'm sure I looked reallllllyyyyyy cool to all the passerby, haha)
"I broke my elbow! I just want to see Wilbur wave the flag."
After assuring the Pilot that watching the basketball intro was more important to me than getting an X-ray, we headed into the game and found our seats before the National Anthem began.
Of course, my elbow isn't really broken (but very bruised), and we got to see Wilbur wave the flag: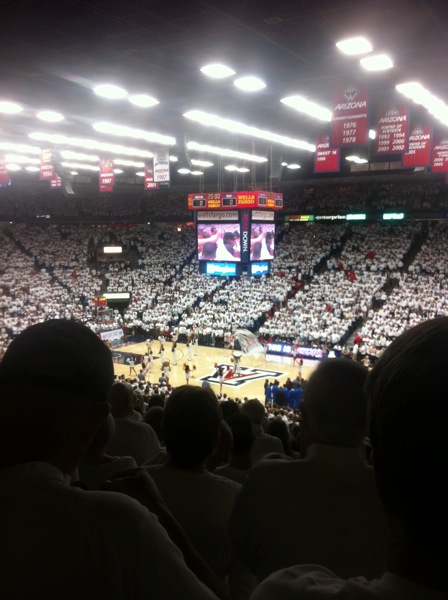 (during the intro, the cheerleaders and dancers perform, and on the big screens, a video montage plays with past and present players and coaches announcing Arizona's titles. It ends with "This is Arizona" and everyone goes CRAZY. I told Kyle that going to basketball games makes me feel like I'm at a club, because i get so hype-y, scream and dance a lot. He just gave me a strange look. )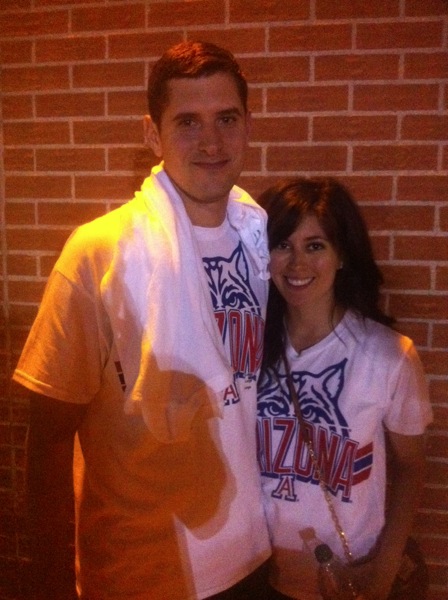 The game ended up being a bust (we lost), but I love my Wildcats <3
Some things of late:
I'm definitely feeling the effects of three intense teaching classes yesterday. It bums me out because I'm scary excited to try out Zuzana's DVDs, but will be soaking up a rest day today. I'll post a full review after I try all of the workouts, but they're available on Amazon for a steal ($15!) if you are already a ZWOW fan.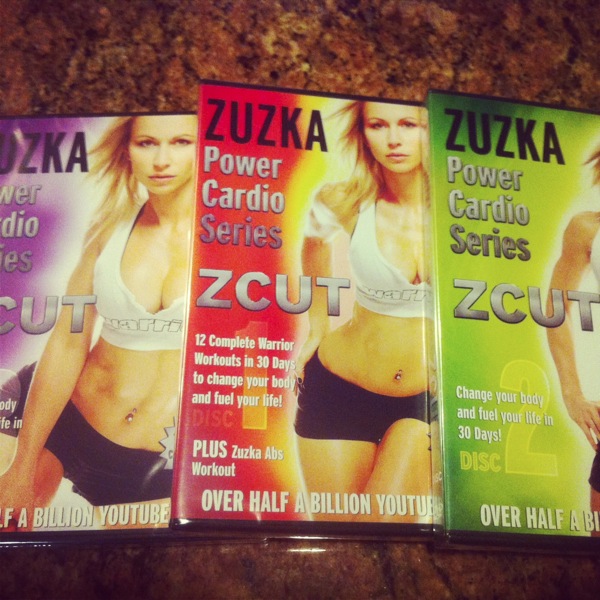 Munchies:
Beloved sushi salad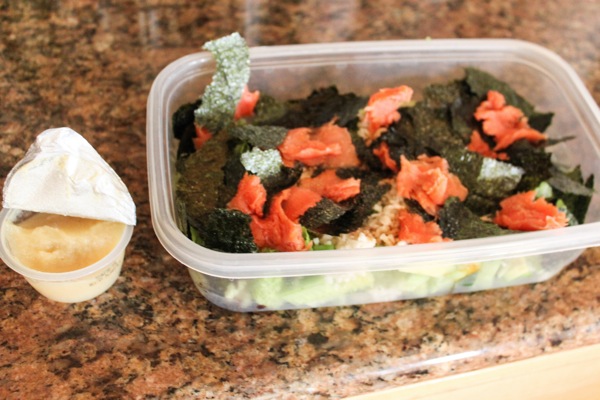 Romaine, brown rice, avocado, cucumber, Tamari, smoked salmon, nori, garlic + applesauce
Risotto dinner leftovers: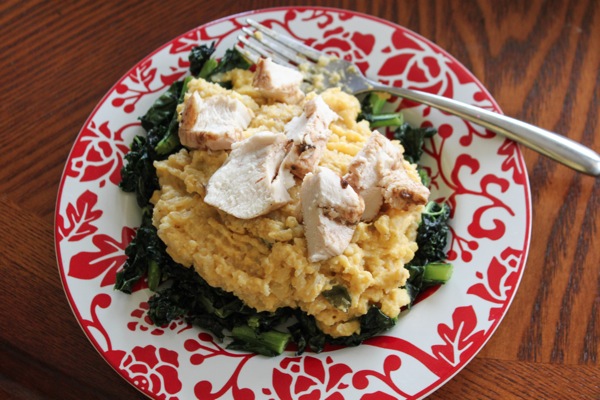 The risotto tasted even more amazing the next day- I'll definitely be making it again.
This morning, I have some very special macaroons to make and send out, and then Livi and I are meeting up with friends. This weekend is going to be spent prepping the final details for Winter Shape Up. If you have any preferences/ideas for how you'd like to receive the workouts/meal ideas (email, all on one page, posts, videos) please let me know! It's going to be a very exciting Winter Shape Up- it's the first one with PRIZES. Don't forget to meet me back here for the fun, starting Sunday.
What are you up to this weekend? Are you taking any fitness classes or maybe running a race? Anyone other laugher/criers in the house? 😉
Enjoy your Friday <3
xoxo
Gina
Coming up: My latest Stitch Fix on the Fashion page! Best one yet. 
Thank you so much to Greatist for including this little blog on their list of top health and fitness blogs for the second year! I'm honored to be included, especially in the company of some of my great blog friends and favorite reads.