I'm so stoked that you guys are enjoying the Week 3 workout! Since we've been doing LOTS of burpees lately, I figured today would be a great day to share some of my tried and true burpee variations. Also, it's Valentine's week. Who doesn't heart burpees?!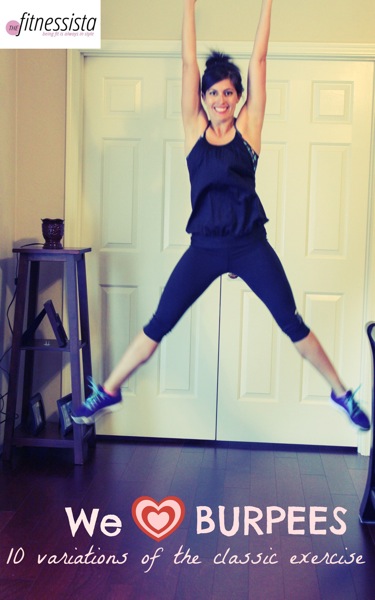 (don't answer that)
Here are some ways to change up your usual burpee sets, but first, the basics:
How to do a Burpee
Step one: bring your hands to the floor and drop your hips into a low squat. Keep your chest lifted, firmly plant your hands into the floor before jumping out.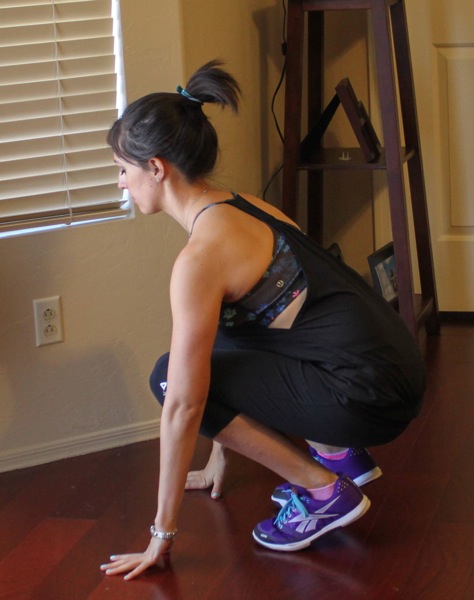 Step two: hop both feet back into a plank position. Keep your core engaged to protect your back and remember to jump back into a straight spine alignment. (No hips in the air, no dropping booties, and keep the neck neutral)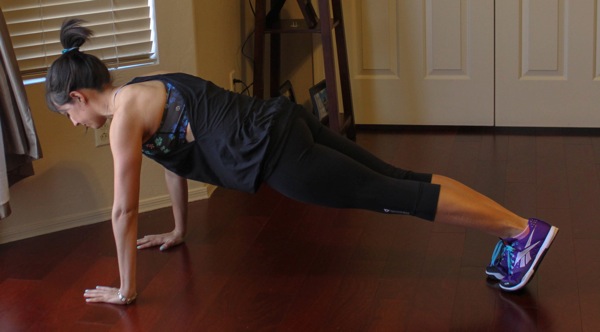 Step three: you can add an optional pushup here. Bring your elbows out the side as they bend, then use your chest, shoulders and triceps to push yourself back into plank.
Step four: jump your feet back to your hands (this looks just like step one). Spring up off the ground! Remember to land with soft knees.

(Blurry action shot)
10 Burpee Variations
Modified burpee
Instead of jumping back to plank, walk one foot back at a time to minimize joint impact. Walk your feet back to your hands, then raise them towards the ceiling while lifting up onto your toes.
Sumo burpee
Plie squat before bringing your hands down to the floor. Hop back to plank, forward into a deep plie squat and spring up.
Single leg burpee
Perform the entire movement on one leg. This one is a doozy!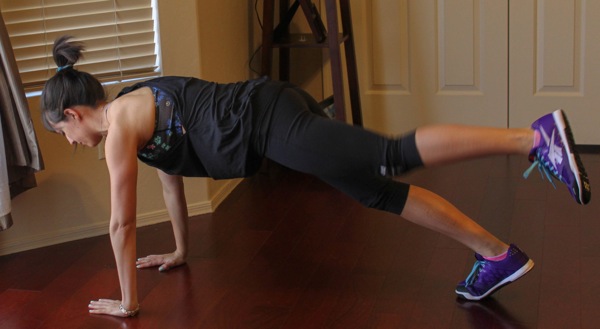 Burpee with 180 rotation
As you jump, rotate your body 180 degrees to face the other side. Perform another burpee, squat jump 180 degrees to face your original starting point.
Split burpee
Perform five squat thrusts (feet in, jump back to plank, feet in, back to plank), five pushups and five squat jumps. Repeat. Splitting up the basic movements is an easy way to change things up and work quickly through your interval set.
Traveling burpee
Instead of jumping feet back in to the original starting point, jump them to the side of your hands. Perform your vertical jump from here! You'll be traveling to one side as you burpee. Repeat on the opposite side.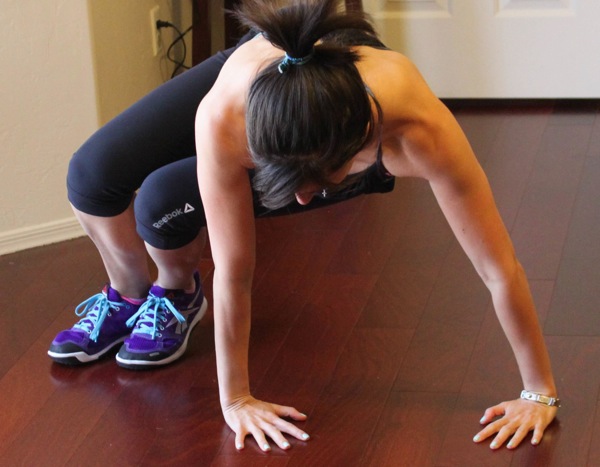 Burpee box jump
Place a plyo box or sturdy bench in front of you. As you perform the vertical jump portion of the movement, add a box jump instead.
Burpee frog jump
Instead of a regular vertical jump, use your obliques to jump up with bent knees, out the side (like a frog!). Hit your thighs with your hands as you jump, as this forces you to get a little more power and height, then repeat the basic burpee movements.
Burpee with plank jack
As you jump back to plank, perform one plank jack (jump feet out and in) before your pushup. This will extend a single burpee time to 8 counts, which syncs perfectly with music.
How often do you include burpees or plyometrics in your training? Any variations you love (or love to hate)?
More:
Have a great night!
xoxo
Gina