Hi! Happy Wednesday aka Zumba day 😉 What's on your fitness plan? Check in for here for this week's WSU and awesome giveaway!
Yesterday after nap, Livi helped me make some dinner.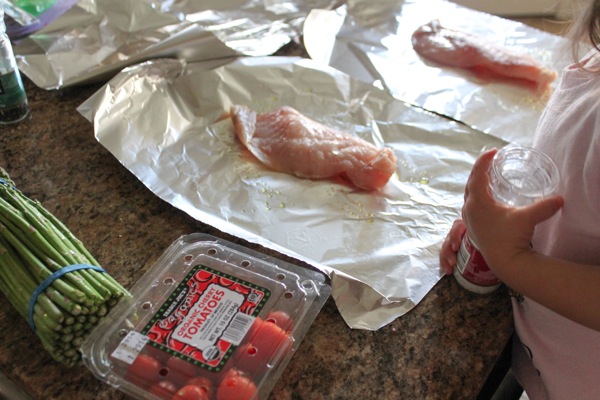 (She's great at spraying the olive oil and grinding the salt and pepper)
I wasn't quite sure how it would go with raw fish -usually I ask her to help with the non-bacteria-related cooking stuff- but she REALLY wanted to do it. So, I told her she couldn't touch or eat the fish until it was cooked, and she totally listened. Such an awesome little cheffer <3
Our fish packs ready to go: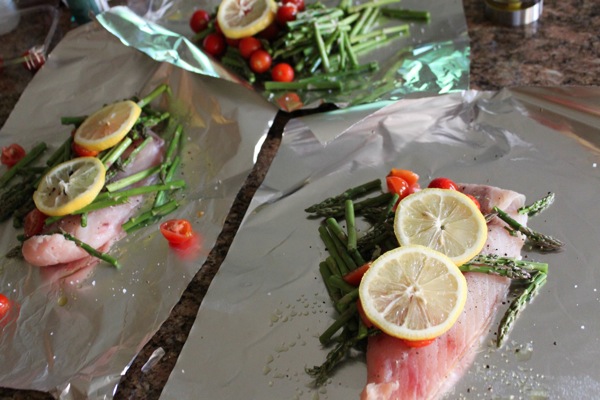 (giant rockfish filets with asparagus, tomatoes, lemon, garlic, salt and pepper. I added a pat of butter, rolled them up and baked for 30 minutes at 350. We also had some garlicky dill roasted potatoes.)
Chillin' on the hammock, waiting for dinner to cook: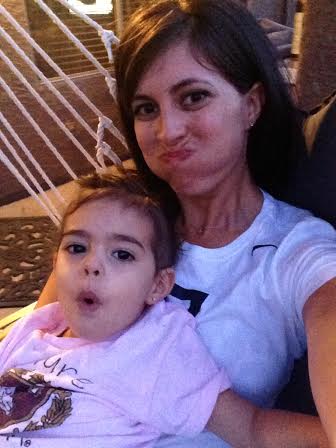 Miss Bell, enjoying the fresh air: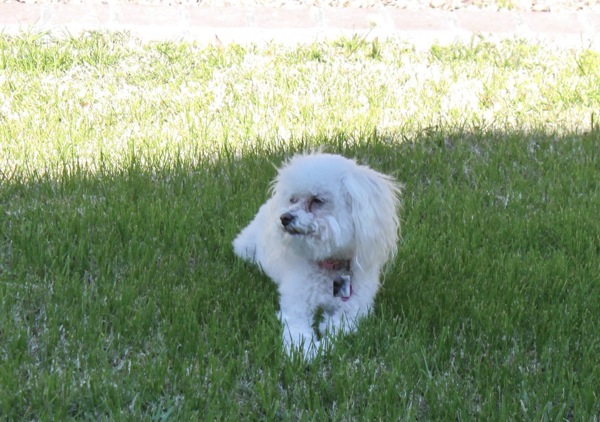 I'm not sure what's going on, but my sweet tooth has been OUT OF CONTROL lately. I've been trying to think of ways to tame it (that don't involve baking a molten chocolate cake), since we don't have a ton of dessert-y things at the house.
Here's what I usually do when the sweets monster makes an appearance:
1) Am I hankering for something specific, or do I just want something sweet? Usually I can tell the difference between wanting a samoa girl scout cookie (why are they so good?!) or just wanting a little something sweet after a meal or during the mid-afternoon slump. If we have the dessert I'm craving on hand, I eat it, keep moderation in mind, and usually that will do the trick. If I just want something sweet, I'll enjoy a little homemade treat: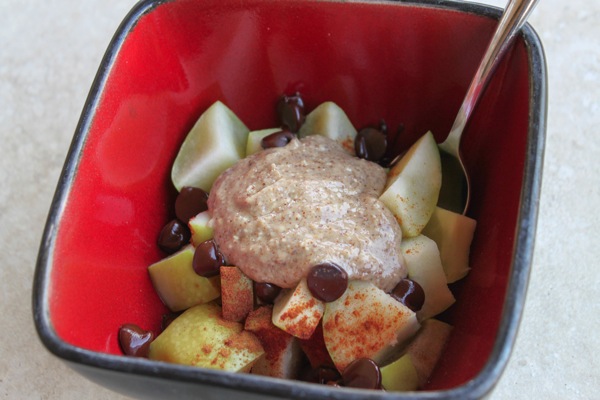 That's one of my all-time favorites: the "baked" apple. A microwaved chopped apple (2 minutes) with cinnamon, chocolate chips and almond butter. 
Some more faves:
Grain-free cookies (super quick to make)
2) Assess my nutrition. Usually if the sweets monster is around, I'm lacking in nutrients from my regular diet. If I'm not getting enough fresh produce or water, it will sometimes turn into the sugar monster. 
3) Assess my sleep habits. Sweets usually give a short-lived energy boost when I'm tired. As I mentioned before, my sleep has been hit or miss lately, so coffee has once again become my best friend. Dark chocolate chips are a close second 😉
What's your favorite quick sweet treat?
Hope you have a wonderful afternoon <3
See ya later today on the Fashion page with gem show finds 🙂
xoxo
Gina