Hi friends. I LOVED reading your comments on my book post! Thank you for refreshing my reading list 🙂 I guess I need to finish A Thousand Splendid Suns- it's already on the Kindle waiting. I'll be referring to your suggestions when I finish it, too.
Here are a few faves from the week:
-An awesome feature in Mother Earth Living magazine!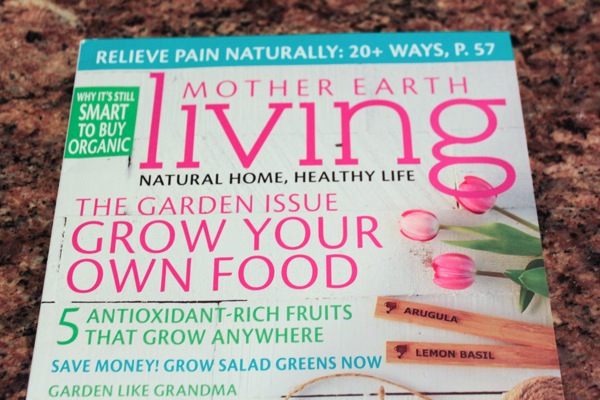 They asked me to send in a new or previously posted workout that fellow moms could do at home, so I recycled a Shape Up workout that I've tested and has killed me a few times. It was pretty exciting to see it in print. The magazine is sold at many health food stores, including Whole Foods.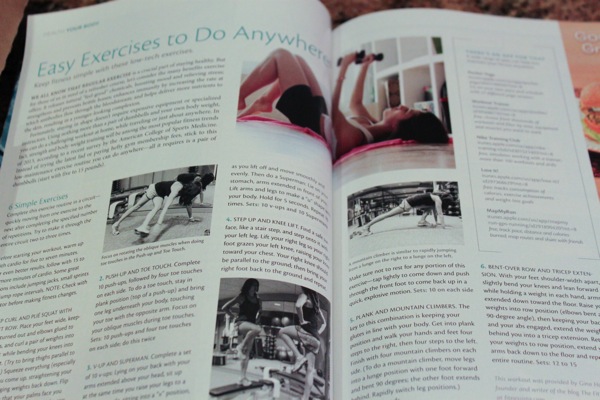 -Work food. I've mentioned this countless times but we always have some kind of decadent treat waiting for us in the locker room. This week's bundt cake: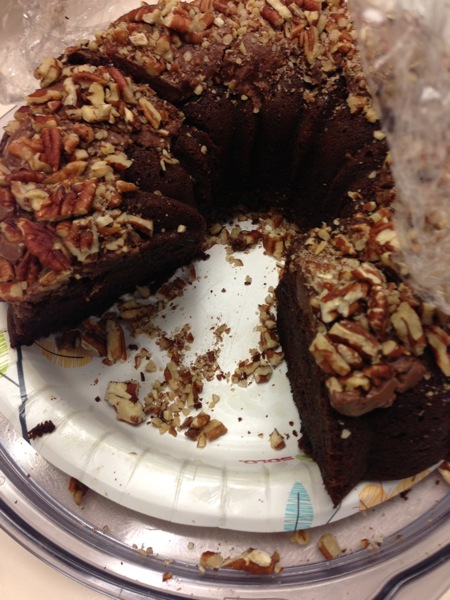 (cue the "My Big Fat Greek Wedding" quotes haha)
It was so good I could cry.
Also, my friend Sasha surprised me with an Indian food lunch: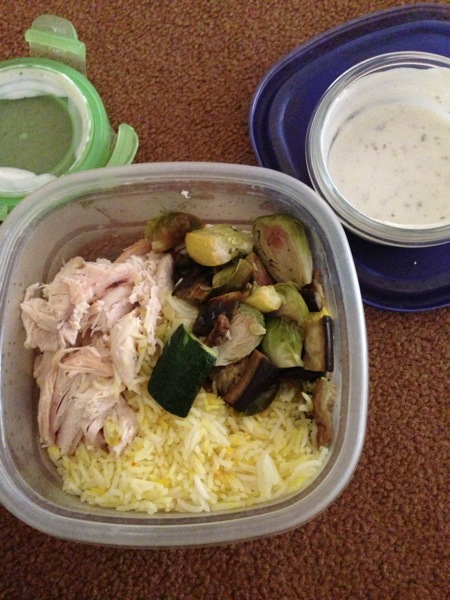 Absolutely glorious chicken, saffron rice, veggies and a spiced yogurt sauce. I can't wait to make something similar at home.
We've been enjoying lots of homemade dinners and snacks this week.
Like this: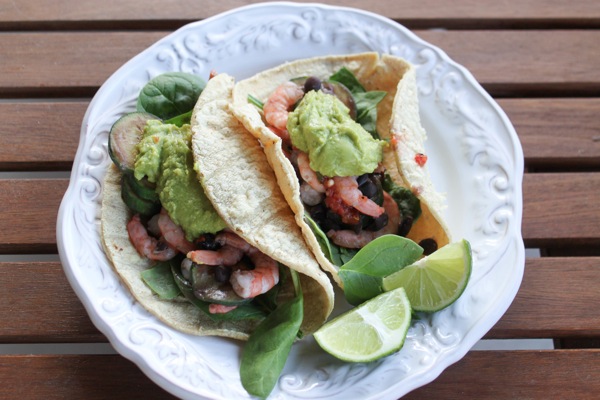 (shrimp tacos with sautéed zucchini, black beans, guacamole, spinach and salsa)
this: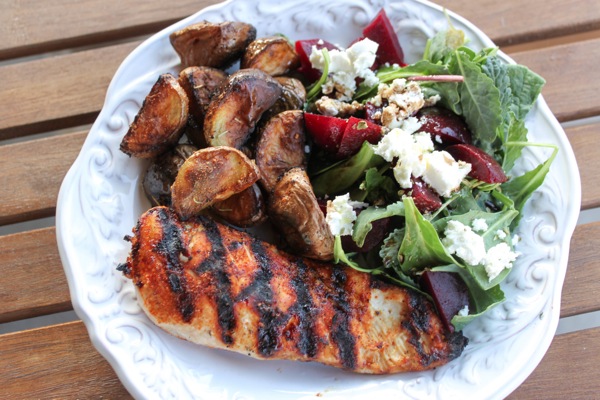 (grilled chicken, crispy rosemary potatoes, salad with goat cheese, beets, super greens, homemade balsamic)
oh, and this.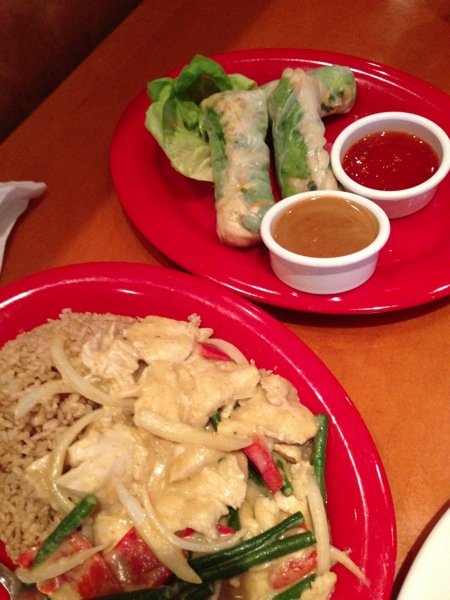 Pei Wei FTW.
-Workout-wise, I've taken it pretty easy this week outside of work, with the exception of a killer hot yoga class. I don't usually put hot yoga on my workout plan, because I'm never sure if I'll be able to go. Since it's something I love so much, it's been happening. I've consistently made it to class for a while and look forward to it every week. I can tell a huge difference in my arm strength and flexibility- last night, I slid into full splits for the first time in quite a while. My arm balances have also become stronger, even though it's harder to practice those when you're wicked slippery from sweat.
-Livi's wagon. We're still spending lot of time outside each day- she helps me water the flowers and herbs (I recently taught her how to smell the herbs, and now, she'll pick off one to eat each time we water them)- and she pulls her wagon all over the yard. She's been trying to get Bella to ride in it, which so far has been unsuccessful.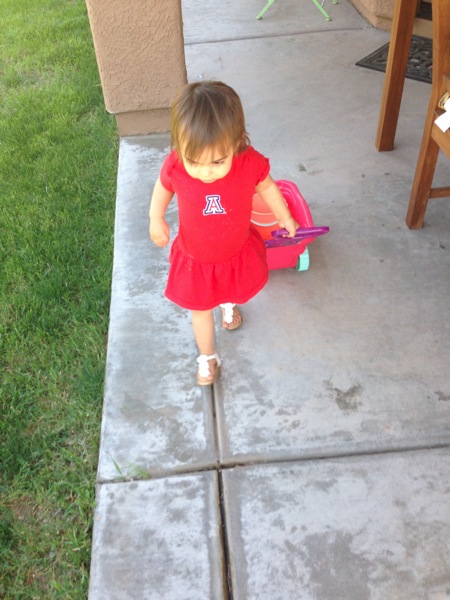 (Baby wildcat on a mission)
-New Reebok gear!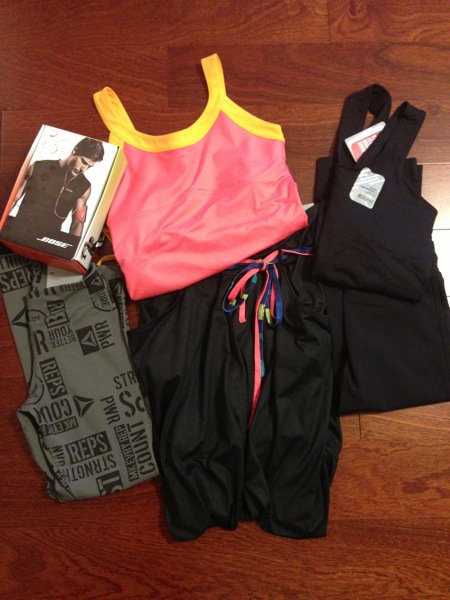 Per our partnership, Reebok sent me some things to try out this month, including the coolest print leggings, crops, a tank, Zumba outfit (these pants and this top), and headphones. I don't usually go for fancy headphones -I lose them too often!- but these stayed put beautifully during this week's run.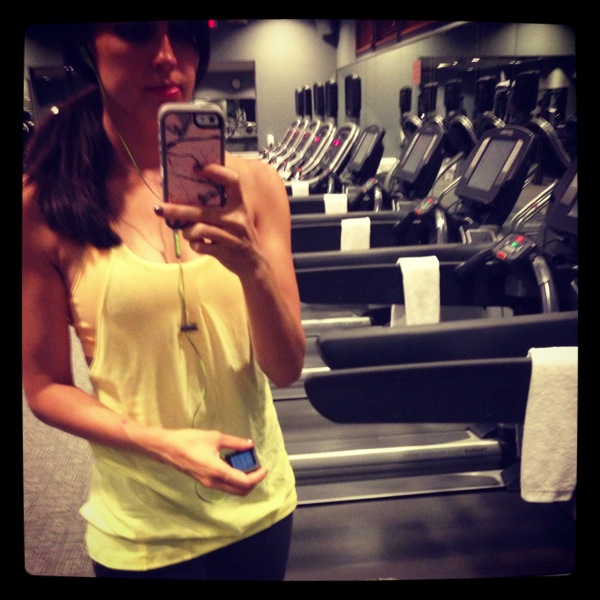 I also wore the black outfit to teach dance,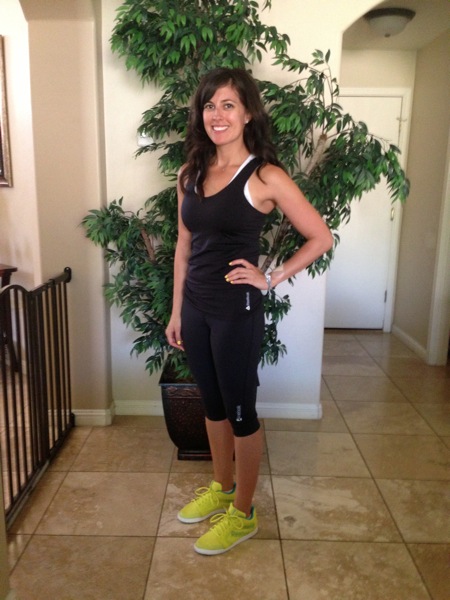 the Zumba outfit for a crazy awesome Zumba class,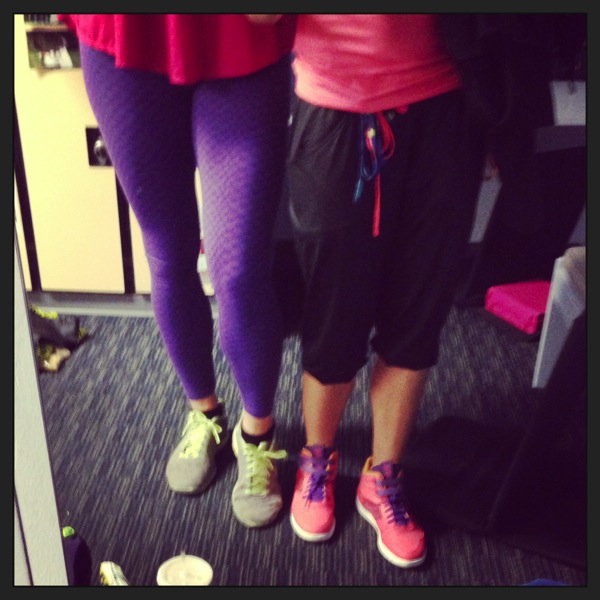 and have just been wearing the printed tights for funsies. I think I'll use them for strength training more than anything else and am obsessed with the awesome print. Every piece was true to size, with soft, moisture-wicking material (especially the sweaty dance classes) and I know I'll be using them often for teaching.
-YesTo surprised me with goodies in honor of Earth Day, which was a lovely treat since I love their products. I took these facial cloths to work to share with my friends; they're perfect for freshening up in between classes.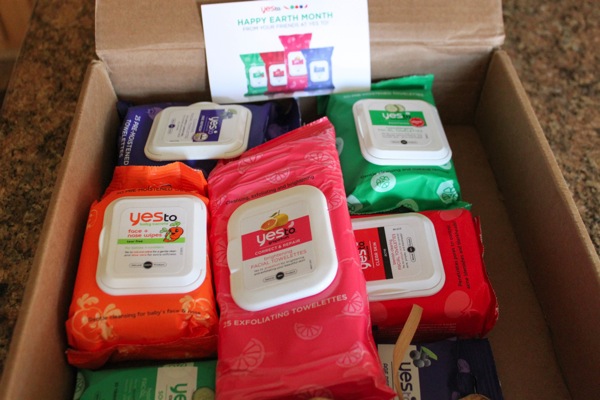 -The upcoming weekend. Pretty much all of our upcoming weekends are packed with activities, with a little downtime in there, too. I'm just excited to spend some time with the family and hit up the farmer's market.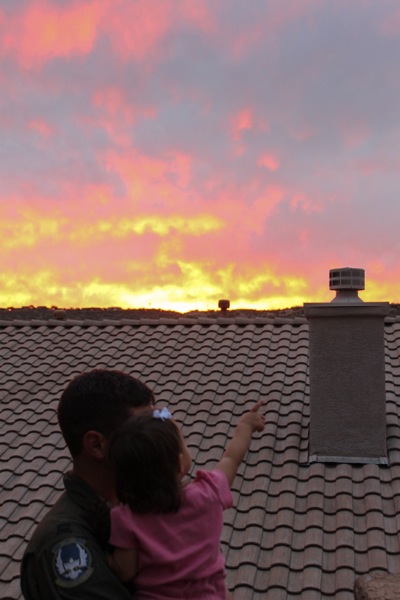 (When the Pilot got home, we rushed up tot the balcony to catch the sunset)
What's on your plan this weekend? I love hearing what you're up to <3
We have an official start date for Summer Shape Up: May 27th. Mark your calendars! I'll be posting more info (including how to sign up) in the upcoming weeks. It's going to be the best one yet, with functional, effective workouts, meal ideas, prizes and giveaways like cray.
Happy Friday!
xoxo
Gina