Be forewarned.. every family post from now on will probably mention that fact that time goes by way.too.quickly.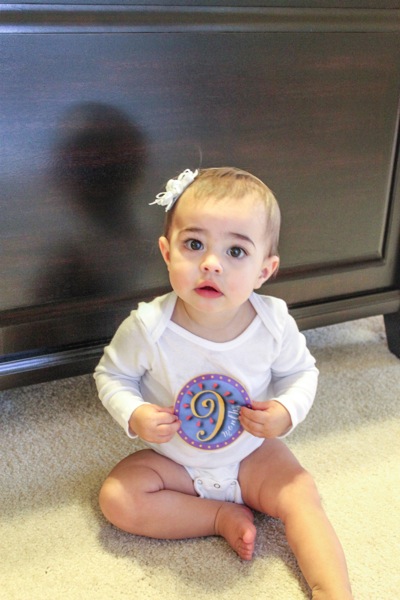 Is there a ninja chopping onions in here again?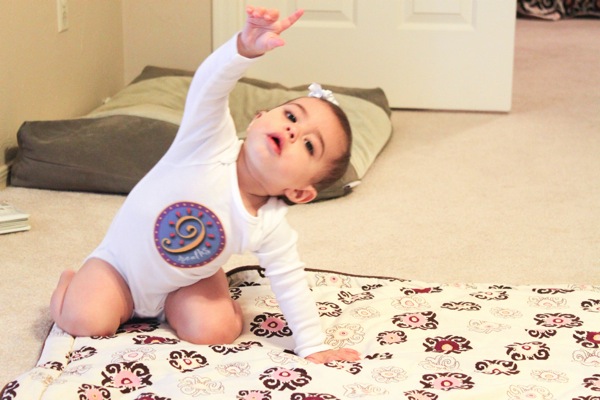 Here are 9 things about 9 months with my favorite little lovebug:
1) For past monthly photos, it was kind of funny trying to get her to stay on the blanket so I could snap her picture. Now? Totally hopeless, haha. She also figured out that there is a sticker on her onesie, and that she would like to pull it off… and eat it.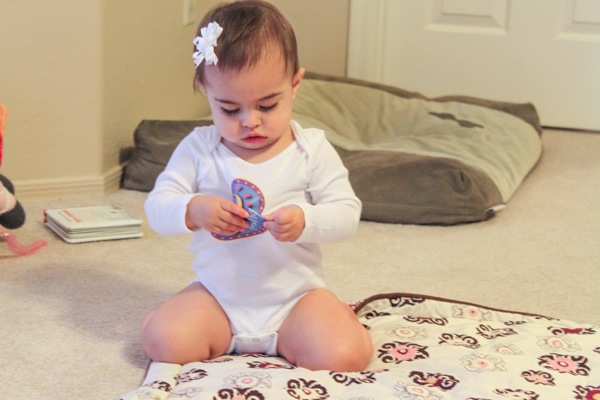 2) She learns so much, so quickly. With everything Tom and I teach her, she also has my mom (her nana) and my nana (her nananana) who teach her new things all the time, too. Some of the current favorites: still waving "hi" and "bye-bye," dancing, clapping and "rawr"-ing like crazy, but can also "moo" when we ask her which sound a cow makes, "sniff" (scrunches her nose up and deeply inhales) when we ask her how it smells, and click her tongue. Her ability to absorb her surroundings and mimic what she sees is truly incredible, and I'm now much more mindful of my word choices 😉
3) Food continues to be just as fun as ever, and I love making her food and introducing her to new flavors. Newest faves: grapes, and broccoli (little trees). For the grapes, I'll peel them and pinch off pieces to put on her tray, and for the broccoli, I steam a few florets and cut them into little trees. We can only give her a little food at a time on her tray, because we found out that she'll chipmunk it and store it in her mouth instead of swallowing. One night I couldn't believe she had eaten all the chicken pieces I gave her, and when I lifted her out of her high chair, she opened her mouth and they were all stuck to the roof of her mouth. One or two pieces at a time from now on, but I have to replenish asap.
4) She has her 9-month appointment today, and it's the first one I'm actually excited about it instead of dreading. No shots (!) and I can't wait for her pediatrician to see how much she's grown. I'm so thankful for the pediatrician we have here in Tucson. She reminds me of a midwife-meets-pediatrician and helped so much during the initial hurdle with breastfeeding, jaundice and all of the tough stuff.
5) Oliv still has two teeth, but the top two have been on the way for a while. I'll be glad when they're here because they've been bugging her for a couple of weeks. We have an amber teething necklace, but I haven't been putting it on her because I have to keep taking it off for car rides and nap time. I usually just use the frozen teethers, homemade popsicles, Humphrey's teething strips, or if none of that seems to help, baby Tylenol.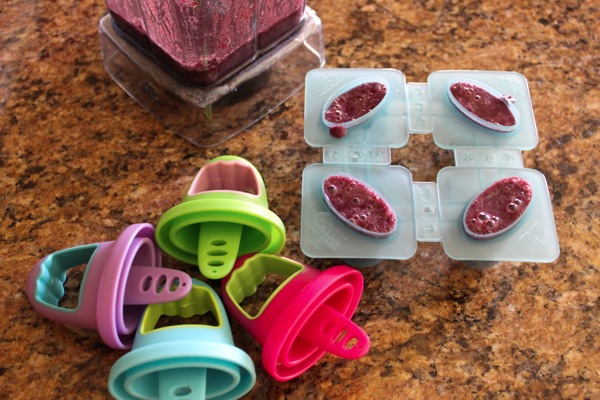 She's also still on the verge of walking, and can stand for a couple of seconds before squatting to sit down. She speed crawls and scales like a pro, so she can easily get where she wants to go (which is often Bella's food dish or to try and bust through the baby gates).
I keep joking with Tom that she's going to be a gymnast because of how strong and agile she is. We were sitting outside watching Bell and she reached over, grabbed the small iron table we were sitting at and pushed it up. It shocked me!
6) Her kisses are my favorite thing in the world. She'll lean over and plant a wet, sloppy kiss on my chin, cheek, or right on the mouth.. my heart can't even handle it.
7) Likes: playing peekaboo, "Itsy Bitsy Spider," turning lights on and off, bath time, play dates with baby and mom friends (I'm fortunate that many friends have babies close to Liv's age), homemade popsicles, chasing Bell, getting her hair brushed and her new dolly.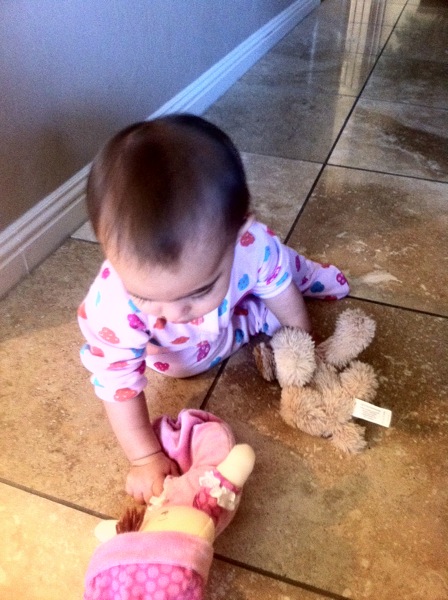 8) Dislikes: diaper changes, clothes in general, when she runs out of food to pinch up from her tray.
I can't believe it's already been 9 months, and that I've been fortunate to spend almost as much time with her as I spent anxiously waiting to meet her when she was in my belly. There's always a "too good to be true" moment I feel when I see her, especially when I wake up in the morning. With the way things are going, I've realized that it will never go away. It will never be less exciting, and I'll just continue to feel more blessed as time goes on <3
More monthly updates: