1 more month until Oliv is officially a toddler! She's transitioning from baby to big girl in the blink of an eye, and it's especially incredible to get little glimpses of what she may be like when she's 3.. or 7… or 12. I won't even start playing the "time is passing way too quickly" violin, as we're all familiar with that tune, but even with how fast the first year has gone, I wouldn't take myself back in time. Every month is my favorite, and I love being able to watch her grow and learn. I love seeing her personality develop and become more apparent each day. Every day continues to be more fun, and my heart continues to be more full, even though I often feel like it's about to burst.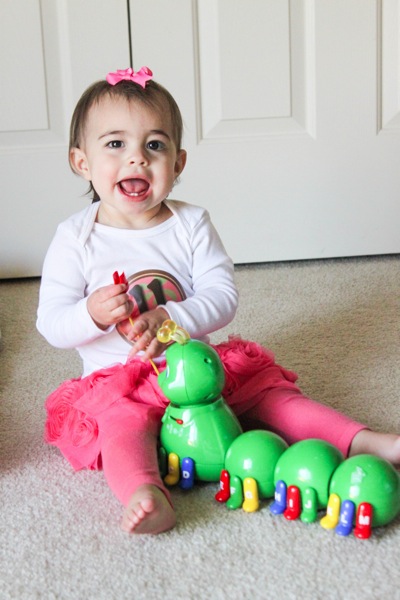 Here are 11 things about 11 months:
-New foods! Liv continues to try new things, and we started to introduce a little nuts and tomatoes this month. She seems to enjoy the foods she's tried so far – she's an awesome little eater. She still loathes dairy products even though I've offered a few types. Goat cheese, organic yogurt, string cheese and cheese slices are all gagged out and thrown to Bella. I'm still making purees, but she prefers drinking them now, instead of eating them from a spoon. As we transition to 100% solids, I can see myself making her a variety of smoothies and soups, not so many purees. Some current favorites: persimmon, oranges from our tree, cucumber (she loves it so much, I started putting slices in her sippy cup- little spa baby!), spaghetti squash, and little protein-packed treats like her lentil turkey muffins and black bean burgers. She continues to eat scrambled egg yolk, banana, avocado, oats, beans, salmon/chicken, fresh veggies and cut-up fruit in her daily menu.
-Walking is still about the same, and while we practice, she can take her sweet time. I'm already chasing her all over the place, as it seems like her mission in life is to find something to injure herself. At the same time, some days I feel like it would be easier if she could walk on her own, since she usually wants me to help her walk everywhere by holding her hands. I love doing it, but my back isn't such a huge fan.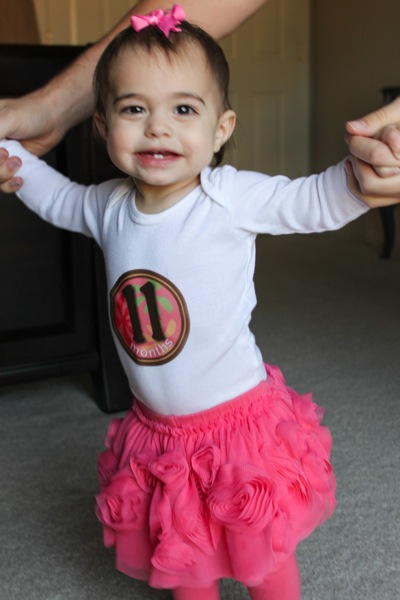 -She's already a little chatterbox! Words she can clearly say at the appropriate times: uh-oh, up, Dad, eye, dog, hi/hey, hot, Bellaboo (which sounds like "beh BOO") and lots of animal sounds. I especially love her monkey sound 😉 She's become really good at imitating words (last week I asked her where the elf was, and she looked at me and said, "ELF!") and started to do some of the baby signs we'd been practicing. She has signed "more" a few times before, but now it's consistent, as well as "all done." So, fellow mamas who are trying to teach their baby some signs: don't give up! It may take a little while for them to sign back to you, like it did for us.
She'll also imitate facial expressions, which is hilarious. The best? Her "sniffer" face when she crinkles her nose and makes loud sniffing sounds.
-We're almost done with bottles, which makes me sad and excited at the same time. While I'm not going to miss the cost of formula (and am sure that expense will be absorbed in other ways), I'm going to miss the snuggle time with Liv. When I finished pumping at about 6 months, I couldn't wait to get to really snuggle with her while she drank her bottle. It seemed to suck the fun out of things (literally) to pump and feed her at the same time. Since then, when we're at home, she drinks every bottle curled up on the couch with me. I always take a deep breath and savor the moment as I tickle her hair, knowing that bottle snuggle time is almost over.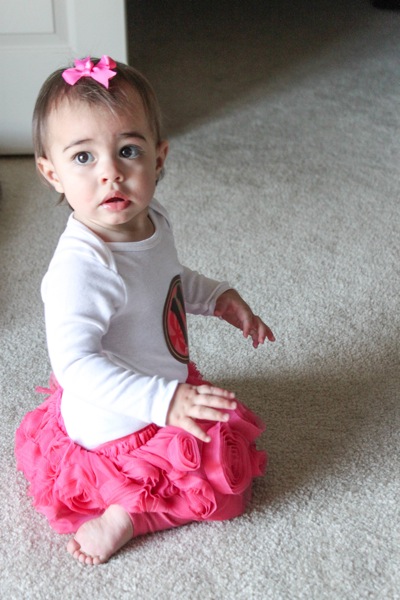 -Speaking of snuggle time, that's pretty much the only time she'll really cozy up with us. She's too interested and curious with everything around her, and if we pick her up for a hug, she'll push us away to investigate something. Tom told me that when kids are like this, it's a sign that they get plenty of love and affection, since they aren't clingy and craving it. I like to hope and believe it's true. Sometimes, she'll surprise us with a slobbery kiss, right on the mouth. She's not quite as stingy with dog affection and will often put her face right in front of Bella's to get a kiss.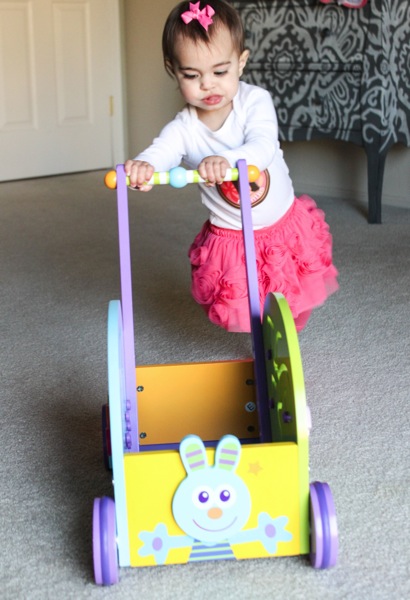 -Likes: petting the dogs, playing with blocks, baby massage, bath time, trying to eat rocks, brushing her teeth, her baby class at MyGym
-Dislikes: diaper changes, wearing clothes, being moved away from something dangerous, Santa Claus 
Next on the agenda: planning a birthday party for this curious, brilliant, sweet and fun little girl. I'm so lucky to be her mama <3