Munchkin meals (18 months)
The idea of posting Munchkin Meals was started by Brittany and Healthy Slice of Life. While I'm not a regular Munchkin Meals poster -I am a little sporadic and pretty much never post on the specified day for MM- I like sharing some of Liv's meals from time to time since I love reading what other mamas feed their kids. At 18 months, Liv eats pretty much everything we eat (the only things I avoid are food dyes, pork, beef and shellfish for her), but we still tend to get stuck in ruts. It's easy to do the same things over and over, so Munchkin Meals are a fun way to shake things up and get new ideas.
Here are some of the pics I took last week before we left for Cali:
(I'll make a large batch at one and just pop in the toaster to reheat. Same thing goes for turkey lentil muffins, French toast and banana quinoa muffins. It's much easier to have them in the freezer ready to go)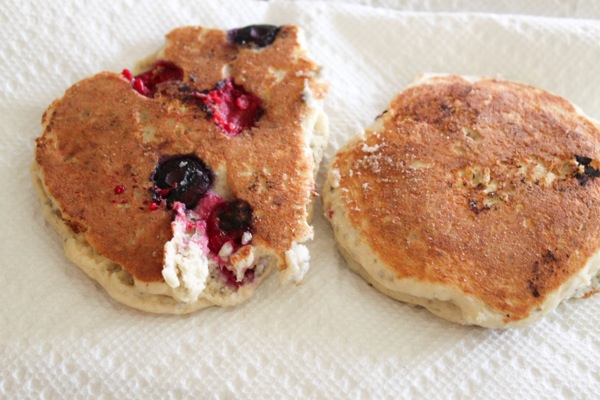 Lunch: Lentils with cumin, garlic and chili powder, potato wedges, broccoli and a smoothie (blueberries, whole milk, banana, sunflower seed butter, a little spinach)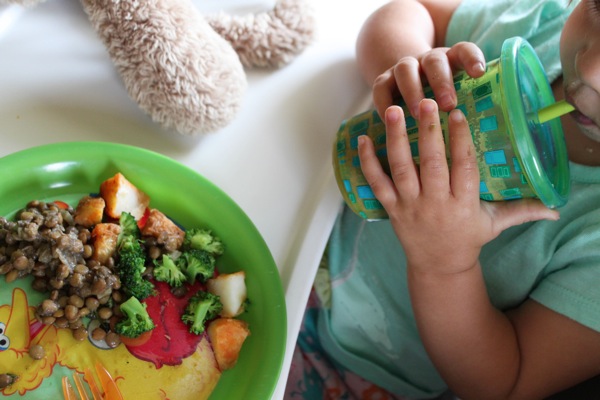 Salmon kebabs with zucchini, onion, BBQ for dipping and a glass of whole milk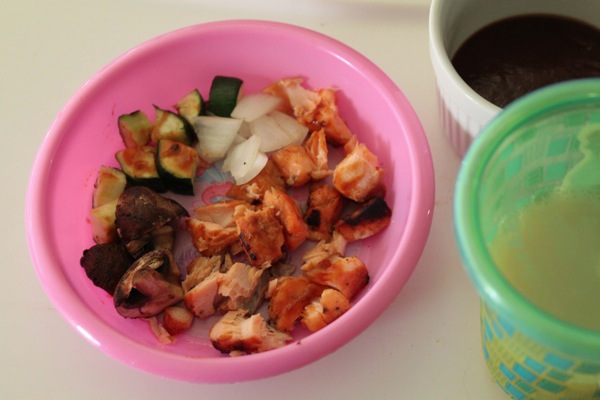 Potato on the side (it was cooling on a paper towel.. that tends to happen a lot, which is wasteful but quick to grab)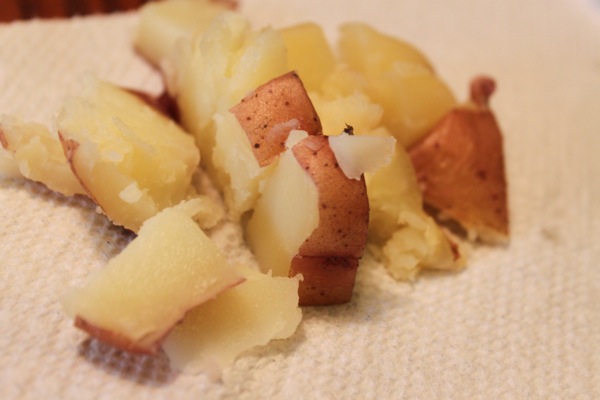 Breakfast: watermelon, blueberries, yogurt and egg, on a Halloween plate 😉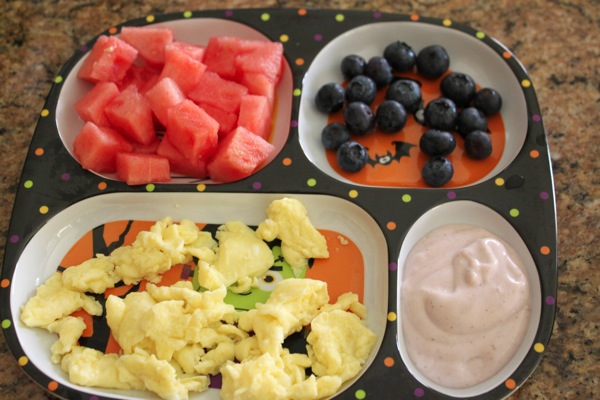 For breakfast, it usually goes something like this:
Egg or spicy omelet (with cheese and salsa)
Starch (French toast, pancake, muffin or oatmeal)
Lots of fruit, milk to drink
Snacks:
A PB&J on a pita pocket
Bar (Trader Joe's, organic granola bar, something I've made)
Fruit and cheddar crackers
Veggies and hummus or guacamole for dipping
Smoothie
Lunch:
Sandwich (turkey, veggies, olives, mayo and mustard on an English muffin or pita)
Pizza on an English muffin with veggies
Mac n' cheese with veggies and fruit
Yogurt parfait with PB toast
Leftovers from the night before
Dinner:
Whatever we're eating! This part is easy 🙂
Any fun lunch of snack ideas your toddler is loving? I always love to hear about new things!
I discovered just this past weekend that Liv loves celery -I never buy it since the Pilot and I aren't fans- so I can make her some little ants on a log. Right now, she's also REALLY into dipping, so anything that will go with salsa, guacamole, BBQ sauce or ketchup and she's a fan.
Hope you're having a great day <3
xoxo
Gina