Alaska Cruise Packing List + Disney Alaska Excursions
Sharing our packing list + the must-haves for our Disney cruise to Alaska, along with the excursions we chose.
Hi friends! Don't worry, this is my last cruise recap post haha. I feel like I'll be living vicariously through these posts for a while. So many times since we've been back the girls have said they miss being on the cruise. "I wish I was on the cruise right now." You and me both, sister.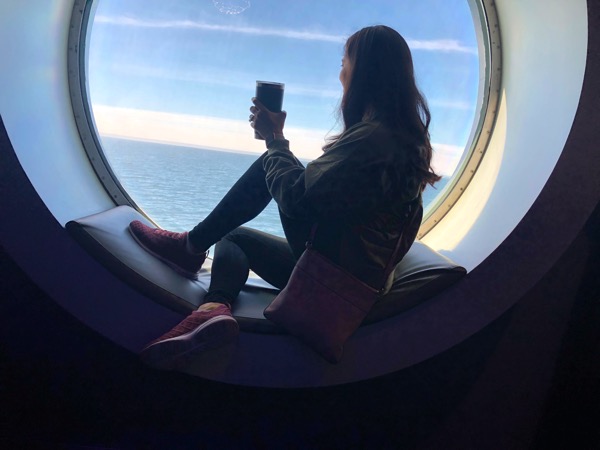 I thought I'd share our packing list along with our must-haves for the trip because I had such a hard time packing for this one. I didn't find a lot of info online, and those in our Facebook group vaguely said to "pack layers." I didn't want to overpack, but also wanted to make sure we had everything we needed for the weather. We traveled at the beginning of the season (at the end of May), so it was a little more cold that it will be later in the season.
Here's our Alaska Cruise Packing list: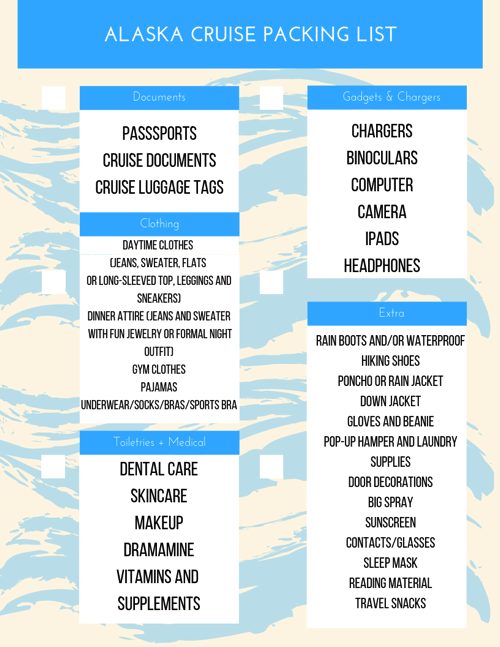 Our packing strategy:
– For each day, I packed the girls a daytime outfit for play or the excursions and an optional princess dress or nighttime outfit. 
– For myself, I either rocked it casual on the ship (either a long-sleeved top, leggings, and sneakers, or a sweater, jeans, and flats) and brought a gym outfit for each day.  For dinner, I either wore what I wore during the day – it was very casual with the exception of formal and semi-formal nights – or changed into a dress with lower heels or a nice sweater, fun earrings, jeans and flats. 
– We didn't go crazy for formal and semi-formal nights. The girls wore dresses with flats, the Pilot wore slacks with a button-up shirt, and I wore a dress with lower heels. There was a huge variety in the outfits on the ship, from ball gowns to T-shirts, so really anything goes. It's really up to your comfort level!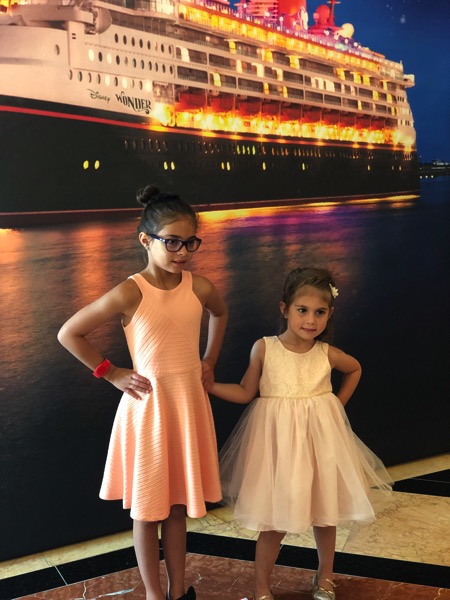 – We had lightweight layers for the ship: sweaters, hoodies, and jackets we could use if we got a bit chilly. I also brought a couple of parkas for the girls that I bought from gap kids on super sale – a perk of traveling somewhere cold as summer's just beginning – and the day it was very cold and rainy, I was glad we had them.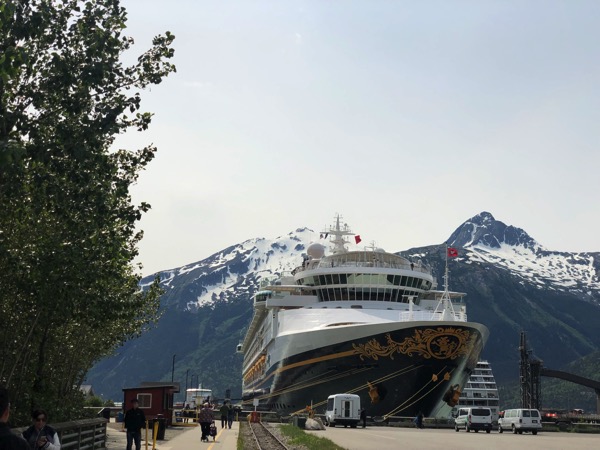 – For excursions, I brought jackets (North Face reversible jackets and Patagonia are our faves), a long-sleeved tee underneath, leggings or jeans, and we wore these with sneakers, waterproof hiking boots, or rain boots, depending on the weather. We stashed an umbrella, gloves, and beanies in our backpacks and ended up using all of them.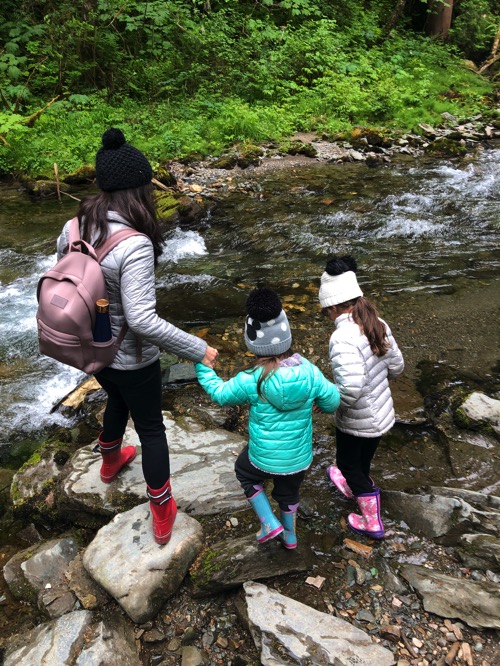 – Theme days! I made sure to check the schedule beforehand so the girls could have appropriate character outfits. 😉 They had Anna and Elsa dresses for the Frozen meetings, Buzz Lightyear dresses for the Pixar Pals party, and Belle and Rapunzel dresses for the princess gathering.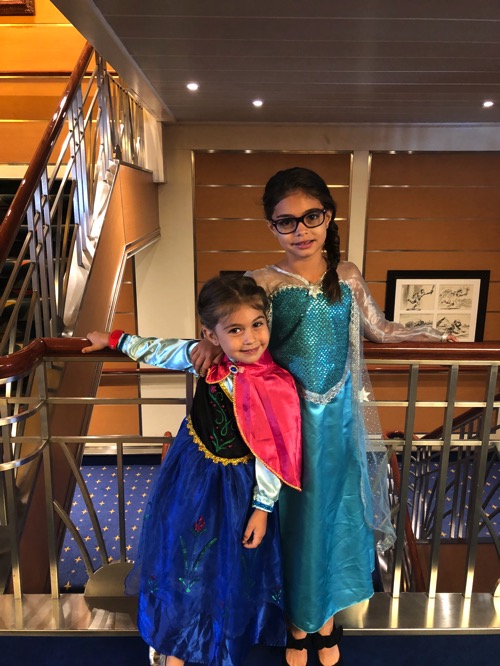 – Something that helped: I packed all of our Vancouver clothes and pajamas into a small carryon bag. This way we didn't have to mess with our bug suitcase when we were in Vancouver.
– Another pro tip: pack your swimsuit and a change of clothes in a tote bag the day you arrive for your cruise. Your luggage may take a few hours to get to your room, so this way, you can check into the ship, head straight to the pool, and play for a few hours before heading back to get ready for dinner.
Some must-haves:
– Dramamine. Thankfully no one experienced seasickness on board, but I wanted to have this just in case. We also brought Immodium for the same reason… just in case.
– Binoculars. The scenery was breathtaking and the girls loved the option to check out the trees and eagles soaring from the top deck.
– Rain boots. I was on the fence for these, but the day it rained and we were on an excursion, I was SO thankful we had our wellies. Otherwise, the girls' pants would have been soaked! I also highly recommend bringing beanies and gloves.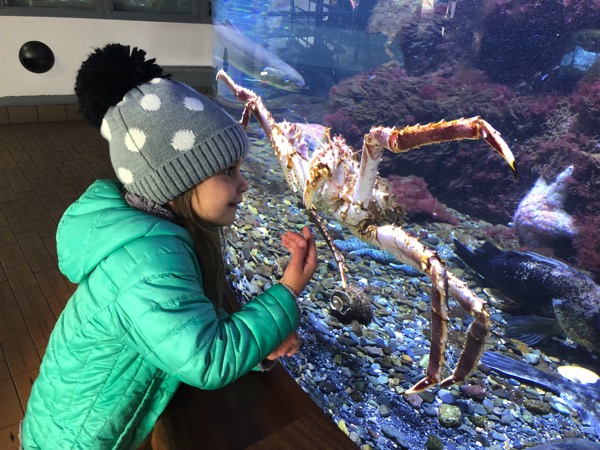 – Fleece-lined leggings. I also brought tights to layer under our pants in case it was very cold, but these leggings ended up being perfect for the girls. They didn't wear them on the ship, but they were perfect for excursions.
– Poopourri. Yes, this is a weird one, but it was a nice thing to have since we were all sharing the same bathroom. 
– A pop-up hamper. I wasn't sure if we'd really need this, but I ended up doing laundry four times on the ship! It was SO easy to lug our stuff to the launderette. We ended up bringing mostly clean clothes home, which made unpacking a little more pleasant. I also brought a Ziplock baggie with free and clear laundry pods and dryer sheets so we wouldn't have to purchase them on the ship (and risk the girls getting itchy from a new detergent brand). 
– Door decorations! I can't believe I forgot to take a pic of these but we ordered a few from Etsy. It's fun to personalize them before your trip!
– Water bottles! The water in Alaska and Canada was so incredibly fresh and clean. It tasted amazing. They also had filtered water stations throughout the ship, so it was easy to refill water bottles constantly. Someone in the Facebook group recommended bringing a Yeti cup, but I only ended up using it a couple of times. 
– In the end, remember that pretty much anything you forget can be purchased on board! They also had a full medical deck, which was like a mini hospital. One of Betsy's kiddos came down with an infection and they were able to get antibiotics on the ship.
Disney Alaska Cruise Excursions:
For excursions, I have to admit that I felt pretty overwhelmed. There are so many, and the price ranges are HUGE, from $30 per person to $1000 per person. I decided to keep things low-key with the excursions, and am glad we only booked two. The rest of the time, we could explore the ports of call, or stay on the ship and take advantage of the fact that it was nearly empty (! perfect time to do laundry or hop in the hot tub).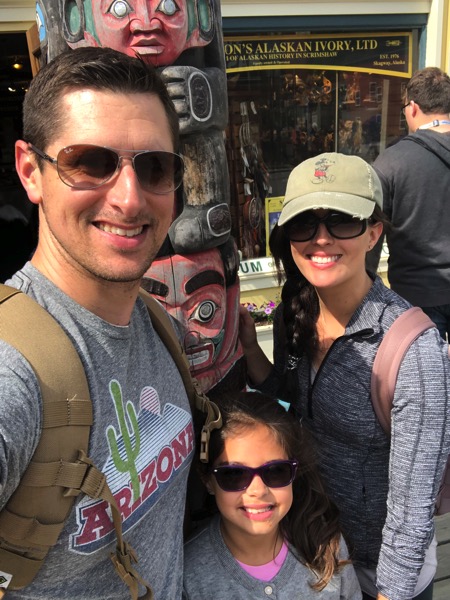 We ended up choosing the Musher's Dog Camp, and the Mendenhall Glacier, Salmon Hatchery, and Salmon Bake excursions.
The dog camp was so cute, and the girls LOVED getting to snuggle with a bunch of baby Alaskan huskies.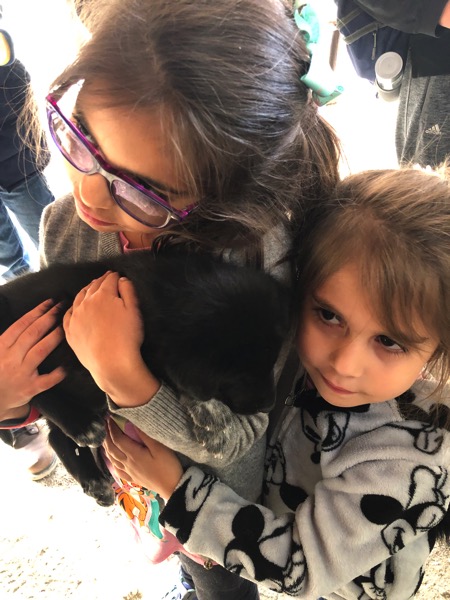 The Mendenhall Glacier, Salmon Hatchery, and Salmon Bake was one of the least expensive options, and we loved it.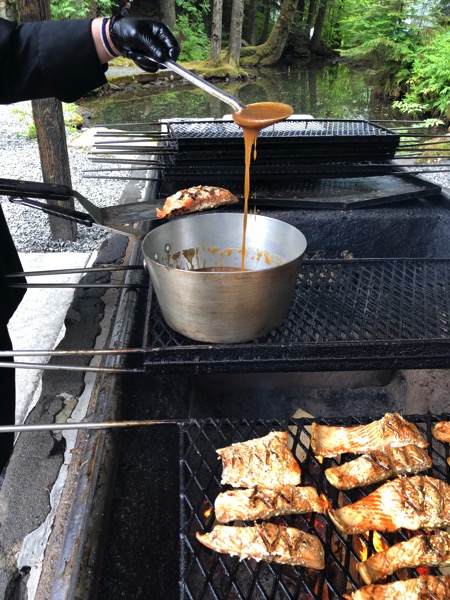 We got to see the glacier up close, explore the hatchery (where P no kidding dropped a stuffed sloth into a thankfully empty salmon tank), and enjoy brown sugar grilled salmon and s'mores in a picturesque outdoor setting. They had a huge buffet set up, including housemade clam chowder, corn bread, salad, chicken, mac n' cheese, blueberry cake, and fire pits for s'more roasting.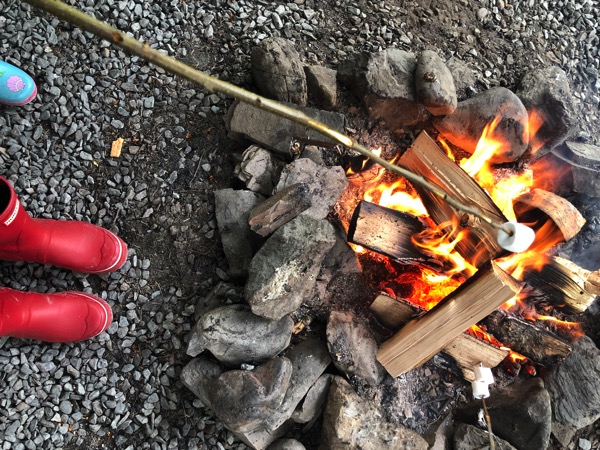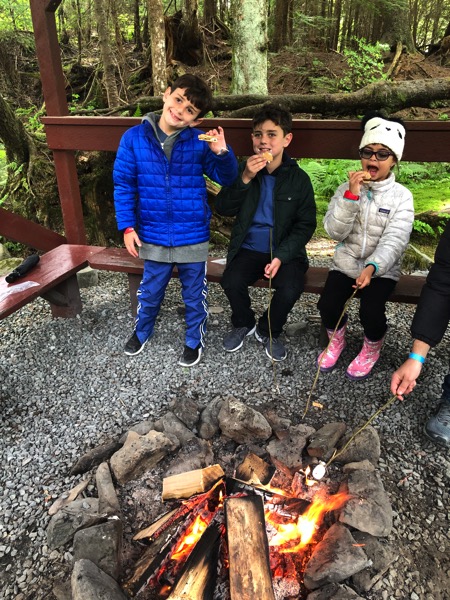 It was such a magical trip – you can check out our full recap here! – and I'm already enjoying scouring the internets for tips for our next one. 😉
Hope you have a lovely day and I'll see ya later with a new podcast episode about postpartum core training!
xo
Gina