All my bags are packed, I'm ready to go
Hey everyone! Whew! What a day. It was frantic and full of packing (blechhhh.. the only thing worse is UNpacking!) but I got a lot done and ate some delicious food 😀
I met Jeni at the gym and we did some legs—plie squats, Bosu calf raises, walt squats, leg extension, reverse lunges and leg lifts, and deadlifts. I'm going to miss my gym buddy so much! 🙁 After our workout, I went on a mission to check things off the to-do list.
In the midst of my errand frenzy, I grabbed a 20 oz Supergreen juice from that juice place I like: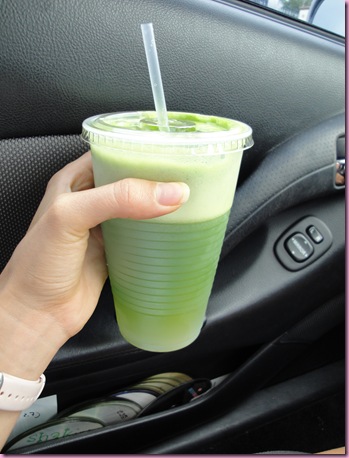 MY OTHER VIDEOS
(If you didn't know, the little pocket in the door is great for ruining holding CDs)
I got my tires rotated, stopped by the health food store to say good-bye and pay for yesterday's goodies since the credit machine wasn't working yesterday, cashed a paycheck and got Viesa's treats, got my bangs trimmed and eyebrows done (I didn't want to look burly with my cheffer hat haha), and PACKED!
The big suitcase: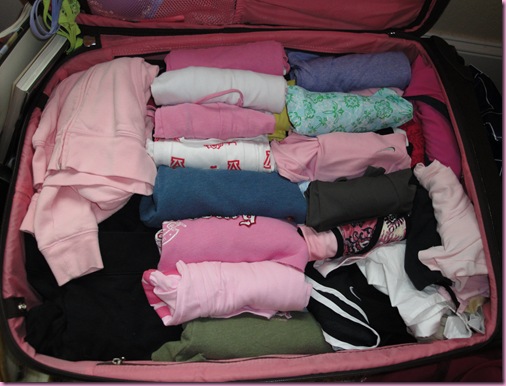 (You'll never guess what my favorite color is!)
I rolled EVERYTHING. It took forever, but there are no kidding at least 50 outfits in that suitcase….
And the little suitcase for me to use on our roadtrip to OKC (I didn't wan't to have to dig through the big one):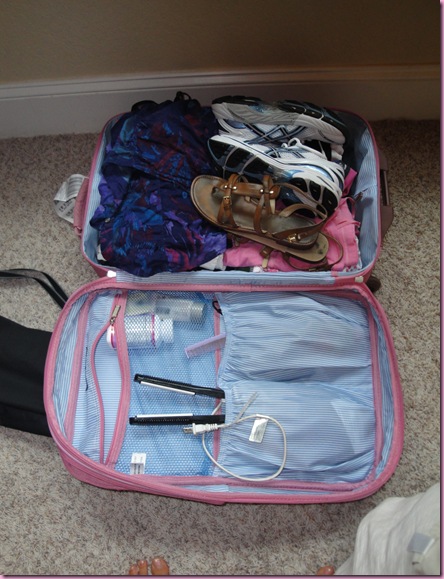 Packing victory!! All I have left to pack is makeup/toiletries and the kitchen stuff/food, which is in a pile on the counter. Not too shabby!
Lochi was the queen of all salad beasts: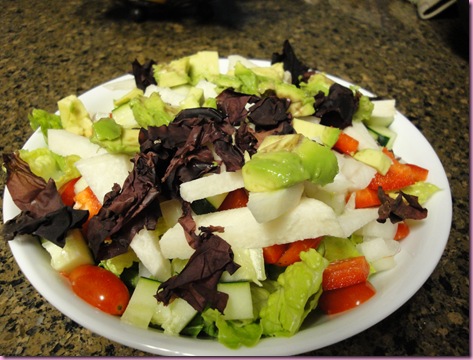 Let's see if I can remember everything that went in there… Romaine, bell pepper, grape tomatoes, cucumber, jicama, lime juice, sea salt, sweet onion, pepper, flax oil, dulse and avocado.
And half an Ezekiel: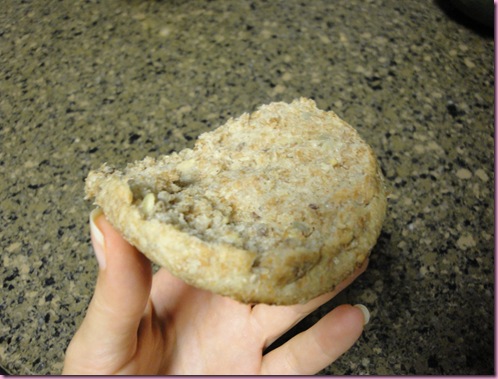 Perfection.
I also made some foodie to munch in between Zumba and my last training appointment.
Spinach and White Beans (great side dish or appetizer.. serves 2-3, or one hungry Gina)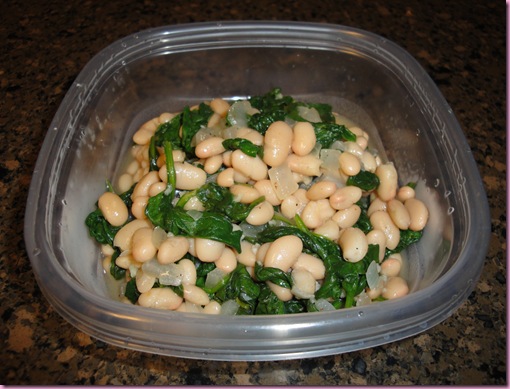 All I did was sweat out 1/2 sweet onion and 2 cloves of garlic in a pan sprayed with olive oil on medium heat: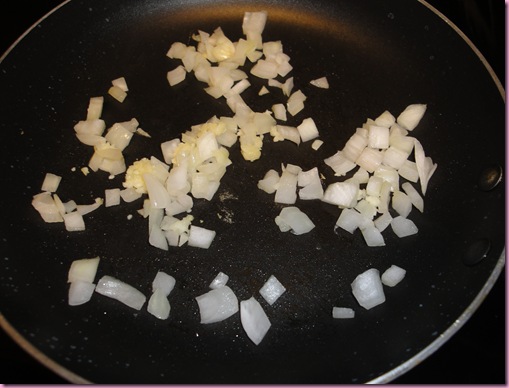 Added the rest of the organic spinach (I'm trying to clean out the fridge! It was about 3/4 of the container)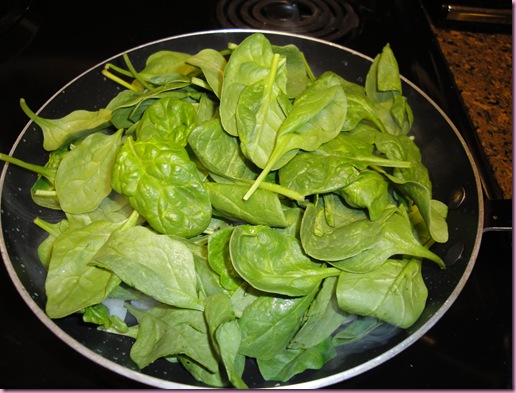 Let it wilt down: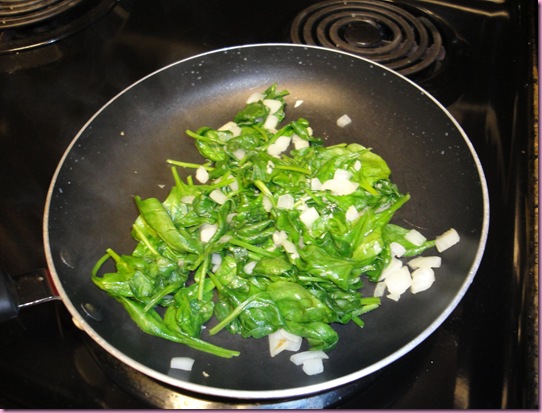 And added 2/3 can organic white northern beans (I threw the rest of the can away because I didn't want to eat an entire can of beans)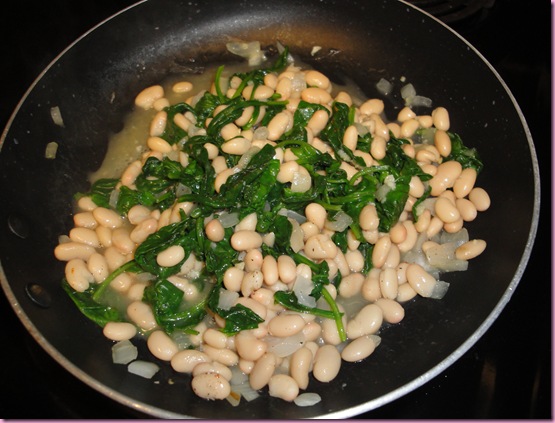 Seasoned with juice of 1/2 lemon, sea salt, pepper and cayenne.
I also packed up one of these bad johnnies: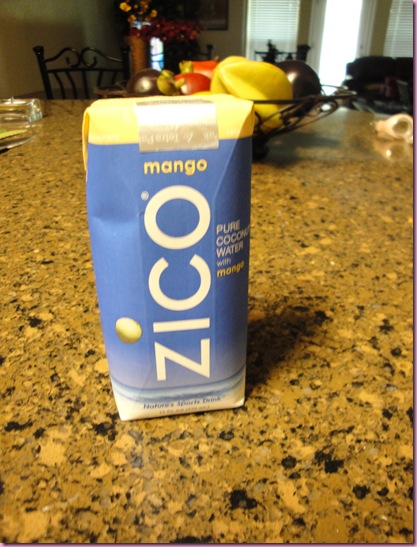 After Zumba, the white bean and spinach dish was absolutely delicious. It's amazing how some of the simplest dishes are the most satisfying.
My training appointment was bittersweet. It was fabulous as usual, but I'm going to miss funny quotes lady!
Well it's shower time over here and probably bed pretty soon—we're getting on the road early.
See ya tomorrow with roadtrip shenanigans 😉
xoxo,
Gina
Anyone else going on a Labor Day weekend vacay??

EDITED TO SAY: HAPPY BIRTHDAY to a wonderful bloggy friend of mine, Erica! xoxo