….. in VALDOSTA!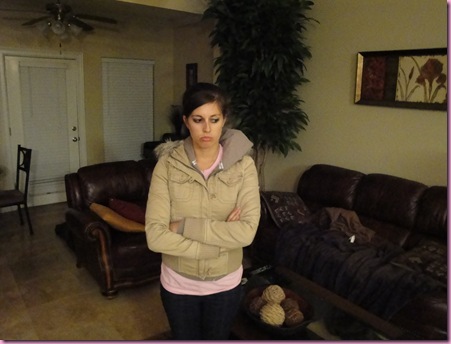 I'm thrilled, can you tell?!
Haha, despite the pouty face, I'm actually really happy to be back in our HOME. I just love our casa- it's so comfy and glorious 😀
Wishin' I could enjoy another one of these cocktails right about now…..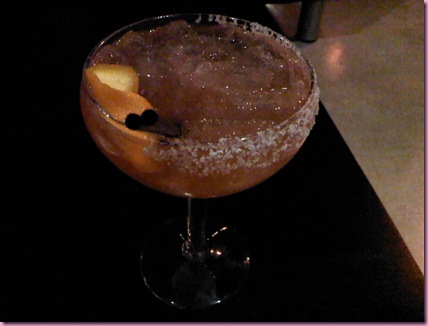 That my friends is a PINK MARGARITA!!! Reposado, agave nectar, orange blossom water, bitters and an orange peel that they LIT ON FIRE before squeezing the oils out of it to rim the glass with salt. AMAZING!!! 😀 The pilot and I went out for drinks last night- he enjoyed a beer and I enjoyed one of those bad johnnies.
We spent a vast majority of today on a plane, with little Bella under the seat in front of us.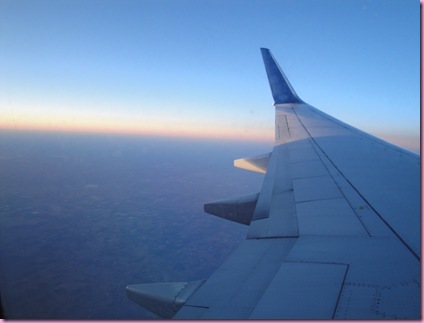 Before leaving, I lived up my last half day of civilization and family time 😀
My bro's girlfriend and I went to her first Bikram class at Yoga Vida. She did amazing and class was pretty awesome, despite the fact that our teach was a little out there 😉 She was very sweet though and it felt so good to sweat my face off.
After practice, we met up with the fam at my favorite breakfast place ever: THE GOOD EGG!
Are you ready for this order?? Because you know I'm notorious for making up my own meals 🙂
A "veggie interesting" omelet with egg whites, cooked in spray instead of oil, no cheese, no sour cream with a green salad with balsamic on the side instead of the hash browns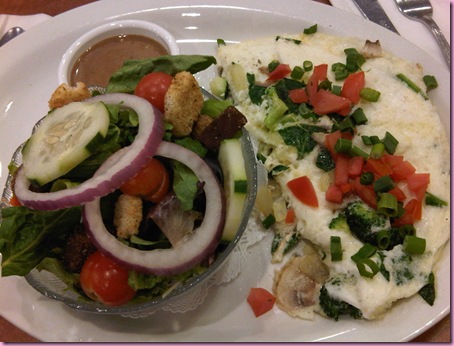 (Didn't munch the croutons)
and a wheat pancake instead of the english muffin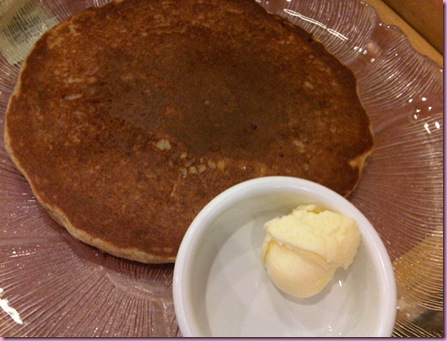 And a side of moaning in breakfast ecstasy 😉
After bfast, I rushed to the health food store for some goodies, we packed up, checked out of the hotel and we went to the airport.
On the first plane, I munched a peanut butter and jelly Larabar.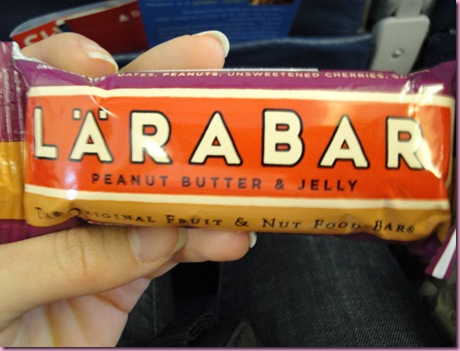 It was my first time trying this flavor and I was a fan. Totally tasted like PB&J 😀
I also had a bite of the pilot's Biscoff cookie to see what all the hoopla was about…. It was meh. Tasted like a packaged cookie- nothing too crazy. If I'm gonna have a packaged cookie, it's going to say Liz Lovely on it 🙂
Now we're back at the casa and laundry is staring me in the face. I'm gonna fight it 😉
See ya tomorrow with my regular blogging action and I'll be sure to get a Workout Move of the Week video in here sometime soon!
Have a wonderful night!
xoxo,
Gina
Today's tip: When it comes to healthy living, drop the all or nothing attitude. This one was particularly hard for me, being a supreme Type A, because I usually feel like when I do something, I have to do it all the way. So not the case. If you get off the wagon a little with your eats for the day, hop back on the wagon as soon as you can. When I first started getting healthy, an unhealthy meal was an excuse for me to gorge on pizza or chips the rest of the day. Skipping the gym for a couple of days lead to an entire week. Now I know that if you get back in the swing of things as soon as possible, a few slip ups here and there don't matter in the grand scheme of things. Stick with it 😀