This post is sponsored by Zappos.
Hi friends! Thank you so much for all of your amazing feedback on yesterday's podcast episode. I'm so happy you enjoyed it, and I loved sharing some advice for creating a balanced fitness plan. I've been working on creating my own fitness plan now that we're back in Tucson since I'm surrounded by great gyms + studio classes. My current routine consists of mostly Lean Machine strength workouts, classes (usually Orangetheory, dance cardio, or barre), HIIT, and reuniting with an old friend: running.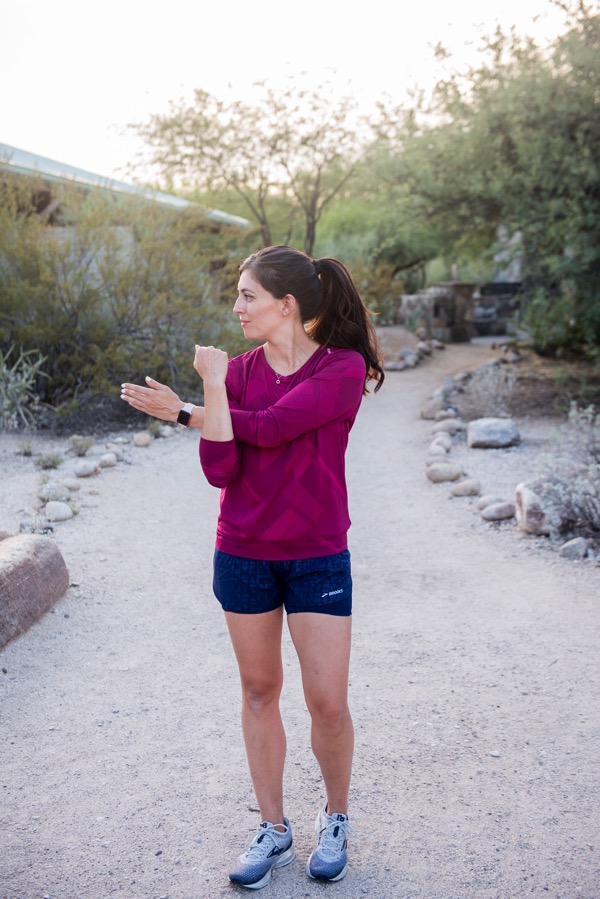 (Wearing: Array Long Sleeve Tee, Circuit 2 in 1 Short, Levitate 2 sneakers)
My relationship with more distance-style running tends to be on or off. (Sprints are almost always part of my fitness puzzle, but it's been a couple of years since I've ventured out on consistent solo runs.) Something about being back in a familiar place with all of my favorite trails made me want to lace up my sneaks and hit the road, so I've been going for it.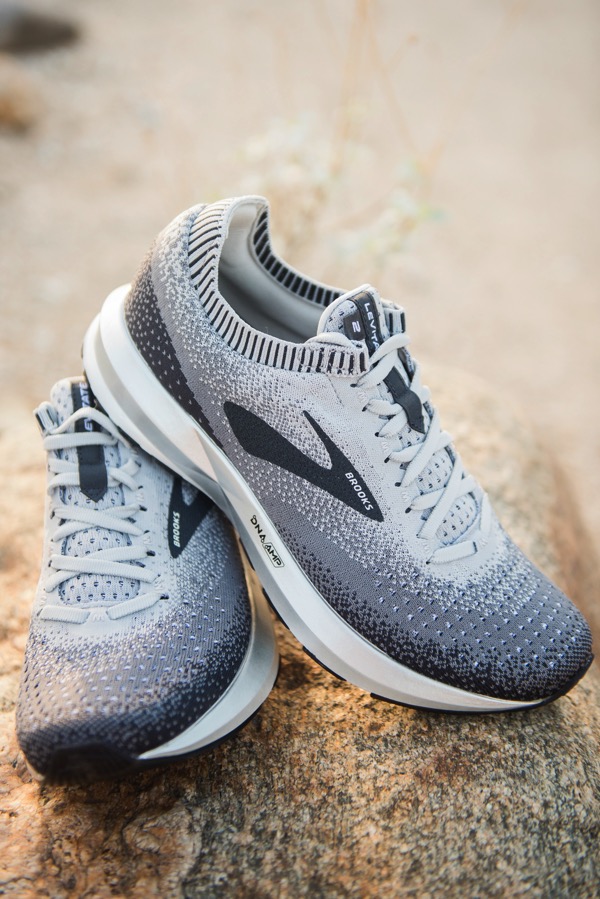 My friends at Zappos sent me a pair of Brooks' new Levitate 2 sneakers to try out and they quickly became my favorite running shoes. I'm extremely picky about running shoes – I like a little bit of support, but I don't want them to feel clunky or like they're weighing me down – and these have everything I need for support and comfort plus a stylish, neutral design.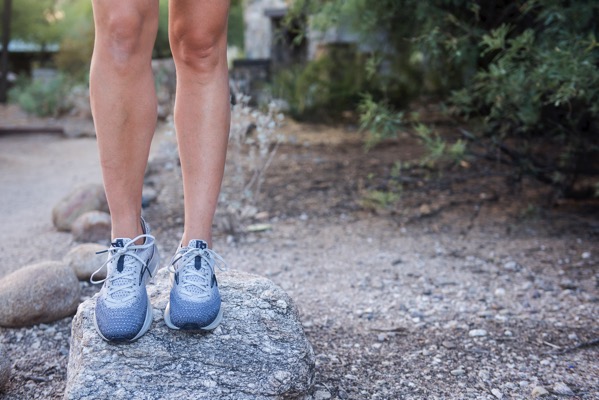 The Levitate 2 has fascinating energy return technology called DNA AMP. It takes the amount of energy you push into the shoe, and pushes back, giving you the feeling like it's propelling you forward. It's AMAZING. I feel light and bouncy on the trails, even though it's been quite a while since these legs have seen longer than a mile run.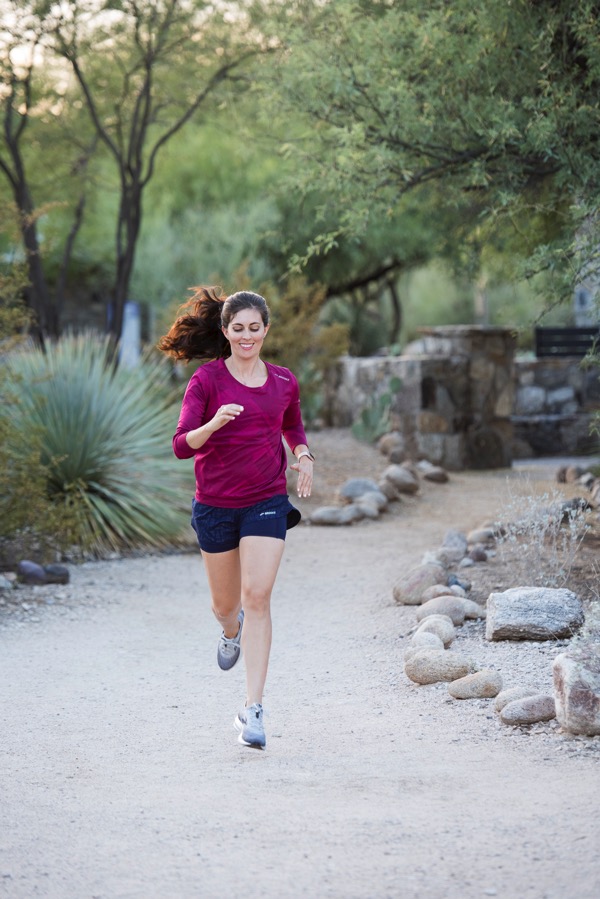 The DNA AMP cushioning system is revolutionary; Brooks is the first to create a system that gives each runner a push-off that corresponds to their unique gait and stride. I can already tell that these will be the running shoes I live in until it's time for another pair.
Brooks also sent me some of their running apparel to test out. The Array Long Sleeve Tee is going to be the perfect fall top. It's super lightweight and has an open back for ventilation. Even though it was hot outside when we took these photos, I wasn't sweating too much since the shirt is so lightweight.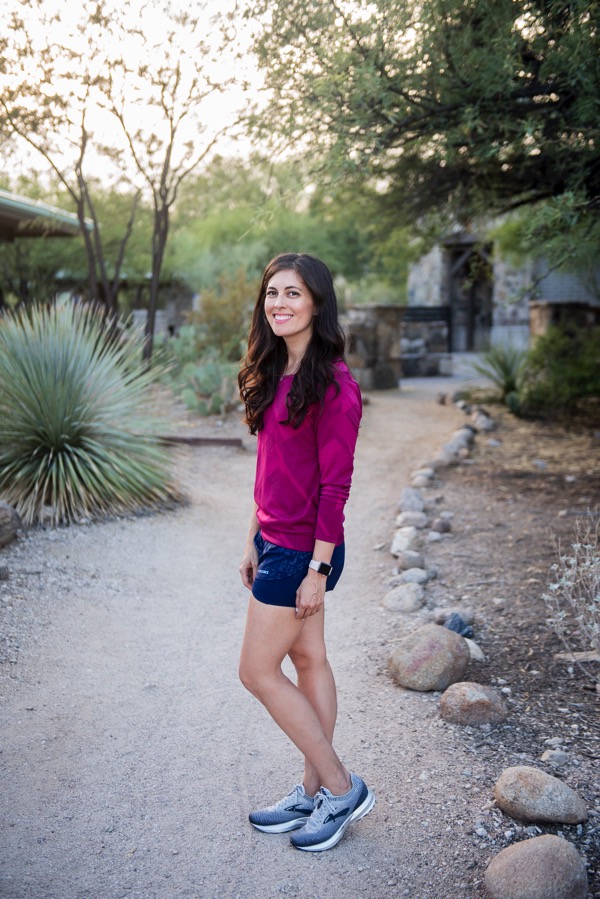 I also chose the Circuit 3″ 2 in 1 short. While they're designed for running – they're a flattering longer inseam and are DriLayer to wick away sweat – I've been using them for strength training, too. The inner liner is perfect for squats and leg work since you don't have to worry about your shorts riding up. 😉
Since I'm slowly getting back in the running game, I thought I'd share some of my tips for returning to a running routine after a hiatus.
(Friendly reminder: if you're recovering from an injury or making any fitness changes, be sure to talk to your doctor first.)
– Don't compare yesterday's successes to today's progress. I may not run a half marathon in the near future, and my during my last half marathon, I PR'ed. My first few miles back were SLOW, but I felt great. For now, I'm taking it day by day and focusing on adding mileage gradually, without a specific pace goal in mind. In the past, it was always about running faster and longer, and now, it's more about running for mental clarity and enjoying the fresh air. It feels SO restorative to be outside, exploring new sights hearing the wind rustle or birds singing.
– Start with walking and add in running intervals from there. My walking distance has been strong this entire time, so I started adding in 1 minute of jogging for every 3 minutes of walking. From there, I took it down to 1 minute of jogging every 2 minutes of walking. Then, 1 minute of each. After that, it felt good to jog the entire time. Don't be afraid to take walk breaks when you need them, and avoid starting out too fast.
– STRETCH. I don't recommend static stretching before running – instead, try foam rolling and dynamic stretches – but afterwards, it feels amazing. I especially take the time to stretch my hamstrings, quads, IT band, hips/glutes, and calves.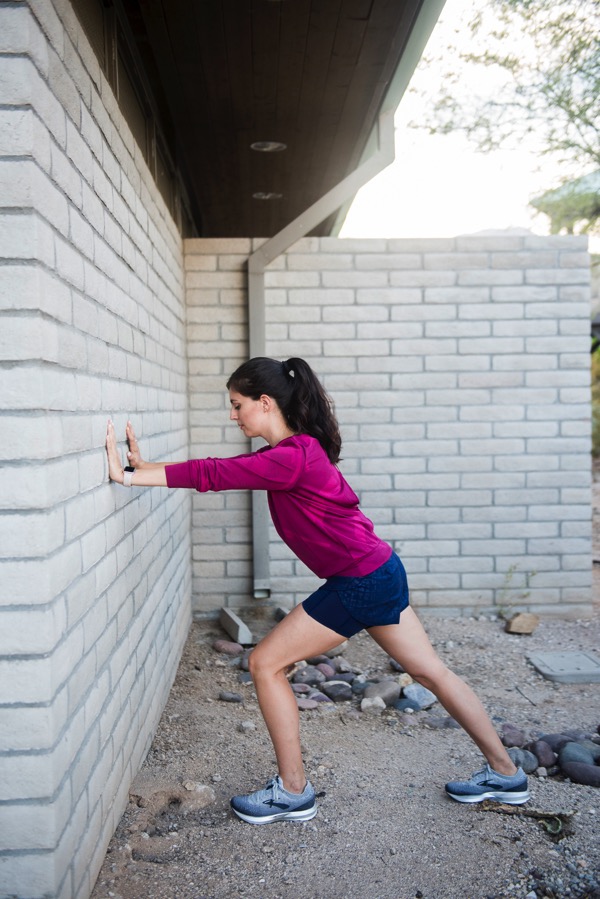 – Alternate running days with off days or cross training days. Strength training is an incredible complement to a running routine because it can help to increase performance while decreasing potential for injury. Recovery is critical for improvement, maintaining excitement for your routine, and preventing overtraining, so be sure to have at least 1-2 days off from formal exercise each day.
– Have an awesome playlist… or no playlist at all. 😉 I like to have a playlist or podcast ready to go, but wait to use it until I need a little pep in my step. Sometimes I get all the way back home and remember that I forgot to turn on my playlist. Every now and again, a silent run is everything I need to fill my energy cup.
So, tell me, friends: did you get back into an activity or sport after a hiatus? Anything you're doing now that's new in your routine?
Hope you have a wonderful day and I'll see ya soon!
xo
Gina
Photos: Jacquelynn Buck