Hi friends! I'm back from my little Boston blitz. It's hard to believe that I was actually in town for less than 24 hours before heading back to Tucson– we did so much!
I'm not able to go into details about everything -I can say that some awesome Reebok product is on the way- but I can tell you about hotel fun and our awesome group CrossFit workout.
Number 1: the Boston foliage is just as gorgeous as I recall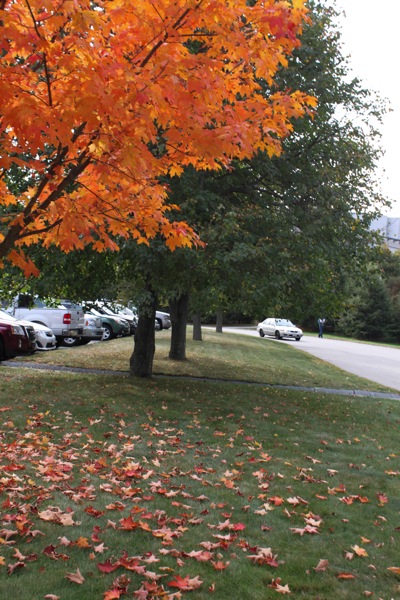 and 2: I got my chowdah 🙂 It was everything I could wish for.
Since I got into town fairly late, and wasn't about to go exploring on my own at night in the cold, I decided to do a quick Physique 57 workout and stretch/abs sesh before bed. I love that P57 has online workouts available, and since they're short and killer (oh, the burn!) I knew it was a good option. I did the 30-minute advanced workout, and then some stretching and my favorite yoga poses.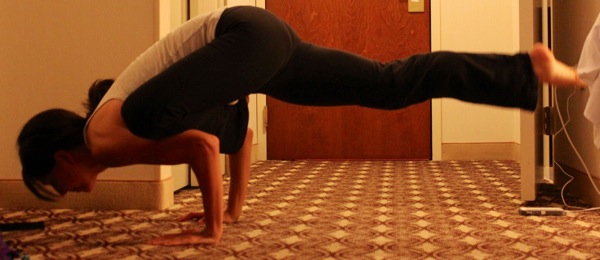 I relaxed, ordered room service, and Skped with the Pilot and Oliv. It was lovely.
Along with my soup, some wine and a grilled salmon salad: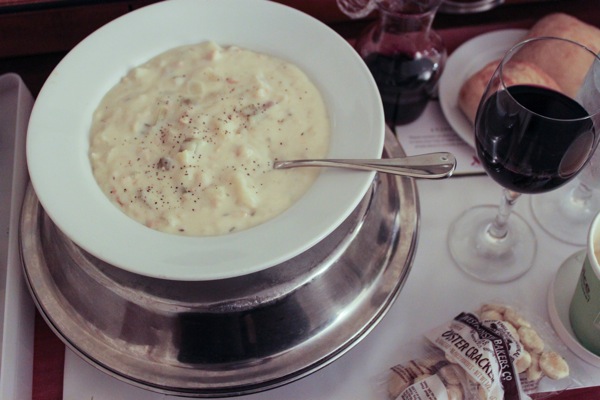 The next morning, it was off to the Reebok headquarters!
It was my first time visiting Reebok, even though I've worked with them for quite a while. The last time they asked me to visit, Livi was a couple months old, and I wasn't ready to travel yet. This time, she was happy at home with her daddy and I got to see the Reebok excitement for the first time.
Also got to see my friend Tina again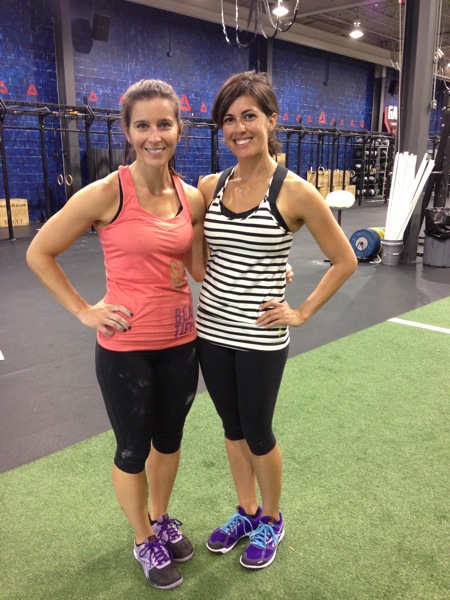 and meet some new blogger friends 🙂
First, we were treated to coffee and breakfast before the main events. After that, it was lunch time and then a group CrossFit workout at their very own CrossFit box.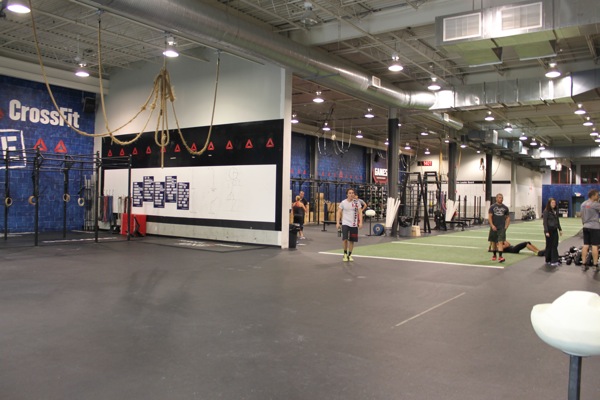 The entire Reebok property is immaculate,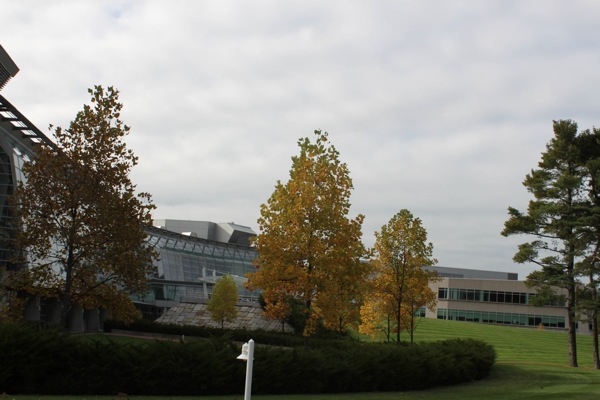 and along with the beautiful scenery, it boasts a full-sized gym, group fitness classes for employees, a running trail and basketball court. Pretty awesome, huh?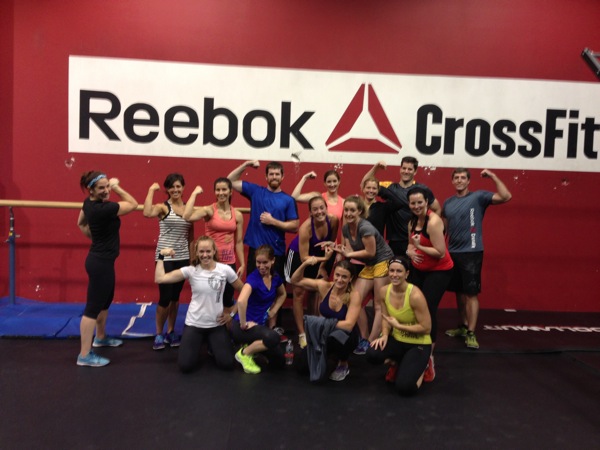 The CrossFit box had more equipment than the one I attend at home, and is open to employees for WODs or completing their own CrossFit workouts.
Our coaches: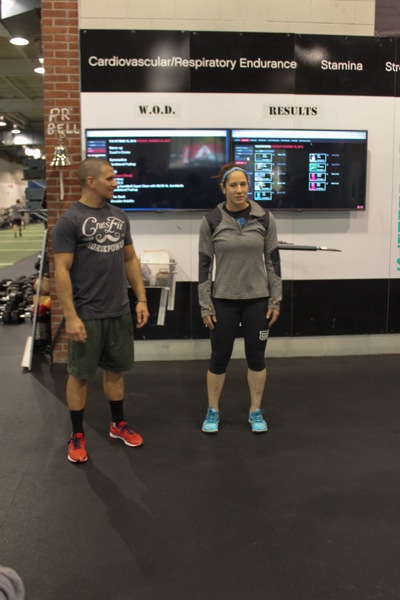 To warm up, we went outside to their Spartan obstacle course. It was my first time jumping over walls, balancing walks on logs, and pulling the ropes with heavy things attached (scientific terms).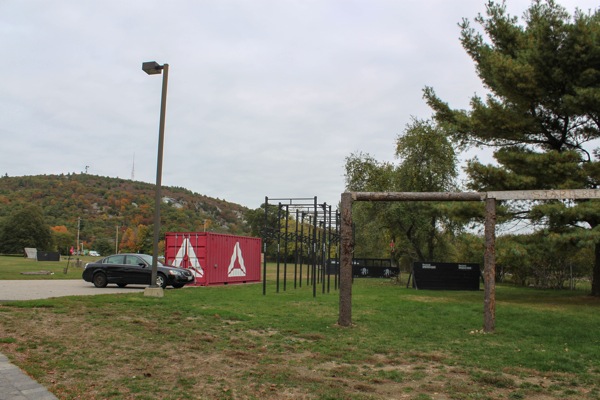 It was awesome. At one point, we had to alternate giving piggy-back rides with a partner across the field, which left me feeling like it was a great workout. Surprise! That was the warm up. After that, we went inside for our workout of the day, called "Jackie."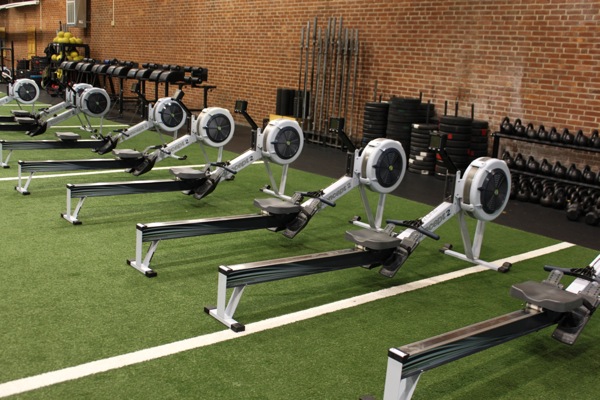 1000m row
50 thrusters
30 pull-ups (modified pull-ups or ring rows)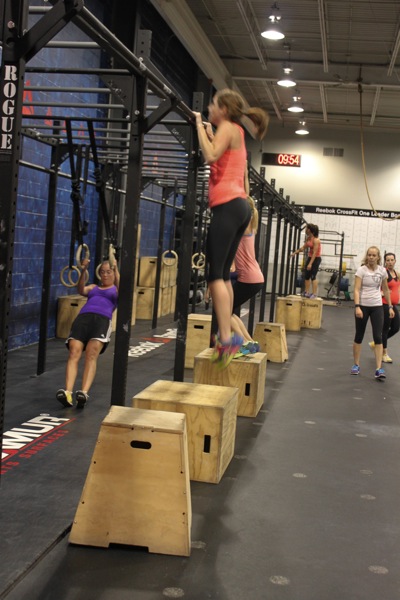 I scaled the workout with my current knee situation and (knock on wood), it felt fine during the workout. It had been a while since my last rowing session, and it felt glorious. A nice workout was the perfect thing to do before heading out for another night of travel, which of course, wasn't complete without a legendary delay getting home. It felt good to sleep in my comfy bed and I can't wait to kiss Livi when she wakes up.
Hope you have a wonderful day <3
xoxo
Gina
When was the last time you traveled? Where'd you go?
What's the first thing you do when you get home? I usually say hello to the Pilot (and Livi, if she's not snoozing – I'm always tempted to wake her up!) and then proceed to dance around the house with Bella, who gets CRAZY excited, whether I've been gone for a week or an hour. Caro will shake her tail and lift her head off the couch to say she missed me 😉