Hey everyone! How's your day treating ya?
Mine has been bueno- I'm glad I've gotten a lot of things checked off the to-do list!
I made some hummus for tomorrow night and saved myself a bowl to munch after Zumba with some veggies: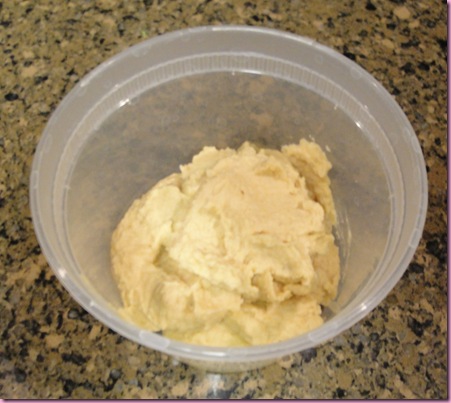 And some raw chocolate whipped cream for the tarts I made and froze Saturday: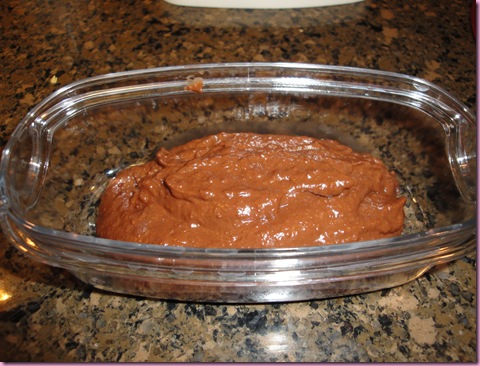 Holy foodgasm.. I had a bite to make sure it didn't need anything else and it tasted like heaven 😀 I'll be posting all of the recipes for ya'll either tomorrow night or Tuesday.
Next, I did some yoga upstairs in my makeshift guest room yoga studio. 20 minute Power Yoga #3 podcast and 20 minute Lunchtime Flow #1 podcast, both from YogaDownload.com. Here's a little trick for ya: If you enter the coupon code YDLFRCL you can try ANY class for free. Watch out though, you'll get hooked like moi 😉
After I was nice and yoga sweaty, I decided to make some lonchi and was hankering for PIZZA!
Behold.. the pizza of my dreams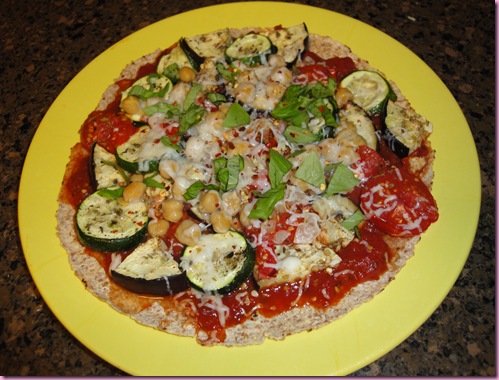 Leftover homemade marinara from the lasagna I made last night, roasted eggplant, shallot, zucchini and tomato, oregano, 1/4 cup organic garbanzo beans, 1 serving goat jack cheddar…
All baked at 375 on an Ezekiel tortilla for 10 minutes, and garnished with red pepper flakes and fresh basil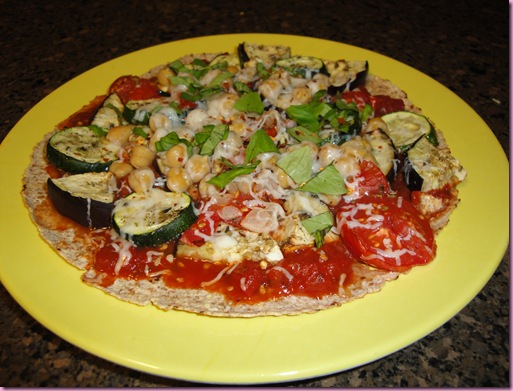 When I eat pizza, I like to munch all the toppings off first with a fork, then cover the "crust" with red pepper flakes,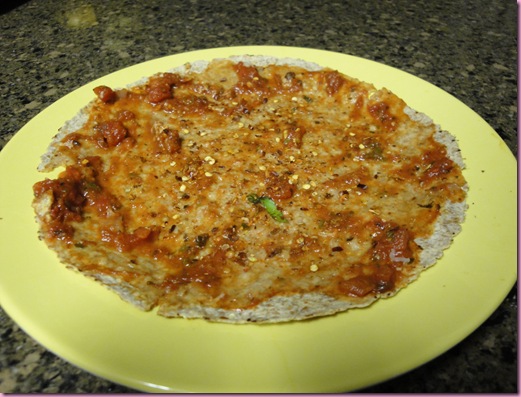 And then tear pieces, roll them up, and feast like so 😀
I also had a salad with greens and spinach, grape tomato, bell pepper, balsamic, shallot, and 1/2 T olive oil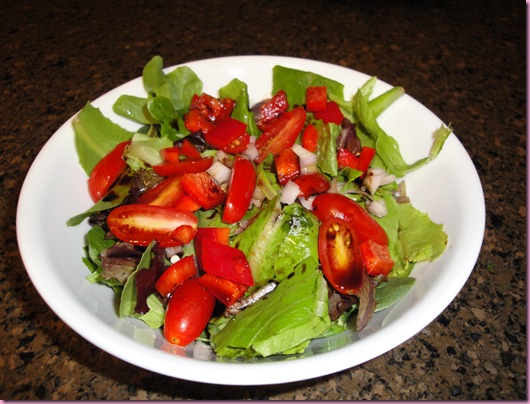 Deeeeeelish.
The casa is cleaned and I can't believe I've made almost everything in advance for tomorrow night! I NEVER do that.. no matter how much I plan, I'm usually in the kitchen cooking when people are over. Tomorrow night, all I have to do is set everything out, make the salad, and get the artichoke dip and lasagna in the oven. Oh, and drink make POMtinis 😉
Afternoon snack: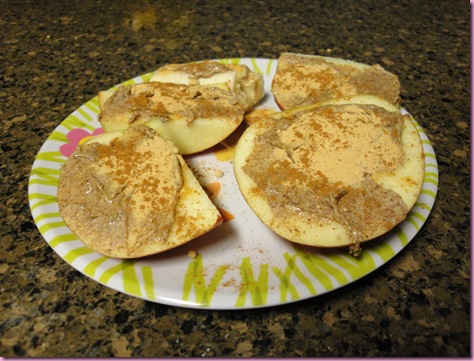 Freakishly large honeycrisp and 1/2 banana with almond butter, mesquite and cinnamon 😀
My friend Ashley are going to Ft. Lauderdale this weekend— any Ft. Lauderdale bloggies in the house?!
Time to make a Zumba CD, teach then train funny quotes lady. I got a request for a guest post from the funny quotes lady… tonight I'm going to ask her if she's down 😉
See ya soon!
xoxo,
G
Zumba song of the day: "Breathe, Stretch, Shake"