Hi friends! how's the morning going? Yesterday was a DAY. Of course we were sending last minute info to our accountant for taxes (#organized) and the SUV's service light came on. The Pilot switched the carseats out to our other car, took the SUV to the dealership, and after they *fixed it*, it stalled and completely broke down on the side of the highway. Crazypants. Is it Friday yet? haha. Thankfully there's lots to look forward to this week, and some good friends are in town from Tucson. I'm so excited to catch up with them tonight. 🙂
So lately, the ol' inbox has been filled with wedding workout requests. Ask and ye shall receive!
This one is for all of my bride friends out there. <3
(This is also a great workout plan if you have an event coming up, or if you're looking to switch up your routine.)
Since many of you have let me know you're getting married this summer or early fall, I put together a little workout just for you. Keep in mind that this workout is intended for the average gym-going Jane, who is free of injuries and comfortable lifting weights. If you are a newbie (yay!!! HI) check out my intro to iron pumping post here, and I recommend meeting with a trainer just to make sure your form is on point. As always, check with a doc before making any fitness changes, and honor your body.
How to Get Ready for the Big Day
Clean up your eating routine. Now is a great time to get your eating on track. Make sure that you're getting lots of protein (for muscle building + repair), produce (for nutrients, satiety, beautiful skin and hair) and water (for so many benefits including hydration replenishment and happy skin).
Focus on the upper body. Many wedding dresses highlight the upper body, so this workout emphasizes back strengthening (for those low back dresses and great posture), biceps and shoulders (for those "holding the bouquet" pics), triceps and chest.
Commit to cardio! Not only will it help relieve stress and energize you as the big day arrives, but the endurance will be there to hit the dance floor all night. 😉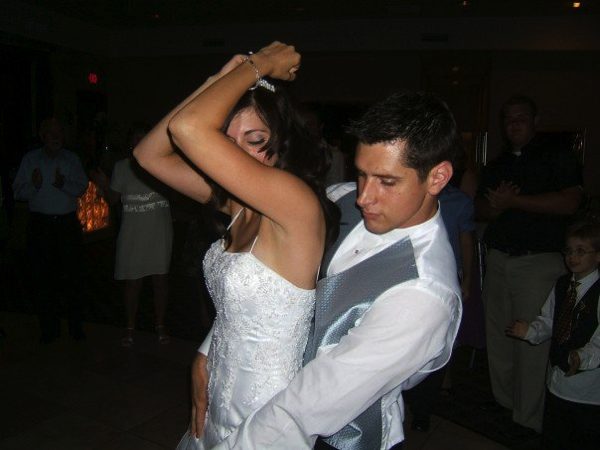 (One of my favorite memories from our wedding was the dancing!! Our friends were crazy on the dance floor, and it was amazing.)
Weekly Wedding-Ready Workout Plan
If you need help shuffling things around, let me know!
Sunday: Long cardio day. Go for a long run or take a cardio class (like dance or spin) that you enjoy
Monday: Buff bride circuit + 20 minutes HIIT (go for 1 minute HARD, 1 minute easy x 10 rounds)
Tuesday: OFF (or easy yoga/stretching)
Wednesday: Buff bride circuit + 10 minute hill climb (focus on adding resistance gradually until you hit your personal max)
Thursday: Easy steady state- 20-30 minutes
Friday: OFF
Saturday: Buff bride circuit + 10 minutes HIIT (30 seconds on, 30 seconds off x 10 rounds)
Your buff bride circuit:
Buff Bride Circuit Workout Form Cues
Assisted pull-ups: remember that this is a counterweight, so the more weight, the easier it is. Really focus on squeezing in between your shoulder blades as you exhale and rise.
Triceps dips: you can do these with bent or straight legs. For extra excitement, place a flat weight on your thighs. Remember to keep your chest lifted and elbows pointing straight back. If you have shoulder or wrist concerns, do overhead triceps extensions instead.
Rope beats: focus on bringing the weight UP then slamming it down. Keep your chest up and a slight bend in your knees. No ropes at your gym? No worries! Do 1 minutes of seated rows instead.
Burpees: modify by walking back to plank and walking back up. To make it even more fun, add a tuck jump at the top.
Lunge with biceps curl: watch your front knee to make sure it doesn't extend past your toes. To switch things up, try hammer curls while you lunge on the right, and traditional biceps curls for your lunges on the left.
Squat to overhead press: make sure to keep your chest lifted and core tight. Avoid letting the weights fall down, and lower them with control. Exhale to rise and press the weights overhead.
Push-up: on your knees, toes, or modified against a wall. Keep your hips down in line with your spine, and exhale, squeezing your chest, to rise.
Plank: any plank of choice! Knees or toes is totally fine, or you can add some hip dips or saw your body slightly forward and back.
Weighted hip raises: you can do these on your back or over a BOSU. For resistance, place a flat weight on your hips. Tap your hips to the floor (keep your gaze straight) and exhale, squeezing your glutes, to press up.
Let me know if you give it a try!
Question of the day: Any random or hilarious wedding stories (as a guest or participant)? I will never forget calling the restaurant where we were having our rehearsal dinner to find out they completely forgot we were coming. There were already 80 people on the way there! Thankfully, it ended up being NBD, but when I made that phone call, my heart probably stopped for 4 seconds haha.