Healthy Baked Breakfast Cookie for One
This single serving breakfast cookie can be made in advance to enjoy the next morning. Just cook in the am and serve! For a larger batch of breakfast cookies, try these baked breakfast cookies or this single-serving overnight oats cookie.
I eat a lot of the same things for breakfast. There are a handful of breakfasts in the rotation (protein yogurt, egg burrito, breakfast cookie, smoothie + eggs, or oats + eggs) and I don't really experiment since I have about 5 minutes to make/eat my breakfast in the mornings (between feeding Liv, P, and getting the three of us kind of dressed and out of the house it gets a little hectic), and if I screw it up, it's a fail. Also, I've been late for drop-off before and was not planning on it. I toted a baby and kiddo into the office.. wearing pajamas pants and a shirt covered in spit-up. I'm sure no one cared but now I'll at least put on some real pants, just in case. 😉
So for breakfast, I walk on the not-so-wild side. I'm a huge fan of anything I can either make quickly, or make in a large batch to heat and enjoy throughout the week.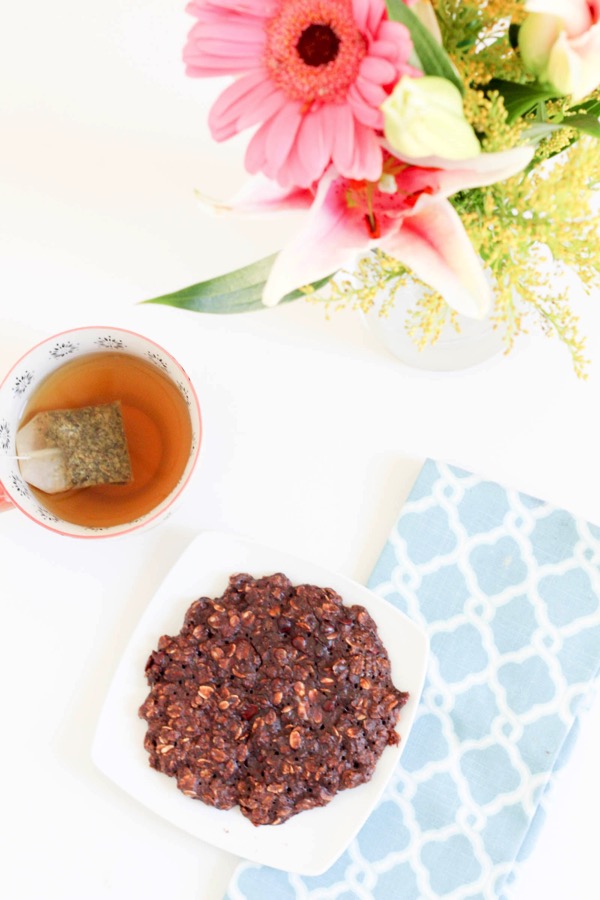 Enter the single-serve baked breakfast cookie. I'm a huge fan of the classic overnight oats-esque creation, but I know that many of my friends out there prefer a "cooked" cookie, or don't really love the banana.
This cookie is for youuuuuu.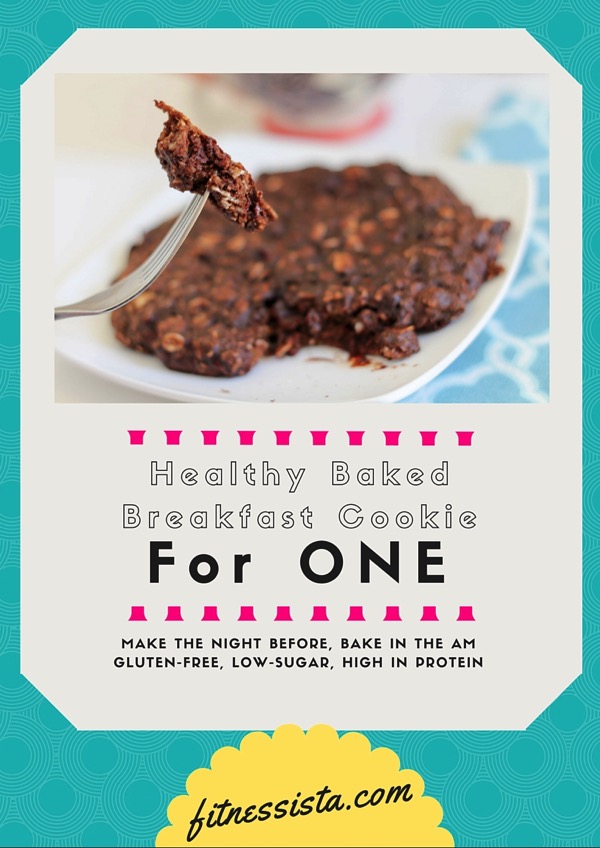 Just prepare it the night before in a ramekin, and bake at 350 for about 12-15 minutes until golden brown and set. If you'd prefer, you can bake it the night before and easily reheat in the morning. Whatever works for your schedule!
Either way, you need this in your life: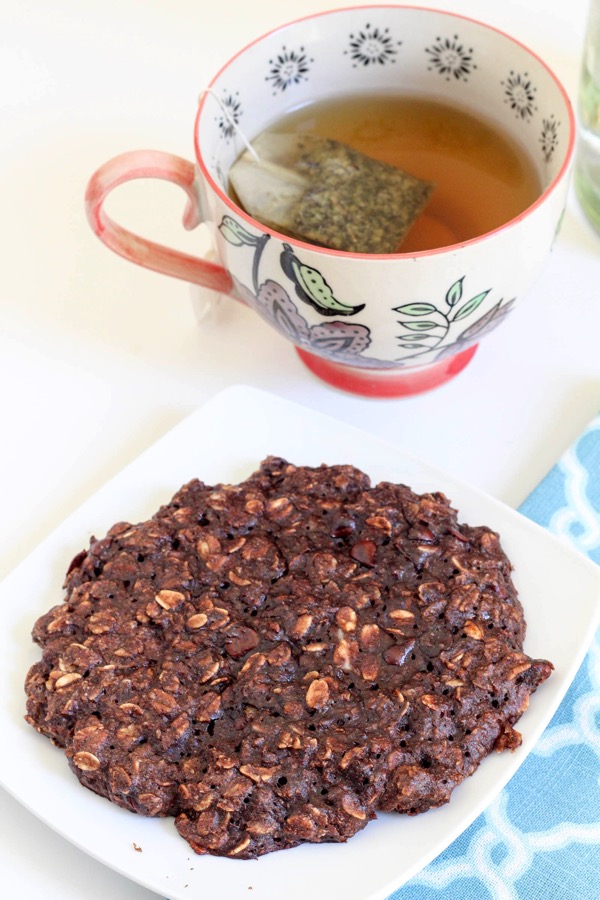 An easy, quick, healthy breakfast that tastes like dessert.
And just for size comparison, it's almost as big as my hand. It definitely keeps me full through the morning.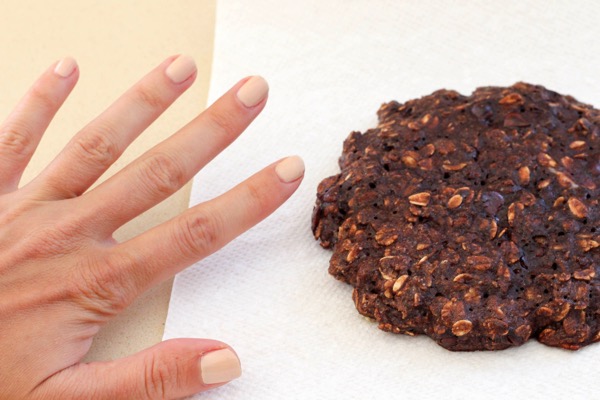 Here's the recipe if you'd like to give it a try!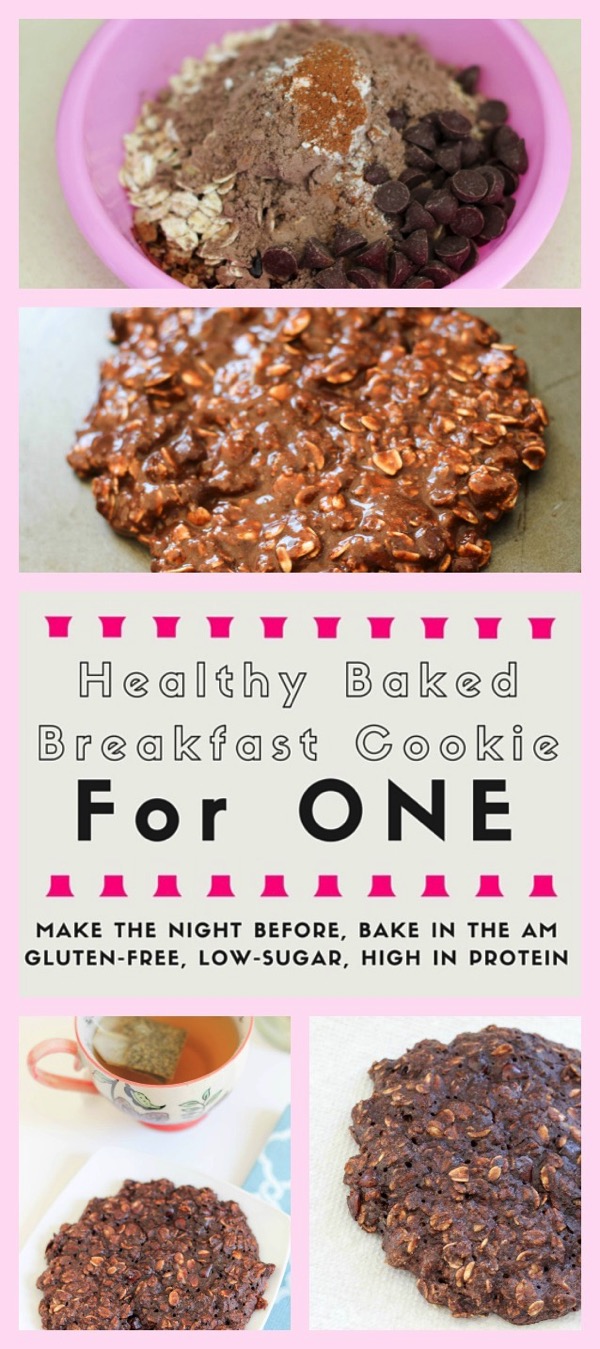 Healthy Baked Breakfast Cookie for One

1/2 cup

oats

1/2

scoop of your favorite protein powder (I used chocolate vegan Shakeology)

1/4 tsp

baking powder

1/4 tsp

cinnamon

1/4 tsp

vanilla
pinch sea salt

1 tbsp

chocolate chips

2

egg whites

1/2 tsp

brown sugar

1 tsp

coconut oil

1 tbsp

whole wheat flour or almond meal

Instructions

Preheat the oven to 350 and line a baking sheet with parchment paper.
Combine all ingredients in a bowl and mix well.
Pour the dough onto the parchment to make a round cookie shape, and bake for 12-15 minutes at 350.



Nutrition stats are here and a larger batch version is here!
Enjoy!!
What's your morning routine like? This commercial cracked me up.
xoxo
Gina
More of my favorite sweet breakfast recipes:
Pumpkin oatmeal breakfast bake