BYOP and comfy carob drink
Hey hey heyyyyy 😀 How are ya? Hope your night's going well!
Today has been bueno, but I feel a little behind on everything I need to do before we leave! I haven't made my packing list or anything :/ Time's creeping up on me—we leave on Thursday! Ay ay ay.
This afternoon, after the gym, I went to The Main Squeeze to get smoothies for Jeni and I.
I decided to BYOP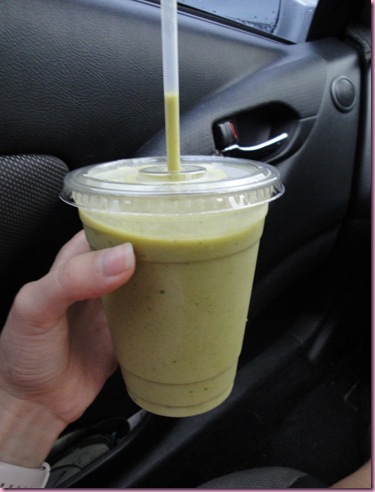 BYOP = Bring Your Own Protein
I showed up with a little baggie of vanilla sprouted brown rice protein and asked Spence (aka the "Juice Guy") if he would mind putting my protein in the smoothie. I'm glad he's super cool, because sometimes people are weirded out by my food requests  😉 Once, my madre's family went to a Mexican take-out type place (called "Taco Tote") and she brought a wheat tortilla for them to make my burrito in. That's love, right there 😀 Have you ever brought your own ingredients into a restaurant??? Am I tacky? Hahah, don't answer that 😉
I had a Tropcial Superfood Smoothie which contained pineapple, mango, banana, spinach, parsley, apple juice, and Gina's protein from home a la baggie.
It was rather lovely and I chugged that bad boy down before I met Jeni with her smoothie 😀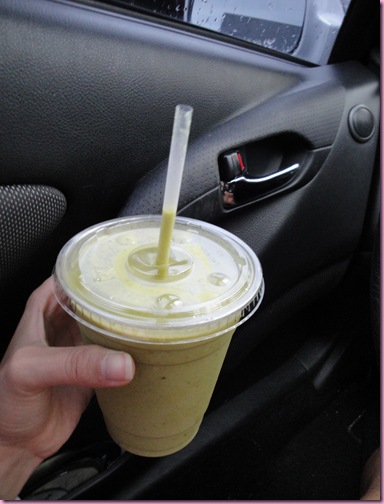 Face rockin' delicious
I came back to the casa, said hi to you guys, then went to teach spin and Zumba.
Both classes were kind of a blur to me today. They were a lot of fun, but I didn't get to enjoy them as much as usual because I was thinking about all of the junk I need to do this week. Usually life doesn't get in the way of teaching, but today was just… cloudy. Ya know??
After Zumba, I drove back to the other gym to train Funny quotes lady and munched some leftover defrosted quinoa casserole on the way.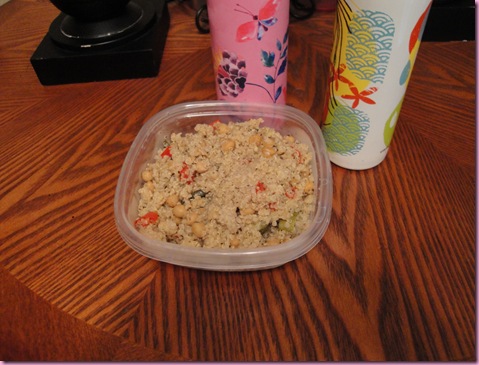 Does Eat, Drink and Be Vegan have any BAD recipes in there?!? I'm fully convinced that they don't- everything I've made from that cookbook has been scrumptious.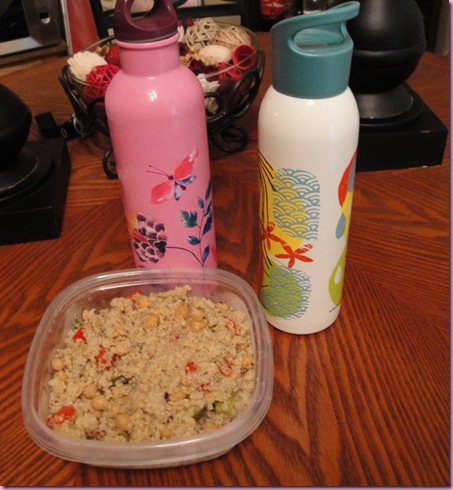 When I got home, I really wanted something hot to drink and was not feeling like tea.
Enter the COMFY CAROB DRINK…..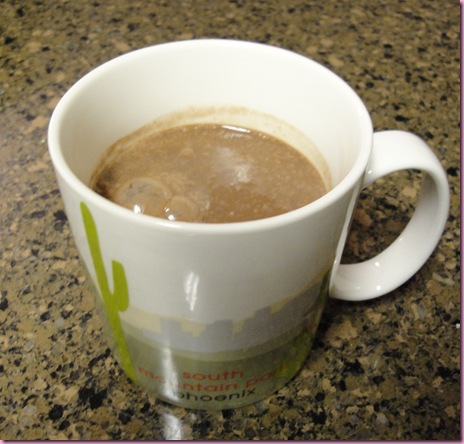 – 1 cup vanilla hemp milk
-1 heaping tbs carob powder
-1.5 packets of Stevia
-1/2 tbs of cinnamon
-pinch of sea salt
Pour the hemp milk into a metal pot and heat on medium-high to scald the milk (you want it to be hot but not boiling)
Once the milk has scalded, remove for heat and whisk in the carob powder, Stevia, cinnamon and sea salt until smooth
Devour 😀
Seriously easy and ridiculously delicious. It was soooo thick and creamy…and comfy!
Speaking of comfy, it's jammie time up in herrrre. Have a lovely night and I'll see ya tomorrow!
xoxo,
G
Something to do: Buy seasonal produce! Not only is it better for the environment, it's less expensive too!
Here's what we have to look forward to in September (in the US..
Eggplant
Pumpkins
Tomatoes
Spinach
Lettuce
Grapes
Pomegranates
Spinach
Persimmons
Apples
I'll raise my fork to that 😉