Hiiiiii 😀 How are you? Hope you've had a lovely day. I enjoyed reading about whether you do a treat night or the moderation thing. Different strokes for different folks and as long you know what works for you, that's all that matters 🙂
We cleaned the casa today,
and Bella got a bath, too 😀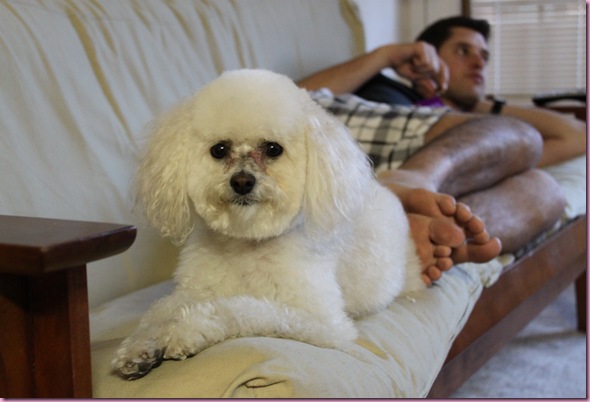 Doesn't she look so presh? (she knows it, too. haha)
I had a legendary to-do list today, and managed to ninja-kick through most of it. I also did the legs workout I posted this am- I may or may not be walking like a cowgirl tomorrow 😉 Let me know if any of ya give it a try!
Some recent eats: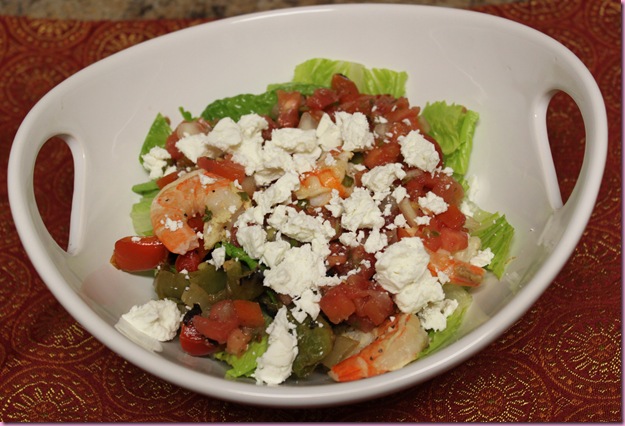 Salad beast made with leftovers from last night:
-Frijoles on the bottom, topped with romaine, shrimp fajitas, pico from home and a crumbled goat cheese medallion
Smoothie: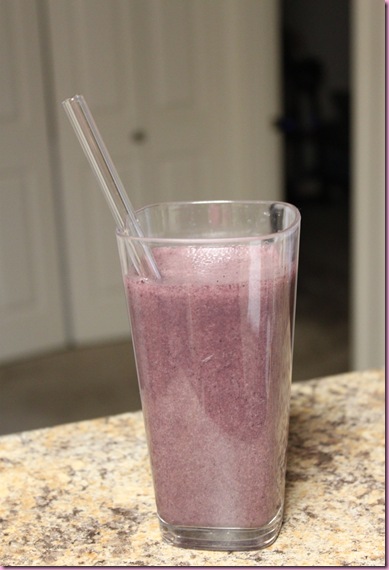 -Water (I'm out of almond milk! Thank goodness for grocery day tomorrow)
-Vanilla Sun Warrior + 2 t Sun Warrior Super Greens
-1/2 banana
-frozen blueberries
-ice
It was kinda ick from the wayer, but I drank it anyway. Almond milk makes smoothies soooo much more delicious.
B-fast this morning was Breakfast Cookie Dough cereal, heated up for a minute: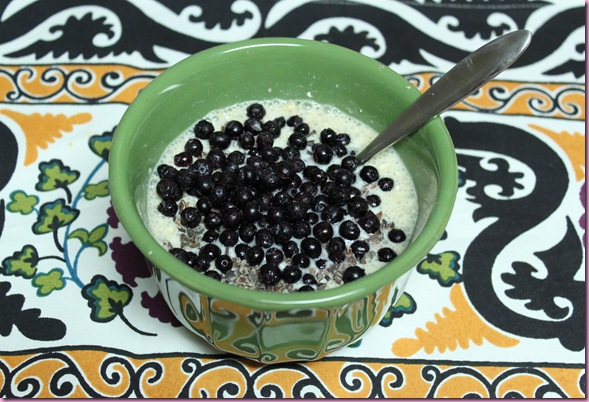 It will never get old 🙂
This afternoon, the Pilot was getting kinda snacky, and I remembered the pecans my nana gave us from Wilcox.
She handed them to me and said "You can grind them into nut butter or do whatever you like with them." (<— she knows me very well)
When I saw them, I had a mental flashback to Valdosta, when I first started working as a department store manager. I was on my break, walking down one of the mall wings when an unforgettable aroma hit me in the face. It was buttery and sweet… praline pecans. They were giving out free little samples to those who would walk by, and I will never forget how delicious they were. I had a little sample almost everyday that I worked –and supported them by purchasing gifts and the like- and a tip I received from the owner was using egg white to thicken the sugary coating.
So today, I scribbled out a few ingredients and decided to make a sweet and savory version for the Pilot:
Spicy and Sweet Pecans

1. Pre-heat the oven to 325 and grease a cookie sheet with nonstick spray or the Misto.

2. In a bowl, combine 1 egg white, 1 T sugar, and a generous seasoning of sea salt and pepper. To one cup of pecans, drizzle the egg white mixture on top to coat fully –you may not need to use all of it. Spread the pecans onto a cookie sheet.

3. In another bowl, combine 1 T brown sugar and 1/8 t cayenne. Sprinkle this mixture on top of the pecans, and bake for 7 minutes. Flip and re-season if necessary and bake an additional 7 minutes.
He LOVED them. These would be a fun snack for a March Madness game, or for late-night munchies 😉
I'm off to dance! See you in the morning <3
xoxo
Gina
Something to talk about: I sent in my design sheet to my new blog wizard today- facelift is officially underway! I'll let ya know when the new bloggy will be revealed, but please let me know if there's anything different you'd like to see or be changed. As of now, pink will still be the theme (it will never leave, haha), new header, more user-friendly, and the pages will be easier to navigate. Should be bueno 😀