Last night was just noodle and myself since the Pilot was working. We went swimming after nap, came home for an awesome dinner, and then did the bath/bedtime rituals. After she was snuggled in bed, I decided to get in a little core and balance workout. I'm guilty of skimping on these two fitness components, and I also notice a positive correlation with lack of core/balance training and injury.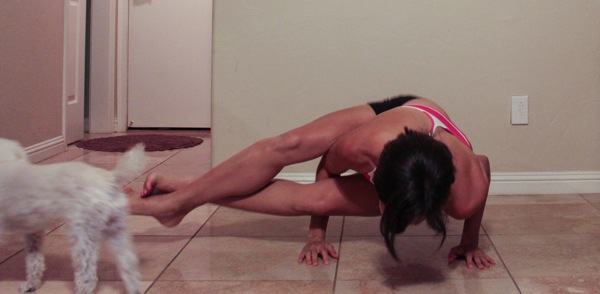 (And by that I don't mean balance-related injuries, haha)
Here are some of the most important reasons to work your core:
-You core is what helps to stabilize you in everyday activities/chores and in fitness performance.
-A weak core can lead to back pain, poor posture and injuries from lack of stabilization.
-A strong core can lead to increased performance and make everyday activities much easier.
-By training your core muscles, you're teaching your stomach to pull itself in, instead of letting everything all hang out.
One of the easiest things you can do to engage your core is to sit with good posture (uhhh, call the posture police for me), and think of pulling the spot in that's just below your belly button. Try to contract and bring it in towards your spine. I also love back extensions (your spinal musculature is part of the core, too), planks, hanging leg raises and yoga poses as core work.
Balance is just as important as core training, because when we challenge our balance, we're utilizing proprioception. In a nutshell, our proprioceptors (a type of nerve receptor) give information to our brain about our body's position in space. Working on balance forces us to use this skill, and as we get older, we're less likely to experience falls. Another bonus about balance training is that it utilizes the deep muscles of your core. <—Balance and core go hand in hand 🙂
If you want to add an extra credit core component to any exercise, try adding a balance element. BUT, do it safely…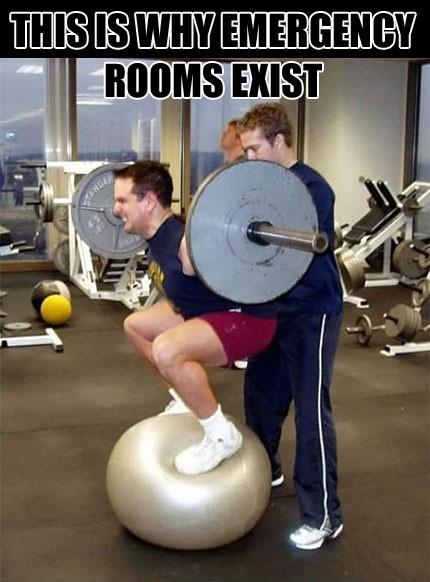 As far as balance goes, it's always a fun component to throw into my group fitness classes. You get the macho manly men who can burpee and sprint for days, but when you make them stand on one foot, they crumble. It's kind of awesome.
Here's the little workout I did last night: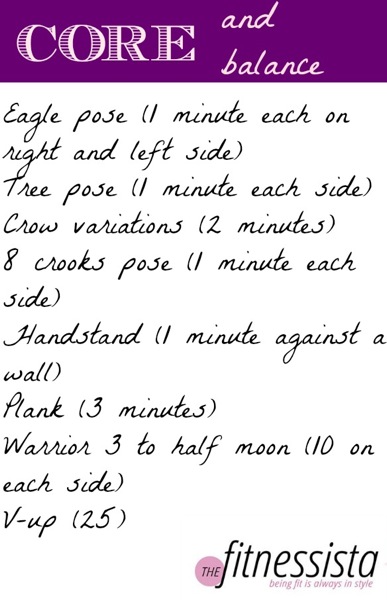 Anyone else guilty of neglecting balance and core work? A consistent yoga practice is the only thing that guarantees I'll get those two things in, but it's been a couple of weeks since I made it to a class — I'm overdue for an awesome yoga sesh.
Hope you have a great day! See ya later with a delicious dinner/lunch recipe 🙂
xoxo
Gina