Avocado mint chocolate chip ice cream
Hiii! Thank you so much for the wonderful anniversary wishes! <3
I was so excited to tell you about my run this morning. That is, until said run happened.
Or didn't happen, rather.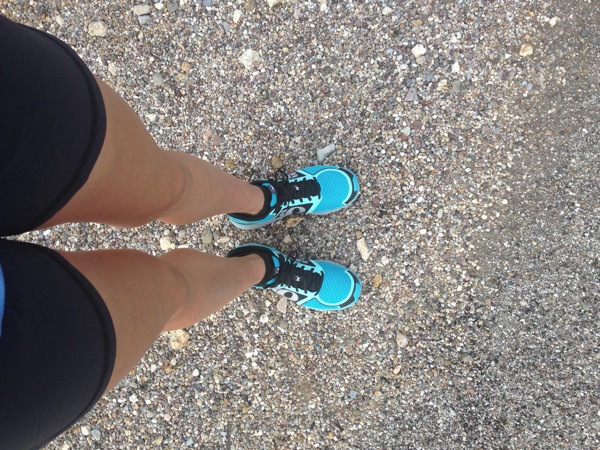 I finally got new sneaks yesterday (Pearl Izumi) and took them for a 6-miler test run. My heel started throbbing after mile 1 :/ I spent the rest of my time walking, which didn't hurt, and enjoying the scenery.
I also enjoyed seeing the biker with the Go Pro camera on his head. Legit.
I'm not sure if I just need to break the shoes in, or if they're not right for me, but I'll have to call the running shop later today. I've been having a tough time finding my dream running shoe because I need support for my slight pronation (my foot tilts inward after hitting the ground), but too much stability and clunky, heavy soles bother me. Why can't everything be done in beloved dance high tops? 😉
So instead of talking about my run, how about the land of forgotten kitchen appliances?
See that thing on the top shelf, in the middle?
An ice cream maker. I'm pretty sure I've used it less than 10 times since we've been married.
While I'm more of a cake/chocolate/gooey brownie girl rather than an ice cream girl, I do enjoy ice cream. I don't really love making it, though. Something about using the ice cream maker seems like such a pain, even though it has a similar amount of components to anything else.
Today, when I decided I felt like making some ice cream, I broke out the food processor. You know, so this recipe would be more convenient for those who don't have an ice cream maker. Or those who don't want to clean it 😉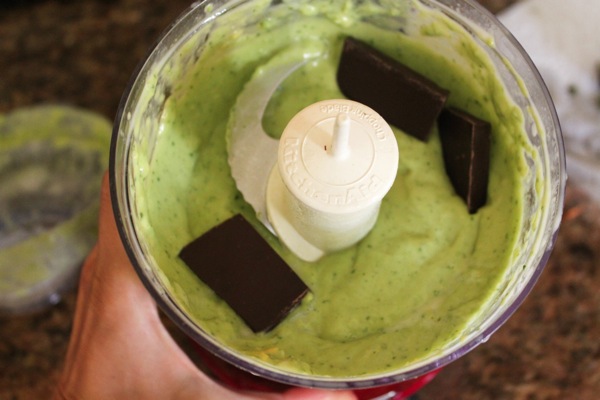 Avocado is one of my all-time favorite ingredients for creating a creamy texture. It's absolutely glorious in chocolate pudding, and freezes exceptionally well.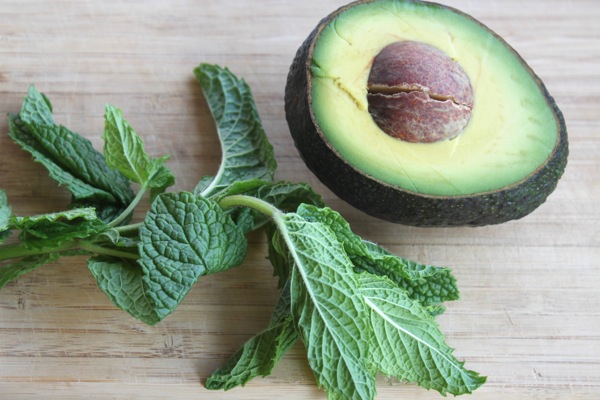 I decided to use it as an ice cream experiment, and was pretty stoked with the result.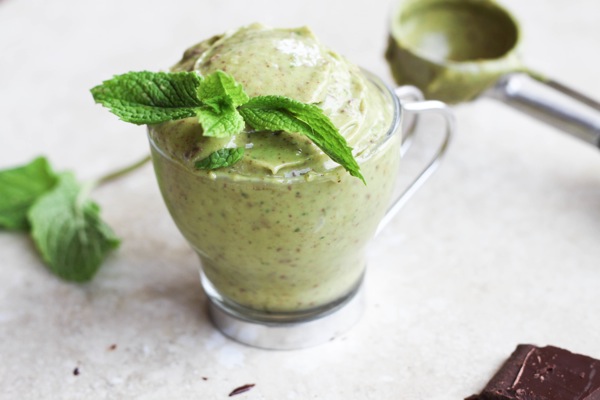 Here's a healthy little summer treat which a hefty dose of healthy fats. Your skin, hair, and sweet tooth will thank ya 😉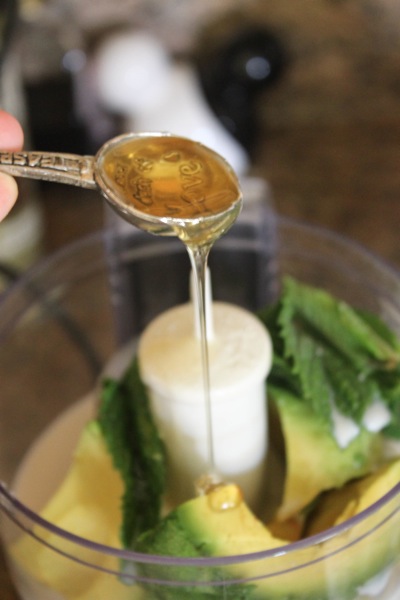 Avocado Mint Chocolate Chip Ice Cream
a creamy vegan treat with a healthy twist!
Prep Time:

10

Total Time:

10 minutes
1

medium avocado (or

2

small avocados)

1/2 cup

almond milk (or milk of choice)

1

heaping tablespoon chopped fresh mint (optional, but I included it since I'm crazy about fresh mint)

1/4 teaspoon

peppermint extract

2 teaspoons

honey
pinch of sea salt

1/2 teaspoon

vanilla extract

17

drops liquid Stevia (or more honey as needed)

1/3

dark chocolate bar, broken into pieces
Instructions
Blend all ingredients in a food processor or high-speed blender.
Place in a covered glass or stainless steel container in the freezer, and allow to set 1-2 hours.
Serve and enjoy!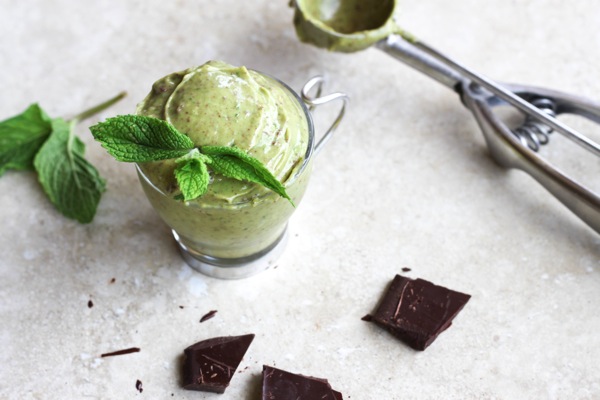 Any unique avocado recipes that you love?
What's your most neglected kitchen appliance? My mandolin is pretty high up there, too. I decided I wanted to keep all my fingers.
Hope you're having a great day!
xoxo
Gina