Heyyyy 😀 How are you?? Thank you so much for all of the beautiful anniversary wishes. It was a great day 😀 I took the night off blogging to celebrate with this guy….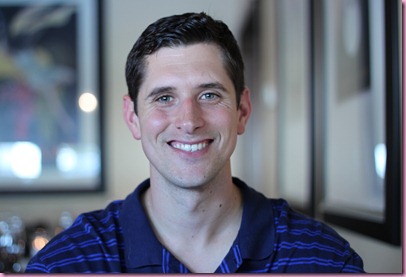 Swooning allowed… and necessary 😀
He took me to Two Friends for dinner, which was the first restaurant we ate at 3 years ago, when I was forced to live in we moved to Valdosta.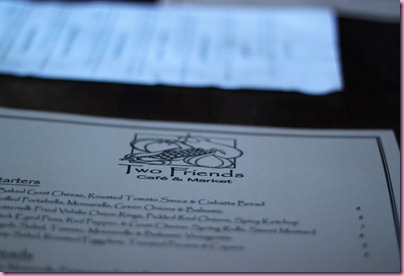 Celebratory bubbly: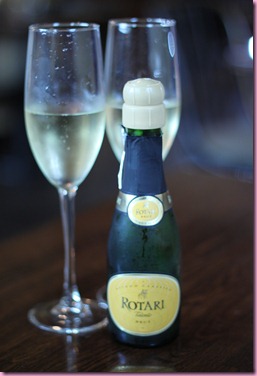 For an appetizer, we shared Portobello mushrooms with goat cheese, scallions and balsamic reduction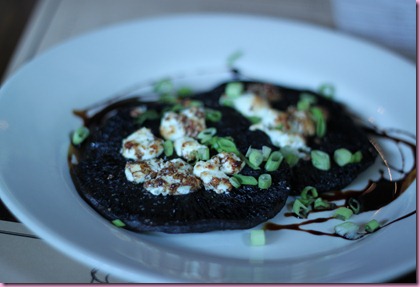 (Smoky, salty and satisfying)
and the pilot also enjoyed a flatbread with bacon, bleu cheese and roasted pecans.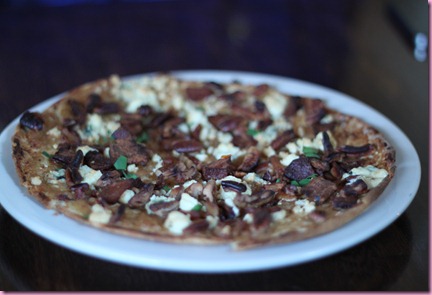 For my entree, I rolled with the tilapia with lemon herb vinaigrette and asparagus sans bread crumbs.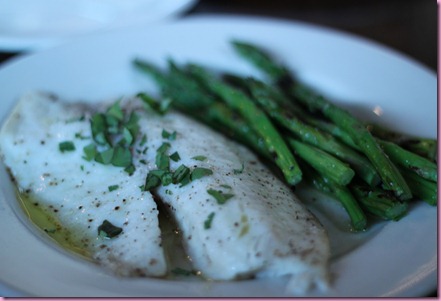 It was cooked PERFECTLY. It's a fine dance between undercooked and too dry when it comes to fish, and the exec cheffer has it nailed. The lemon herb vinaigrette wasn't the slightest bit oily, either- fresh and aromatic.
The pilot chose tortellini, which had shredded beef, local peaches, chipotle sauce, cheese and jalapenos.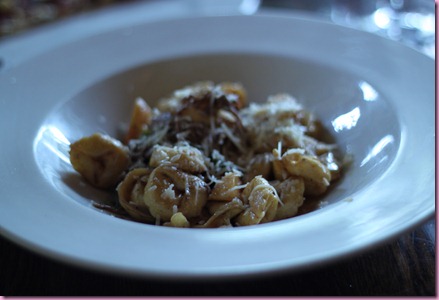 He said it was one of the best things he's ever eaten.
Cheers: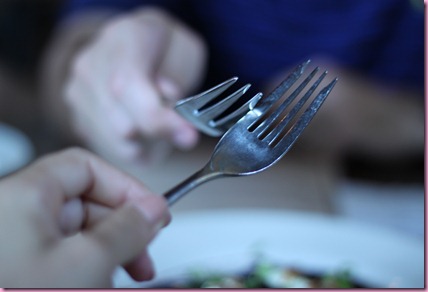 (we always clinky our forks before feasting)
And then there was this….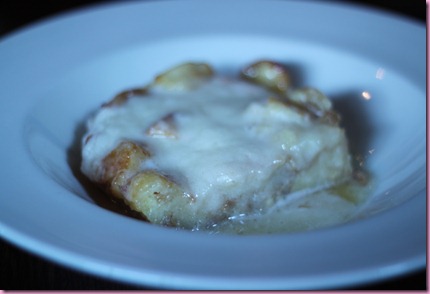 Bread pudding with butter bourbon sauce.
I'm pretty sure if you Google "foodgasm", that's the first thing to come up 😉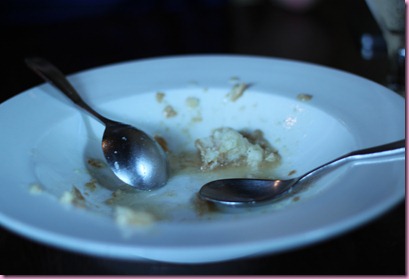 There was also some of this….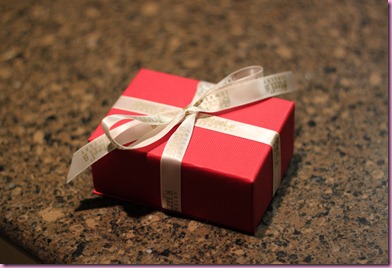 it was a good night 😀
The plan for today:
-Bfast and walk the puppers
-Something I'm working on for the squadron
-Train clients
-Meet Michele for juice
-Make dinner (PIZZZAAAAA)
-Blog
-TurboFire
I'm out!
See ya later today, friends <3
xoxo,
Gina
Something to do: A bootcamp-style workout!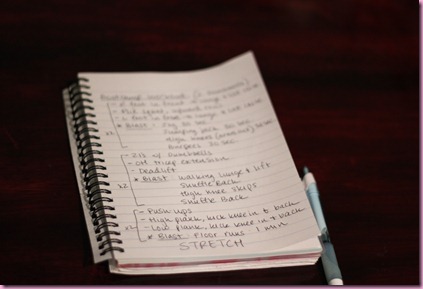 I created this workout yesterday for ya'll after teaching Wednesday bootcamp.
Here's the deets so you don't have to decipher my chicken scratch:
-Warm up (Stretch, go for a little jog, or jump rope, run in place)- 5 min total
– Circuit 1: (With dumbbells)
Right leg in front: Lunge, come up and lateral raise with the dumbbells (15 total)
Plie squat, come up and upward row with the dumbbells– squeeze your legs and booty and you come up, too (15 total)
Left leg in front: Lunge and lateral raise (15 total)
Cardio blast:
Jog 30 seconds
Jumping jacks 30 seconds
High knees 30 seconds (arms straight out)
Burpees 30 seconds
*repeat Circuit 1 and cardio blast one time
– Circuit 2:
21s with dumbbells (21)
Overhead tricep extension (15 total)
Dumbbell deadlift (15 total)
Cardio blast:
Walking lunge and lift (1 minute)
Shuffle back
High knee skips
Shuffle back
*repeat Circuit 2 and cardio blast one time
-Circuit 3:
Push ups (modified or regular- make sure to keep your booty down and body in a straight line)
High plank- bring one knee towards your chest and then kick your leg back and up behind you, release and repeat on the other side (12 total)
Low plank- same thing- one knee in, then kick it back and up, foot down to starting position and switch (12 total)
Cardio blast:
Floor sprints (1 minute)
*repeat Circuit 3 and cardio blast one more time
STRETCH 😀