I thought it would be fun to showcase some of my favorite beauty products and easy how-tos on the Fashion page, starting with my favorite eyeshadow technique. I want to preface this by saying I don't know a ton about makeup, and have a pretty easy routine. But, there are two things I (think I?) know how to do fairly well: eyes and hair. I credit the latter to the madre, who is always teaching me new tips and tricks, and the eye know-how from my years working at the men's fragrance counter at Dillard's.
I quickly became friends with the makeup girls, since we were near each other and would often trade samples. A girl from MAC begged to do my eye makeup one day -I guess my sad eyeliner technique was scaring her- and in the process taught me how to put on eyeshadow. For starters, I never wore eyeshadow above the lid, which always left me looking a little sleepy.
Here's my version of the diagram she made me: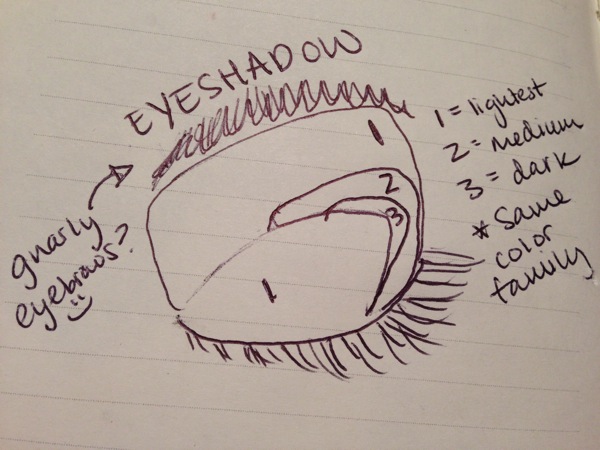 (Yes, I'm secretly an artist haha)
And some photos of the steps: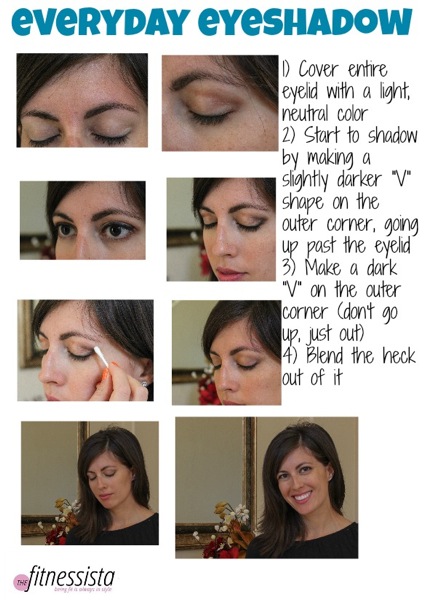 1) Put a primer or neutral color on your entire lid. I'll just dab a little concealer to even out the color.
2) Sweep a very light color all over your entire eye. Any neutral will do– it's also fun to play with light shimmery colors on the lid itself.
3) Next, color the outer part above the lid slightly darker, making a sideways "V" shape. Here I'll sometimes bring it underneath the outside of the lower lash line for a smokey look.
4) Then, using your darkest color, use this to create your "shadow" which helps to open up the eyes.
5) Blend, blend and blend using a small brush or a cotton swab.
6) Add eyeliner, mascara (if you'd like) and boom! Beautiful everyday eyes.
Here's my all-time favorite eyeshadow palette: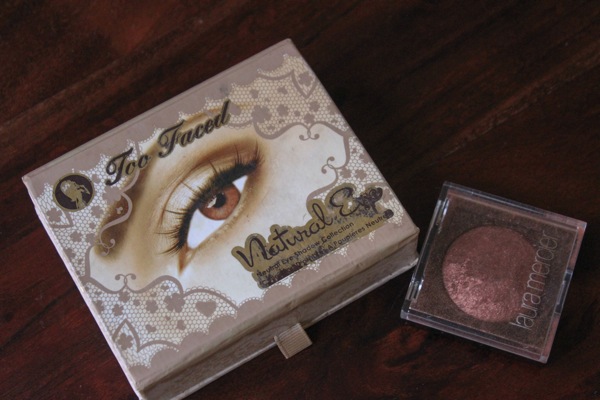 I love that some have a slight sparkle to them, like this brown by Laura Mercier,
and MAC "shroom" for the light all-over color. (Which is lost because I have a tiny ninja constantly rearranging my makeup drawer.)
Do you have any eye makeup tips and tricks? Who makes your favorite eyeshadow?
Random: I never wear mascara, unless it's a special occasion. I feel like it makes my eyelashes bald and goopy.
xoxo
Gina