Hey hey! How was the weekend? Hope you had an amazing one. Ours was the perfect mix of relaxing, fun, fitness, and… very little on the chore/productivity front. We're hoping to use today's off day to catch up on some things around here. I'd love to hear what you were up to!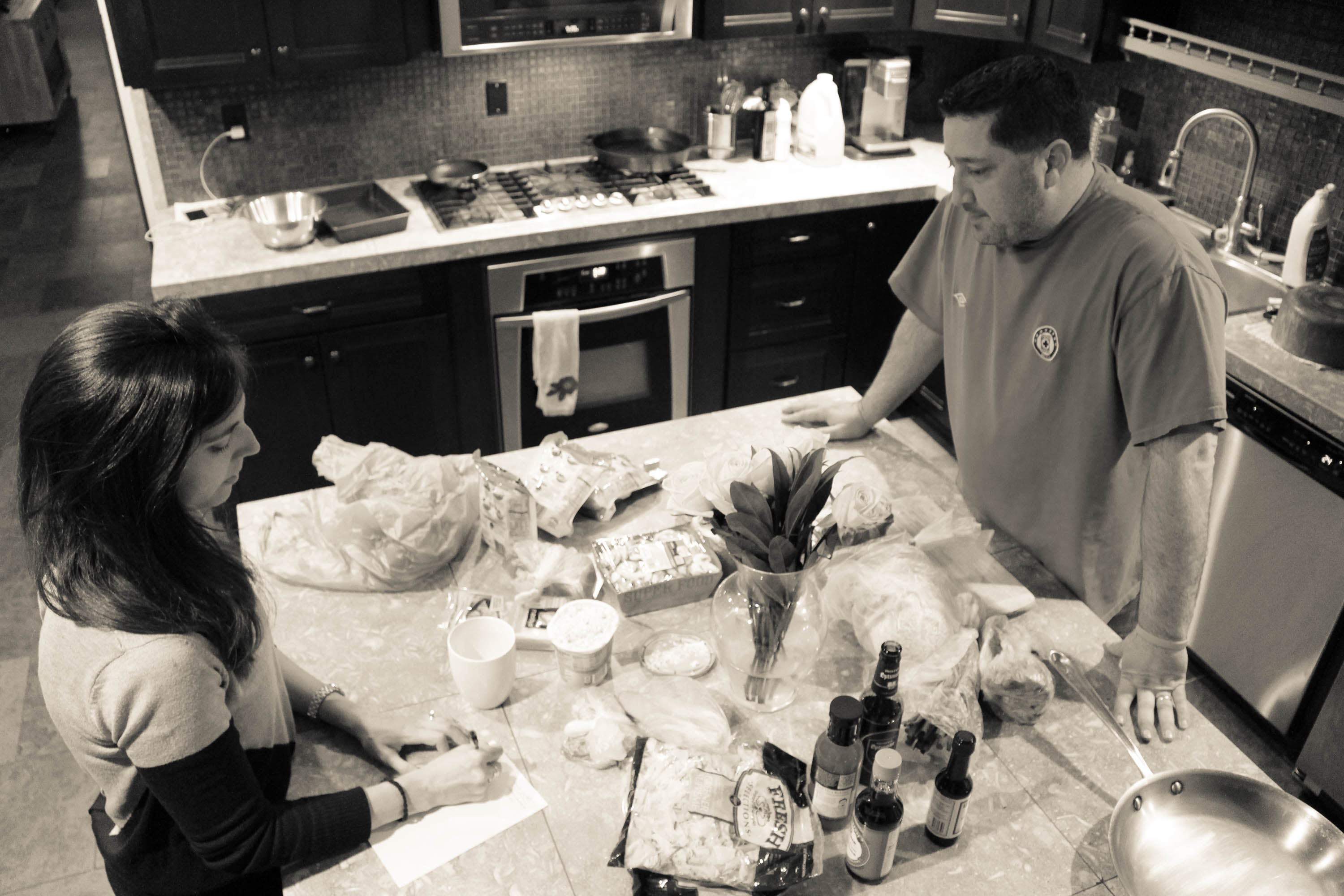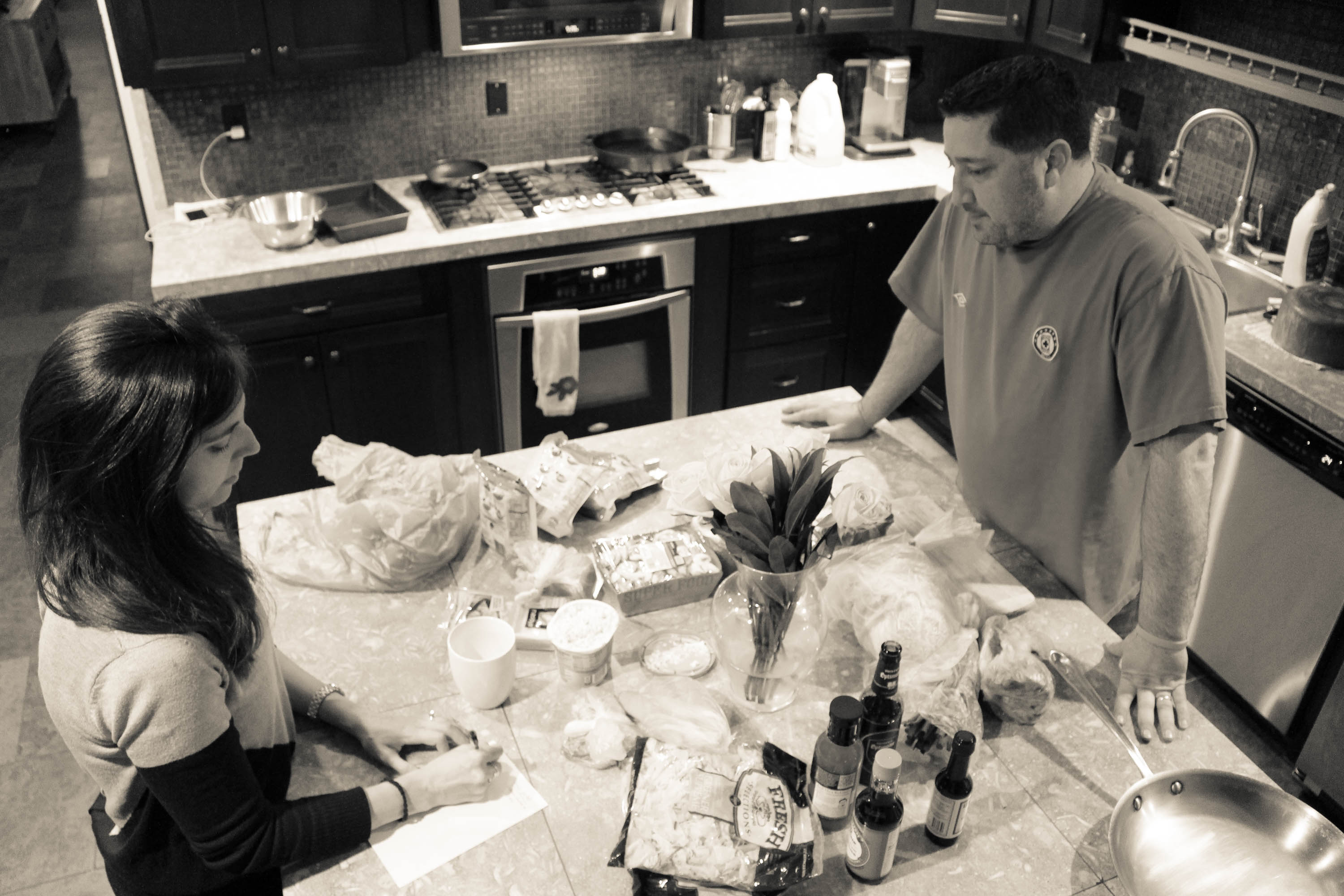 Friday night, my Uncle E (the mastermind behind this vegan sushi, lavender salmon, and the best past salad ever) came over and we cooked family dinner for everyone. He asked me to pick up some steak and chicken, and that he'd bring over the remaining ingredients.
The house we're renting has an incredible kitchen island, which was quickly filled with crab puff supplies. He told me, "Here's how you make a crab puff. Now make 300 of them."
Lollllll…..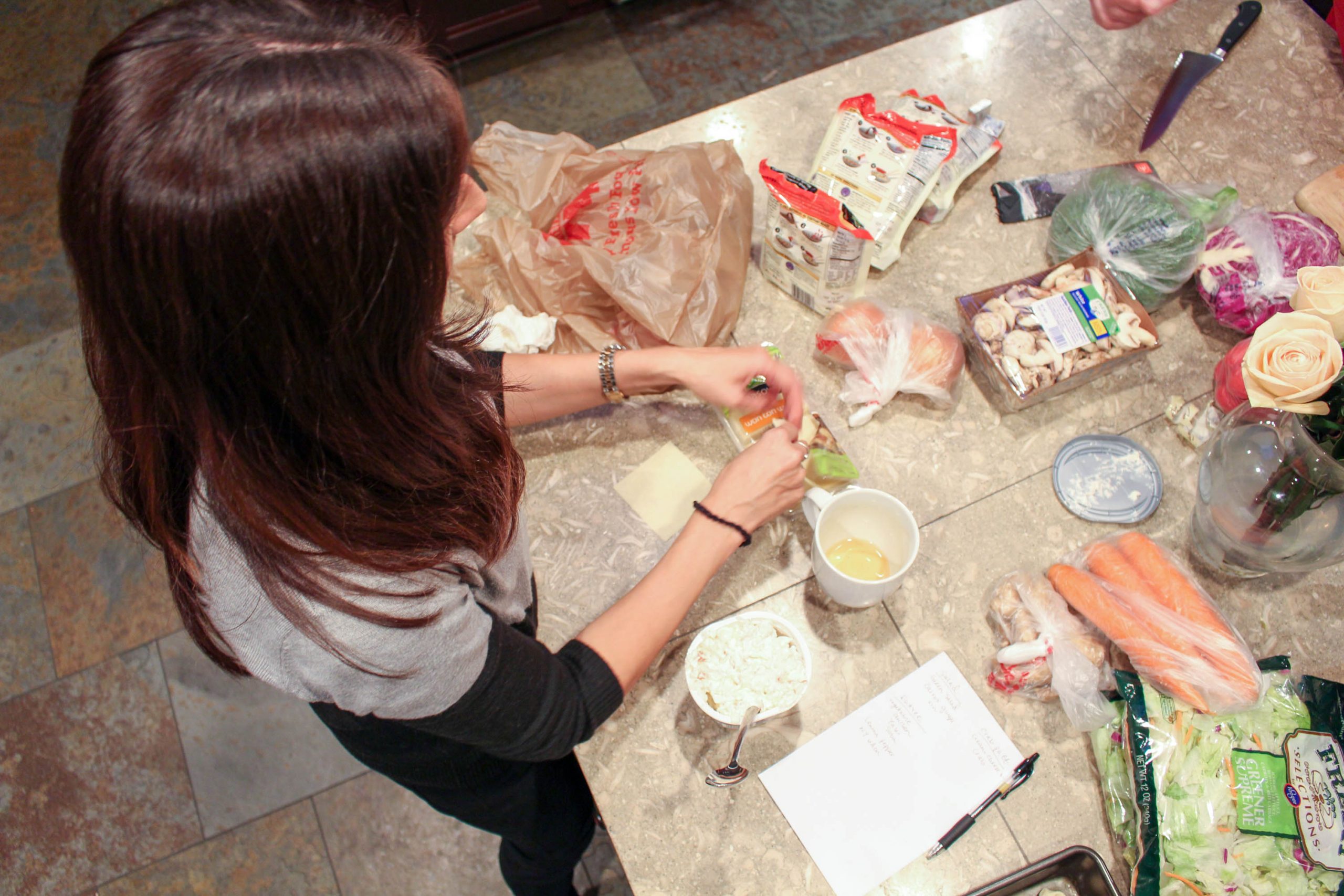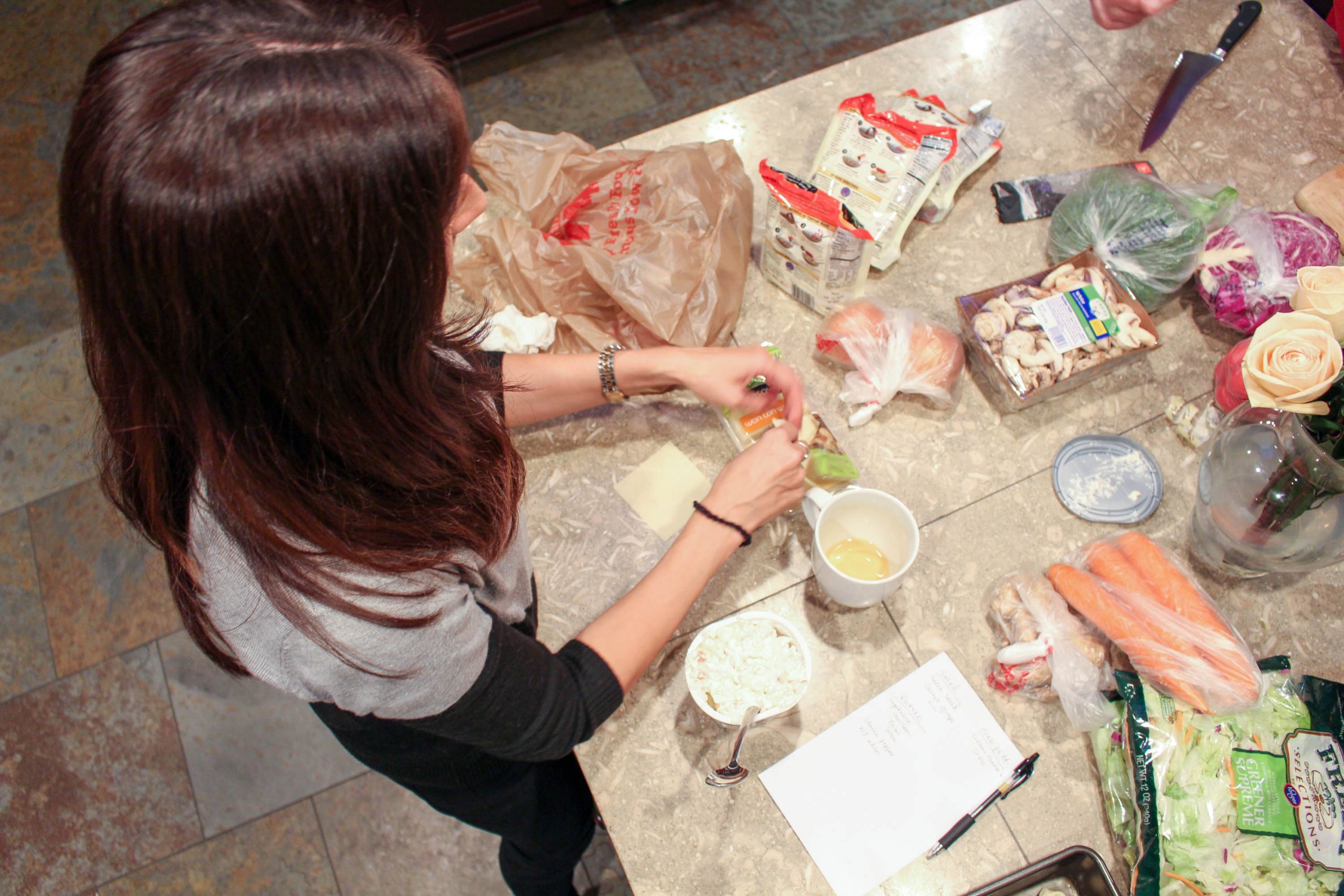 The crab puffs were super easy to put together. I added a mixture of chopped crab meat and cream cheese to the wonton wrapper, and pinched it up like a little basket.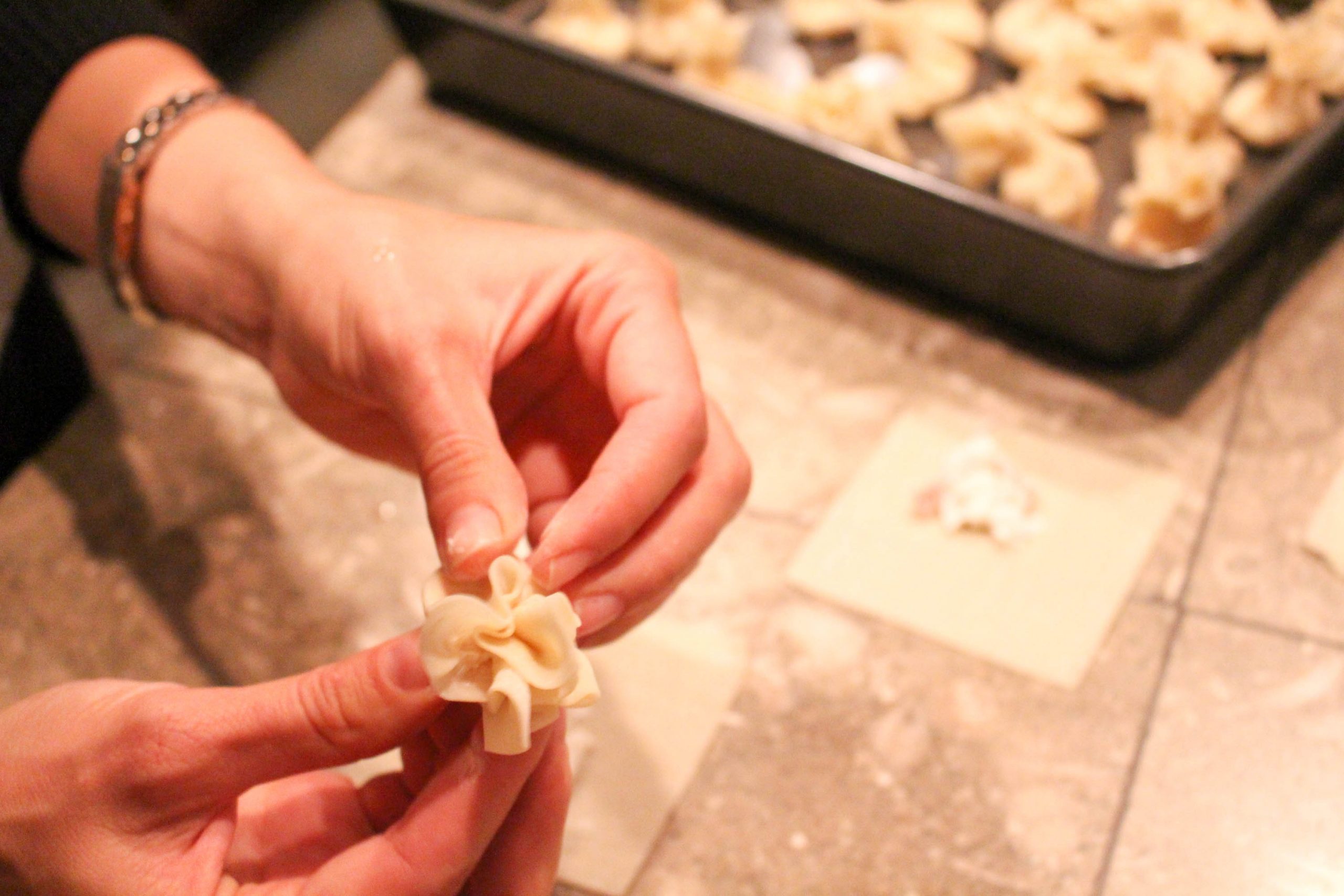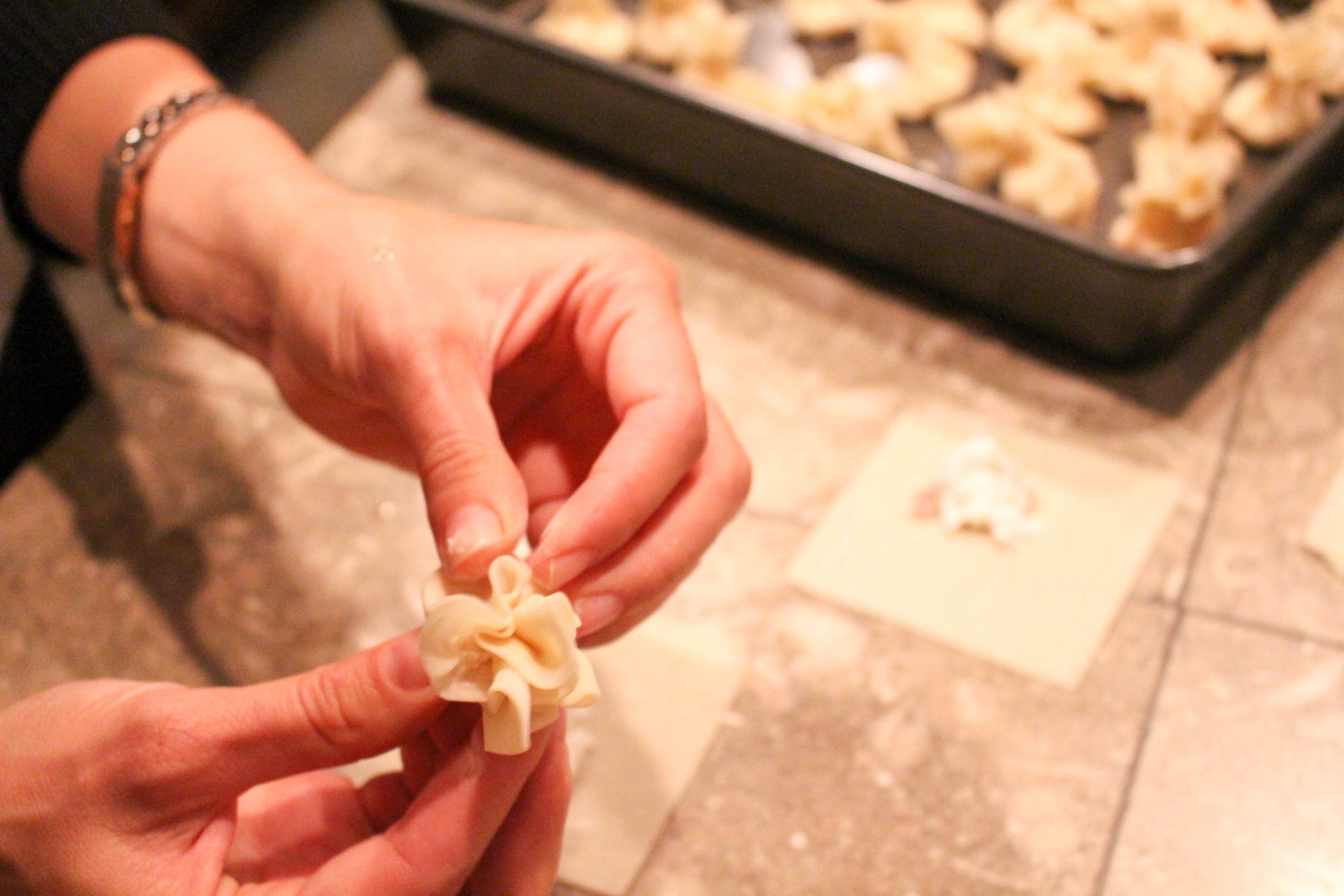 Once they were ready to go, the frying party began. We fried them in vegetable oil until they were golden brown and crispy, then topped with chopped scallions.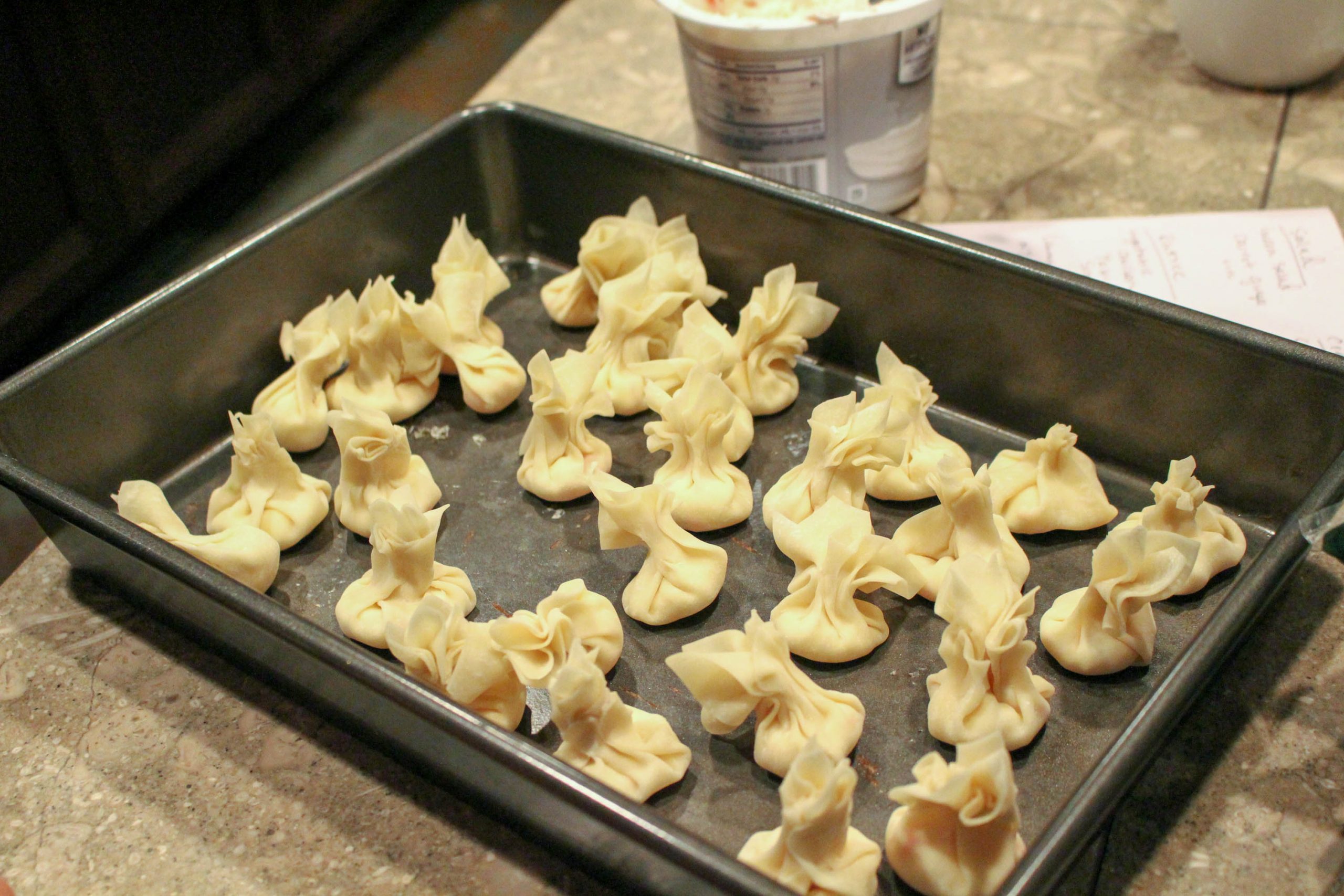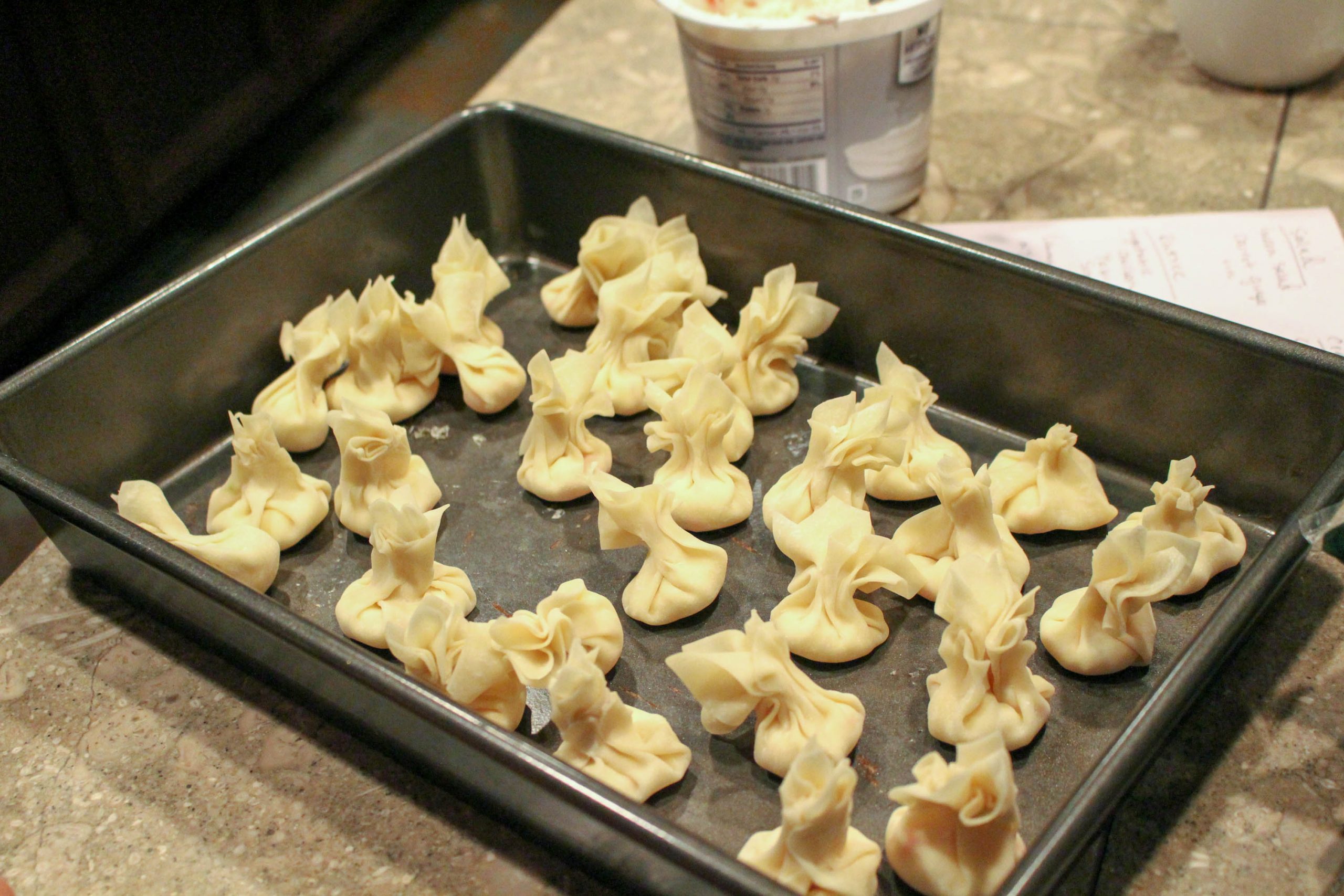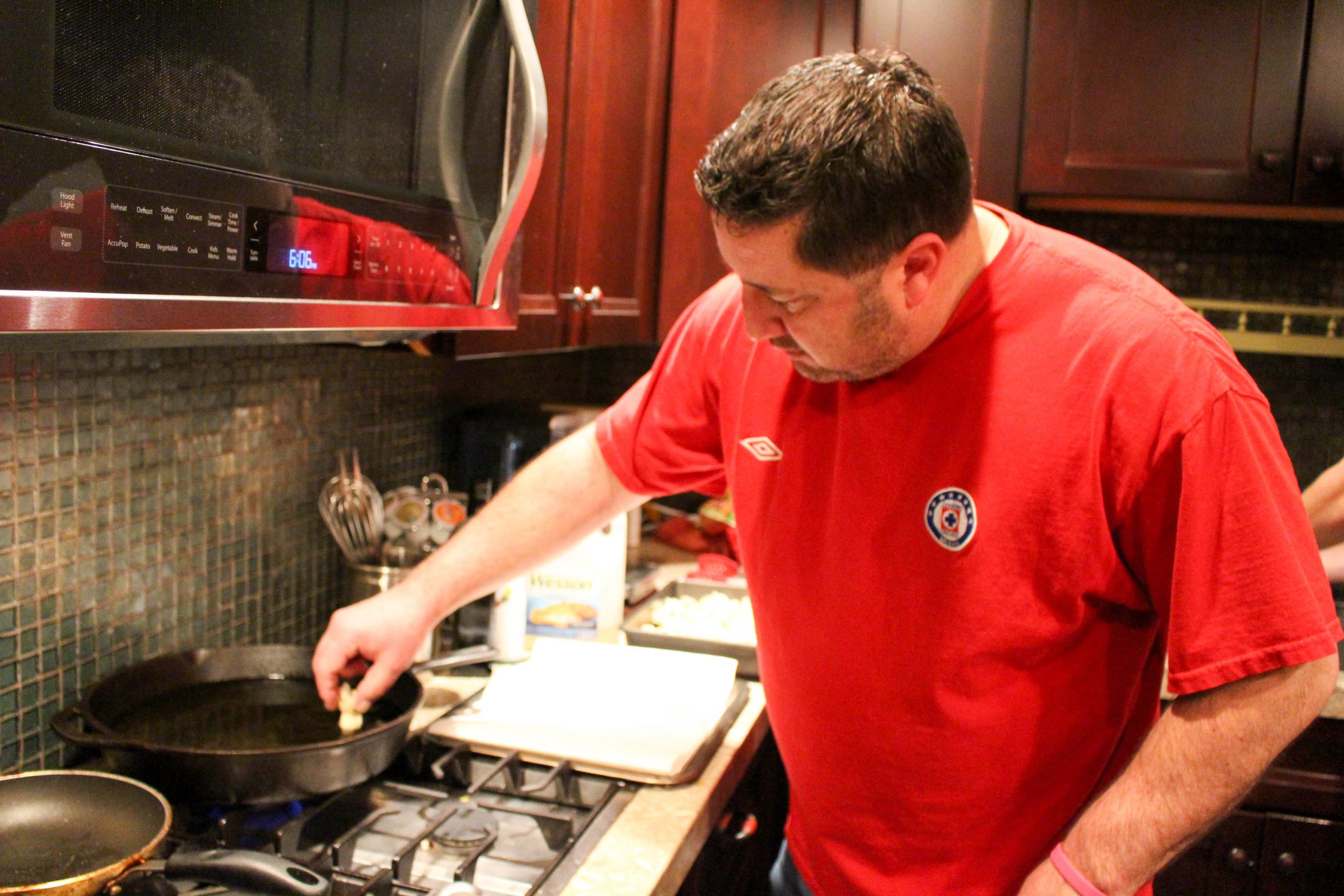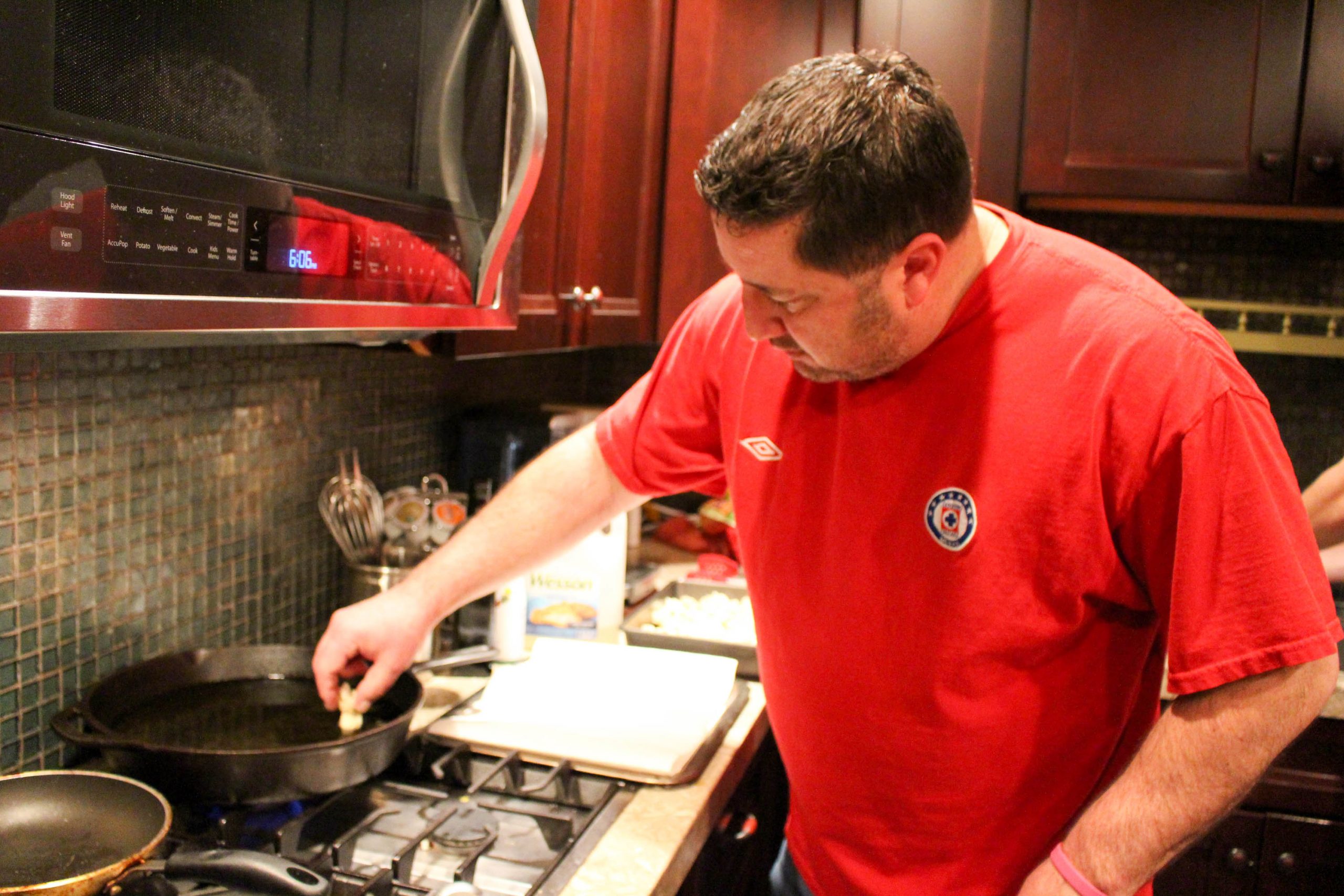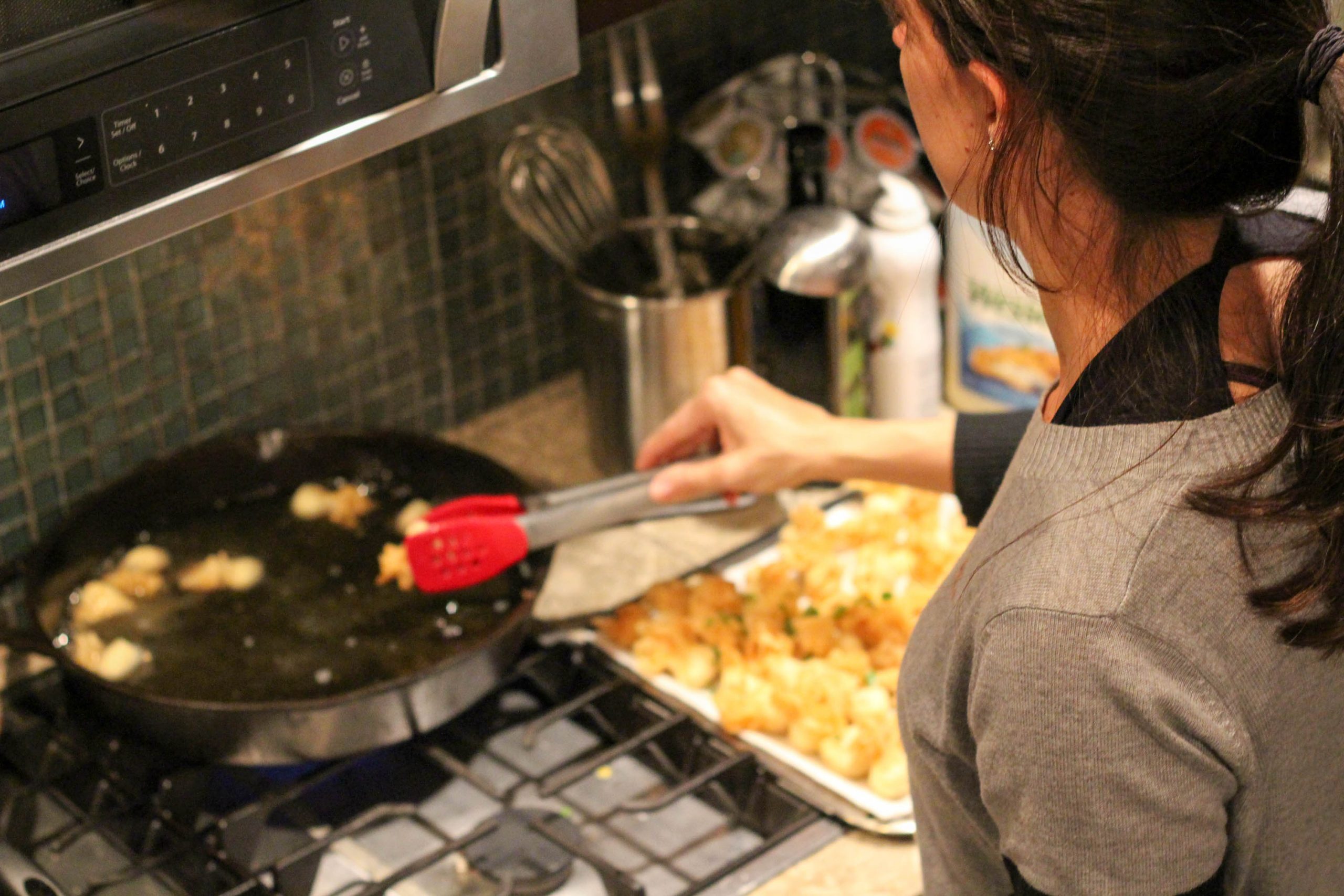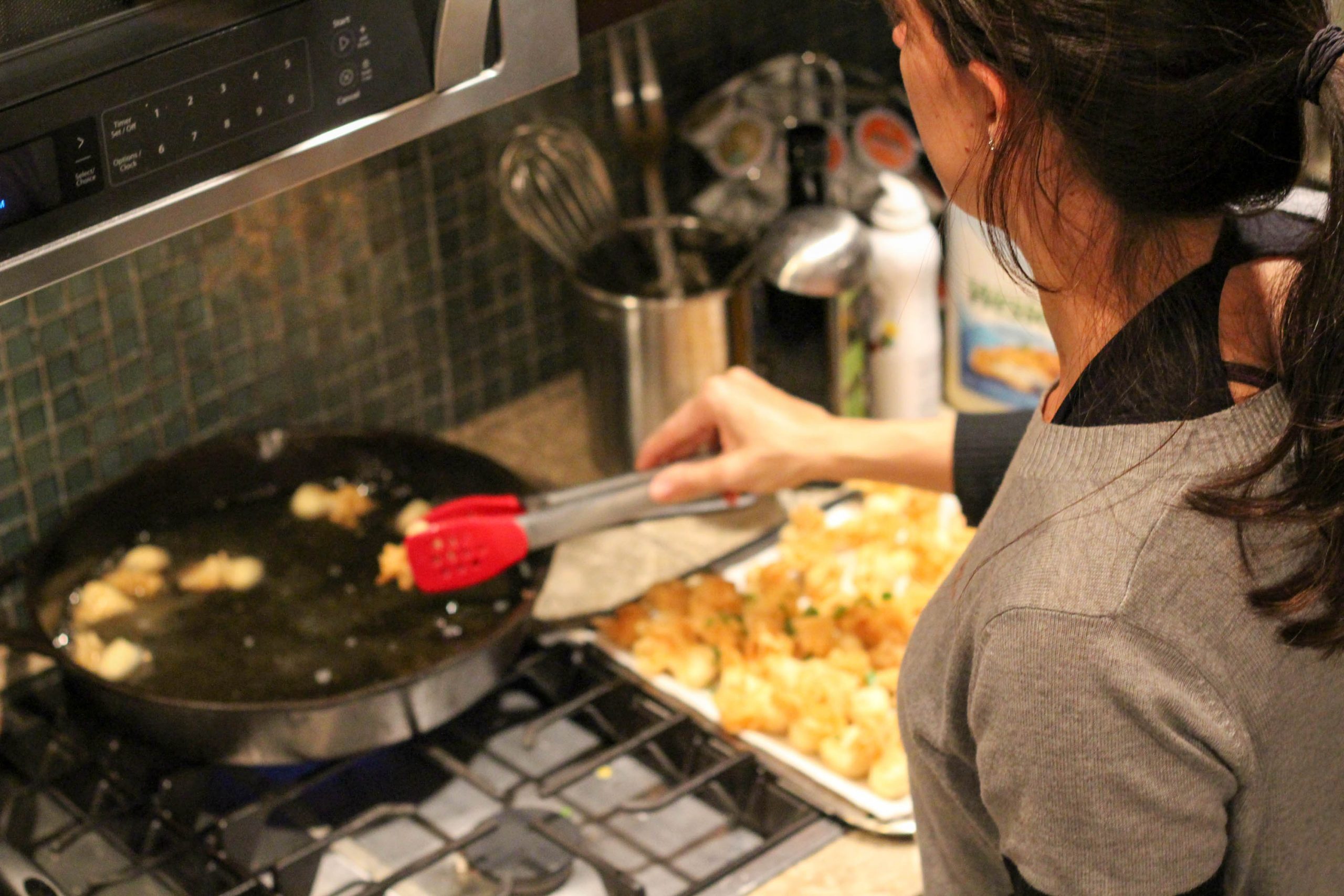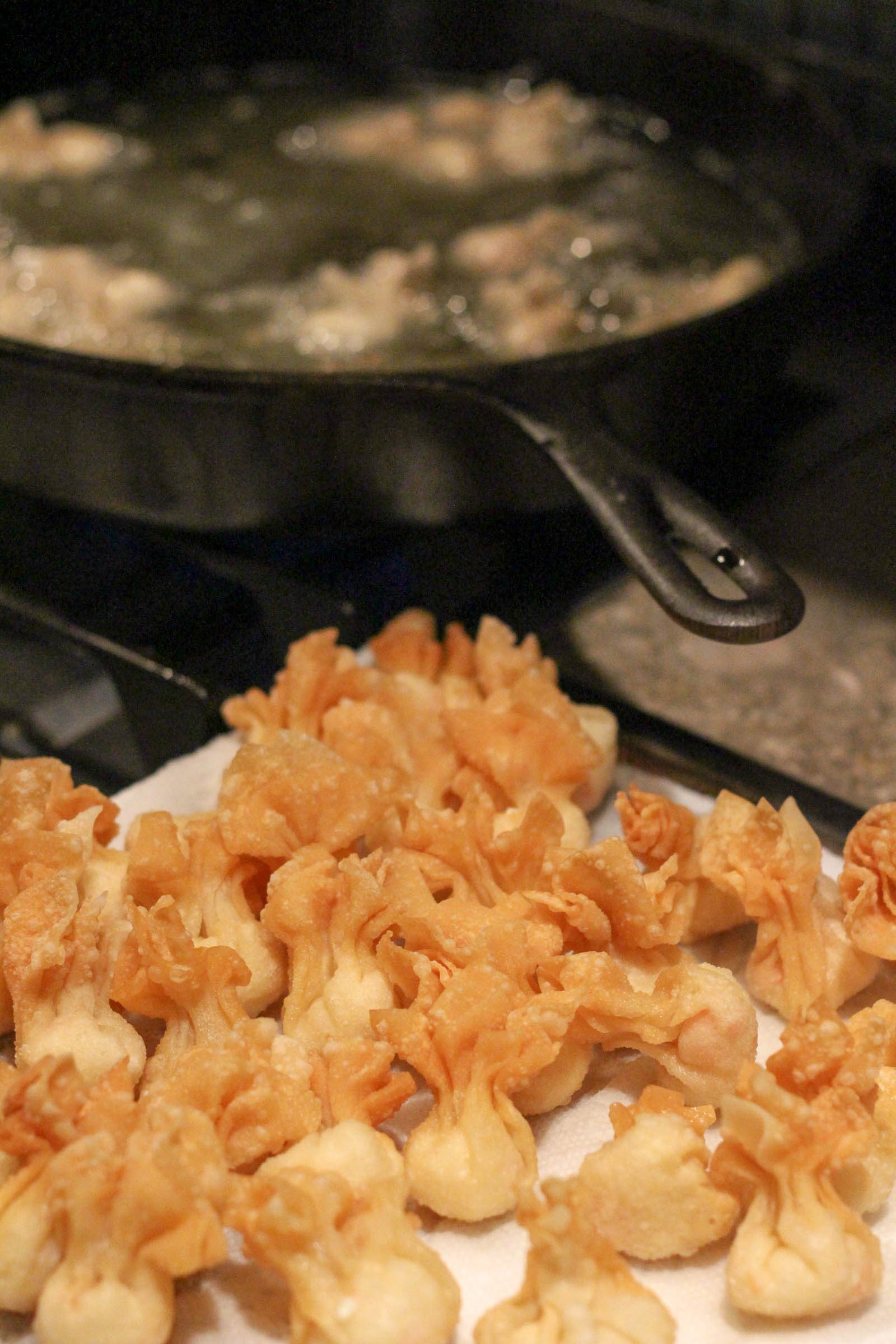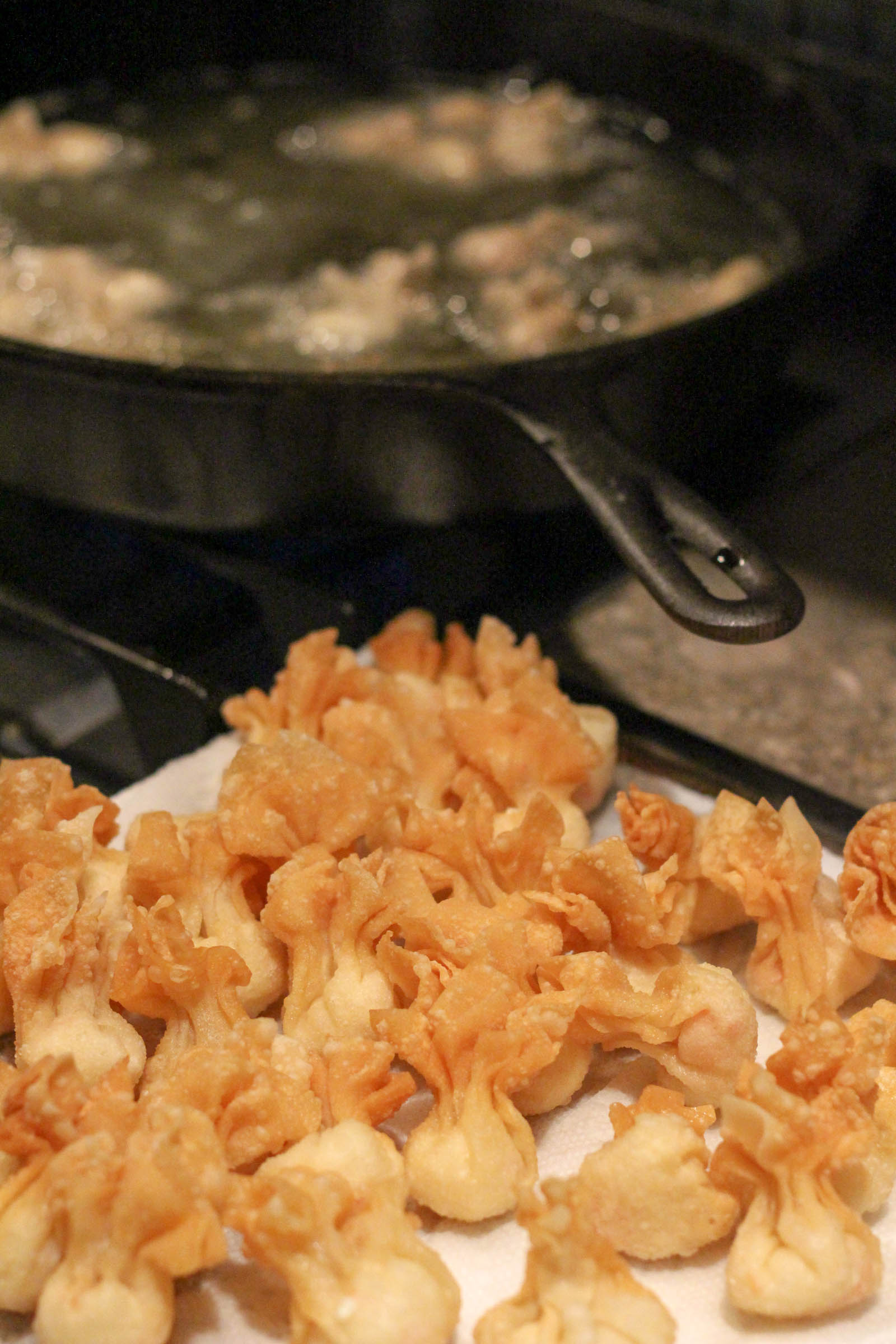 While I was wrapping and frying the crab puffs (and fearing that I'd catch something on fire in the frying process), Uncle E was busy slicing, dicing, and chopping for the stir fry.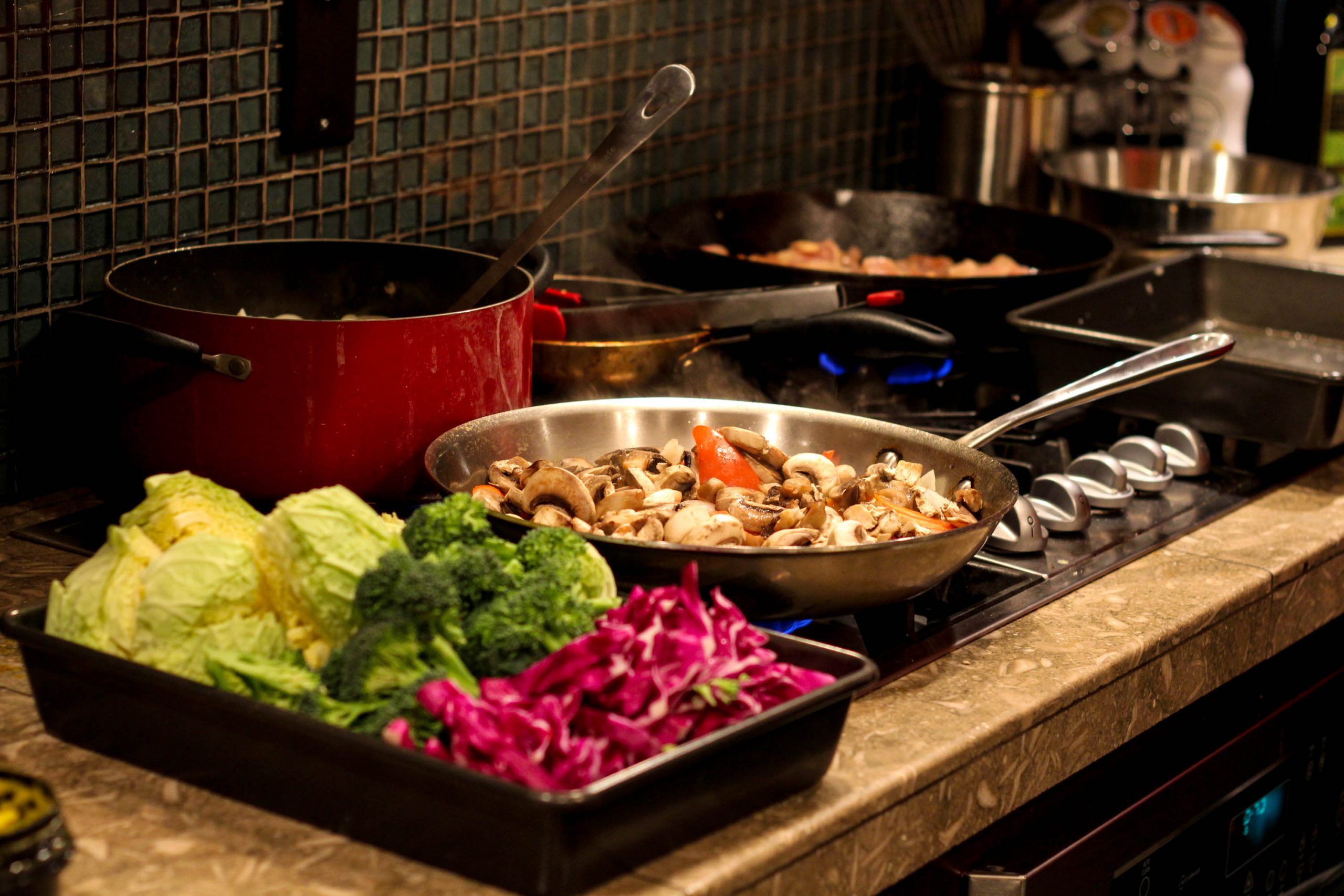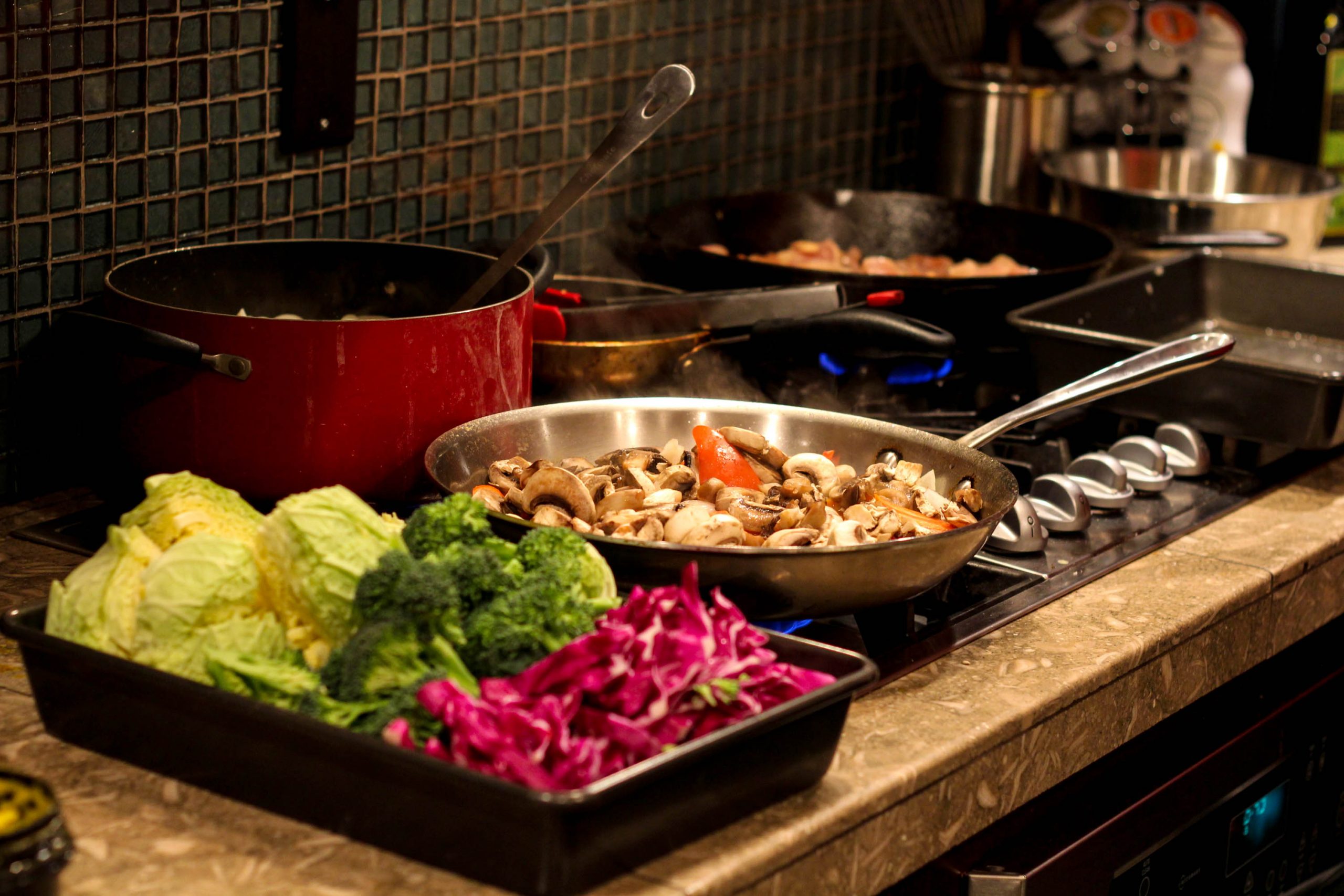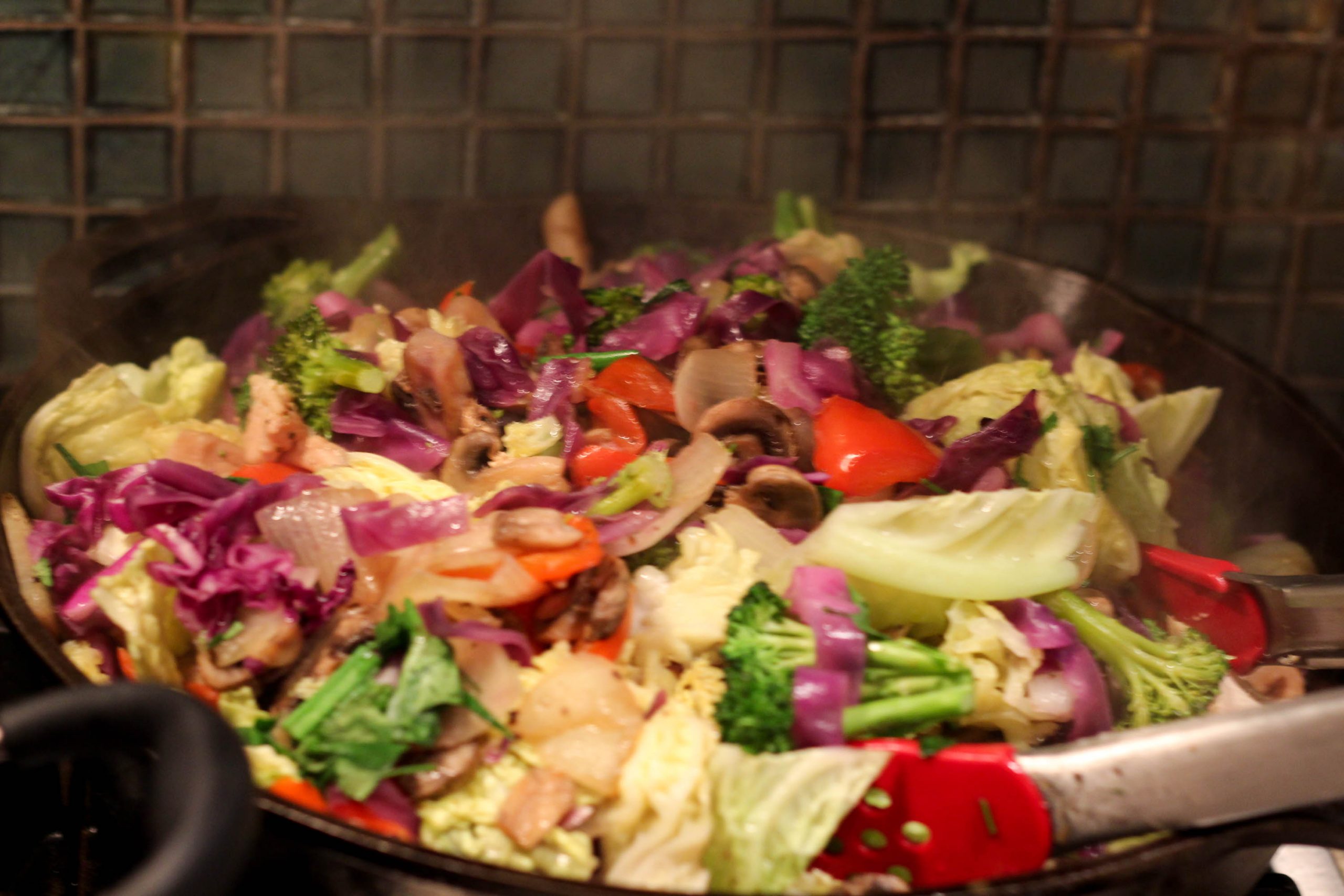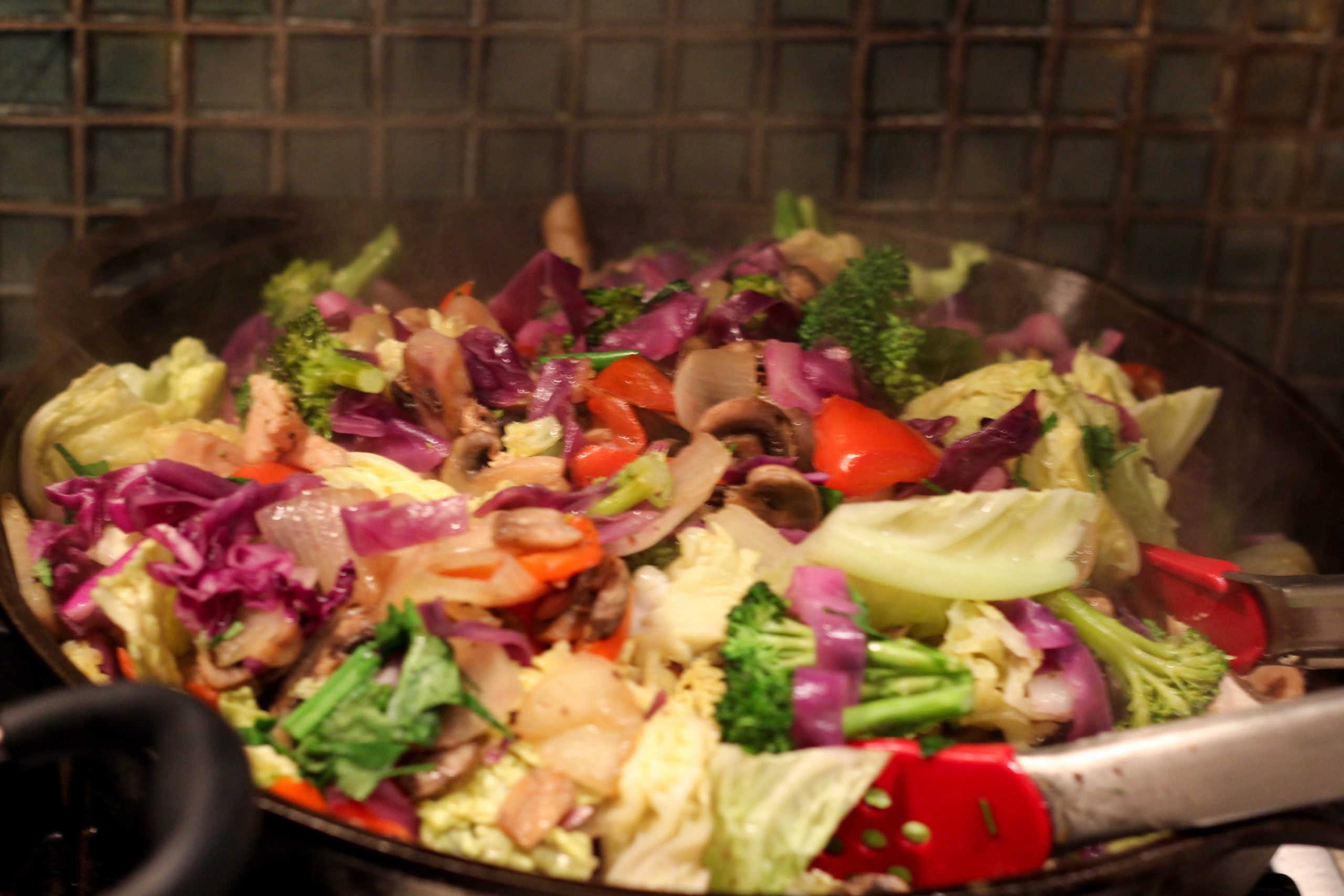 He stir-fried tons of veggies (cabbage, onion, mushrooms, broccoli, red bell pepper) along with some chicken, garlic, soy sauce, salt and pepper. He added scallions and fresh cilantro to the mix. On another burner, udon noodles were softly boiling in chicken broth, and he pan-seared sliced steak with lemon juice (KEY), a little soy sauce, salt and pepper. After the steak was cooked, he stirred in the noodles, and added chopped scallions and cilantro.
The house smelled amaaaaazing.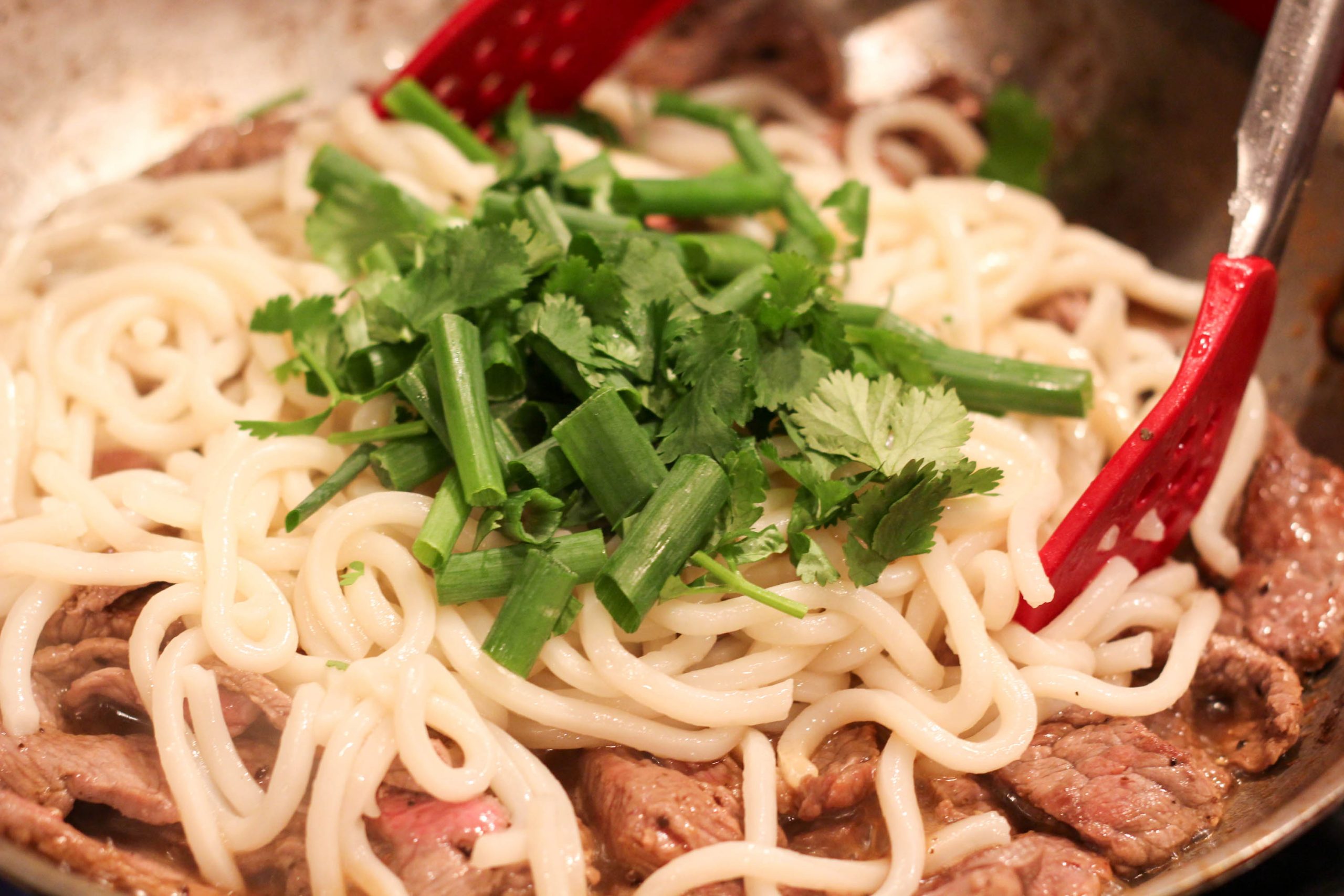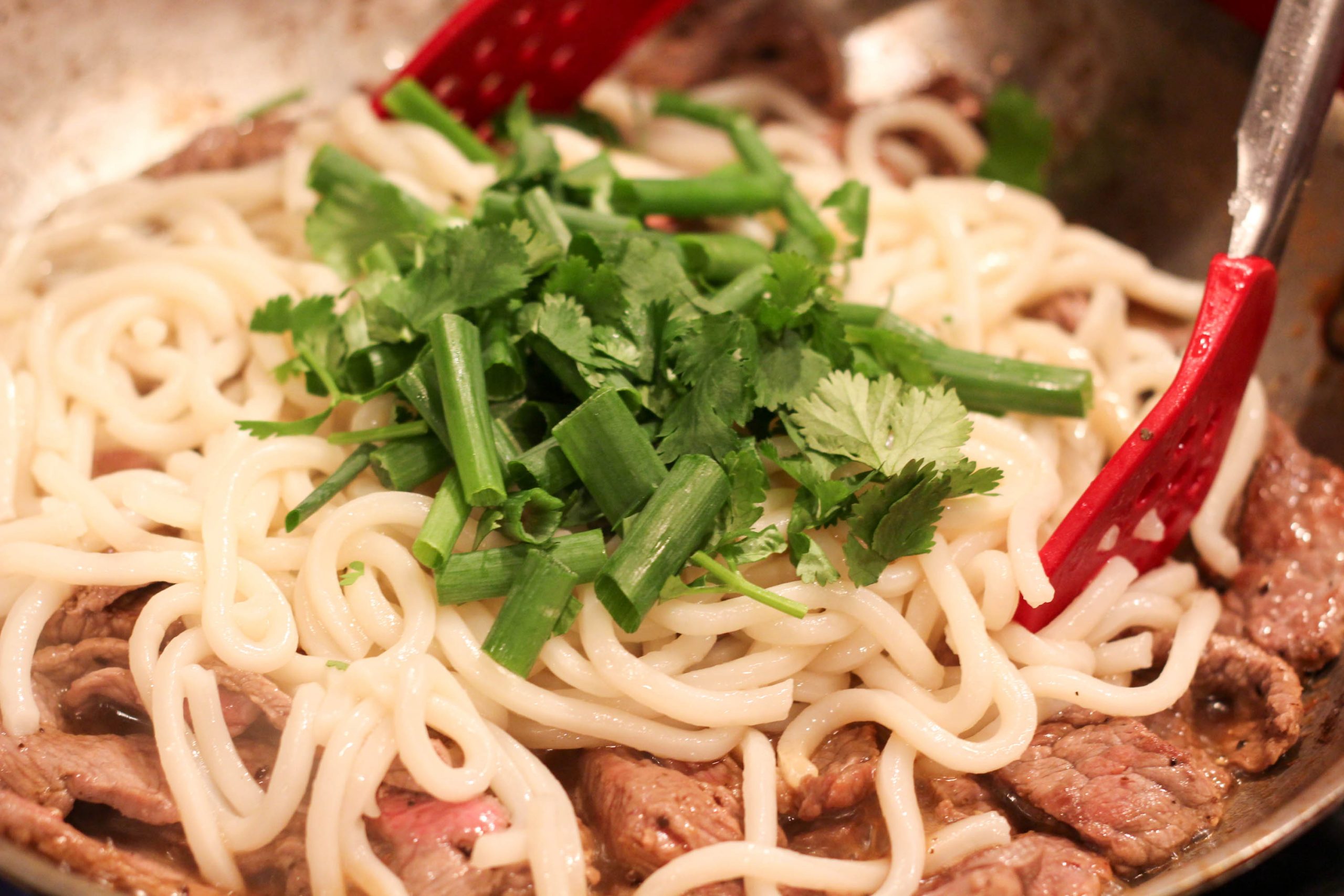 While he was working the burners, he dictated an AWESOME dressing recipe for our house salads. I'll make it again so I can share it on the blog this week -I need to measure everything!- but it was carrots, ginger, oil, salt, pepper, and chopped herbs. It was like a ginger green goddess dressing, and SO.so.good.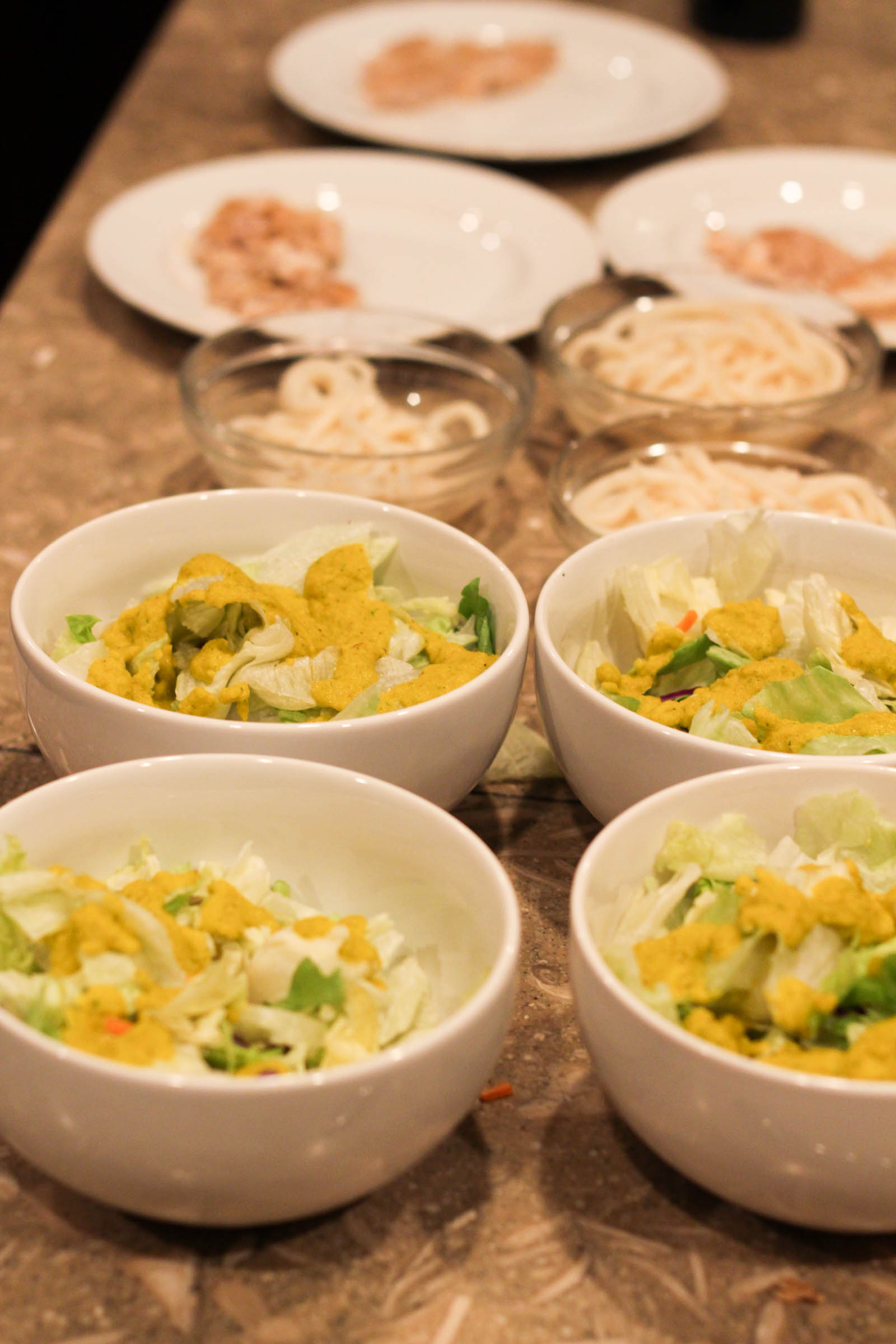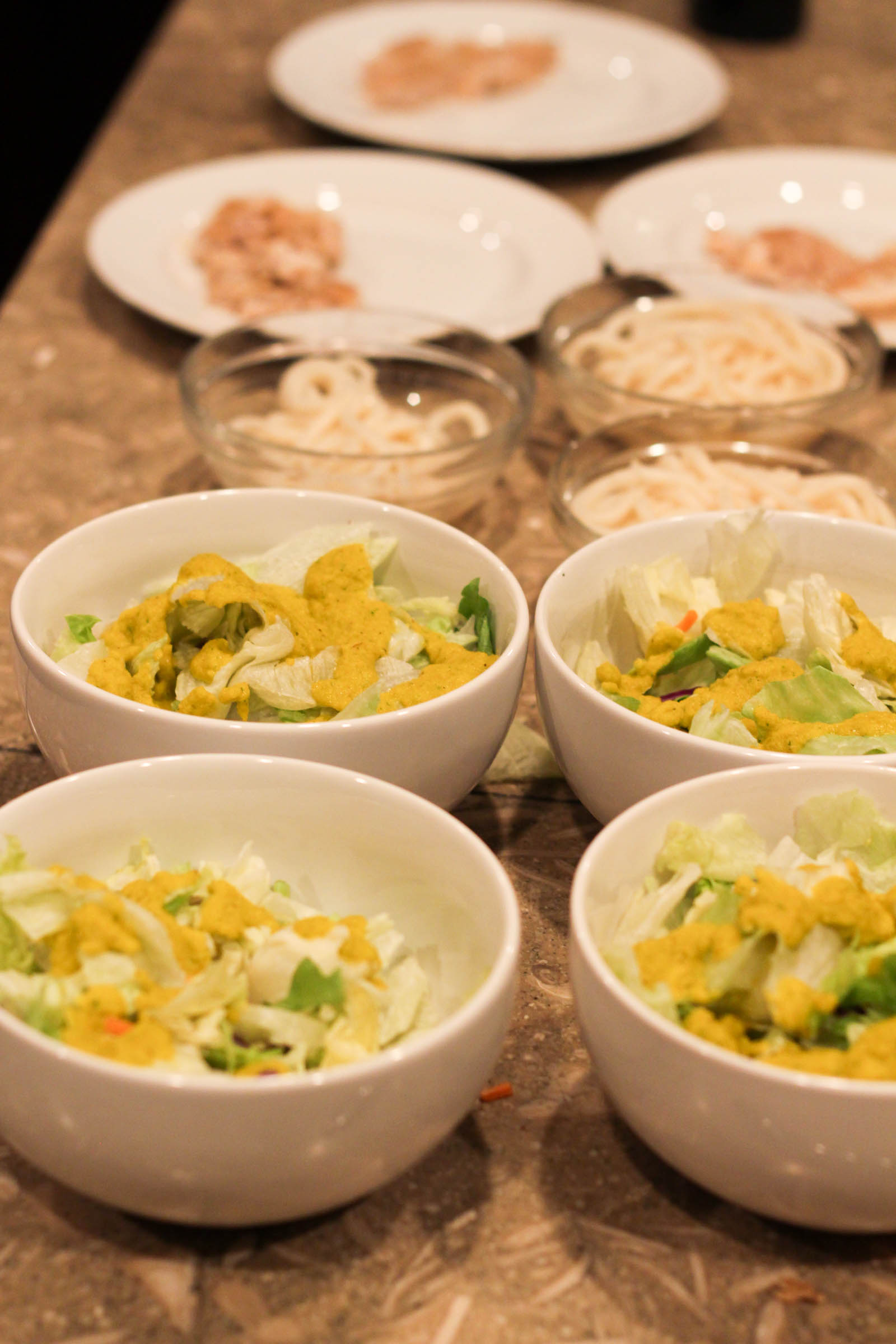 Cooking with Uncle E is one of my very favorite things. I feel like I have to take notes the entire time, because he's teaching me so much along the way!!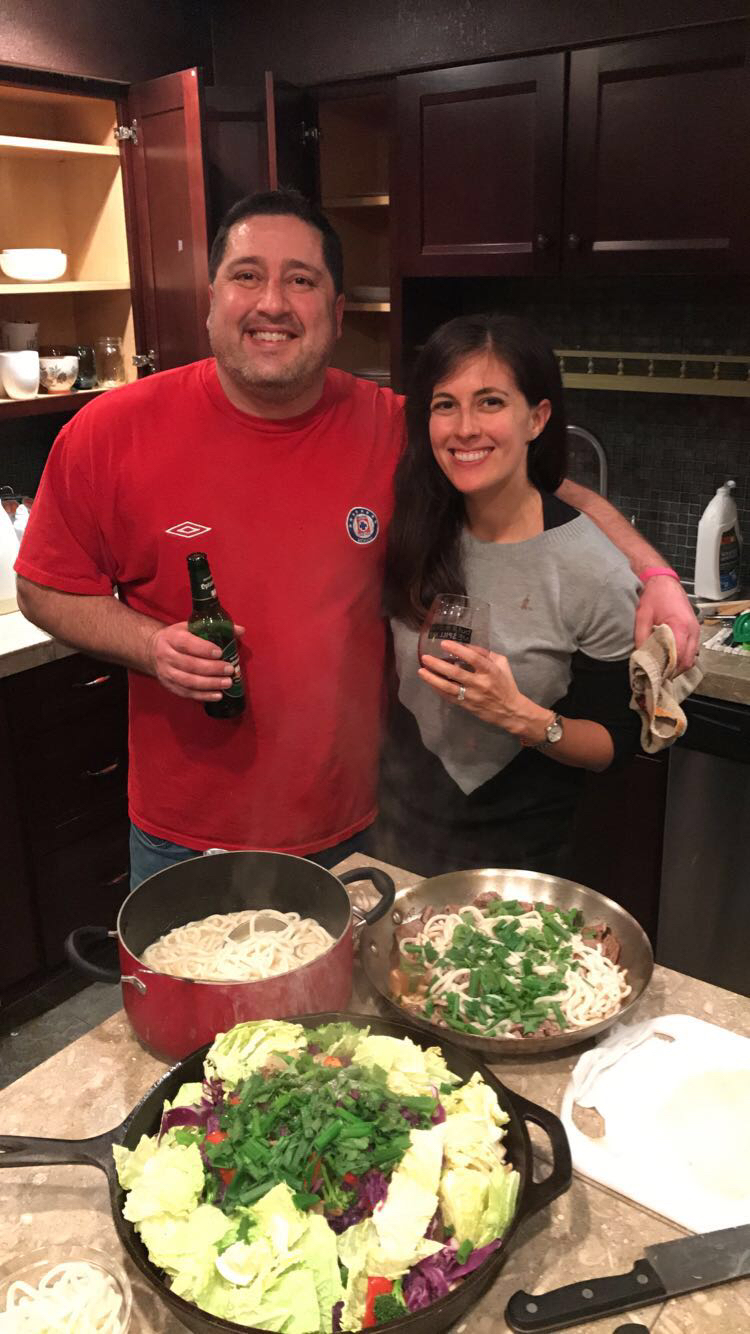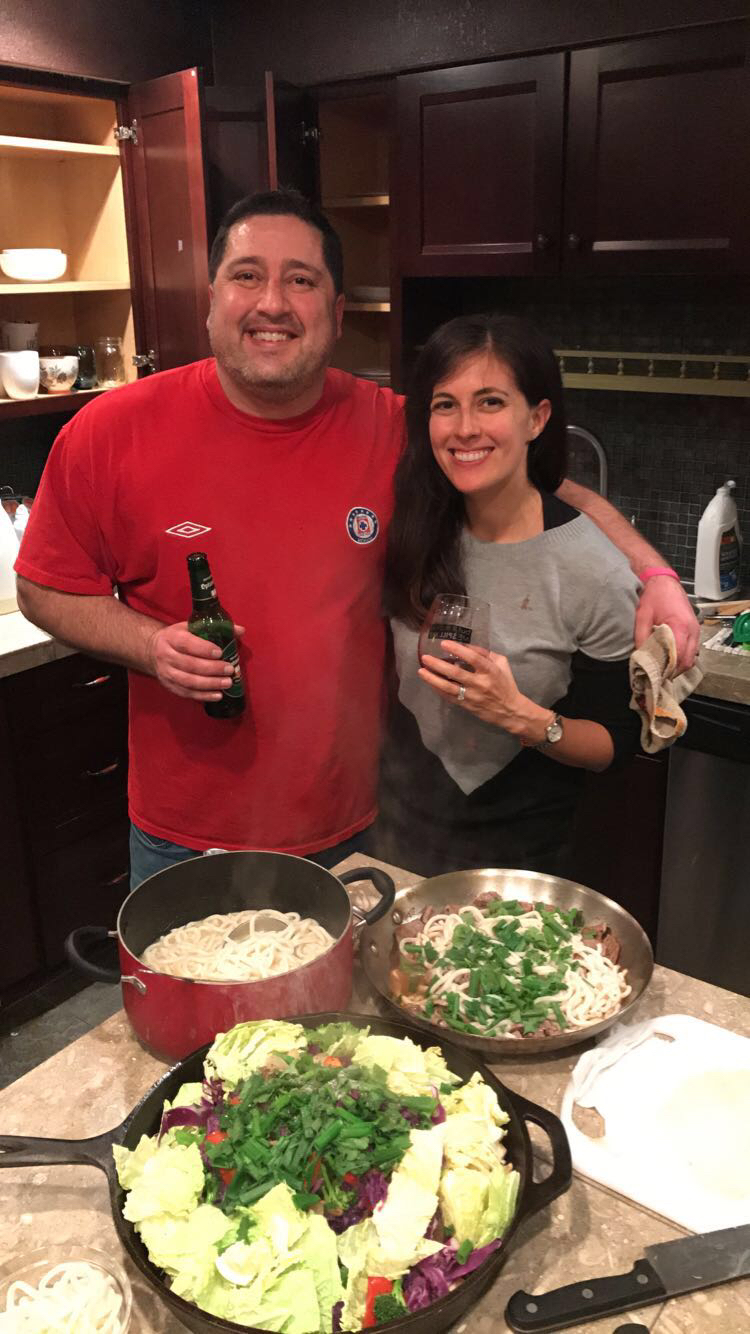 (The jelly on my sweater was a gift from Miss P. I gave her a PB&J sandwich to eat in the car, which was a huge mess haha, and ended up wearing her in the Ergo and smearing jelly all over myself. #momlife)
A picture of the final feast: surf, turf and turf.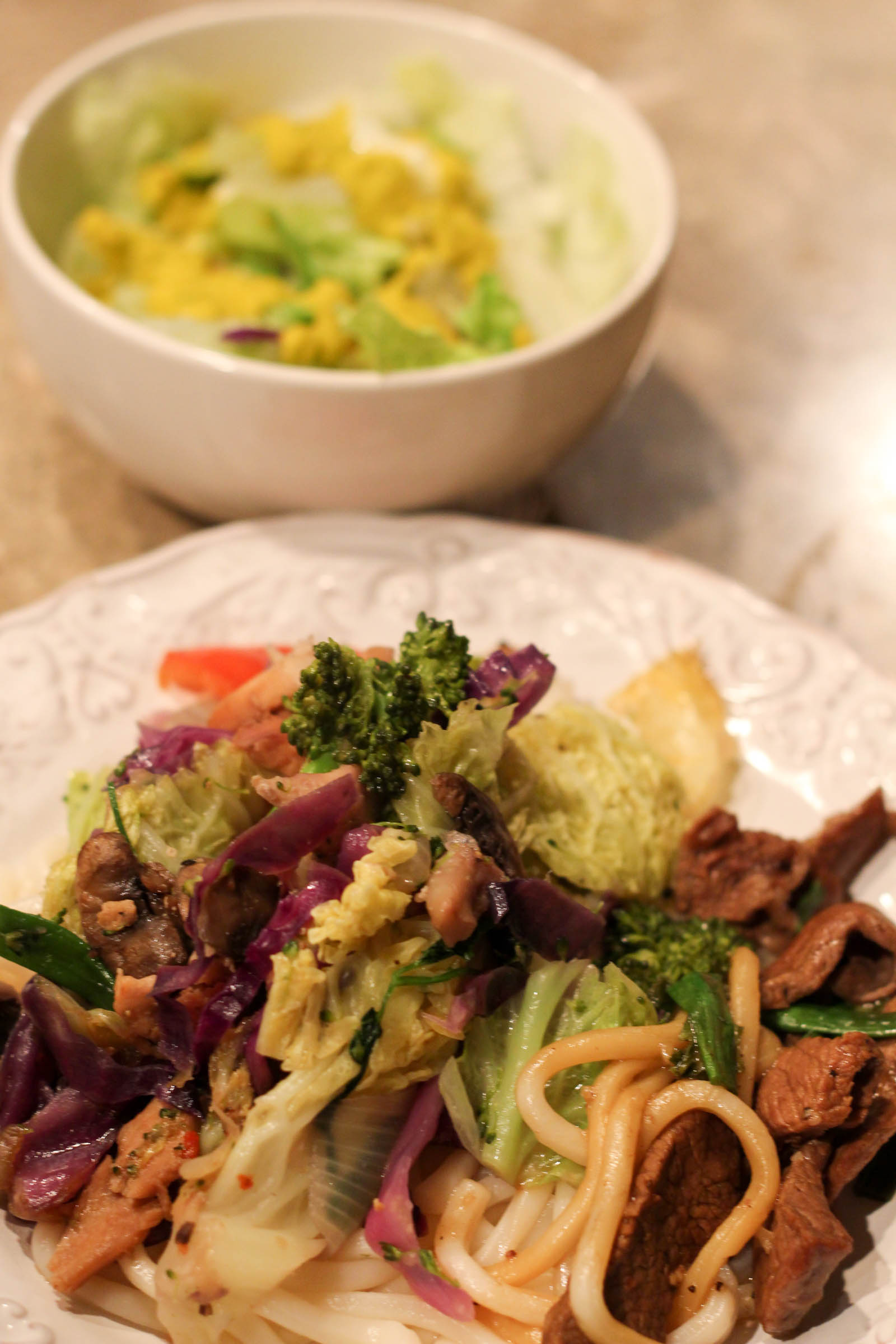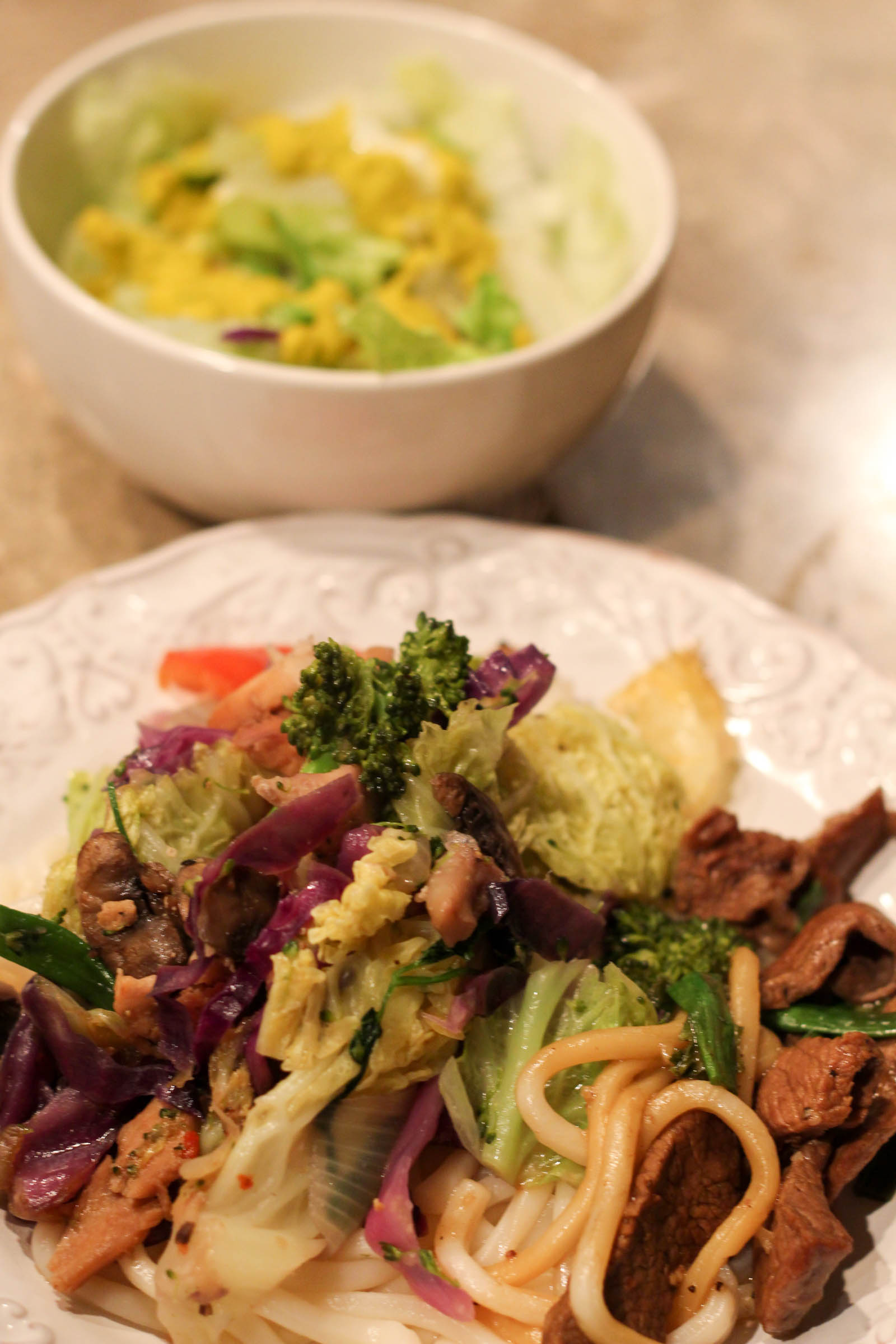 I have a lot more pics to share from this weekend, so I'll be back soon, and also have some fun fitness-related content for the blog this week. Also, mark your calendars: Winter Shape Up is starting two weeks from today on January 30!!
Thank you so much for stopping by, and I'll see ya very soon.
xoxo
Gina
PBB Advanced is out, and I'm so thrilled to be able to share it. Postpartum mamas who are back into their fitness routines and want to take things to the next level: check it out here.