Hi friends! How are you? Happy Tuesday! I hope you had a wonderful long weekend. Ours was totally pleasant, but took a small dose dive when I caught a wicked head cold. But, let's rewind back to the fun stuff.
Friday morning, P and I had to run a couple of errands and then something very exciting happened: my Peloton spin bike arrived! I'd been lusting over one for at least a year, but since I had a spin bike already, I decided to use the app on my phone and prop it up on my spin bike. It worked really well and I've loved adding the classes into my rotation, but my beloved bike was stored in Valdosta when we moved. I didn't think it would be that big of a deal until I realized how much I depended on that bike for at-home cardio options. Sometimes driving to and from the gym is a deal-breaker (it crushes the amount of time I have to actually work out) and sometimes I want to be able to sneak in a workout here at home while the girls are sleeping or chilling. So, I decided to go for it, and it's already made my workout dreams come true. When I caught a Saturday morning workout while the girls played happily in the playroom, I knew it was the right choice. I'll definitely post a full review soon! (And, nope it's #notsponsred – I bought it with my own $)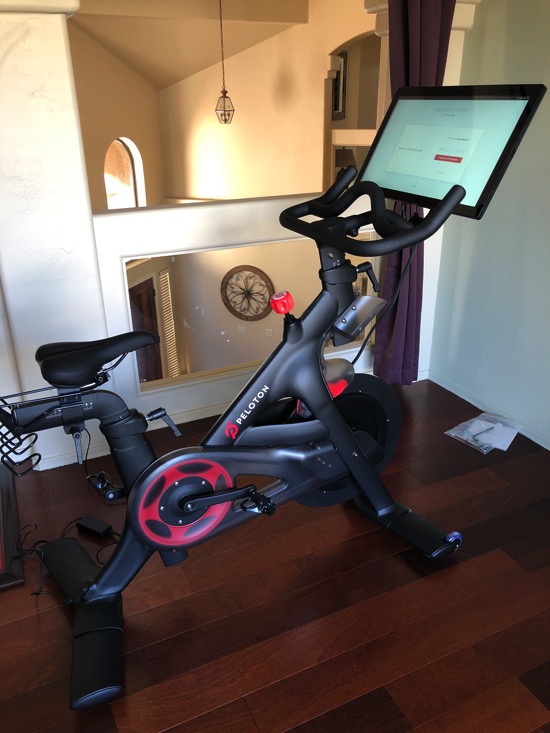 (I ended up putting a yoga mat underneath it)
We went to the bike shop where they attached the clips on my shoes (YAY) and then met up with friends at the Lodge for dinner and a poolside movie.
+ margaritas (always)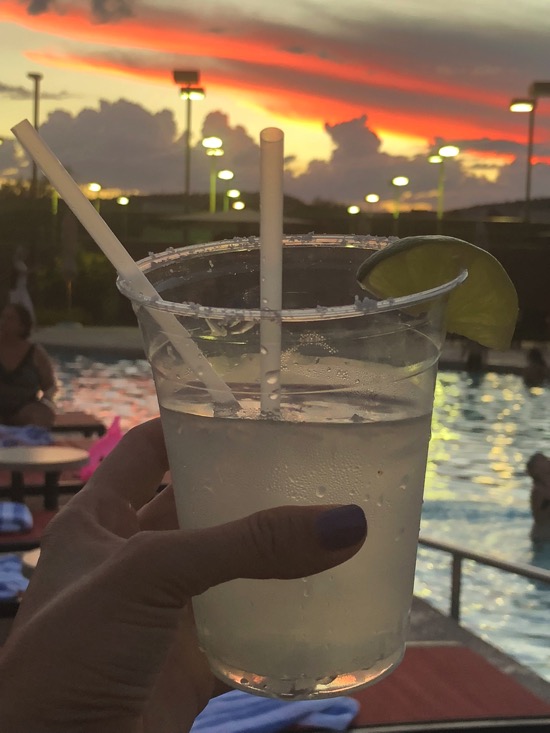 Saturday morning, we grabbed First Watch for breakfast. I always come back to the avocado toast, but decided to order the Tri-Athlete omelet with gluten-free toast.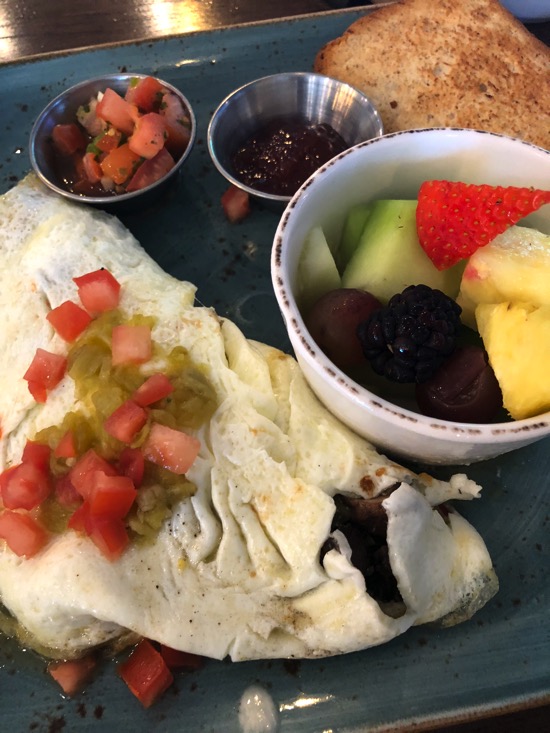 That afternoon, I spent a couple of hours filming so many Fit Guide tutorial videos. The exercise gallery we're working on is here! Please keep in mind that it's a work in progress and I have about 50 more exercises to add to the page. I'll be cranking away at this bad boy until we re-launch the Fit Guides later this month! This way you'll have a video of all of the exercises right at your fingertips.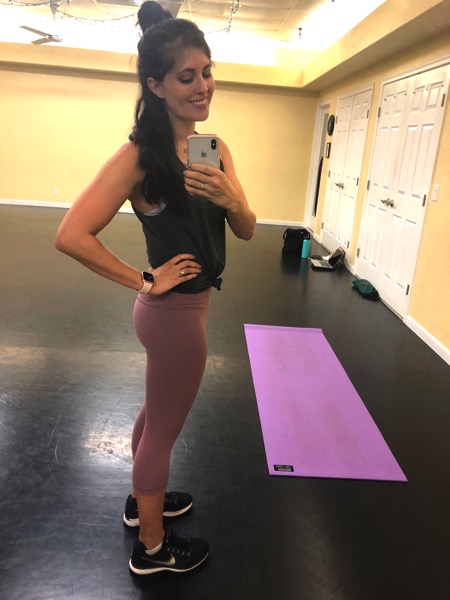 We took a trip to the jumping castle place,
and enjoyed dinner at the girls' favorite spot: Sweet Tomatoes.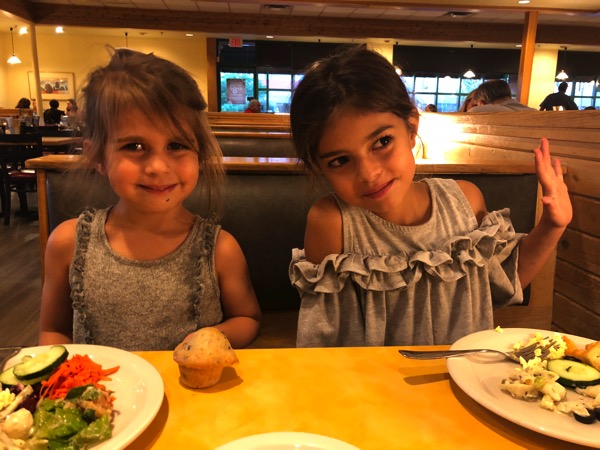 (My nana surprised us and Livi was waving to her behind my shoulder)
They always ask to go to Sweet Tomatoes and I'm happy to take them, especially when they haven't had vegetables in a few days. It's a guarantee that they'll actually eat a full dinner and eat something that grew from the ground. They've been going through a pickier since we moved here from all of the changes/transition, so I figure I'll just keep offering everything and when in doubt, Sweet Tomatoes it out.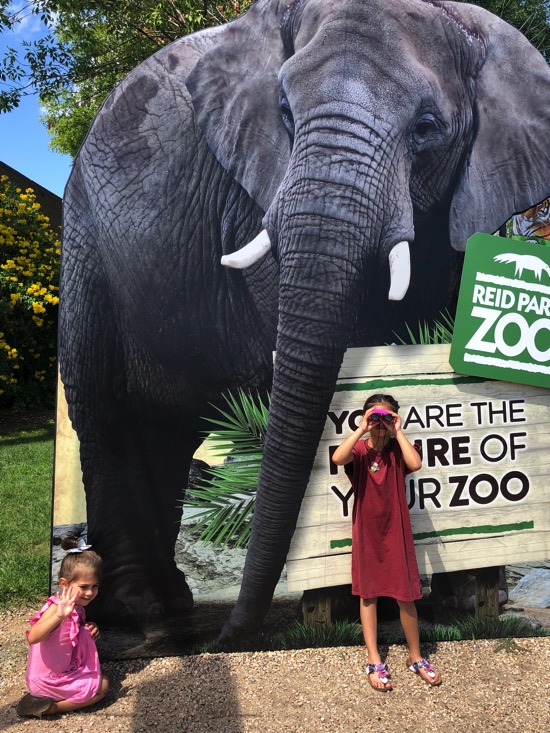 Sunday morning, the weather was perfection, so we ventured to the zoo. All of the animals were out and the cutest lil meerkat was lounging against the glass. I think he liked P.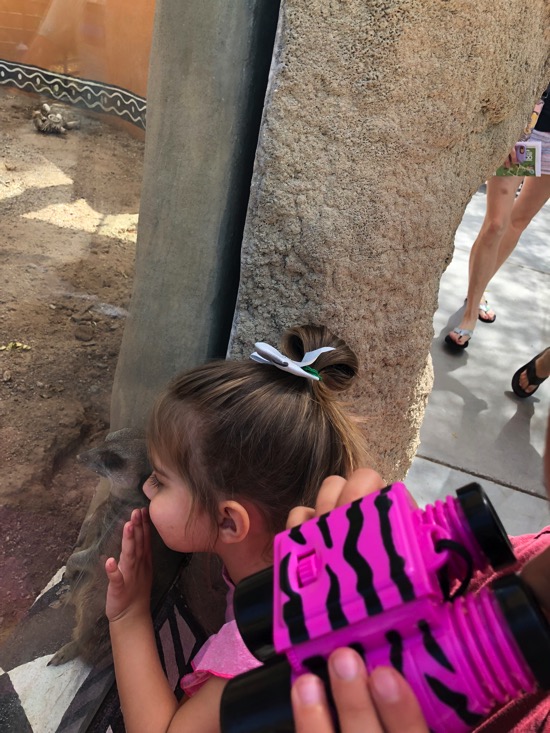 We met my nana for lunch and later that evening is when the head cold hit me. I felt like I was swimming underwater and had to blow my nose 1029749 times. I've tried a lot of the usual remedies (two wellness shots a day, elderberry, lots of tea with lemon) and eating all the soup.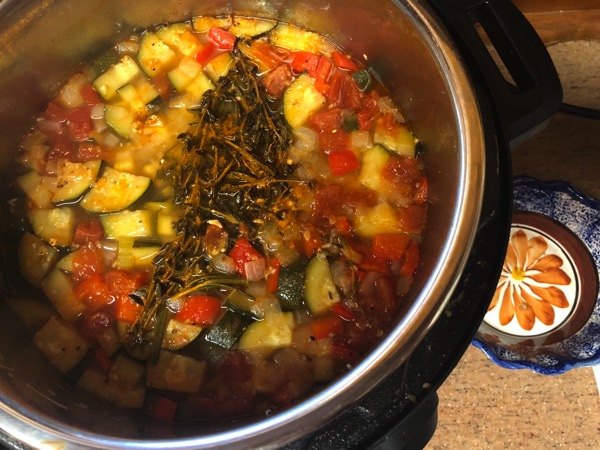 Here's the recipe I usually follow!
We went to the park for some fresh air (don't worry, I didn't breathe on anyone),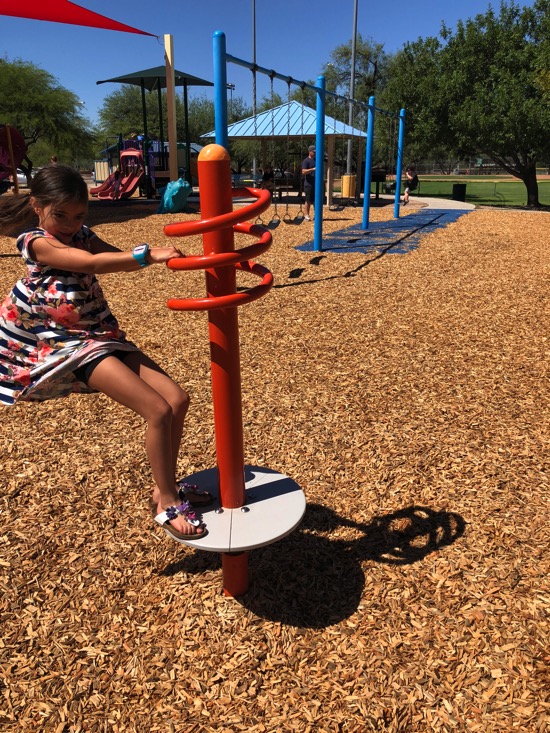 and hung out at madre's for a little while. 
Fingers crossed that when this post goes live I'm back to life.
How was your weekend? I'd love to hear what you were up to!
Thanks so much for stopping by the blog today and I'll see ya in the morning with this week's podcast interview with Ashley.
xoxo
Gina
Looking for a workout? i've got you, boo.