[Just a head's up that if reading about body image is an uncomfortable or triggering topic for you, this might be a post to skip. What we read can affect us in a positive or negative way, so please use your best judgment and choose literature that nourishes your body and mind. If you're in recovery from an eating disorder, my healing wishes and heart are with you.)
There are some things I'm careful not to do in front of Liv:
-say the "F" word.. even though it still slips out sometimes (especially while driving)
-eat handfuls of chocolate or face-burning spicy foods, just because she always wants a bite
-body shame.
Even though there are some parts of my body I don't exactly love, I don't want Oliv to know the difference. Of course, I'm proud of my body, and am thankful it helped me carry a beautiful, healthy baby. At the same time, I think as a woman there are always little things we would love to change if we could. If you've been reading the blog for a while, you're probably aware of the fact that I don't love my nose. I call it my "honker" and hinted at Tom to let me get rhinoplasty for years. After being repeatedly shot down because my nose makes me me, I've given it a rest. And now, the thought of someone taking a hammer to my face scares the bejeezus out of me.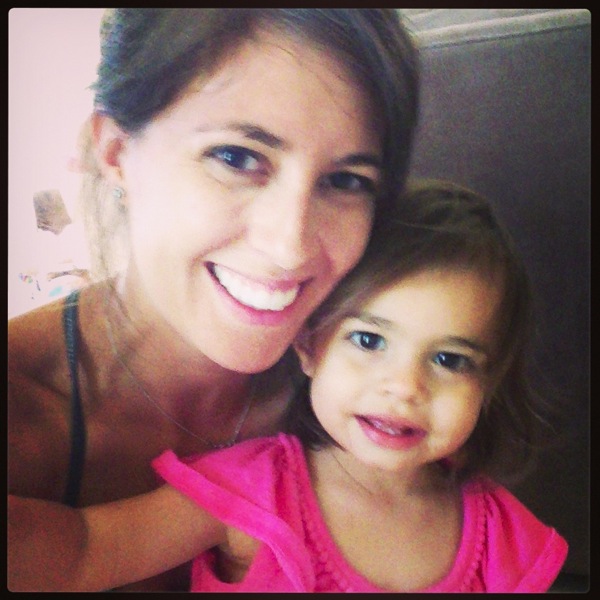 Since having Liv, I notice the stretch marks on my belly. The other night, I told Tom that I'm like a tiger who earned her stripes 😉 Would I do it again? In a heartbeat, and I pray I'm able to, but I can't say I love the stretch marks, even though I love the reason why I have them.
Despite the little things I would physically change, over time I've become more accepting and loving of my body. I think part of this comes from being older and more confident with time (I used to be really, really insecure. Having a verbally abusive person in your life will do that to you), and the other part is from having another human to take care of and realizing where true priorities lie. The funny thing is that back in the day, when I was my own harshest critic, I looked pretty much the same as I do now (save for a few new undereye bags). I'll look back at pictures from a time when I was working to change so many things and think, "Wow. You wasted a lot of brain space worrying about nothing."
Even so, just last week I realized that I was doing something I hadn't done in quite a while: body shaming.
I was talking to some friends (this was relevant to the topic somehow?), and told them that when I sat down on the couch the previous night, my thighs got stuck together and make a horrific noise. Looking back, it's kind of funny, but also, "WTF?"
As a girl who's always been the one to tell friends they're perfect and gorgeous as they picked themselves apart, here I was participating.
As women, I think body shaming can be a bonding thing (which is also very WTF). It can also be another way for women to compare themselves against each other. Women looooove comparing themselves to other women… and it's stupid. Sure, comparison can be motivation and encourage you to make positive changes, but it can also be demeaning. It's important to remember that everyone's situation is unique. You never know what battles someone else is facing.
After my noisy thigh exclamation, I made a promise to myself that I would not get back into the body shaming trap. I'm endeavoring to lead by example for Liv: how to be compassionate, loving, truthful and have a positive self worth. Having confidence while still being humble is critical… especially when it comes to school, friends, and making smart decisions. If you have no confidence, you will be easily peer-pressured into things you don't want to do or make poor choices for the sake of others' approval.
I know that inevitably, she'll be a teenager. She'll start to think of things that she doesn't like about her body, and these things could be largely influenced by her friends and the media. For Tom and myself, it's an important goal to teach her of all of the things her body can DO without emphasizing how it looks. (Even though, yes, I do and will continue to tell her how beautiful she is.)
I don't remember everything about my childhood, even though I have vidid memories that stand out. While the details are kind of fuzzy as far as what we did each day, I clearly remember how I felt growing up: loved. My mom and family always made me feel loved and that I was safe. My mom was beautiful to me, because she took care of me, taught me, and did fun things with me… not only because of how she looked (even though she was, and is, absolute stunning). I can only hope that Liv will feel the same way <3
This is a huge topic, but I would love to hear any of your musings or experiences with body shaming (how you stopped, or how you're going to stop), teaching confidence to young girls, or even your favorite memory with your mom.
xoxo