19 week belly shot: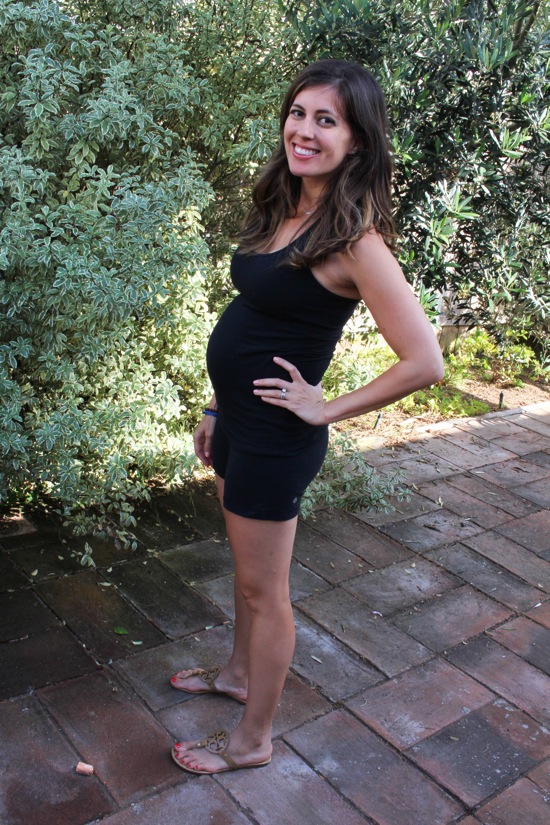 Random thoughts and things I noticed:
-My veins are like whooooaaaa, especially when I'm working out. Remember those new stretch marks I discovered? They were VEINS and turns out it was a temporary thing. Still using the Supple Skin Oil and a new one, which I'm loving, this Mama Mio belly butter.
-All of my jeans still fit, but waistbands are getting snug up in here. I'm crossing over to maternity pants as much as possible starting this moment. I'm wearing some athletic crops right now (super stretchy) and debating cutting the waistband a little with a pair of scissors.
-We took Liv to an ice skating rink last weekend. I hope the Pilot enjoyed it as much as the girls did, because chances are that I'll be requesting to go there a LOT this summer. When I am enormously pregnant and uncomfortable, and saddened by the fact that AC is like a rare jewel in San Diego, I want to camp out in the cold ice skating rink. I'll be observing on the bench eating a popsicle.
-I feel like the belly has definitely popped past the "is that a food baby?" confusion to the "when is your baby due?" stage. Up until now, I've been hiding in baggier tops and light jackets, but I feel like I can embrace the belly and wear snug tank tops with maxi skirts and rock the bump a bit.
Belly button status: long gone. Maybe an outie is in my future?
Cravings:
-RAW FOOD. Giant raw salads with nut-based dressing, green juices, smoothies, and coconut meat or cashew desserts. Guess I'll be brushing off some of my old skills.
-Heated up deli meat with mustard. I could eat this all day.
This is a classic lunch combo:
-Oatmeal or oatmeal with peanut butter and berries.
-Acai and pitaya bowls. All day every day.
Aversions:
-Nothing really! I still have some days where cooking sounds horrible, but if food is placed in front of me, I'll likely eat it. Even curry and Indian food sound good again! This is where I wave a giant piece of roti in the air and sing a celebratory song.
Some other things of lately:
-We have a doula, and she is an angel. I met with her a couple of days ago, and I knew instantly that she was the one. She has such a kind and warm demeanor, and is extremely knowledgable with a lot of experience (bonus: she's a lactation consultant so she can help us out with that, too!). We've rounded up an incredible birth team (the midwives, Tom, and our doula) and I feel so thankful.
-In medical news, my placenta is low. I don't have placenta previa (when the placenta covers the cervix), but mine is a little under 1cm away. What this means: if the placenta doesn't move up, I would need to have a C-section because going into labor would risk placenta abruption and high bleeding. The good news is that as your uterus grows, often the placenta will move up as it expands. The doctor said there's a 75% chance it will move up, and I have to go back at 26 weeks for another ultrasound. I'm glad they're monitoring it to keep everyone safe, and am just trying to stay hopeful and take it easy. We talked to the physician at the ultrasound office, and he took his time to thoroughly discuss the situation and answer our questions. He said we're fine to go to Hawaii and continue on with life, but to remain mindful of a couple of things. I told him I teach fitness and briefly went over each class, and he said that BODYPUMP, spin, yoga, weightlifting and basic cardio are all fine (he said, "You can get in a great, moderate workout and maintain your fitness") but he said he would avoid treadmill intervals and super high intensities, so no more orangetheory for now. I'd rather stick with the classes I teach for my schedule, and walk/yoga/barre on top of that for now. (He also made me feel better by saying nothing I do/did has an impact on where my placenta is located. It's just where it happened to implant.) So that's what I'll be doing, and hoping that things have improved by my next appointment as things grow. If anyone has experienced something similar, I would love to hear your story.
-Now that we know for sure that baby is a girl, we're going to be looking at ideas to get the nursery ready for her arrival. It's hard to believe that we're already at the halfway mark! Things are moving so quickly, and it's going to be amazing to have her out and about here with us. <3
xoxo
Gina
Past updates: