Hey guys! IT'S FRIDAY <3 Thank goodness, ehh?
All I've got for ya is half a breakfast: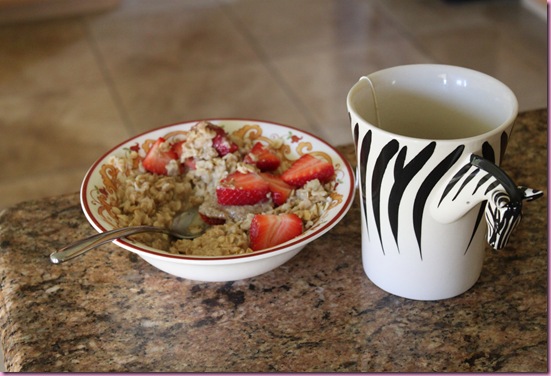 Someone is going through a growth spurt, and things have been a little cray over here. She discovered a new octave in her repertoire and the first time she did it, I couldn't help but laugh because she sounded like a tiny opera star. The best? When she stopped shrieking, she smiled at me because I was smiling. Funny girl 🙂
So today I thought it would be fun to talk about something near and dear to my heart: workout form. In my confessions of a personal trainer post, I mentioned that I'd love to be able to talk to other gym-goers about form without being a weirdo, because there are quite a few workout moves that are easy to complete with less-than-fab form. I was guilty of it myself for at least a year, until I hired a personal trainer to help me out.
Here are a few ways to get the most out of these workout moves:
1) The abdominal crunch. First off, I think crunches are kinda silly because they're not very functional. When in real life do you find yourself doing a crunch-type movement? Sit-up type movements, yes, but tiny crunches? Notsomuch. Planks are more functional.
Anyway, here's a form check for the crunch:
Source

This guy has great form:

-elbows out to the side. Make sure that you're not trying to smash your face with your elbows- try to keep them in line with your ears

-chin is lifted, keeping the spine in alignment. This will give you a fuller range of motion

-feet flat on the floor in front of you. (You can also crunch with your toes lifted, weight on your heels, to challenge stability a little more)

-bellybutton tucked in towards your spine. The goal is to bring the abs in, not push them out- keep your core tight.

-inhale as you lower your shoulders to the floor, exhale as you crunch up.

Take it up a notch: try combining a crunch with a reverse crunch at the same time, or my personal fave, frog crunches 🙂
2. The deadlift.

Source

This is a great exercise for legs (mostly hams) and lower back- one of my faves.

Some tips:

-Keep your back flat (don't let the spine round)

-Shoulders back and down

-Knees are slightly bent and hip-width apart (feet directly under each hip bone)

-Bring the barbell or dumbbells just below your knees, and keep your back flat as you rise back up. Imagine that you're folding your body in half, and your hips are the hinges. Keep your spine exactly in line and make sure it stays flat as you perform the movement- think of a book opening and closing.

-What the above picture is doing incorrectly: looking forward. When you raise your head up to look at yourself, you're compromising the alignment of your spine. As you hinge forward, your gaze should actually be on the floor in front of you.

-Abs tight!

Take it up a notch: complete the deadlift movement with legs steady in a deep plie squat (thighs almost parallel to the floor, toes turned out). WHEW!
3. Assisted pull-up

Source

Some common mistakes:

-Letting your body dangle as you hold onto the handless- make sure to keep some tension and resistance

-Too much weight = too easy. This machine is a counterweight, so the higher it's set, the easier it will be. To start off, choose a weight around 30 lbs less than you weigh and go from there- it should be challenging to pull yourself up!

Tips:

-Pull yourself up so that the handles are just in line with your chin, and exhale as you rise

-Keep shoulders down and back- they don't go up with your body when you pull up

-Abs tight

-Pretend that you are squeezing a lemon with your shoulder blades as you pull up

Take it up a notch: try doing 10 full pull-ups, and 10 tiny pulses at the top. Or, holding the top position for 10 seconds after completing your reps.
4. Squat

Source

This one is a doozy, because I'll often see people squatting with the weight in their toes and knees jutting forward, which can lead to injury.

Here are some squat tips:

-Pretend that there's a chair behind you (like in the pic above). If it helps, put a chair behind you or stand in front of the weight bench, and lightly tap it with your booty as you squat down.

-Weight in your heels- you should be able to lift your toes off the floor when you're in a full squat position.

-Feet hip width apart.

-Ideally, try to get your thighs almost parallel to the floor. If you have knee considerations, tiny squats are fine with proper form

-Chest stays lifted- try to keep it from collapsing onto your legs by keeping your core engaged

-A ball squat is another great option, especially for those just learning proper form or with knee considerations:

Source

Take it up a notch: play with tempo. Slow squats, fast squats and pulsing squats will make your biscuits burn
5. Cable tricep pressdown

Source

Some tips:

-Stand up straight- it's tempting to lean forward

-Abs engaged

-Keeping your elbows glued to your sides, straighten your arms and press down

-Bend your arms, keeping the elbows glued to your sides, to raise the bar or rope up to a 90* angle (no higher) <— this will maintain higher resistance

Take it up a notch: change the type of handle you typically use. If you usually roll with a V-rope, try a straight bar. Also, make sure to think about squeeeeeezing your triceps as you press down
Are there any workout moves you've avoided because you aren't quite sure of form? Deadlifts scared me for a long time.
It's always better to be safe than sorry and avoid risking injury. If you have questions about particular exercises, don't hesitate to ask a local trainer for tips! If they're nice, they should be more than happy to help you out 🙂
I'll be back later with a Family post!
Make today amazing <3
xoxo
Gina