I've mad a lot of gnarly-looking smoothies in my day.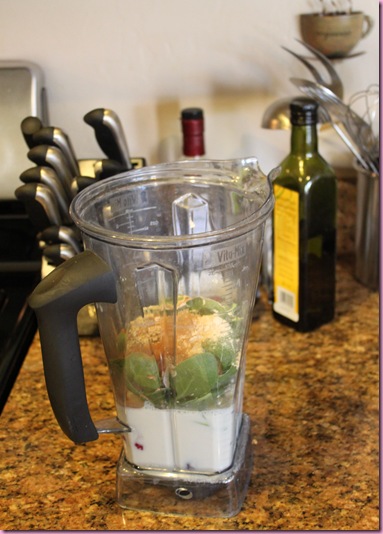 This one wins 😉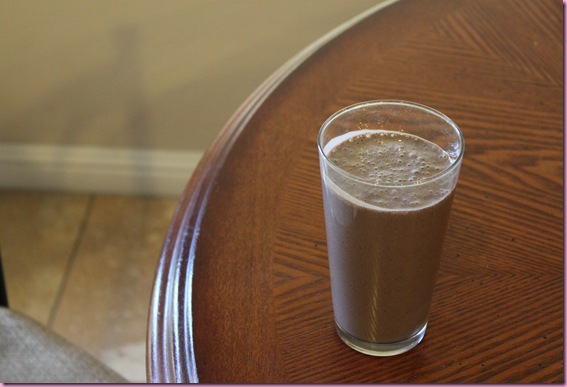 Grey! Tasty…..
To make a grey smoothie: combo of banana, almond milk, spinach, berries, Sun Warrior, hemp seeds, almond butter and cinnamon. Despite its funky appearance, it was quick dose of nutrients and tasted fantastic.
This morning's bfast was a little more photogenic: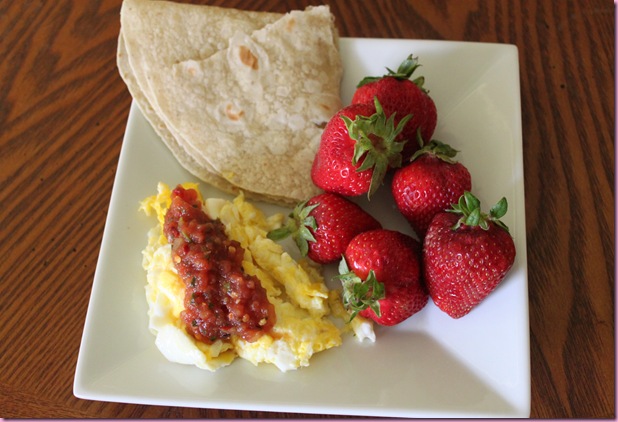 2 eggs with salsa, brown rice tortilla, burries
I'm really trying to get in the habit of walking Bell regularly again. We were going everyday, and it's dropped down to maybe 2-3 times a week. Sorry, Bell :/ The weather is nice, it's easy to bring Liv with us in a wrap or the stroller- no excuses.
Yesterday, she was so happy when I asked her if she wanted to go for a walk: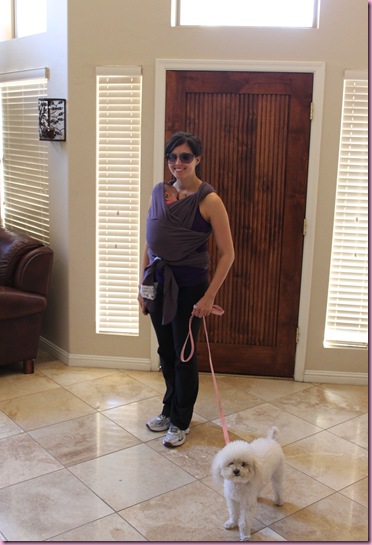 While we were walking around the neighborhood, I was thinking about the importance of workout music. If I'm out walking, I don't need music at all. I'm happy to enjoy the company of whomever I'm with (or just the thoughts racing around my brain) and don't even think about bringing my headphones. Working out with a buddy, I can go either way. If they want to listen to music, that's cool, or if they want to chat the whole time, even better 🙂 If I'm at the gym or outside running solo, I NEED music. I might as well forget about a workout if I forget my iPod or headphones.
If I hear a good *power* song, it's all I need to push through the last little bit of cardio or few reps I have left.
Here are some of the songs I'm loving right now: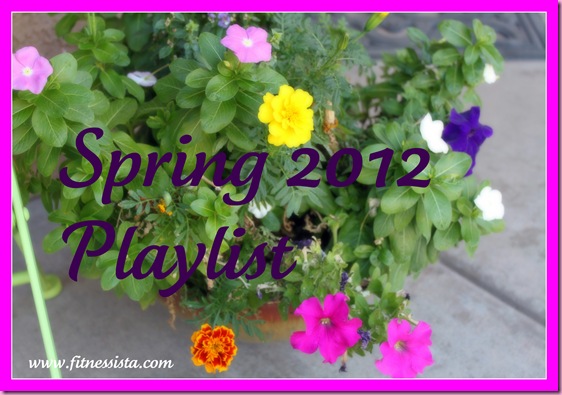 Flo Rida "Wild Ones" (ft Sia)

Bond "Allegretto"

Havana Brown "We Run the Night" (ft Pitbull)

The Killers "When You Were Young"

Glee "Stronger"

Metallica "Whiskey in the Jar" (in honor of St. Patrick's Day)

Snow Patrol "Crack the Shutters"

Nicki Minaj "Starships"

Muse "Starlight"

Pedro & Maria "Colgando En Tus Manos" (love this for a cool down)
How important is workout music to you? Does it change for different types of workouts?
What's the weirdest-looking thing you ate lately?
Hope you have a happy almost-Friday <3
xoxo
Gina