Hey everyone! Happy Friday and Halloweekend <3 We have a squadron costume (I just wrote Christmas?) party tomorrow night and still have to figure out our costumes. We have a few ideas narrowed down, so we'll see what happens… Sunday is a pumpkin carving party at our place with cider and pumpkin pie, so it should be a fun weekend :)  What are you up to?
Last night, since the Pilot was working late, I took Bell for a walk and then my stepdad Bella-sat while madre and I went to a show: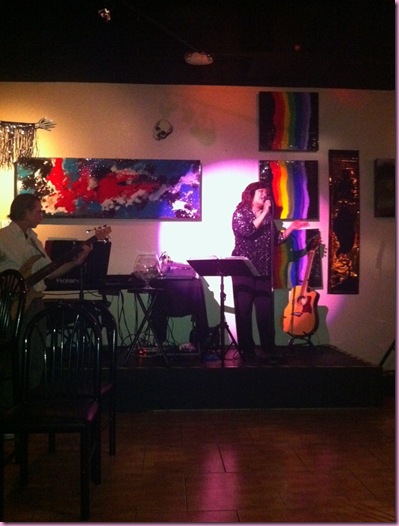 Two of her good friends own a restaurant/club called Colors, and they often have live entertainment. [Last time I was there, we saw our first drag queen show together] The food is AMAZING and they had it decked out for Halloween.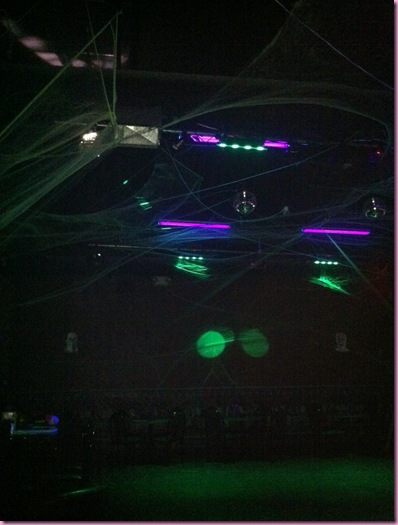 I had a fresh and glorious salad beast, enjoyed the music and company, then called it a night.
This morning, I started the day off with a total body weights workout, using quite a few compound exercises (<—two for the price of one)
| | |
| --- | --- |
| Warm-up | 5 minutes, elliptical |
| Bent-over row, tricep kickback combo | 3 sets of 12 |
| Lunge and bicep curl (R), lunge and overhead press (L) | 3 sets of 12 on each side |
| Stability ball push-up | 3 sets of 15 |
| Step-ups with medicine ball raise | 3 sets of 15 |
| Spinal balance with pulsing leg lift | 3 sets of 20 on each side |
| Weighted squat into a calf raise | 3 sets of 15 |
| Cool down, stretch |   |
Breakfast: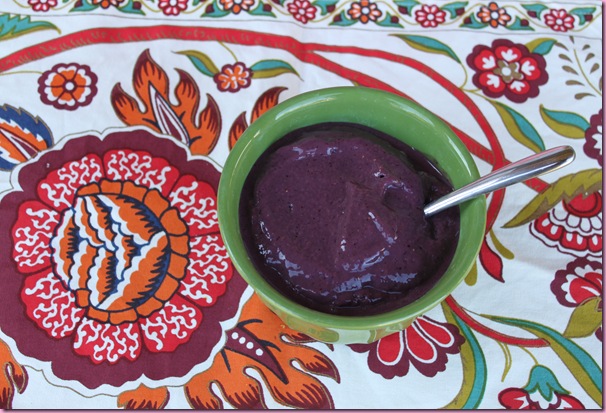 Protein ice cream! [Nothing like ice cream for breakfast when the weather is finally cooling down]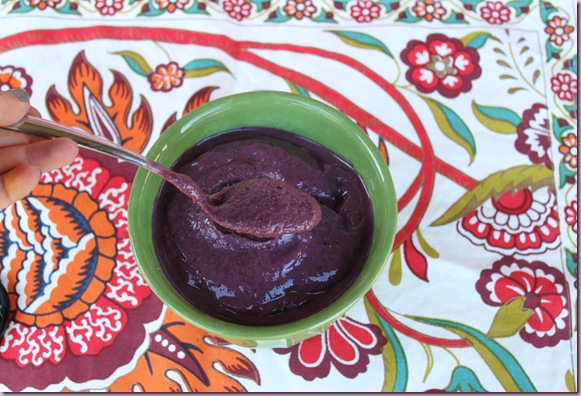 It was supposed to be a smoothie, but I got a little overzealous with the fruit:
-1/2 C Dark Chocolate almond milk
-3/4 C regular almond milk
-1 scoop vanilla Sun Warrior
-1 C-ish frozen mixed berries
-1/2 t spirulina
-1/2 frozen banana
I'm off to a doc appt, and then to lunch for my Tata's birthday <3
Enjoy your Friday and I'll see ya later with a fashion post!
xoxo
Gina
Something to do: October is almost over! How many Schweaty October workouts did you crank out this month? There's definitely time for one more if you'd like to give it a try. The November workout will be up Tuesday <3
-I never like asking you guys to vote for things, but I've been nominated for an award that means a lot to me: the Shape Blogger Awards. Thank you so much for all of your support and to those of you who have voted so far- the little blog has been in the lead up until today! Voting ends tonight, so if you'd like to take a second to click on my behalf, I would appreciate it so much <3 Thank you, as always, for virtually hanging out with me every day- I'm very fortunate to *know* all of you <3