One thing I love about moving so often is that it forces you to get rid of clutter and start fresh wherever you go. Marrying a military man forced me to transform from the girl with hundreds of random bottles and cosmetics to more of a minimalist. I just get what I absolutely need and love, and replenish as necessary.
I learned my lesson the first time we moved and I realized I had over 50 colors of nail polish, most of which were old, and a crazy amount of fragrances from working as a men's fragrance model. [<—it sounds fancy, but totally wasn't. I was the girl who sprayed cologne on little tester sheets and handed them out to store guests as they walked by and tracked sales for my brand. A great bonus was that I received a lot of gratis products that I could either use for sales associates incentives or trade with fellow fragrance models]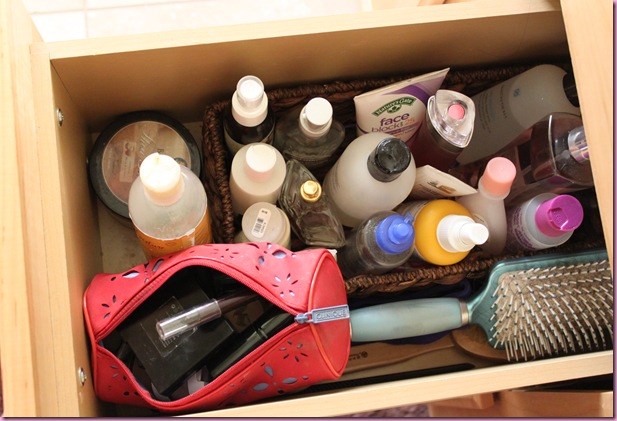 The Pilot and I each have a drawer and a cabinet in our master bathroom –the top drawer we share and has stuff like toothpaste, floss, contact solution, stuff that we both need. Pictured above is a little peek into what I have in my drawer and here some of the products in there: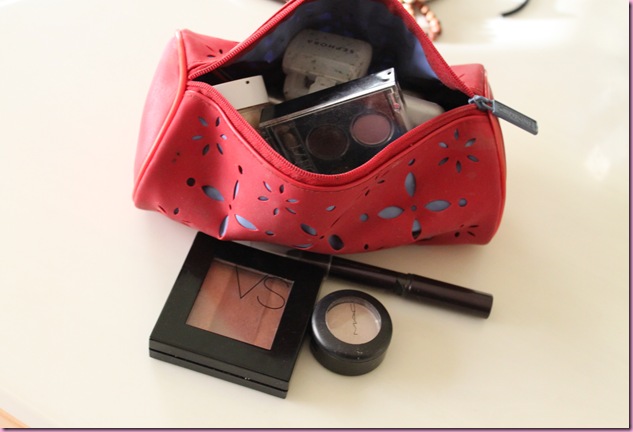 My makeup routine is pretty simple (SPF moisturizer, concealer, bronzer, eyeshadow, eyeliner) but the necessities are definitely Victoria's Secret bronzer, MAC "Shroom" eyeshadow, and my beloved Tarte eyeliner
Skin and sun protection: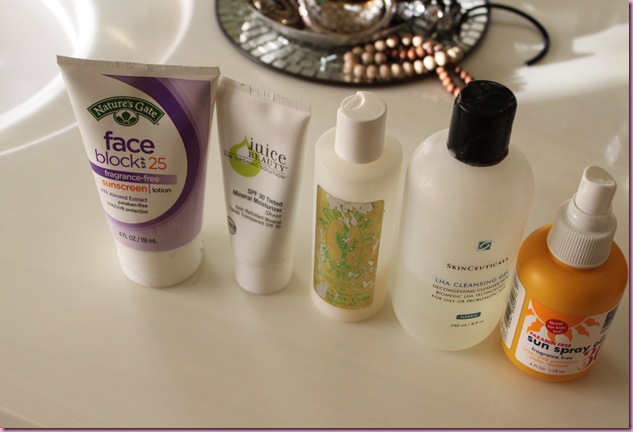 Face block (totally just wrote "Facebook." Wow), Juice Beauty SPF moisturizer, Emu oil –I use this for breakouts and coconut oil as my nighttime moisturizer, face wash, and sun spray oil.
Fragrance and body: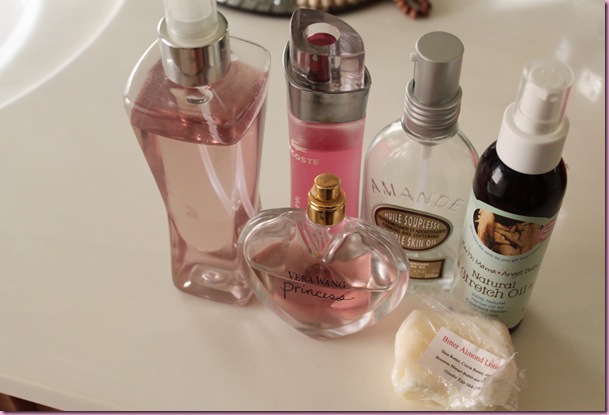 A random Victoria's Secret spray –I don't know what fragrance it is, two perfumes (one from last winter: Vera Wang princess, and this summer: Lacoste Pink), Loccitane supple skin oil, a lotion shea butter and cocoa butter bar + stretch oil from Whole Foods (all designed to prevent stretch marks).
I've been on a mission for a new winter fragrance from this year, and I've been using two samples for the past month or so to decide which one I like better:
They both smell LOVELY –I prefer fruity or floral scents- and I always will use a sample first to see if I really like it or get sick of it easily. Skin type has a huge effect on how a fragrance will smell on your skin, so it's always a good idea to wear it before you buy it. For example, I LOVE the smell of D&G Light Blue and it smells like pepper on me. Sexy.
Some unpictured faves from the drawer:
-Hefty jar of coconut oil, which is in the cabinet right now. I use it for a nighttime moisturizer and it works fabulously.
–Clarisonic. A Christmas gift from the madre, and I couldn't live without it.
-Nail polish removers: one "natural" one (which was $16!), and one regular, acetone-filled one (which was $2) and works a thousand times better than the natural one [Nail polishes are in a large bag in the cabinet]
–Frederic Fekkai hair glossing cream– two mini bottles. I buy the minis so that I can travel with them in my quart-sized baggie 😉
-Dry brush – still use it when I wake up in the morning
-Lotion. I have a weird thing about lotion because I have to have some on my body (especially my legs, feet and hands) before I go to bed, but I don't like it to smell too strong or be too greasy. This is one I found at Target, and is my current fave: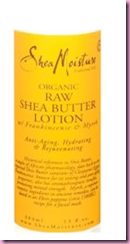 Source
What is your favorite fragrance? Do you try it before you buy it? And, what's in your makeup drawer that you can't live without?