Holiday weekend in SD and Anaheim
Hi friends! Happy Wednesday! I hope you're having a wonderful week. I can't believe that we're fully into holiday mode – I feel like it snuck up on us this year – and that there are so many things going on in the next couple of weeks. Liv's class has their holiday party, we have Nutcracker and Zoo Lights with friends, and before we know it, we'll be eating enchiladas at my dad's house on Christmas Eve. We're going to do all of our holiday baking this weekend, so if you have any standout recipes, please let me know! (I definitely have these, these, and these on the agenda so far.)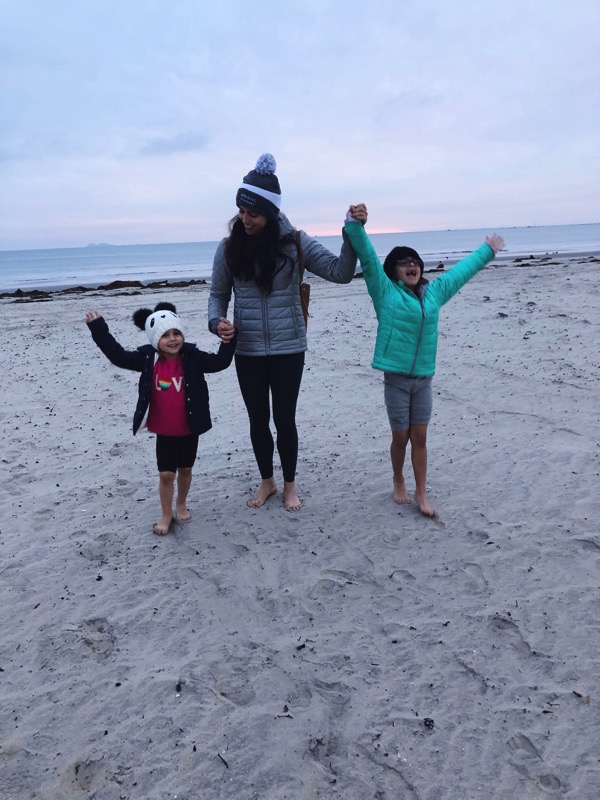 We're back from an incredible trip to Anaheim and San Diego. Usually when we get back from a vacation, I'm a little bummed, but pretty ready to get back into *real life.* This particular trip felt really different. I literally felt a weight of sadness when the plane landed in Tucson yesterday. It's probably because this was one of my very favorite trips with the girls. They seem like they're at an ideal age for travel – I feel like we finally made it!!!- and nothing about the trip felt like work. It was pure joy. Traveling when they were babies was awesome, but there's something really freeing about zero pack n' plays, diapers, wipes, multiple outfit changes, or fear they'll be shrieking and crying on the flight, ya know? (Parents with newborns: hang in there. There is a light at the end of the travel tunnel!) The whole weekend was filled with so much fun and magic; I wasn't read for it to be over.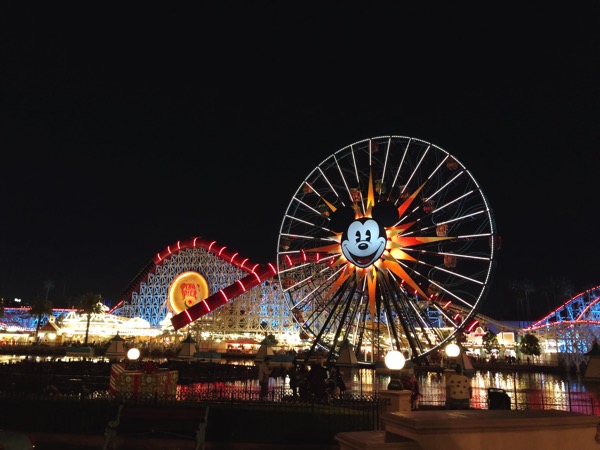 We flew into San Diego on Friday, and we headed straight to pick up on our rental car. Last time, they upgraded me to a van and the girls acted like they won the lottery. I got a van again to surprise them and P cried after our trip and "her vam" was gone. She was equally devastated and disgusted to see my real car when this whole thing was over.
After we got the famous van, we grabbed a quick snack at beloved Tiki Port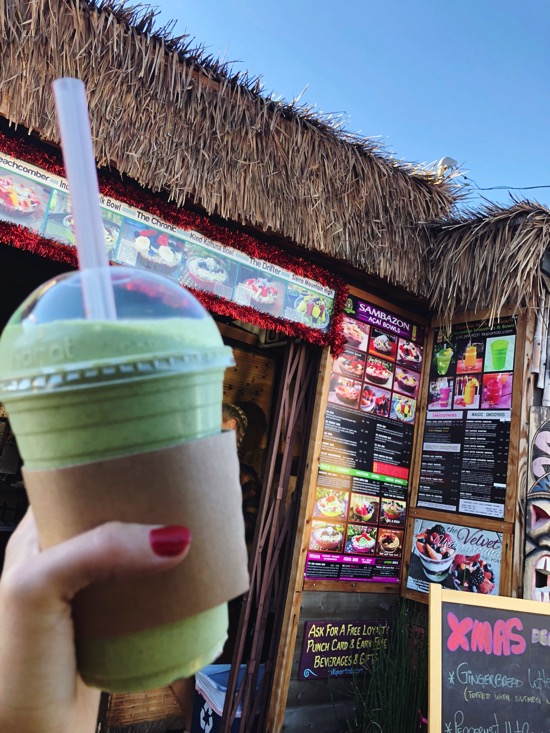 and hit the road to Anaheim.
Usually we drive up to Anaheim on Saturday morning. I had a feeling traffic might be a little bad on a Friday afternoon, but we went for it anyway. It was horrible, and took 4 hours to get there instead of 1.5. The girls were extremely patient despite the long delays, and when we finally checked into the hotel, we ordered room service for dinner (which was delicious) and called it a night.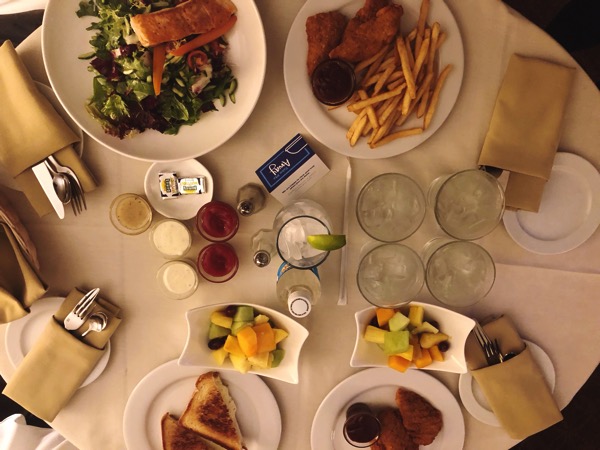 Saturday morning, we were ready to hit the parks!
We spent two days moving between California Adventure and Disneyland. The first day we rode a ton of rides, and the second day, we focused more on parades and shows.
Some of the highlights:
wearing ugly Christmas sweaters together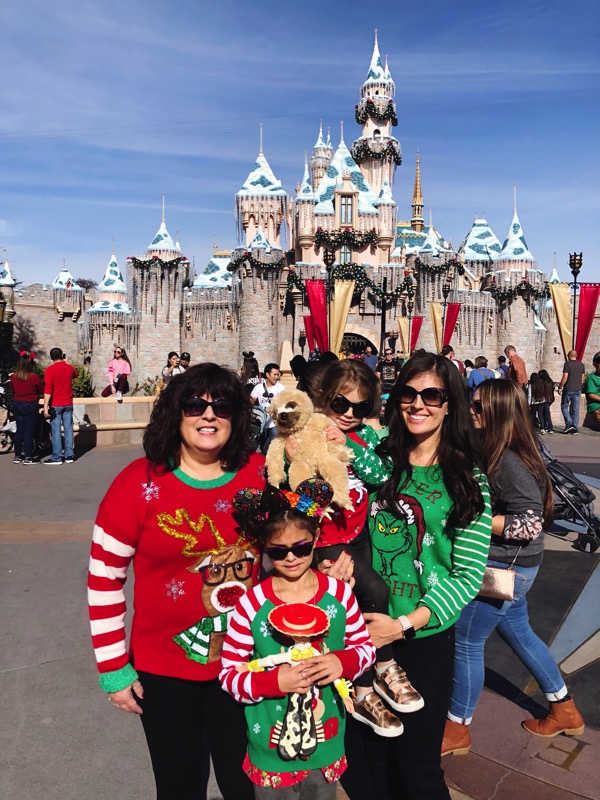 the girls meeting Gaston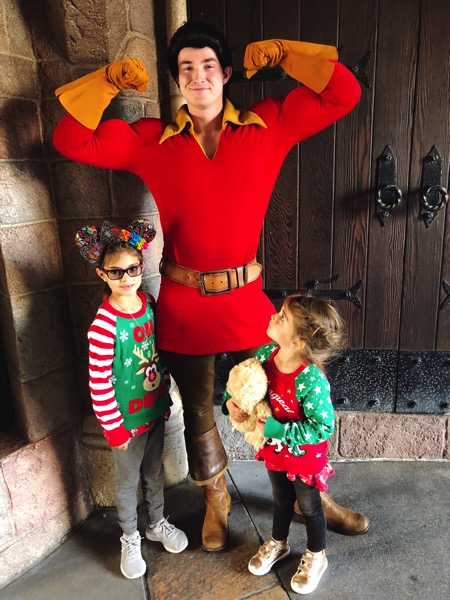 (P was unimpressed and the guy who portrayed him was HILARIOUS)
the holiday parade,
the girls' face painting,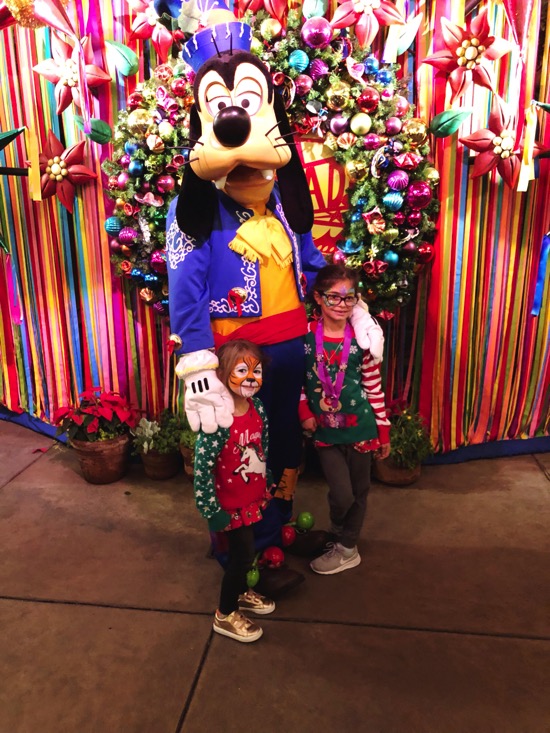 (Livi got a mermaid mask and P thought her face paint transformed her into a real tiger)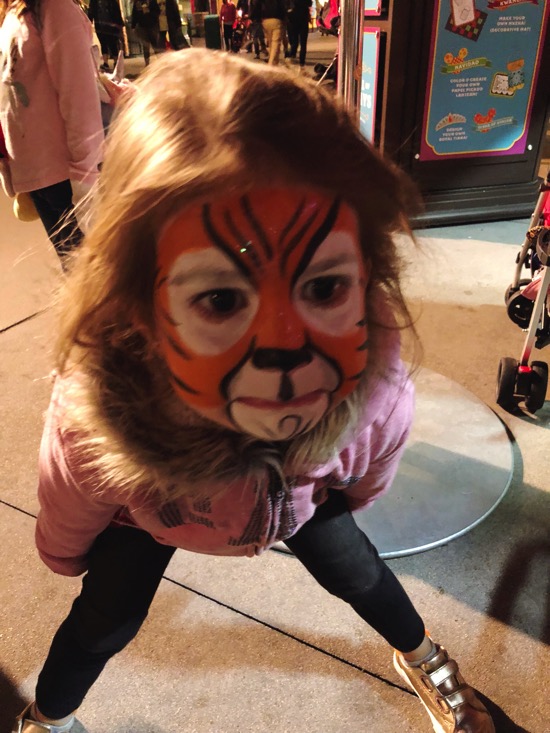 watching the girls interact with all of the characters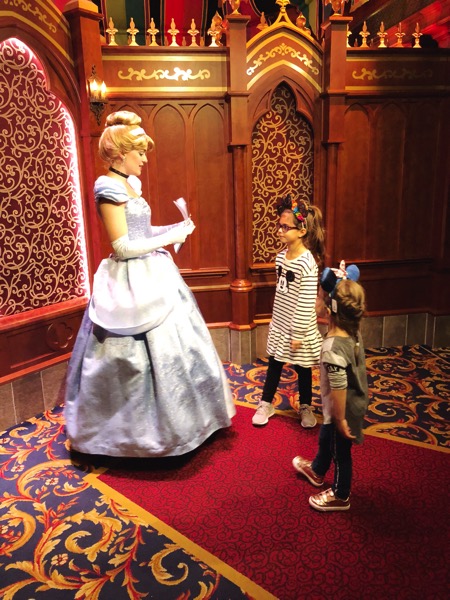 riding Indiana Jones by myself and screaming the entire time,
all of the incredible holiday decor,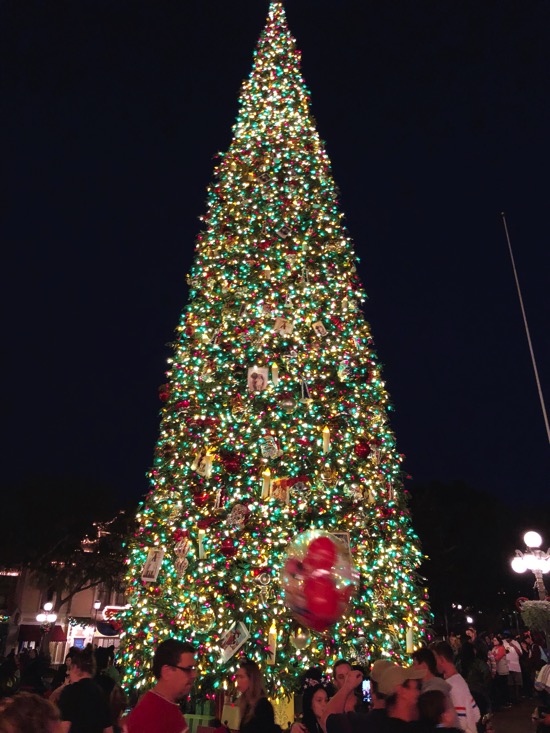 and this macaron the size of my face.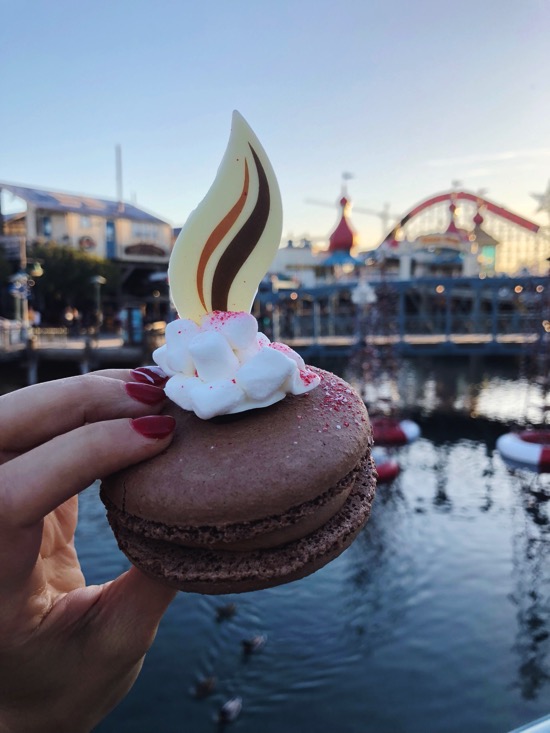 You guys. The holiday food at California Adventure is insane right now. As we walked by each food cart, the scene was usually something like this,
"Ohmygod, did you see that? Stuffing mac n' cheese?"
"I'm looking at that channa masala."
"No wait, I think I want to try the shrimp and grits."
"We're sharing a sangria, right?"
And it went on and on and on. While Disneyland food can be hit or miss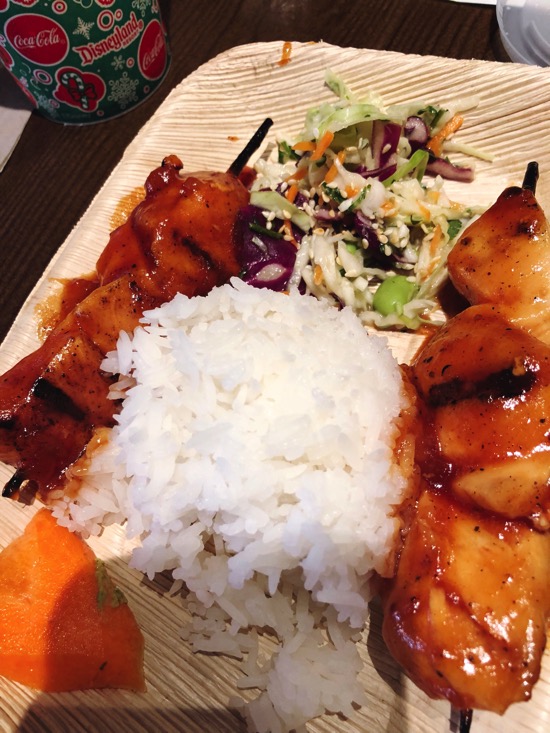 (we did find a new fave in Adventureland: Bengal Barbecue!),
I feel like California Adventure has really stepped up their snack and beverage game. I feel like it's almost turned into a mini Epcot with all of the food and cocktail destinations. We were wondering what took the place of Coco land, and were stoked to see that it's an Elena-devoted area with live music, an Elena parade, character meetings, and Mexican food. It's like a mini Epcot-esque Mexican pavilion. I really hope it stays this way! We listened to a Cuban band and ate chili rellenos and burritos one night, and it was awesome.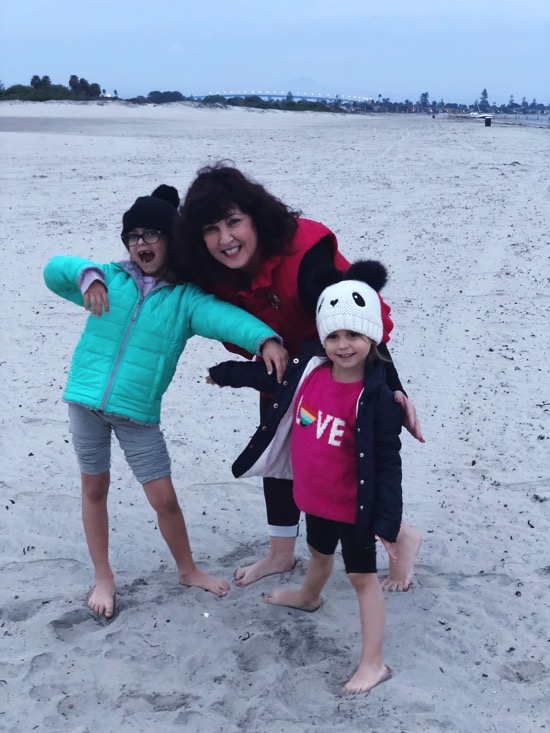 We were so lucky that madre was able to join us for another trip! We all have the best time with her, so we were thrilled when she took the weekend off work to come play with us. It was also really helpful at the parks because P is a little daredevil and wants to ride ALL THE RIDES, while Liv is a bit more apprehensive. This way, I could take P on some of the more intense rides and madre and Liv could hang out in the gift shop or people-watch. We still did 90% of the activities together, but this way they were each able to have the experience they wanted.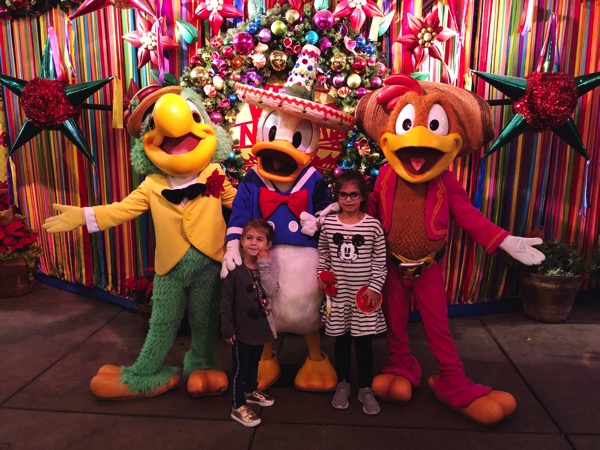 (Livi's dress is here and P's shirt is here)
After two full days at Disney, we drove back down to San Diego and made a stop at Kid Ventures in Liberty Station for the girls to play. They ran around playing for a couple of hours until we were all ready for lunch at the Public Market. All of the classics were there, and of course I got my favorite poke bowl.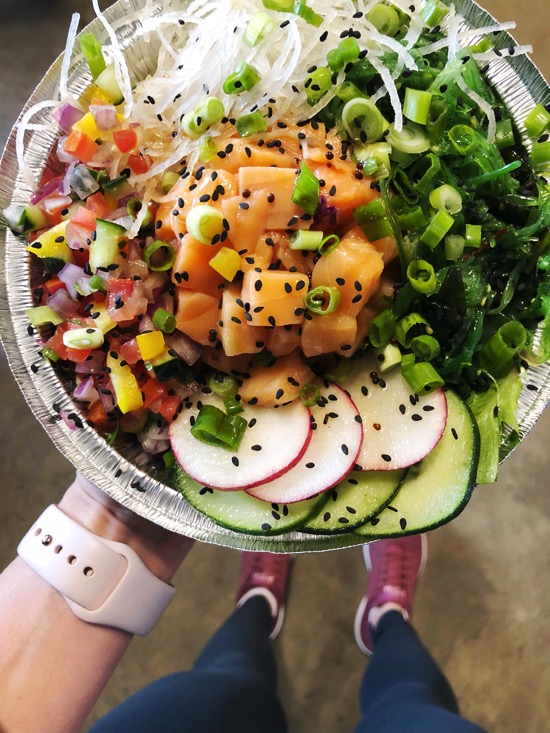 We also shared deserts from Crafted,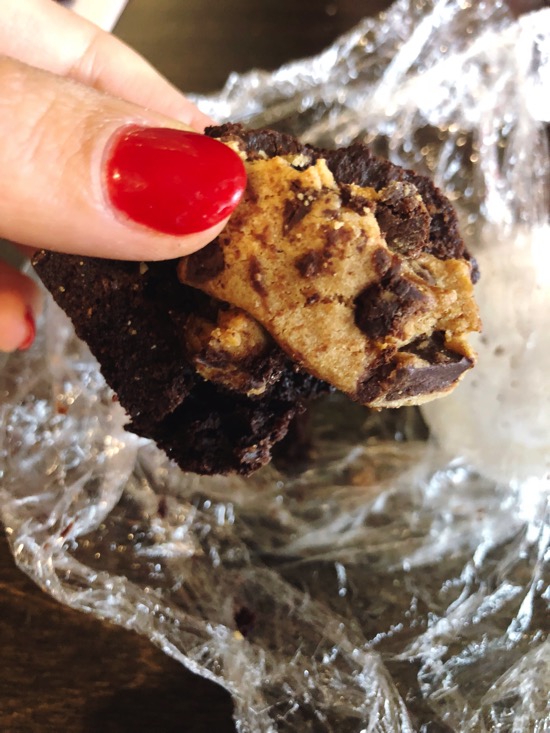 (the remnants of a brookie: brownie on the bottom, cookie on top)
and drove over to Coronado to spend the night.
We got there just in time to watch the Grinch and chill in the hotel for a bit, then bundled up to play on the beach for a couple of hours and watch the sunset.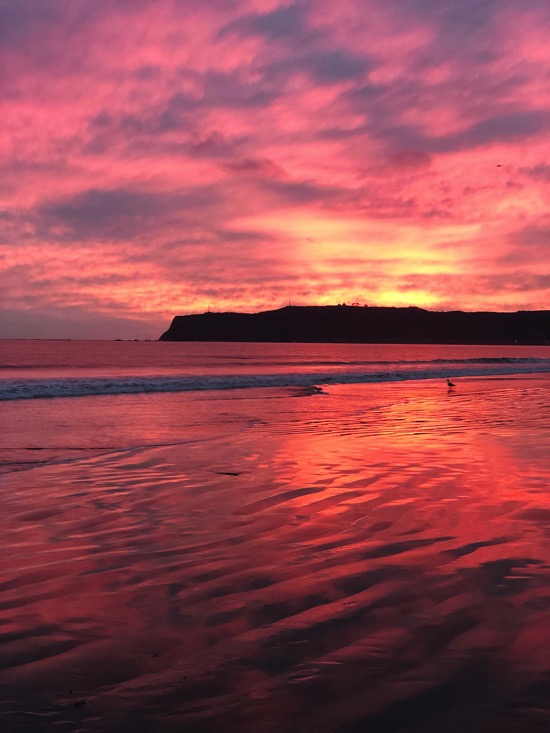 I'm pretty sure I'll never forget the girls chasing each other up to where the ocean meets the sand, then running back, giggling to themselves.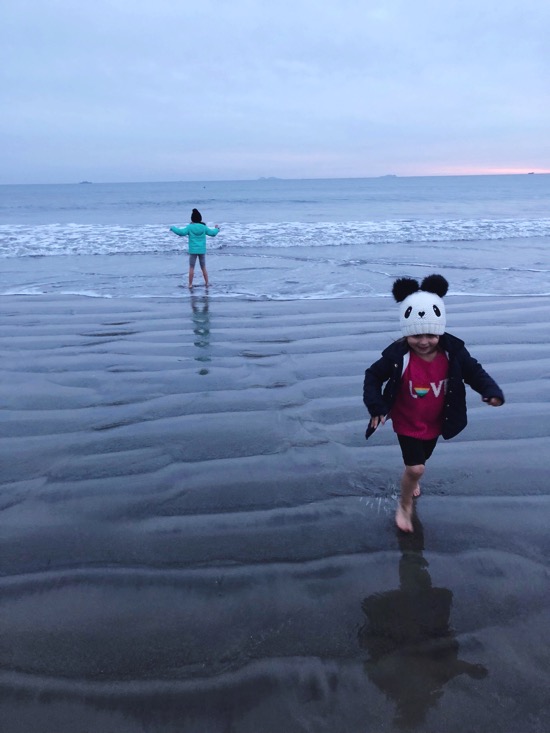 They really are the best little friends.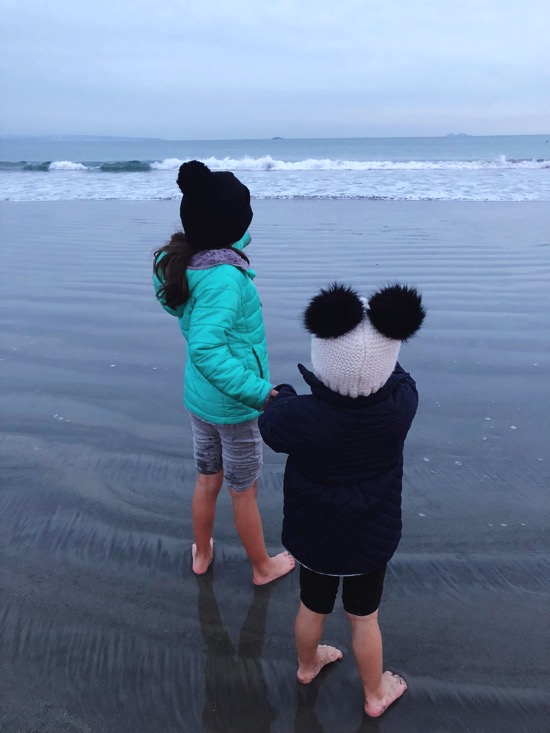 After we "got our feet wet" (which always equals completely drenched legs and pants), they played on the hotel playground, and we headed over to the Del to walk around and shop. (Check out my holiday review of the Hotel del Coronado here!) I remembered that they had ice skating, and the girls were both so excited to try it. At first, I took turns taking each girl around the loop while the other one stayed back with madre. They were both like little noodle legs and it was a serious core workout trying to keep everyone upright.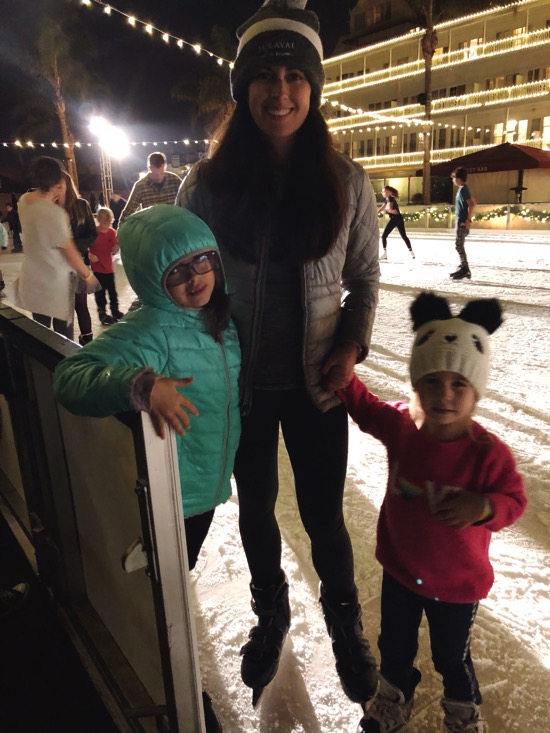 By the end of our hour of skating, both girls could make it around the entire loop and didn't want me to hold their hand or touch them in any way. P held onto the wall and took little steps while I skated next to her, and Liv was ahead of us, away from the wall, doing her thing. Madre took pictures and videos of us skating around, but somehow missed my triple salchow and toe loop. Oh well. Next time.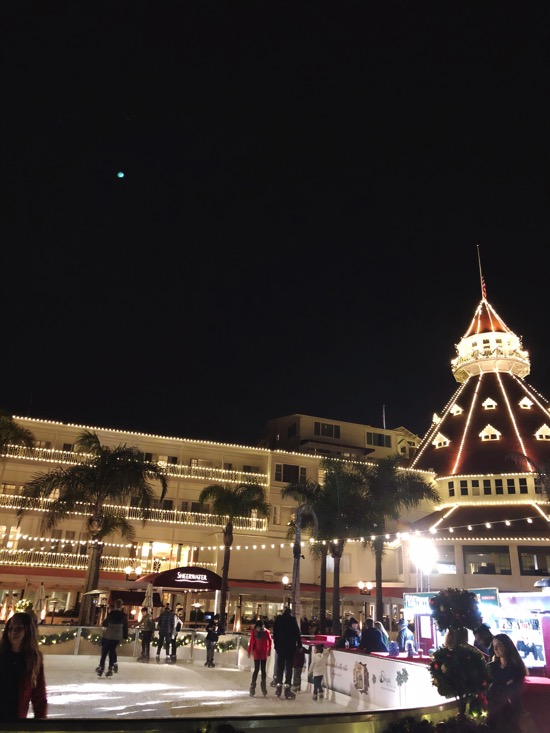 We were ready for hot drinks (cocoas for the girls, a hot toddy for meeeeeee) and went to their pizza restaurant, ENO for cheese board, salad, and margherita pizza. Of course, the girls had ice cream from the parlor next door because vacation mode. (This weekend was the most delicious avalanche of sugar.) The next morning came a little too quickly and we were packed up and heading to the airport!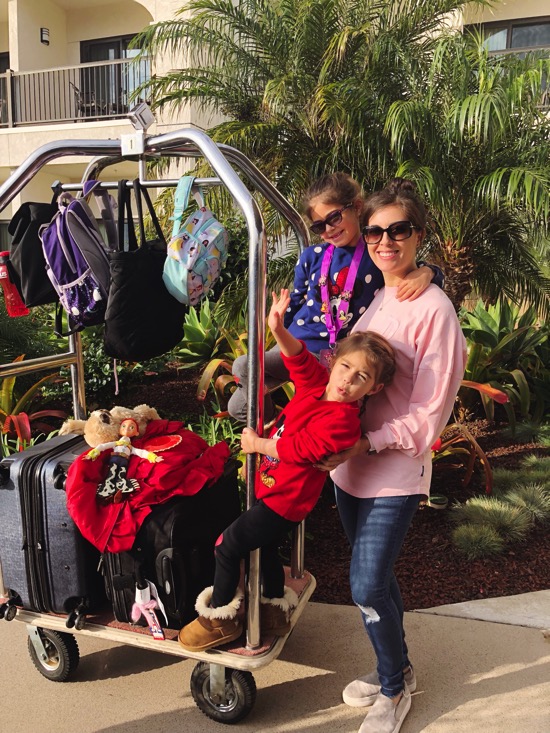 (P's sweater is here and Livi is wearing these cute Mickey leggings)
While we were at the Del, I was thinking this definitely needs to become a tradition. A couple of weeks before Christmas, I think we should head to Disney and Coronado for a bit. It added so much to the magic of the season and it was such a welcomed bit of downtime and bliss during an otherwise hectic (but wonderful!) time of year.
I hope you're having a lovely week, too. Do you have any vacation traditions each year? Are you traveling in the next couple of months??
I'll be back in the morning with the last gift guide for the year + one more giveaway!
xo
Gina