Crunchy almond butter truffles
Basically everything that's good in the world. These little balls of chocolate perfection are free of added sugars, gluten-free, and contain the perfect amount of crunch. These would make awesome holiday gifts in cute little tins, or the perfect accompaniment to your holiday cookie assortment.
Hi friends! How's the morning going? I hope you had a wonderful weekend!
Let's start off the day with a little chocolate, shall we?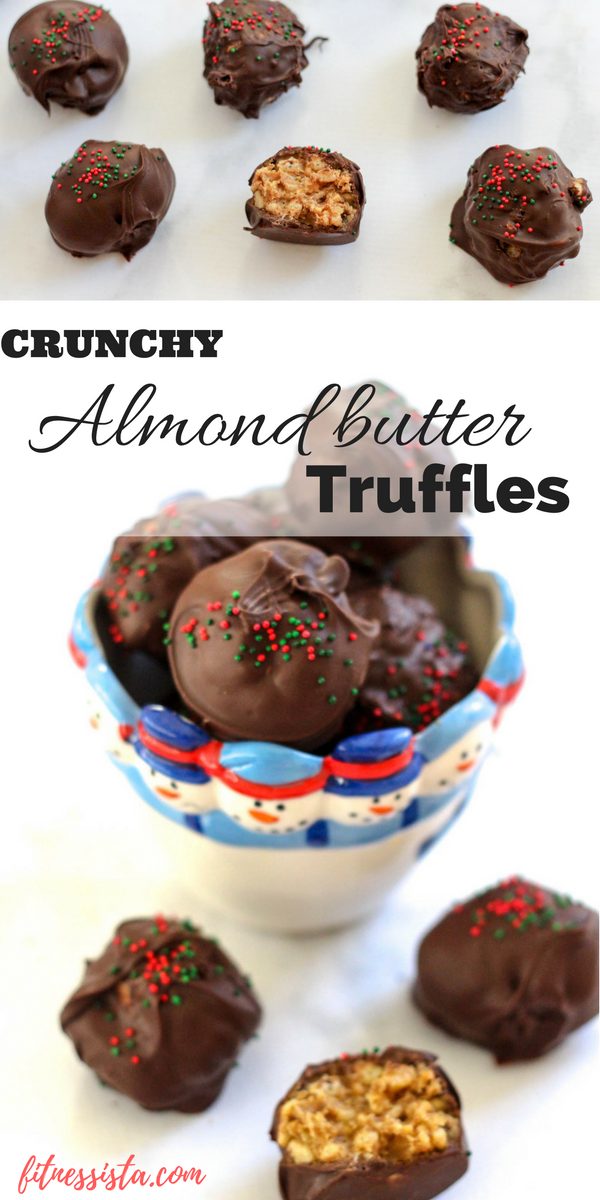 Crunchy, Creamy, CHOCOLATEY
Just yesterday, I was thinking about how it's been a while since I made a mind-blowing dessert for the blog. I was like "this has gotta change" and blitzed into the kitchen in a sweets-crazed fury. I knew I wanted it to be something crunchy, creamy, and coated in chocolate. When the fam heard me playing Hamilton without singing along, they knew it was serious business.
And boom. This creation was everything I'd had in mind, and I'm SO PUMPED to share this recipe with you.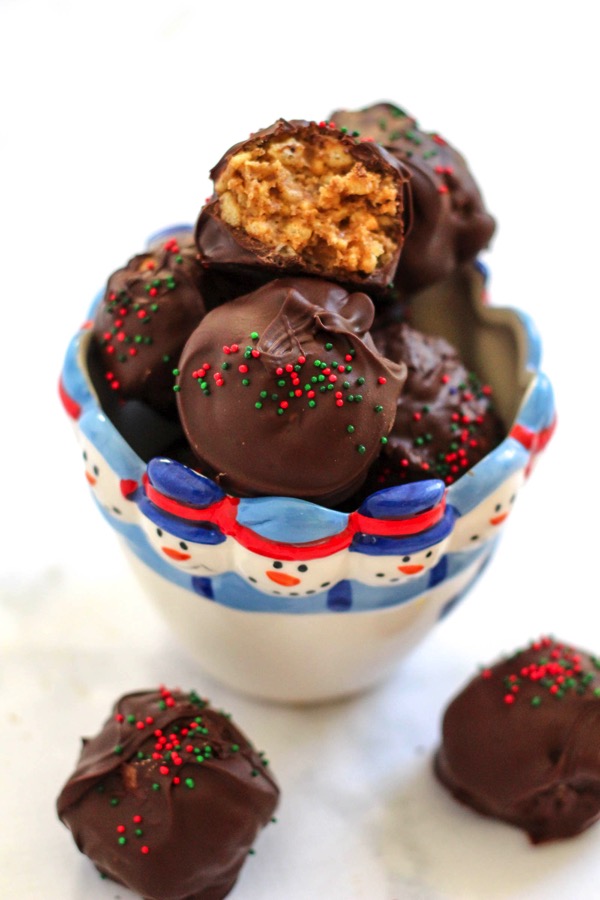 A Healthier Holiday Treat
This recipe combines creamy almond butter, raw honey, crispy rice cereal, and (of course) chocolate.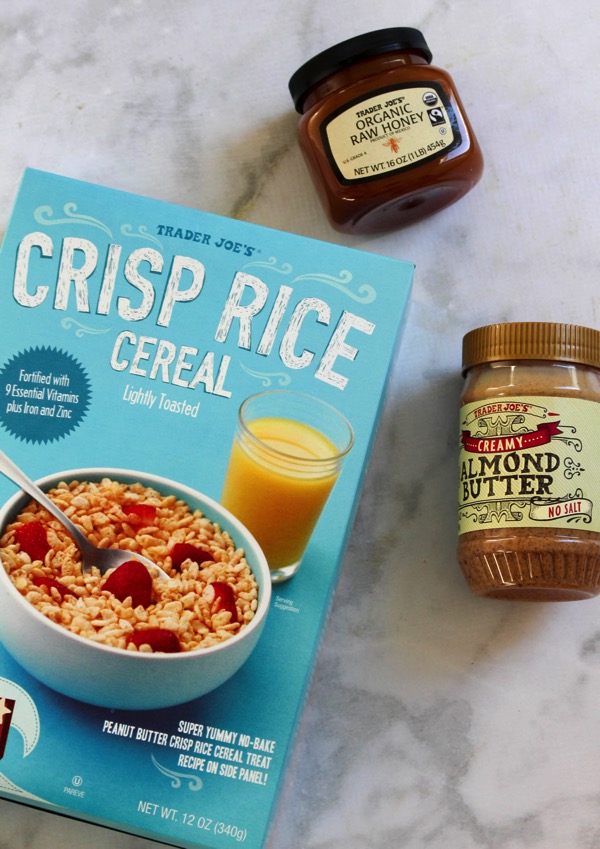 Just make your balls: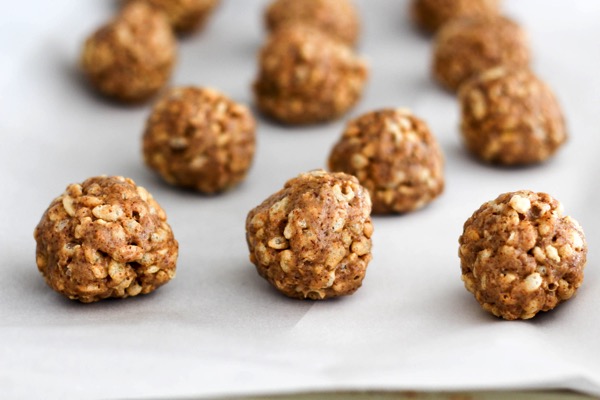 Dip: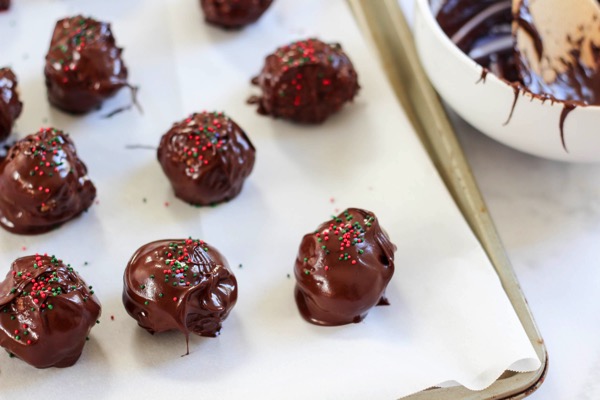 and eat. I mean share with your friends for the holiday season! (After you make a batch for yourself.)
They're naturally gluten-free, and there's no added refined sugar. We'll just ignore the sugar that's in the dark chocolate, mmm k? It's basically a salad.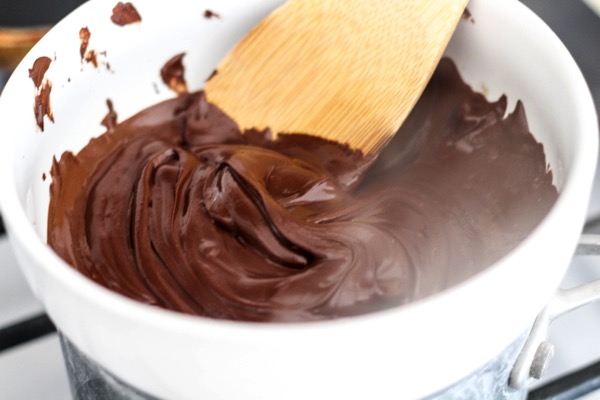 I used half a bag of chocolate chips for the coating, which ended up being the perfect amount. I did give P a small taste of the chocolate and it rocked.her.world.
Here's the super simple recipe if you'd like to give it a try!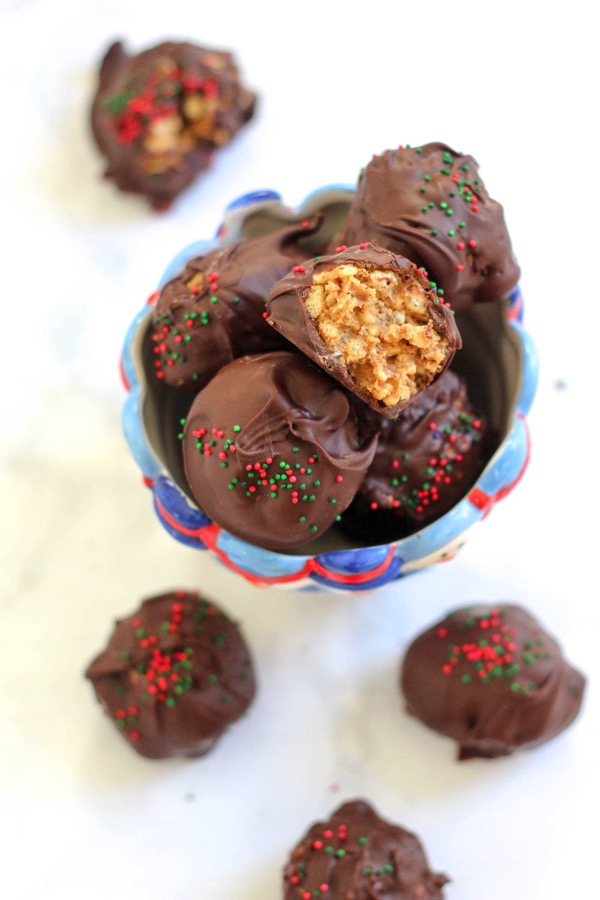 Crunchy almond butter truffles
Are you looking for a healthier but still delicious option for holiday cookies? These are a decadent holiday treat without added refined sugars. Crunchy almond butter truffles are coated with rich chocolate, and have an awesome crunch from puffed rice cereal with the perfect amount of sweetness. You need these in your life.
Prep Time:

15

Total Time:

15 minutes
8 oz

almond butter (they runny almond butter, from a fresh jar, works best)

1/4 cup

raw honey (this is thicker in texture. You could use regular honey, but rolling them may be a little stickier)

1/4 teaspoon

cinnamon

1/4 teaspoon

vanilla
Pinch of sea salt

2 cups

puffed rice cereal (for even more of an intense chocolate flavor, use chocolate rice cereal)
For the chocolate coating
6 oz

semi-sweet chocolate chips
Sprinkles or cacao nibs for garnish
Instructions
In a large bowl, combine the almond butter, honey, cinnamon, salt, and vanilla, and mix until smooth and fluffy. Gently stir in the rice cereal.
Using a melon ball scooper and your hands, roll the mixture into balls, and place on a cookie sheet lined with parchment paper.
Place the balls in the fridge while you prep the chocolate.
In a double-boiler, melt the chocolate chips until smooth, stirring frequently. Remove from heat.
Gently place each ball in the chocolate, and use a fork to lightly coat with chocolate. Place each chocolate-coated truffle back on the cookie sheet. Garnish with sprinkles and/or cacao nibs.
Place in the fridge to set, about 20 minutes.
Notes
These would also be fantastic with white chocolate and drizzled with dark chocolate. You could also add mini chocolate chips into the almond butter mixture! The possibilities are ENDLESS.
Please let me know what you think!
What's your all-time favorite holiday treat? I have a hard time choosing, but this year I"m looking forward to Mexican wedding cookies and egg nog.
xoxo
Gina