Morning! How's your day going so far?
Last night, I hit up the gym for a little HIIT and strength. One of my favorite HIIT methods of late has been alternating cardio modes for each set. I did 10 minutes on the treadmill (sprinting the chorus of each song, hills during the verses), 10 on the indoor rower (30 seconds hard, 30 seconds easy) and five on the stair mill.
After that fun, I busted out some strength from the Winter Shape Up Week 3 workout. Boom.
A sweaty, grainy pic:

(Cropped the elliptical guy out. Didn't think he'd want to be on my blog haha)
Wednesdays are writing days, so madre comes over for a few hours so play with Livi. I'll usually park myself at a coffeehouse and crank out as much as I can, and it's been amazing for getting some progress done on the book, which is due in less than a month. Today, breakfast is already packed up and ready to go: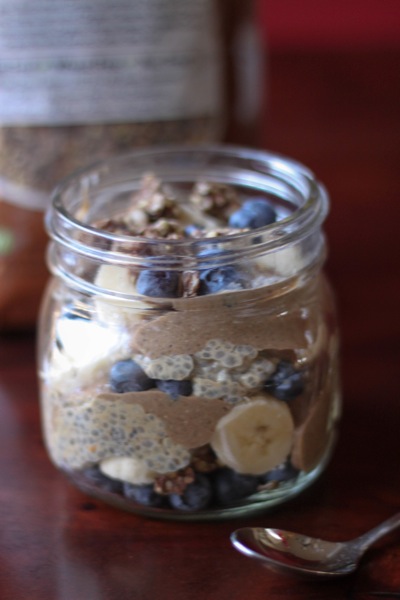 Chia pudding is one of my go-to healthy, portable breakfasts. (I also adore breakfast cookies, cookie dough cereal and egg burritos.)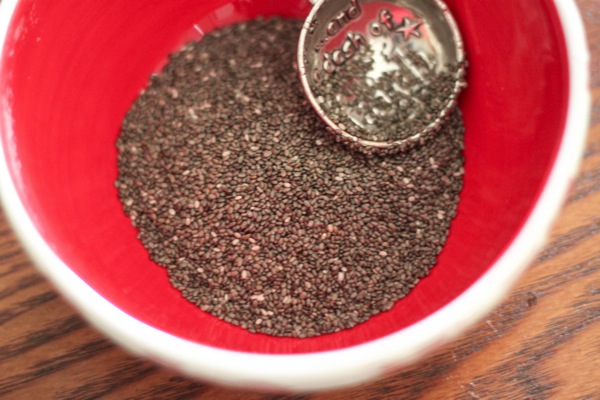 Just let two tablespoons of chia seeds soak in almond milk (1/2 cup) overnight, or at least for a couple of hours. Then, after it's reached a nice gelatinous texture, I stir in more almond milk, 1/2 scoop of protein powder and layer the mixture with fruit and/or cereal.
Currently digging: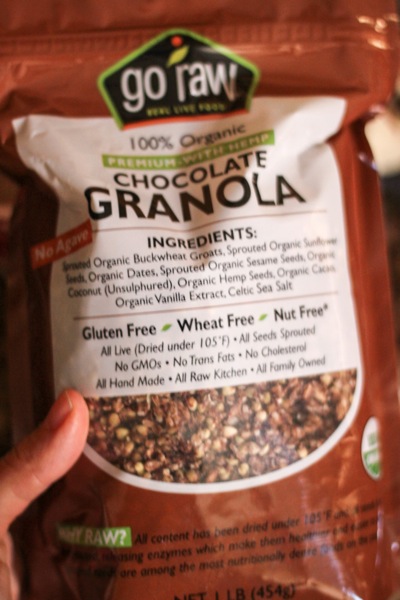 I layered the mixture with the above granola, berries, banana and some smoothie I had leftover from Whole Foods. (A maca malt that was extremely thick so I thought I'd be lovely with the pudding.)
Ready to feast: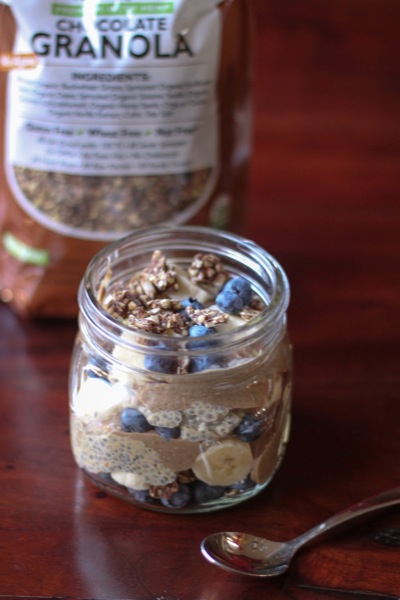 Even though I love chia seeds, I realized that I don't have a ton of uses for them. They're great in pudding, yogurt, blended into smoothies or as an addition to baked goods (like these pancakes!), but that's about as crazy as I get.
Any fun uses for chia seeds?
Here are some of the benefits, if you've never tried them:
-They're an unprocessed whole-grain food that can be absorbed by the body (unlike flax). They provide a dose of healthy fats, protein, fiber and antioxidants, and have a mild, nutty flavor.
-Studies have shown that chia seeds have possible effectiveness on allergies, performance enhancement, heart health and hormonal disorders (source), though more research is needed.
-Chia seeds are hydrating. Since they're known for soaking up liquid, they can help to provide additional hydration benefits by including them in a smoothie, yogurt or pudding.
-The healthy fats boost brain power, and the combination of fat, protein and carbohydrates can provide increased energy levels.
Tip: make sure to have some floss on hand 😉
Hope you have a wonderful day!
xoxo
Gina
Check in with your daily workout here!
THE GREAT MOVING SALE: Since Sasha and I are both moving, we thought we'd throw a little Soli Beat party. This week, Soli Beat is available for $7 off (discount shows at checkout). It's a fun steady state cardio option, especially during the wintery weather. xo