How fitness and metabolism change in your 30s vs. your 20s
This is something that I've occasionally been pondering: how fitness and metabolism change as we age. I feel like it's so common to hear friends say that they used to be able to eat anything, but now they have to watch their food intake. Or, they feel like they have to work harder at the gym than they ever have to maintain their strength and muscle definition. At the same time, I know so many women that I think are more fit in their 30s than their 20s. I also know some super fit and lean 40 and 50-year olds. What's their secret? Why does this happen?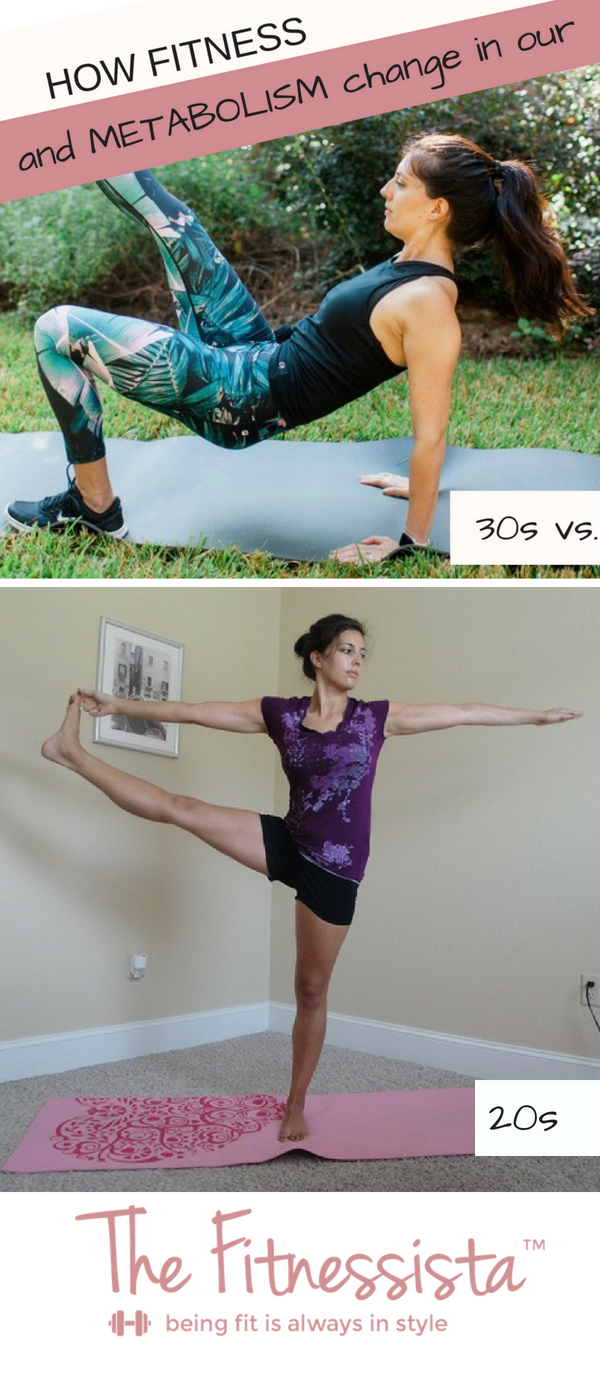 So, of course, I put on my detective hat and got down to researching.
How do hormones change in our 30s?
Our basal metabolic rate decreases by one to two percent per decade, according to the American Council on Exercise. To offset this, we can either move more (to burn more calories), eat less (decrease calories slightly to account for lower BMR), or strength train and focus on lean muscle building (more muscle burns more calories at rest than fat). We all know my favorite option is #3.
DHEA (dehydroepiandrosterone) is a hormone produced by our body's adrenal glands. It peaks in our 20s and decreases in our 30s. This can lead to a slower recovery time and increase in body fat. Low DHEA can negatively affect our energy, mood, and sex drive.
Your body starts to produce less HGH (human growth hormone) in our 30s, which can also (surprise) impact our metabolism. SO many reasons to strength train!
How do fitness levels change as we age?
Fitness levels don't have to necessarily change dramatically as we age. (I think it's a slow shift to decrease in intensity and impact as we age, but that could be more out of preference than necessity.) The biggest impact will be caused by the decrease in muscle mass. We can lose strength, and with less muscle on our frame, our metabolism decreases. We can also be impacted by changes in balance and energy levels; things that used to feel good may not feel the same way.
For myself, I've noticed that I don't crave high impact exercise as often as I used to. I used to feel like I needed to run, sprint, and jump almost every day. Now, I still incorporate these things into my routine, but it's on a less frequent basis. I'd rather go to Orangetheory once or twice a week instead of every day. Also, worth mentioning, I don't think it's a good idea, in general, to do OTF every day. Your heart is a muscle and needs rest and recovery to become stronger/more efficient. If you're working it to its max every day, it doesn't have enough time to recover, and you could also be affected by injury from repeated movement with muscle imbalances/compensation, burnout, and diminishing returns.
I feel like there's a huge benefit to getting older with our workouts/fitness: we have a stronger mind-body connection. I think that as we learn more about our body and our fitness levels, it becomes easier to really focus and tune into muscle groups when we're training them and emphasize proper form. When I was in my early 20s, I just wanted to get in a killer workout. Now you'll find me breathing, squeezing my glutes, and pulling my core in for so many of my exercises. Older = wiser.
How can we continue to be more fit even when it feels like the odds are against us:
– Focus on proprioceptive exercises. Proprioception is our body's ability to recognize where it is in space. By training this skill, we can help to prevent falls as we age and also challenge deep stabilizing muscles. Find ways to add a balance challenge into your routine! Stand on one leg for your biceps curls, try single-leg step-ups with a knee up at the top, hop from one foot to another and hold, practice yoga! There are 4 exercises you can try in this post.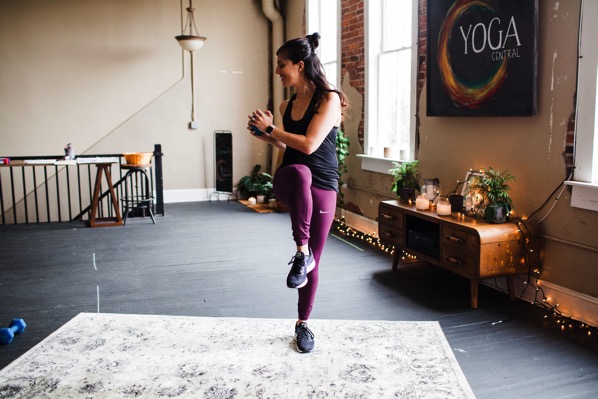 – Work on alignment, posture, and training weak muscles. Generally, our anterior muscles are stronger than our posterior muscles. We're hunched over computer screens (oops), texting on our phones with our heads down), driving, sitting. Our chest muscles can be insanely tight (need to stretch these!) while our back muscles are weak (strength train these). Our hip flexors are super tight (stretch these) while our glutes are weak (strength train there). Focus on sitting and standing with great posture. Katy Bowman can teach us all how.
– STRENGTH TRAIN. (I'm yelling because it's important.) From reading all of the info above, we can conclude one thing: strength training can save us all! This is an easy way to combat so many of the effects of aging. Pick up those weights and challenge your strength. (Need a beginning strength routine? Check out this one!)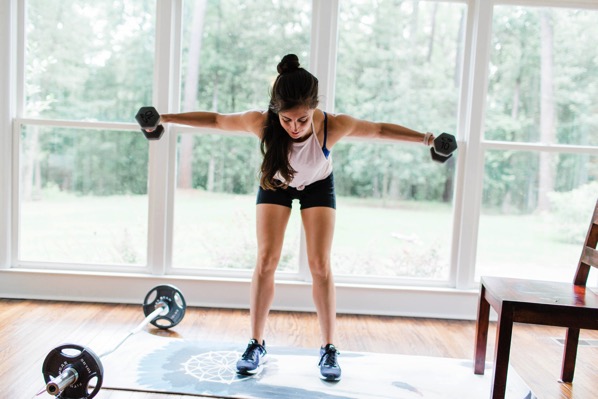 – Do the things we enjoy and that feel good; truly listen to our bodies. Emphasize consistency. If we do the things we enjoy, we'll be so much more likely to stick with it. There's a good chance that our preferences will change over time. Lead with your heart and don't be afraid to change your routine if this means you'll stick with it.
What have you noticed about your routine over time? What's one of your fitness goals for the next 10 years?
My main goal is to continue to make movement a part of my life. Even if I don't get in an official workout, I try to move as much as I can during the day and hit my 10k steps.
xo