Hey guys! How's your Friday been?? Mine has been pretty bueno, but even better that it's officially the weekend! Weekend, I love you so.
Thanks for your input on whether or not Fitness books are dead. I agree with what a lot of you are saying and think a cookbook may be a good choice with fitness and nutrition tips interspersed throughout… to read, of course 😉
This morning, I met with my Lifestyle Group –everyone has dropped body fat and inches, which is awesome- and then did weights with the girls.
After our tricep and bicep domination, Ashley went to work and Jeni and I hit up the Main Squeeze for smoothies.
Tropical Superfood with Sun Warrior from the depths of my purse: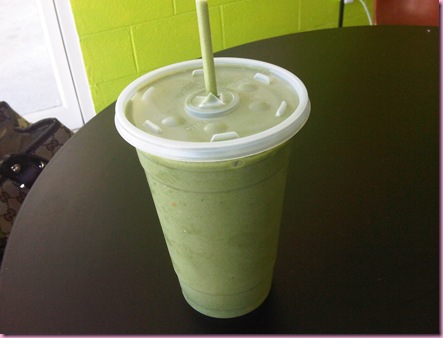 We chatted about tropical vacays (Jeni and her hubby are going to the Bahamas this summer) and I think the pilot and I may be headed somewhere tropical instead of Italy. We still want to go, but with airfare right now, it would be a much better deal to do an all-inclusive beach getaway. The pilot needs some relaxation anyway… and I need to get him away from his girlfriend (the Air Force).
When I got home, I wanted a little sumthin' sumthin' to make my smoothie a complete lunch, so I roasted some veggies.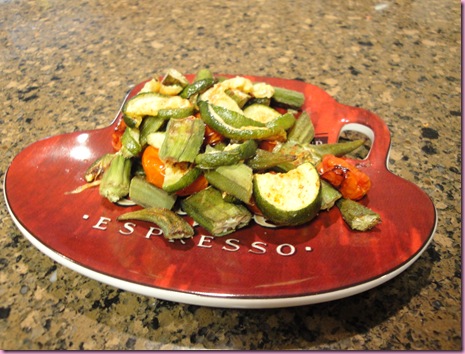 Okra, zucchini and tomatoes with sea salt, garlic powder, EVOO and cayenne. Much better 🙂
Today was a busy day at the gym and I have to say, every time I'm there, the treadmills and ellipticals taunt me. I'm trying to be good and stick to hiatus rules, but it's been a rough week. We've been having killer weight training seshes, but I miss those cardio endorphins and sweaty triumphant feeling that I'm used to :/
In the meantime, here's what I'm focusing on:
Foam rolling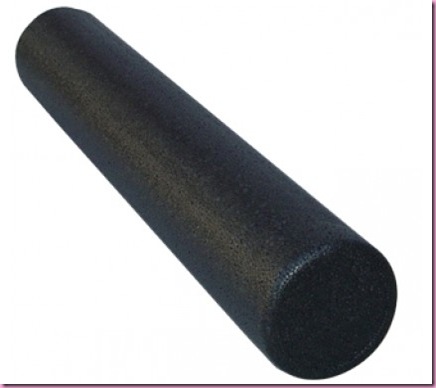 Everyday, I've taken about 10 minutes to roll out my legs, booty, back and arms. I was going to make a video for ya'll, but found this one online which was pretty thorough:
(Source)
Note: You don't have to be sore or injured to use the foam roller! Even before my knee fiasco, I spent at least 5 minutes a day with my foam roller. It's a great way to increase flexibility thus preventing injury, stretch and relax. Consider it to be as beneficial as a massage (which it is!) minus the hefty price tag.
2. Clean eats
Eating nutrient-dense and easily digestible food enables our body to focus on other things (like healing!) instead of trying to break down foreign chemicals. This is why my week has been full of fresh juices, chia, greens, veggies and healthy fats. I'm choosing to minimize animal proteins (even fish and goat dairy) as well as alcohol until the hiatus is over. Bonus: my skin is looking pretty glow-y 🙂
3. Knee strengthening exercises
I have a friend who works at a doctor's office and after speaking to him about what was going on with me, he printed out a sheet of exercises to give me. The reason why I haven't gone to a doctor yet is because I want to be able to tell them I did everything in my power to heal. If I would have gone on Monday, they would have asked if I had rested, I would have said no, and would have had to go back in two weeks after resting anyway. Might as well save both of our time.
I found a copy of the exercises I've been doing on this website. The ones I'm focusing on (and do quite a few times a day) are the straight leg raises, knee flexion and extension, small squats (these I do on one leg) and heel slides.
Have you had to go on injury hiatus before?? What was wrong??
Any fun ways to break a sweat without derailing my hiatus?? (and yes, I know mattress mambo is a good choice. Sorry Mom, haha)
I'm off to make some dinner <3
xoxo,
Gina