How to PR on your Peloton bike
(That doesn't involve recalibrating your bike aka cheating)
Hi friends! Hope you're having a wonderful morning and hope you had a great weekend. I'll be back soon with some adventures, but for today's post, I wanted to chat about something that is definitely a little on the niche side, but I thought my Peloton friends would find valuable and could also chime in with their own tips. These tips could be applicable to any type of measurable fitness activity, so even if you're not drinking the Peloton Kool-Aid, you'll be able to use some of these strategies in your own routine.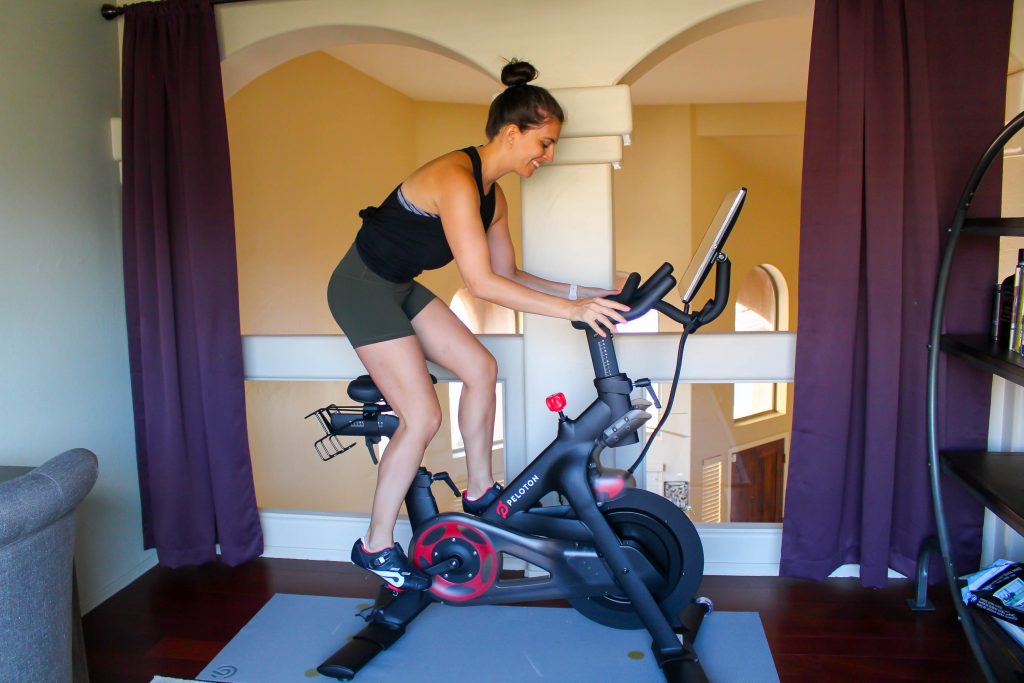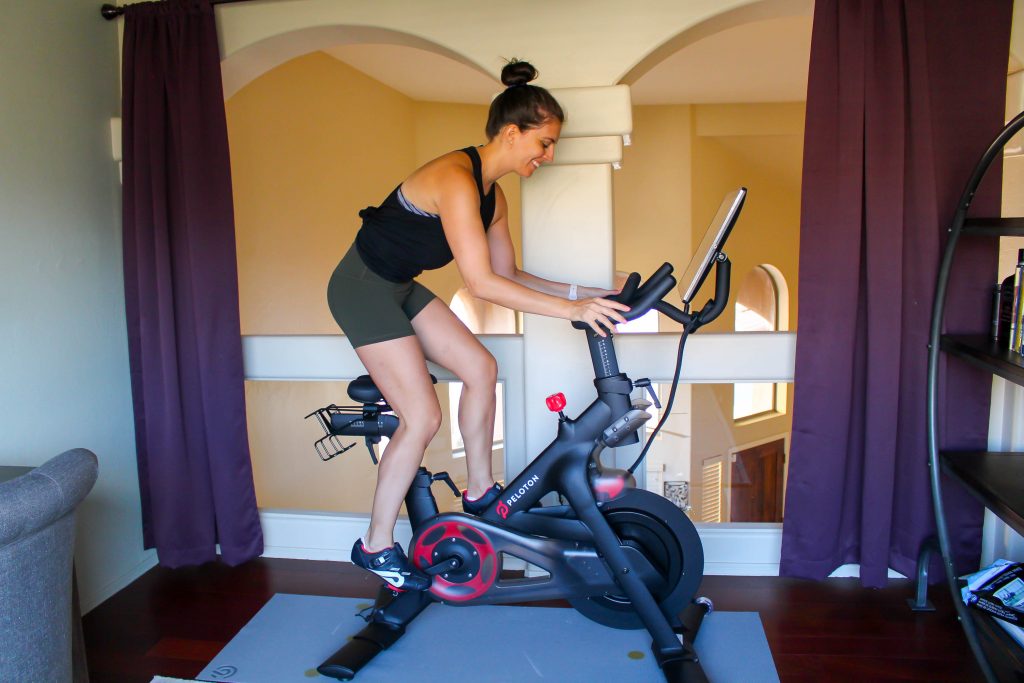 (Please to ignore what looks like a bald spot on my head.
When I first got my Peloton bike, pretty much every single ride was a new PR! Whenever you take a different timed class (20 minutes, 30 minutes, 45 minutes, etc.), you have a PR (Personal Record) for that ride. The PR is based on your output, which is a combination of resistance and cadence. Your output also determines your position on the Leaderboard (comparing your stats with everyone who's ever taken that class, those who are taking in it real-time with you, and your previous PR). You can check out my full review of the Peloton app here and if the Peloton bike is worth it. (<— spoiler: it is. My Peloton is one of my favorite purchases in the whole world.)
As time goes on, it gets more difficult to hit PRs, and there's no way I go into each ride expecting to PR. Usually, I remember how I feel at the end of a record ride, and I'll know whether or not I have it in me. (I literally finish these rides huffing, puffing, and dripping in sweat. I maybe hit a PR once every month or so.) When I first Googled for strategies on how to hit new records during your Peloton rides, I was shocked to see how many people admitted to recalibrating their bikes. You can apparently recalibrate them so your output is higher than it should actually be. To me, this is the worst of the worst. Not only does it make it more challenging for us honest folks to place on the leaderboard, but when it comes down to it, it's cheating. There would be nothing rewarding or fun to me about getting in the top 10 for a ride knowing I did it by recalibrating my bike, ya know?
I realized there are some strategies I already follow when I'm in the mood for a shiny new PR. I thought I'd share them in this post, and I'd love to hear any of your tips for Peloton, or even getting more out of any workout you love!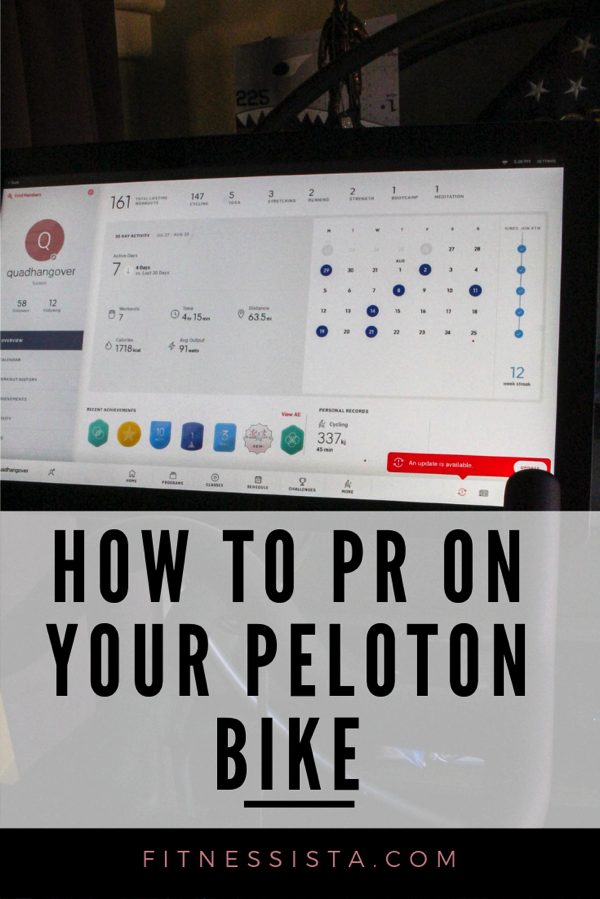 How to PR on your Peloton bike:
1) Work out in your ideal workout window. We all know that point in time during the day when we'll work a bit harder. For me, it's midmorning. I'm awake, the stress has melted away from the breakfast and school drop-off insanity, and I'm ready to crush it. If I work out before the kids get up, I'm usually still half asleep, and if I try to get in a ride late afternoon, I'm kind of tired, so I don't work as hard. Midmorning it is.
2) Treat it like a race! This one may seem a little silly, but I think it makes a difference! Wear comfortable, functional clothes (and socks!) that you love, fuel and hydrate appropriately, and possibly take this ride directly after an off or easy day of workouts.
3) Decide you're going to PR. For the rides that I hit a new PR, I get on the bike with the mentality that I'm hitting one. I've NEVER hit a PR by getting on the bike and thinking, "Hmm, let's just see what happens and how we feel today!" I have to decide I'm going for it, and really work to go after it.
4) Know what instructors and type of ride will push you to PR. I know that Robin, Alex, and Denis are usually the ones to push me really hard. I love Cody, Emma, and Ally, but these are more fun rides than PR style rides for me.
4) Don't allow your output to drop more than 3 below your previous PR. This is my top tip! You can watch your previous PR on the leaderboard the entire time. If it ever gets higher than 3 above your current output, crank the resistance, take it out to position 3 and pick up your pace until you hit it. I don't like to play "catch up" the entire time, so I'll usually use the first 10 minutes to blast my output above my previous PR, so if I need to let it slide a little later on, that works.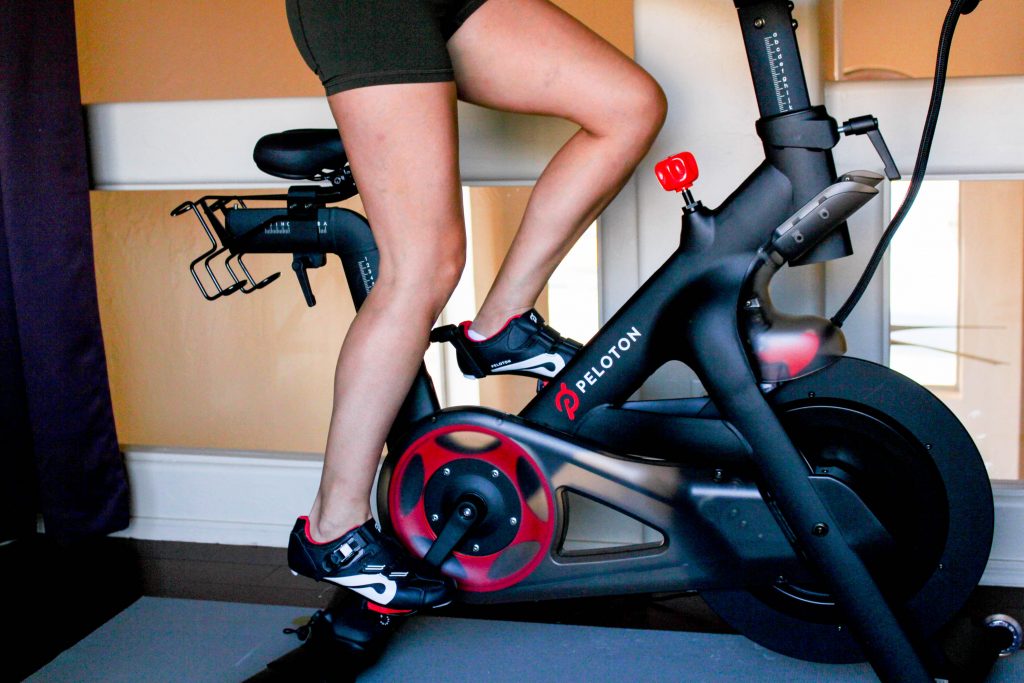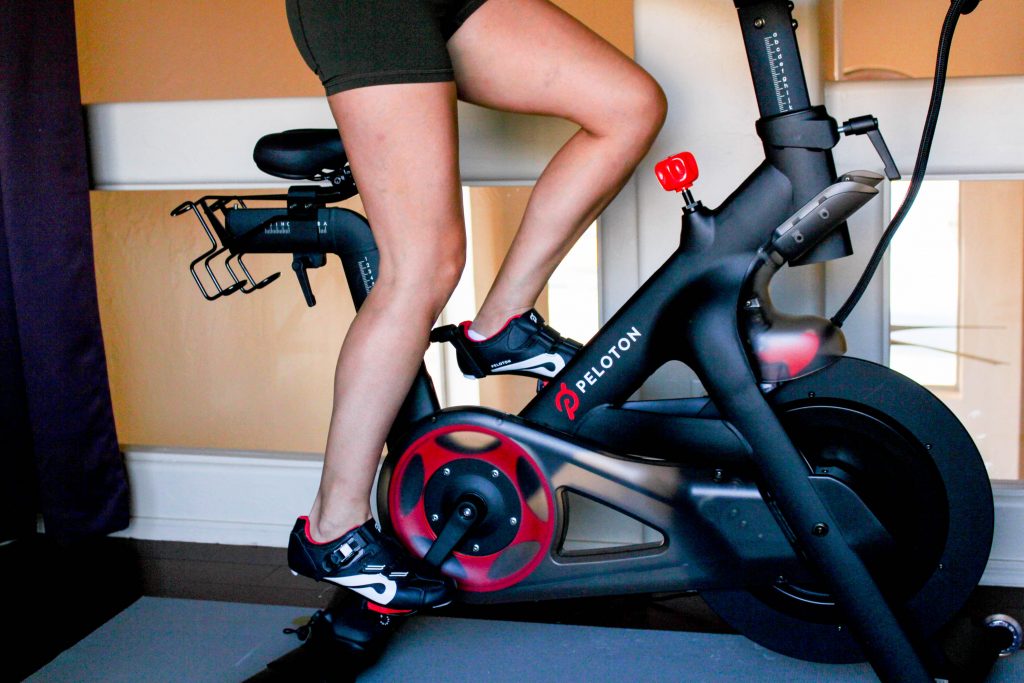 (Maybe my craftiest self-timer pic ever lol. 10 seconds to run to the bike and clip in! PS I'm obsessed with the new align shorts.)
5) Don't always listen to the instructor. This one is kind of weird but true. If I'm doing a 45-minute ride and the class is doing arm work for a few minutes, I skip the arm work and keep pedaling. I only do this for PR rides (because I like the arm work!) — if you stop your legs to do arms, your output just drops too quickly. This also means that sometimes they're recovering while I'm cranking the resistance and speed. Yes, it kind of defeats the purpose of the way the instructor designed the ride, but my competitive friends out there understand.
So, there ya go!
Do you like using metrics during your workouts, or do you go with the flow?
xoxo
G