Focus On: the Peloton App
Hi friends! How's the morning going? Today I'm popping in with a review for something I've used and LOVED for almost an entire year now: the Peloton app!
Peloton App Review
When I first saw the Peloton commercials, I knew I wanted to try their classes. They seemed interactive and fun, and I had a feeling they'd be something exciting to add to my home workout routine. At the same time, I couldn't justify purchasing another spin bike because I already own a different brand. (When I was teaching at the resort in Tucson, they got all new bikes and had a lottery for employees to purchase their "old" Schwinn bikes. I scored mine for a sweet deal, but you can also check them out on Amazon.) I emailed customer service to see if there was any way to stream their classes, and to my luck, they told me all about the app.
I can stream live and on-demand classes from my iPad or phone, which I'll prop up on the bike. This would also work extremely well if your gym has spin bikes in the cardio room to use or if you're able to work out in the gym spin room. Different gyms have different policies regarding working out in the group fitness rooms if classes aren't going on for liability purposes. I would just ask the front desk, and if they say no, ask if they'd consider moving a spin bike or two to the cardio room if they don't already have some in there.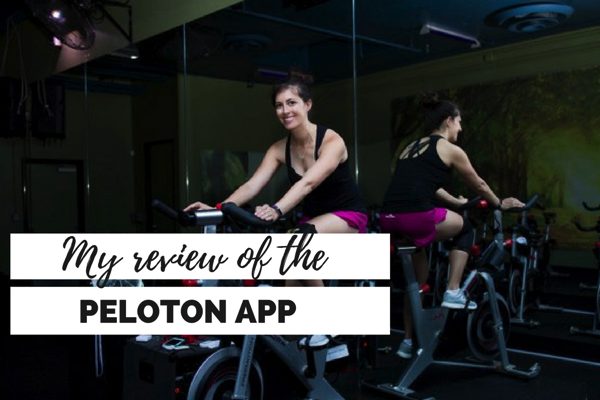 Currently the app is $12.99 for a monthly membership, or $5.99 for a week pass. I happily pay for the app (so nope, this post isn't sponsored in any way) and feel like it's way worth the subscription. For less than the price of one studio fitness class, I have access to literally hundreds on my own schedule, at home.
Here are my thoughts on the Peloton app, and review of the whole experience:
What do you need?
You obviously need a spin bike for this one. Whether you own one or use the gym's, it's a critical component of the workout. (I've also followed their spin class cues on the treadmill just to switch things up a bit!)
A pair of light weights for any strength workouts
Water
Optional: spin shoes. I cycle in sneakers most of the time, but feel like I get a better/different workout when I'm clipped in with cycling shoes
*Also worth adding: I think at this time the app is only available for iOS devices. Please let me know if this isn't correct!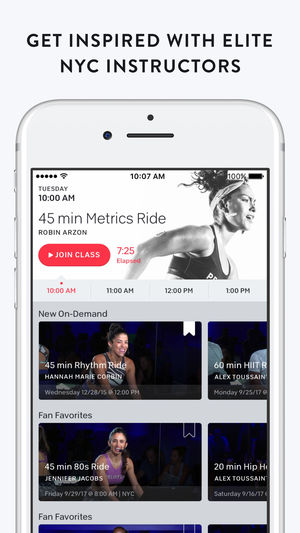 (Source)
What to expect:
– To get a killer workout. You can either hop into a live class, or choose from any of the on-demand selections. The rides are segmented by length, style, and instructor, so you can pick whatever works for you. They have a mix of groove rides, themed rides (70s, 80s, 90s, pop, hip hop, R&B, new tracks, country), intervals, strength combo classes, Live DJ rides (my personal fave!), scenic rides and yoga.
– An "experience." I feel like Peloton has done an incredible job of branding themselves, and also setting themselves apart from other boutique spin studios. They truly offer something for everyone, and whatever class you take, you'll feel almost like you're in the spin room with the instructor.
Pros:
– Live classes. The live classes give you the opportunity to take a class with other people all over the world. You have a username for the classes, and it's common for the instructor to cheer on participants during class. I feel like it adds a fun element, and makes it even more motivational.
– Functional and safe workouts. I'm Schwinn-Certified, which staunchly abhors the use of jumping on the bike. Jumping can be fun (especially if you're using control and have enough resistance on the spin bike), but I don't think it's extremely safe to do all time, especially song after song, day after day. I feel like SO many spin studios focus entirely on jumping and dancing on the spin bike (which makes my lower back and spine tremble in fear). To my surprise, the Peloton classes have very minimal jumping. They're largely focused on climbs and intervals, and you still get an incredible workout sans bouncing all over the place.
– The music! When I first downloaded the app, I was halfway expecting the music to be lame because of copyright issues and all that fun stuff. It's SO GOOD. They use a lot of new stuff and crazy remixes.
– No need to spend time driving to a studio. I feel like travel time can be a huge barrier when it comes to sneaking in a workout on a busy schedule, and can often add at least 30 minutes to an hour to my actual workout time. The fact that I can just hop in the garage and take a class is priceless.
– The opportunity to take classes you may not have available to you. We don't have any boutique spin studios in Valdosta, and I love to take classes because it helps me stay on my teaching A-game. It's so awesome to take classes virtually from such a talented and knowledgeable team.
Cons:
– The Peloton bike has some important metrics you may be missing out on if you're using your own. One of the coolest things about using a Peloton bike is that it displays your personal metrics during class (cadence, resistance, output) and performance against those who are also taking class (through the Leaderboard). It can be an effective way to gauge your performance over time, and see how you're improving. It's a little different to use any ol' spin bike, but I feel like the instructors do a great job of cueing appropriate resistance and speed. My bike used to have a screen on it for wattage, cadence, and resistance… but it was broken off during the moving process. :/ Even so, I know what my personal 40% resistance feels like that day, so I just go by Rate of Perceived Exertion (RPE).
– You're part of a community…but still kind of isolated. I always feel like I'm part of the class and part of the environment…until I remember that I'm really alone in my garage.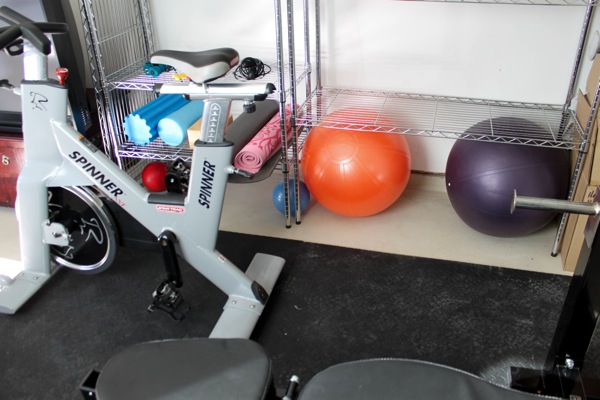 I think they do a great job of connecting riders and fantastic instructors, but there really is something special about taking a real class.
Tip:
– If you try a class and don't love the instructor/music, try another one. It took me a little while to figure out my very favorite instructors and styles. The live DJ classes are almost always AMAZING (DJ John Michael is a PARTY), and there are quite a few different instructors and personalities to choose from. During one of my group fitness trainings, I learned that different participants will respond differently to instructor cues and styles (for example, some people like to be called out during class, while others hate it!). Peloton likely has an instructor that you will enjoy; you just have to find them! Robin and Emma are my very very faves.
So, tell me, friends: have you tried the Peloton app? Has anyone taken a class in NYC? Also, they have a treadmill coming out…and I kind of want it. What's your favorite studio spin class?
Have a great day and I'll see ya soon!
xoxo
Gina
PS. Thank you for all of your wonderful comments + congrats for the Pilot yesterday. I read him your notes and he was so appreciative for the kind words. <3