Sicilian Pistachio Nougatine to be exact 😀 How was your day?? Mine was muy bueno—it started with a 6 mile run with Michelle, I took my love to the airport (miss you, pilot!) and then showered it up and went to work. I learned so much today. We did a mock service, so two large groups of people ate in the restaurant so we can practice for when the restaurant actually opens. It was fast, furious and amazing. The pastry chef was excellent at communicating what I needed to do, and I learned how to plate all of the desserts and make the components for many of them.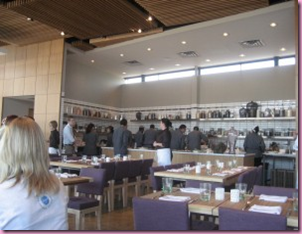 (Photo courtesy of Michelle… can you see my pony-tailed head on the far left??)
I LOVE the set-up for the restaurant. Matthew was telling me that he wanted to remove the separation between the kitchen and the dining room. The dining room is open and inviting, and so is the kitchen. It's a very clean and relaxing atmosphere. I love the eco-friendliness of the restaurant as well—we don't throw any food away.. it all goes into a compost bin. Glass bowls are used instead of plastic, towels instead of paper towels, and the straws are glass instead of plastic.
I didn't get to snap any food pics, except for the pizza, because 99% of the time I was making something. Tomorrow we don't have mock-service. It's our first day of class, then I have a break and work at night, so I should be able to supply some ample foodgasmic pics for ya'll.
To rewind a little bit, the pilot and I had our last dinner together for a month at one of our favorite places ever….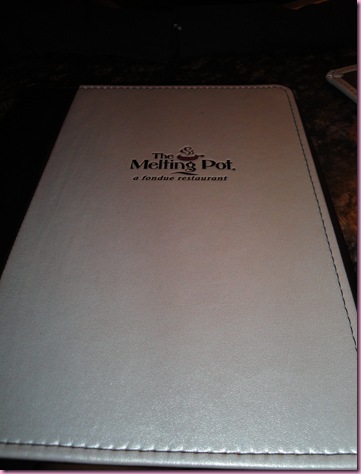 MELTING POT!!!!!
The happy couple: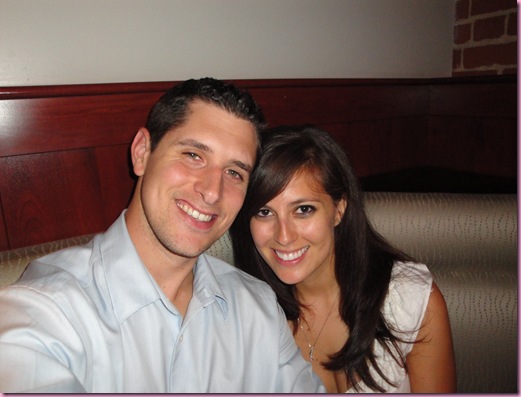 We <3 Fondue 😀
Glass of vino: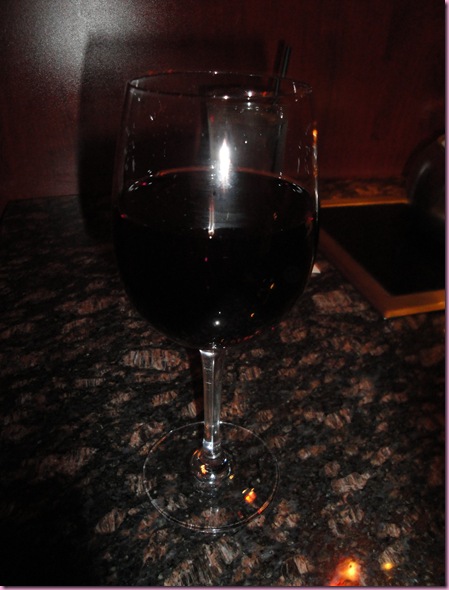 I wasn't that hungry (shocker right??) so instead of doing to full three-course shebang like we usually do, we just shared an appetizer, each got salads and the pilot had shrimp and steak.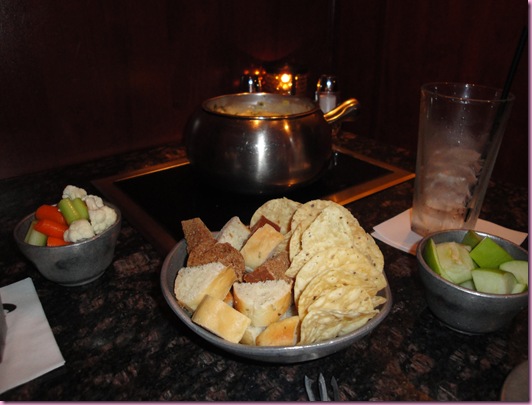 (I munched the carrots, cauliflower, some apples and wheaty bread)
Salad with no cheese, oil and vinegar on the side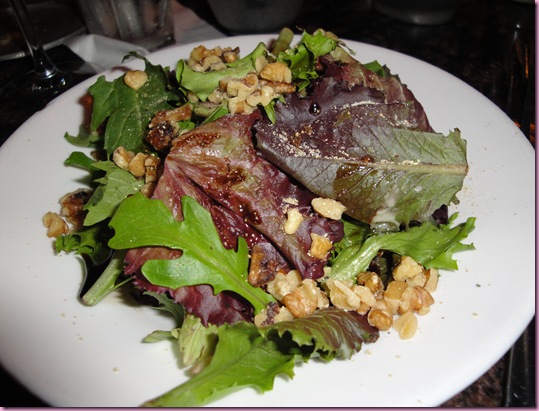 For the fondue part, we cooked all of the veggies and the shrimp first so I could munch those while the pilot's steak was cooking.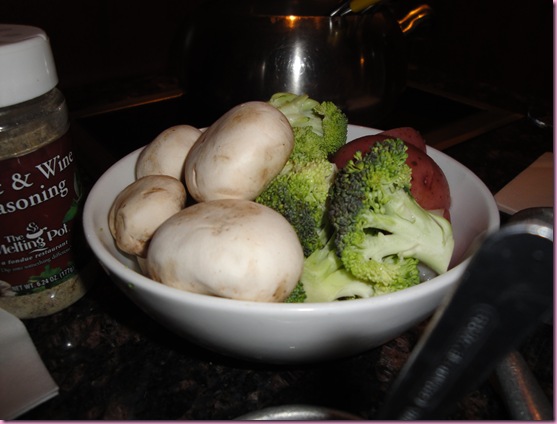 3 shrimpies: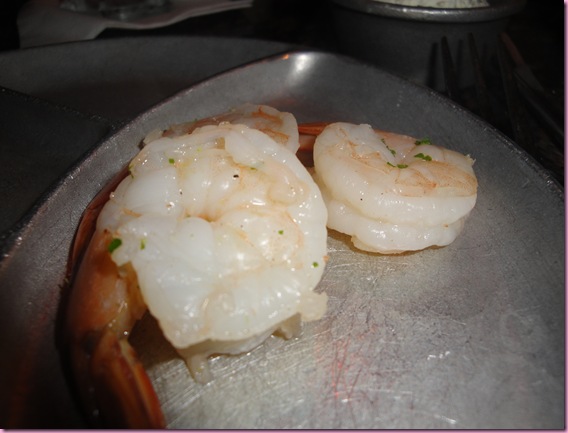 I wasn't hungry before dinner, but my appetite magically reappeared when they brought out the dessert menu 😀
Dark chocolate with BAILEYS (creamy beige)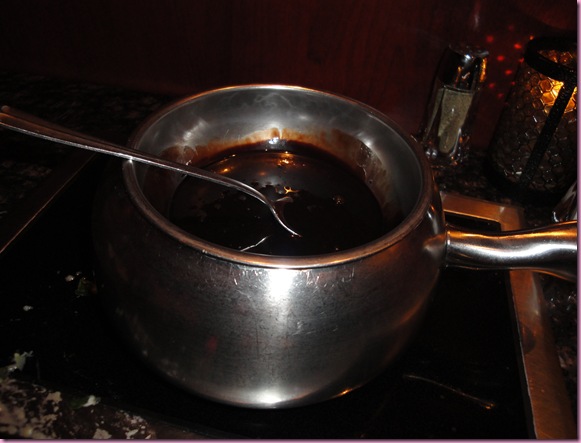 And the famous "dippers": cheesecake, brownies, rice crispy treats, marshmallows and pound cake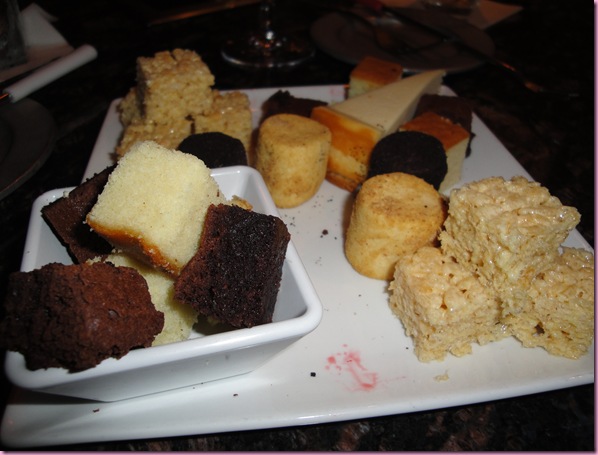 They usually have strawberries and bananas, too, but last night they were out.  I was talking about how bummed I was that they didn't have fruit as I stabbed my fondue stick into a brownie bite. The pilot laughed and said, "Yeah, you look devastated" 😀
I spent the evening tossing and turning in a sugar frenzy… it's probably more sugar than I've had in the past three months. It was worth every bite 😉
Well I'm off to roll my aches and pains on the foam roller and then catch up on Google reader—it keeps piling up before my eyes and I've missed all of my bloggy friends 😀 Slowly but surely I'll catch up on your lives.
Have a wonderful night!
xoxo,
G
Today's tip: Work out at a time when you have the most energy and can get the most effective sweat sesh. It sounds simple, but a lot of people drag themselves to the gym when they're exhausted and not ready to be there. If you can push yourself harder in the morning, schedule your workout first thing and if you need some time to unwind after work before you hit the gym, do it then. I don't mind doing aerobics at any point in the day, but when it comes to running, I have to go first thing or I won't go at all (or I'll go and dilly dally on the elliptical instead). Do you prefer to workout in the morning or afternoon??