"Gonna be ok…
doo doo doo
Just Ask
Spin that record babe
doo doo doo"
I can turn any phase into a song 😉 Whether or not said songs are good is totally irrelevant.
The point of that ridiculousness is to say that I've gotten trendy and jumped on the Ask Me Anything train 😀 All the other bloggers are doing it (like Tina, Meghann and Kate), so I figured I'd give it a whirl and thought it would help with some Reader's Request post ideas.
So, Ask Me Anything 😀
Before I get into last's night's events, here's the winner of the chia seed giveaway!

LISA S.!! Congrats lady! Send me your info so I may forward it to the chia fairy 😀
I wish I could tell you that many exciting things happened last night, but after I last saw you, I laid on the couch, watched Hoarders on the DVR and drank tea until the pilot got home.
Then I had soup (Amy's barley vegetable) and roasted asparagus for dinner: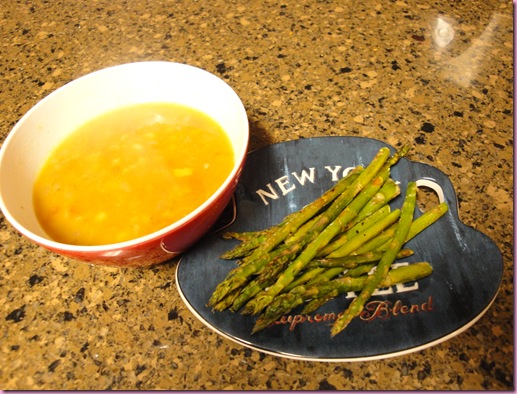 (The pilot had roasted chicken with lemon and thyme, asparagus and brown rice)
After that, the pilot and I cracked open a bottle of Pinot Noir, watched Couples Retreat then crashed out.
I slept, and slept, and slept.
Tn aenwoke to a beautiful breakfast cookie: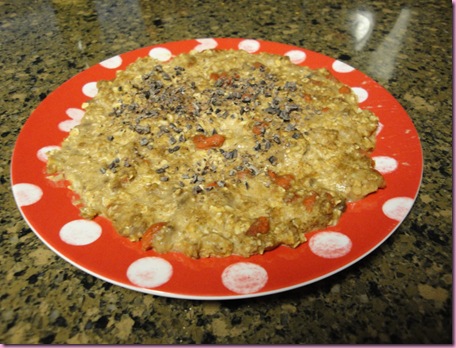 This beauty had:
1/2 C multigrain oats
1/2 scoop vanilla Sun Warrior
goji berries
cacao nibs
1 T almond butter
1 smashed banana
almond milk
It was pretty face-rocking 😀
I set out on a mission for shoes but didn't have any luck. I did, however, find an awesome necklace to wear, a sweater, two dresses and a belt 😉
After my shopping extravaganza (or whatever would be close to that, considering I live in Valdosta, bahah), I had a bar: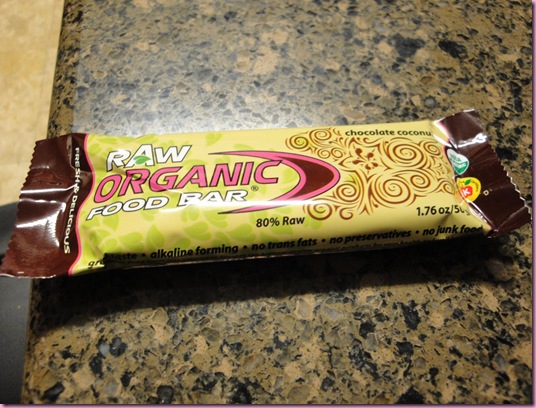 and then met Jeni at the gym for 35 minutes of ellipticizing and chatting 😀 It's my off day, so I took it super easy.
Now I'm back at the casa and going to take a nap so I look as fresh as I can (considering that I'm sick) for tonight's dining out. I'll be sure to take lots of pics for ya'll—the pilots are wearing their mess dress. You can put any man into that outfit and he looks like a total dreamboat stud. I'm not joking 😀 It should be a lovely evening.
See ya on Valentine's Day 😀
xoxo,
Gina
Something to talk about: What are you doing for V-day??? The pilot and I are escaping to a beach resort for the night, but in my pre-pilot days, my girlfriends and I would get together, drink wine, eat chocolate and watch sappy movies. I've always been a fan of Valentine's Day 😀