Hey everyone! Happy Monday! Hope you had a lovely Valentine's Day 😀 Mine was glorious, and definitely a little different than last year's when the pilot was deployed and I had 15 girlfriends over for a party 😉
The pilot and I dropped off Viesa at the kennel and Bella at funny quote lady's house, then got on the road to Jacksonville.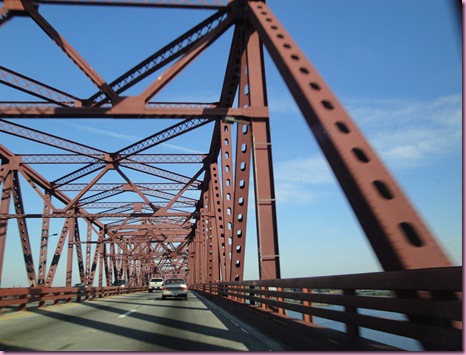 Of course, we stayed at our favorite resort: One Ocean (if you ever stay in Jacksonville, check it out… it's amazing)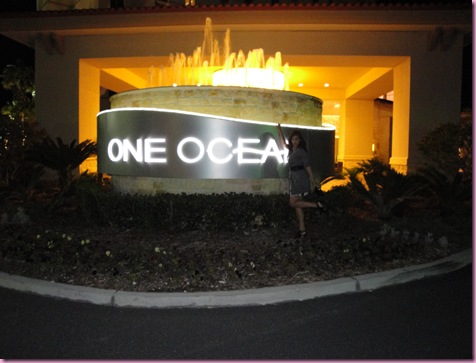 Check out the VIEW!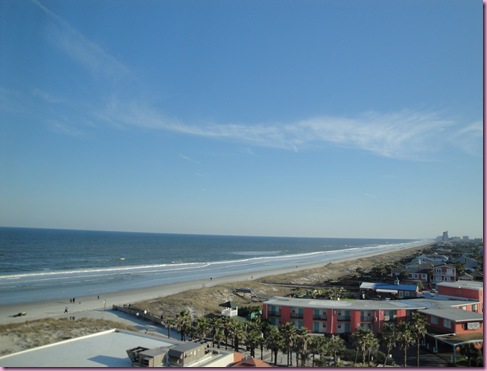 *Le sigh* I just want to live here.
GORGEOUS rooms: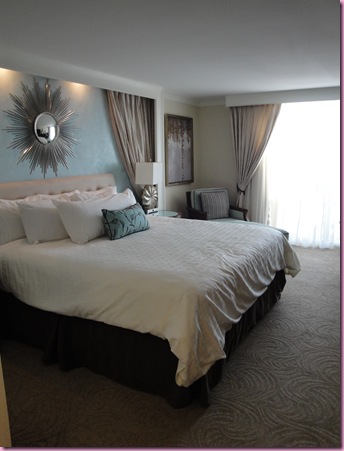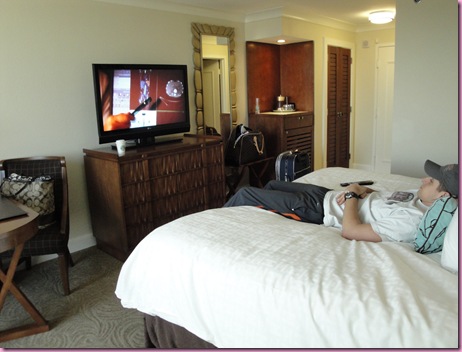 The powder room: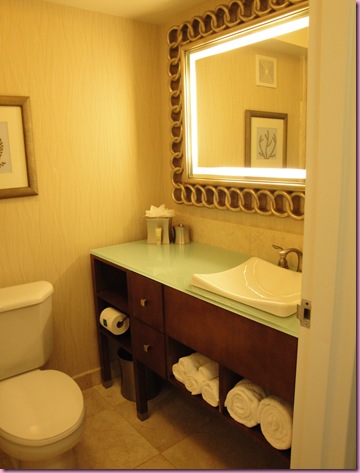 After we checked in, we hit up the hotel gym (the pilot did abs and chest while I did 40 minutes on the elliptical) and then we got ready for dinner.
It feels nice to wear "real" clothes 😉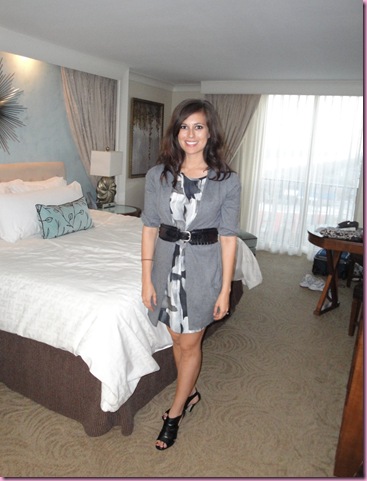 Best part: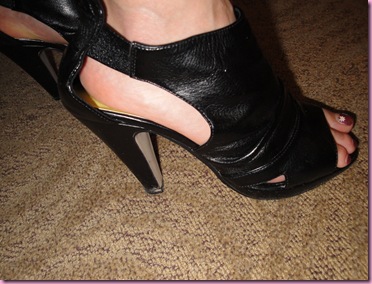 My seksi date: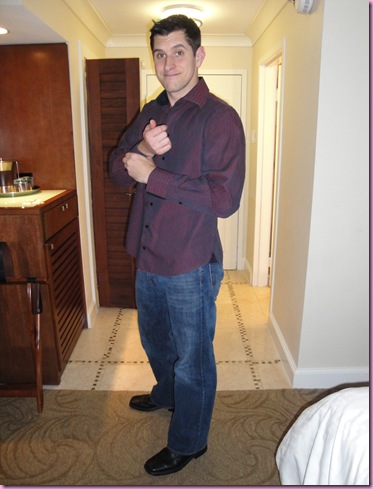 Hubba hubba.
We had reservations for the 5-course Valentine's Dinner at the hotel restaurant and oh my stars, it did not disappoint.
First we had a tomato and sage jelly with pesto to get our palates ready for the fiesta to come: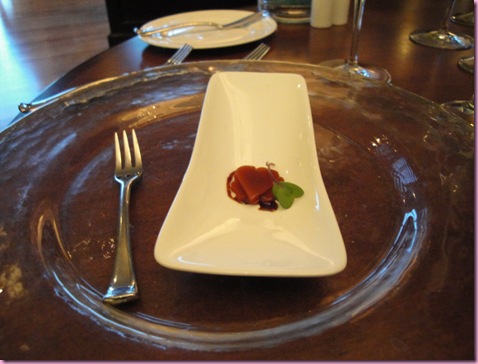 Love the little heart! So cute.
Bread (I had the wheatiest one in the basket) and champagne: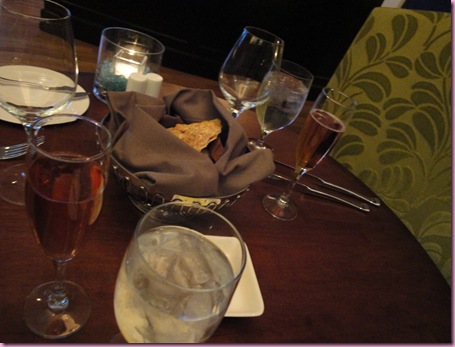 Corn pudding, fried oysters and onion: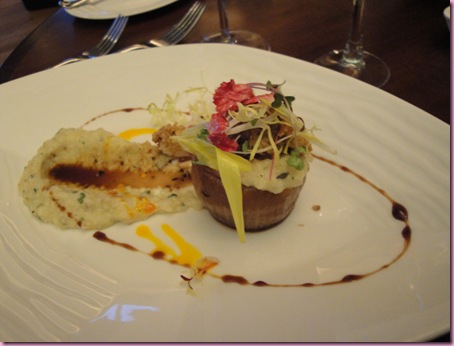 Foie gras with a crouton-thingy (sorry for being so technical with my descriptions, haha):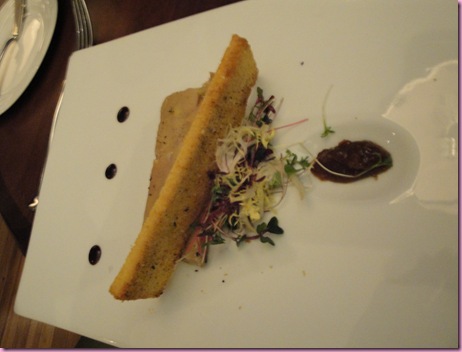 (The pilot ate mine and I just had the crouton and garnish)
Champagne foam with mango sorbet and strawberries to cleanse the palate: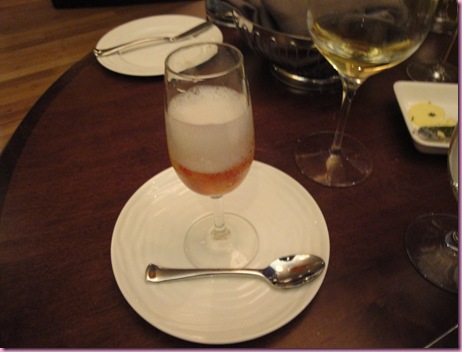 The main course: lobster, egg souffle, caviar and portobello mushroom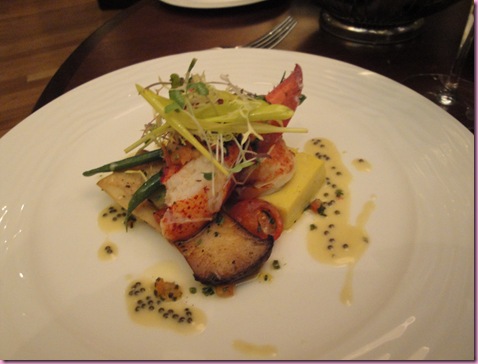 And dessert, chocolate and white chocolate ganache heart sandwich, strawberry foam and chocolate mousse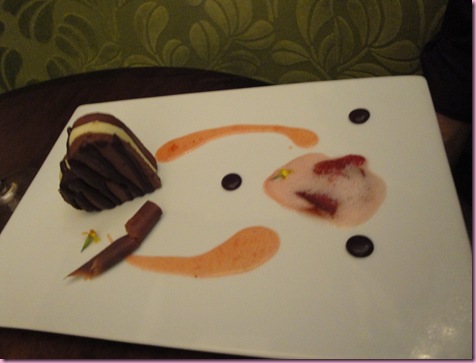 It was repulsive 😉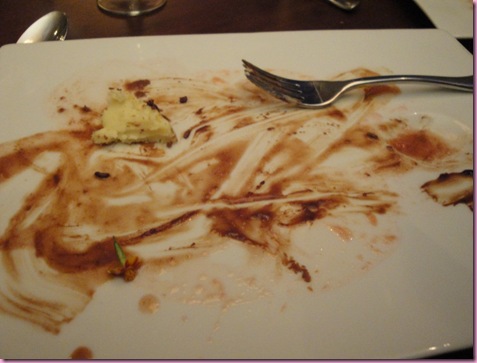 Oh, and every single course was paired with wine.Yes, it was that kind of night. And yes, I had had dairy and white flour, which I usually only have every purple moon (not because I *can't* but because I prefer whole grain and sans dairy when I have a choice)… well last night's moon happened to be purple, so I rolled with and loved every single bite. It's not very often that I get to have a swanky wanky dinner with my pilot 😀
And if that weren't enough, they brought little cookies with our bill: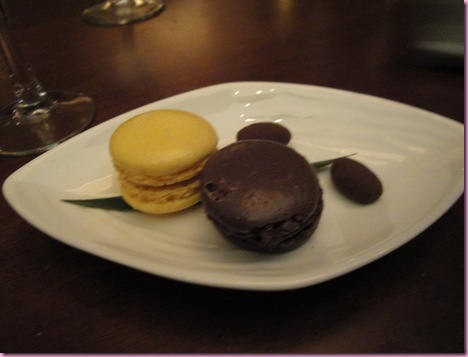 Did I mention that I want to live here??
We went back up to the room and on our way we played a little game called "run ahead and strike a pose"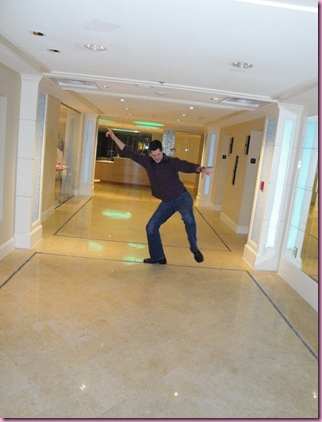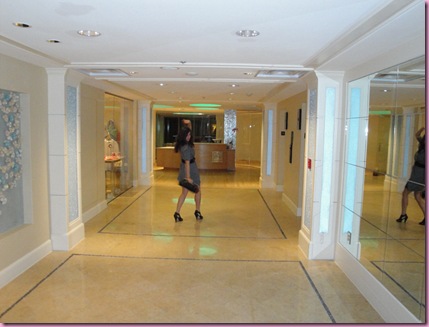 We're really cool 😀 Hahaha.
We went swimming: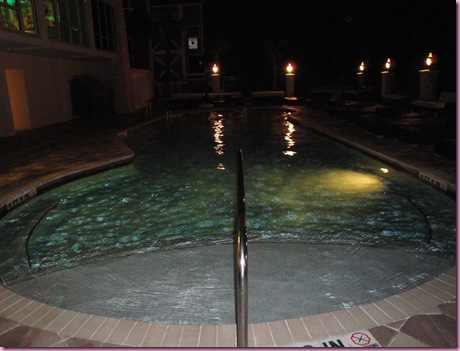 And out dancing… and it was a wonderful, lovely night 😀
I'm off to Bikram yoga, then hitting up Whole Foods before we get back on the road to Valdizzy.
See ya later tonight!
xoxo,
Gina
Something to do: Winter Shape Up ladies (and dudes!), this week we'll be repeating Week 1 of the challenge. Try to use heavier weights this week (if you're able to- be smart), or a little higher intensity (think higher squat jumps, stronger burpees), than we did the first week. We have 2 weeks left– I hope you're all seeing amazing results so far! Happy training 😀